Dirtybird Campout 2017's incredible roster of games and activities will have you flying high.
---
Good news fellow birds! The Dirtybird crew is bringing back all of your old favorite games and activities along with several new additions. You can now look forward to a costumed bike race, mind-opening science labs, a 3-day survival series, booty shakin' dance classes, and more at this year's Dirtybird Campout.
The Tour de Dance is one special new addition to this year's festivities, and it promises to be a fantastic time. As the new venue allows bikes, festival attendees can participate in a cyclocross style bike race with some of their favorite Dirtybird players and camp counselors. Participants will ride five laps around a 1.5-mile course before hopping off their bikes to bust a move! The race will take place at 11 am on Saturday, October 7th.
Registration for the Tour de Dance closes on Sunday, October 1st or whenever the race reaches capacity, so make sure to sign up early to secure your spot!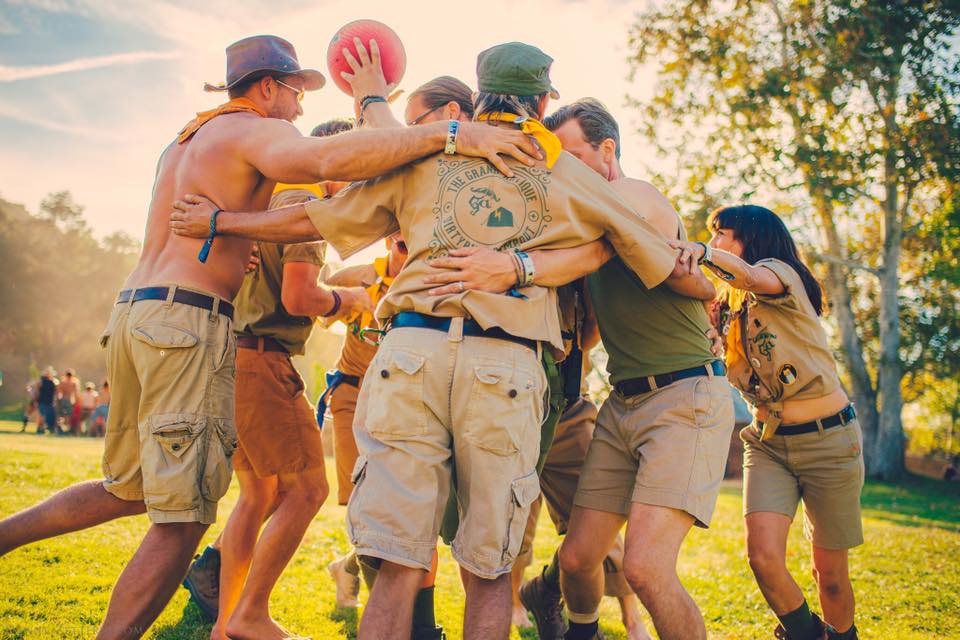 Early Arrival Passes are now available!
For those of you interested in arriving early, Head Counselor VonStroke and the San Antonio Camp Rangers just secured approval to allow you campers into the gates a day early this year!
For just $30, you can purchase an Early Arrival Pass in addition to your Festival Pass so that you can enter Campout on Thursday, October 5 and snag that prime camping spot before the festival opens Friday.
Ticket prices will go up soon!
If you still haven't purchased your tickets to the best weekend of the year, now is the time! Lock in your festival passes before August 20th at 11:59 pm in order save some cash!
---
Full List of Dirtybird Campout Games & Activities:
Arts & Crafts
Bead / Friendship Bracelet Making
Lanyards Making
Screen Printing
Tie Dye
Watercolor Painting
Bike Decorating
Totem Crafting
Face & Body Art
Hair Braiding & Wrapping
3-Day Survival Series hosted by Counselor Highlove
Knot Tying
Wood Carving
Leather Working
Competitions
Best in Show
Bike Race
Beat Box Competition
Talent Show
Bobbing for Apples
Scavenger Hunt
Digital Detox
Brainscratch Science LaB
Yoga
Nature Hikes
Birdwatching
Sing-along
Field Games
Archery
Bocci Ball
Cargo Net
Badminton
Billiards
Campout Cornhole
Foozball
Ping Pong
Volleyball
Late Night
The Great Bingo Revival
Karaoke
Fireside Storytelling & S'mores
Late Night Movies
Stargazing
Tournaments
IronBIRD Championship
Dodgeball
Potato Sack Races
Tug-of-War
Ultimate Frisbee
Water Balloon Toss
Simon Says
3-Legged Races
Kickball
Disc Putting Range
---
About Dirtybird:
Dirtybird has been dropping basslines and creating smiles on the dance-floor since January of 2005. The iconic bird logo was derived from a drawing Barclay Crenshaw (aka Claude VonStroke) used to draw when he was a kid to make his little brother laugh. Since creating it, VonStroke has A&R'd some of the most influential house music producers in the world. A short list includes Justin Martin, Catz 'n Dogz, Julio Bashmore, Riva Starr, Breach, Shiba San, Eats Everything, J Phlip, Style of Eye, Kill Frenzy, and many more – most of whom had their very first records and even created their artist names for the label.
Today, Dirtybird has offices in San Francisco and Los Angeles and has expanded into events and tour production. As it grows, the brand continues to expand beyond music into merchandising, licensing and artist management. In 2013, Dirtybird won "underground label of the year" at the International Dance Music Awards.
---
Connect with Dirtybird Campout 2017 on Social Media:
Website | Facebook | Twitter | Instagram | SoundCloud | YouTube