Darude Talks Tomorrowland, "Singularity", & More!
---
When you look back at the extensive history of electronic music and the artists who have made their mark on the scene, Darude is a name that consistently finds itself in the conversation. Of course, his hit "Sandstorm" has become a true anthem in the scene, but outside of that track, there is an artist that has pushed the scene forward with albums ranging from Rush to Label This! and Moments as well.
Known for his shows that span around the globe, Darude has graced the stage at many clubs and festivals over the course of his career. He most recently took the stage at Tomorrowland in Belgium and is currently playing throughout Australia and the United States on his Endless Summer Tour. We caught up with Darude to chat about his experience at Tomorrowland, his recent collaboration with Zac Waters, and more.
Stream Darude x Zac Waters – Singularity feat. Enya Angel on SoundCloud:
---
The Endless Summer Tour has already taken you all over the world, with upcoming dates in Australia before heading back to the US. Where has been your favorite stop so far?
I'd have to say Tomorrowland was the most incredible experience as a whole, was great to play there again, but it's a little unfair to every other event I've done as there are 180k people there and numerous stages, multiple genres and pretty much the most extravagant production 🙂
How do you prepare for a tour of this length and how do you stay healthy while on the road?
I hang with my son, wife, and friends, play ice hockey and try to sleep ok when I'm home. And take my multivitamins and fish oils :). I like a glass of good champagne here and there, but I drink very little these days and I rarely have time (and/or urge) to go all out after-partying and I also try to eat relatively healthy. I do like my steaks and plentiful sushi, though! 😀
Taking the stage at Tomorrowland last month, what do you feel sets that festival apart from others that you've played in the past? How was your own set and the crowd during it?
I was excited to play Tomorrowland again, because it is THE festival to do and because it "forced" me to go a little harder and faster than I usually play these days. I played a good bit of early 2000's nodding uplifting trance & hints of UK hard house and it worked well and was so much fun! I also played 3 new tracks of mine which all seemed to work really well, so I'm a happy camper!
The pure size of the festival and the production quality is just next level stuff! Also, the artist hospitality, the catering, rides, and other organization works a treat.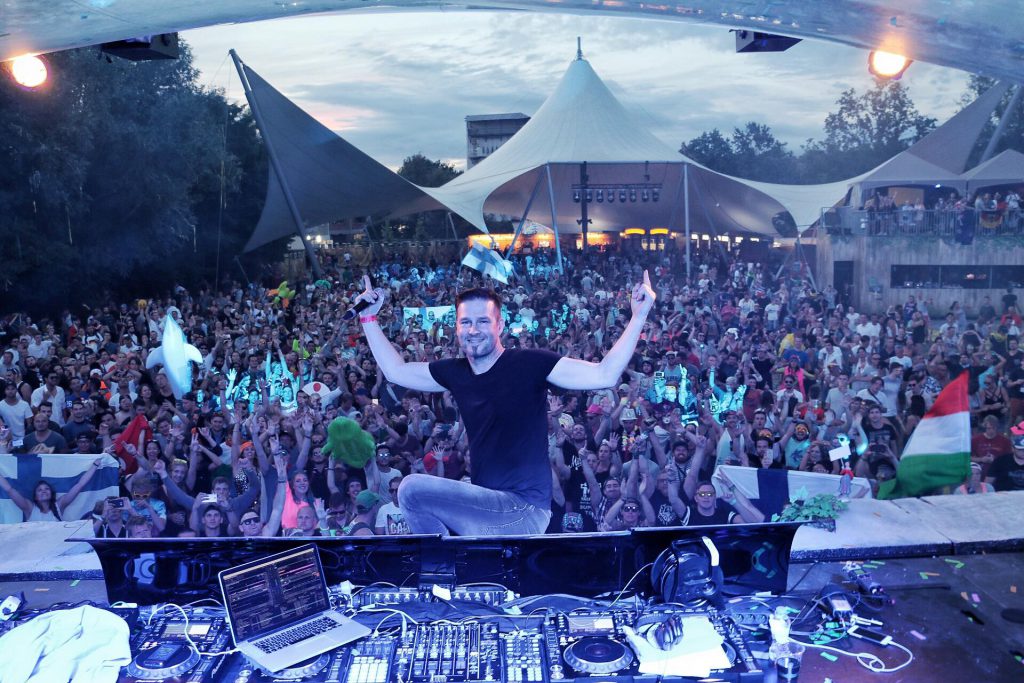 Is there a major difference you notice when playing to crowds in the US compared to places like Australia or Europe?
There are sometimes more differences from city to city within a country than from country to country… But in general (my) dance music crowds are not totally different from night to night, I'd say. I approach my sets all similarly, like in terms of music I usually have a backbone of 150-200 "active" tracks in bunches of 2-5 harmonically, BPM & style-wise fitting tracks from slower/proggier to faster/more uplifting/banging and a couple of other folders like "classics" or "more proggy" and "more commercial". During the set I go through that list from A to Z choosing a track or a couple from those bunches, throwing in extras from the other folders based on the crowd reactions and vibe and in a two hour set I usually play around 35 tracks, and so two sets night to night could be as much as 80% the same (but mixed in different order etc) or as little as 20% the same, if you saw me two gigs in a row.
In our chat with you last November, you mentioned that you love connecting with fans after your sets. Have there been any unique fan experiences recently that you can share with our readers?
Oh, plenty! Since I'm in Australia now, I'll share a good one from/after the Future Music Festival tour I was a part of in 2015: At one of the shows I saw this guy, later to be recognized as Howard, crowd-surfing in his wheelchair! His buddies and strangers were holding him above their heads and he was jamming, having a great time! I got to meet him at a later club gig in the same city and I signed his arm… A week or two later he sent me a picture of his new tattoo, that signature now permanent on his skin. Un. Real. Whoa!
You recently collaborated with Zac Waters on track "Singularity". Do you approach the production these tunes differently than solo releases?
Yes, very differently, which is the beauty of a collaboration! I did very little production wise in our initial session at the Ministry of Sound studio in Sydney, I just sat back and let Zac be in the driver's seat. 🙂 He's an Ableton Live user, I'm a Logic guy, but I know Live as well, so we decided to use Live. Zac is so freaking quick with it, it was natural to have him be in charge of the actual manual input and such. Also, our starting point was something he'd prepped earlier and then we started discussing and trying out ideas on top of that.
I love the shared responsibility of a collab, as in most cases, like here, it leads to less stress about getting stuck or having doubts about something. When you let go a bit and let the other one tell you what they think should be done, the project goes forward all the time. Zac's style is not something that comes to me naturally, so doing a track with him forced me outside my usual ways of working which is refreshing and obviously opens my mind to new sounds and ideas and gives me a chance to learn new things, too.
In the first face-to-face session, we decided to go rather hard and straightforward in the drops and have a trancey breakdown and build. I had this guitar like synth melody that I'd been saving and it fit perfectly this track and got even better when Zac re-did it with a real guitar. After that, we continued online via Dropbox and Facebook Messenger and I had my hand in the production and mixing, too.
The beautiful vocals are provided by Enya Angel. What led you to work with her on the tune? Was the track developed with the vocals and lyrics in mind?
While definitely not an afterthought, Enya Angel's sweet vocals were recorded and put in later, initially the track was an instrumental, with some small vocal samples to spice it up. The vocal makes the track way more user-friendly and softens it just the right amount, gives it a real story and meaning, I'm very happy how it all came together!
Aside from your originals and remixes that you produce, you also host a monthly broadcast, Salmiakki Sessions. What is your discovery process like for the music featured in the show? Is it mostly promos catching your eye or do you dig online too?
On top of what I get directly from my producer friends, every few weeks I go thru my promos that labels send me, like 5-10 trusted labels and I usually randomly check out a couple promos of the hundreds I get sent by whoever has my promo addy… I check the key & BPM of the tracks, put them in iTunes, go thru them and usually end up keeping like 5% if that of the tracks I go thru. Signal to noise ratio is horrid sometimes! I mark them 4 stars for 'sure-player', 3 for 'great track', 2 for 're-listen & decide', 1 for 'delete'.
After the culling, I'll organize the tracks in together-fitting bunches and figure out an initial order for a Salmiakki Sessions set. The radio mixes are sort of a filtering stage for my live sets as I often hear how the tracks really work and fit the flow of what I do live when I listen back to the whole mix. Not all great tracks work in a club situation and not all great live DJ set tracks work in a radio mix-show set. I don't try to play catch-up with the latest promos, I choose what I play simply from tracks I like and how they fit together. I might have a track that comes out in two months mixed together with a track that's 4 years old, the only thing that matters is that they are great tracks and the fit together somehow.
Many new artists look up to you and others who helped shape the electronic music scene. What are one or two tips you can give to those who are looking to follow in your footsteps?
Self-promote like crazy, but use common sense, don't be a dick. Don't post to other people's pages without permission and don't verbally overhype your own stuff, let the music do the talking. If you're a DJ, be courteous to other DJs and know your place. If you're an opening DJ, check beforehand what the headliner plays and play accordingly; usually lower tempo, lower energy, but still doesn't have to be boring! Never play their tracks, remixes, bootlegs or their label's tracks and if in doubt, shoot an email to them or management, ask what's good, what's not, and most DJs will appreciate and remember that.
While you might feel it won't allow you to shine, deal with it, because it's not your night and over time you should be noticed, probably will be asked to open again, and could it open dialogue with the headliner, manager or label. Good openers are hard to find, so be proud of bringing the dance floor from empty to ready to explode when the headliner takes over.
Finally, we're coming close to closing out the summer, but the heat is still here. What is your favorite way to cool down and beat the summer heat? Any new places you want to explore during your own holiday period?
I live in Finland, no particular need to cool down there… 😉 But a gin+grapefruit drink called Lonkero, our 'Original Long Drink' made for the 1952 Helsinki Summer Olympics with plenty of ice takes care of any momentary excess heat!
I've been exploring my own yard this summer… Thousands of kilos of stone laid down, flower beds built, tens of plants planted, piles & piles of dirt and mulch carried, that's what my free time this summer consisted of!
---
Connect with Darude on Social Media:
Website | Facebook | Twitter | Instagram | SoundCloud | YouTube