The first-ever edition of The BPM Festival Portugal has announced the second phase of their lineup, featuring Danny Tenaglia, Eats Everything, and more!
---
The BPM Festival Portugal dropped the second phase of its jaw-dropping lineup, boosting the festival to be a must-attend for any house or techno lover. They more than doubled the artists with this announcement, with new additions including Art Department, Danny Tenaglia, Eats Everything, Josh Wink, Paul Kalkbrenner, and more. The first phase of the lineup had already blown us away with acts like Nicole Moudaber, Jamie Jones, Dubfire, and Richie Hawtin, so we are even more excited to see this lineup shape up to become one of Europe's premiere parties to attend.
Also announced was BPM Festival Portugal's showcase lineup, as party brand and label showcases will dominate venues both indoors and outdoors this September. Over twenty party brands and labels have been announced, including major players like Lee Burridge's All Day I Dream, Jamie Jones' Paradise, and even the Portuguese debut of the beloved Spanish party brand elrow!
Hosted across six venues in Portimão and Lagoa, The BPM Festival Portugal is set to be an amazing experience on September 14-17 this year. Tier 3 festival passes go on sale on Friday, July 21 at 9AM BST / 4AM EDT at TheBPMFestival.com/tickets.
Coming in from anywhere in the world? The BPM Festival's official travel partner Choice Holidays, offers flexible travel, accommodation, and ticket packages!
---
The BPM Festival Portugal 2017 Lineup: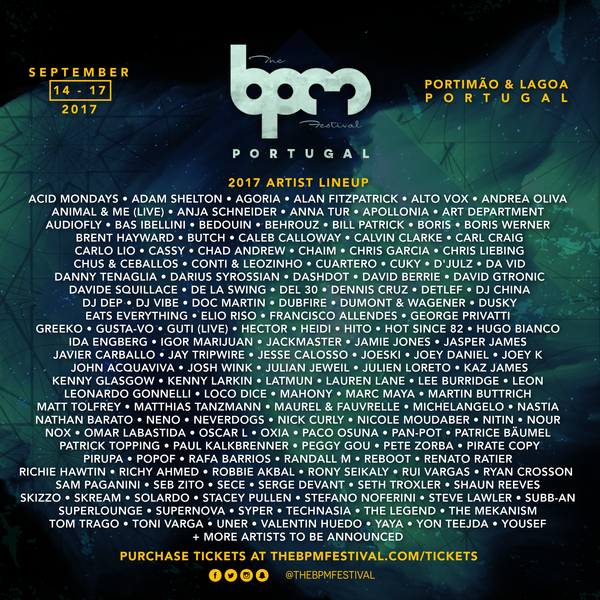 ---
The BPM Festival Portugal 2017 Lineup By Artist:
ACID MONDAYS
ADAM SHELTON
AGORIA
ALAN FITZPATRICK
ALTO VOX
ANDREA OLIVA
ANIMAL & ME (LIVE)
ANJA SCHNEIDER
ANNA TUR
APOLLONIA
ART DEPARTMENT
AUDIOFLY
BAS IBELLINI
BEDOUIN
BEHROUZ
BILL PATRICK
BORIS
BORIS WERNER
BRENT HAYWARD
BUTCH
CALEB CALLOWAY
CALVIN CLARKE
CARL CRAIG
CARLO LIO
CASSY
CHAD ANDREW
CHAIM
CHRIS GARCIA
CHRIS LIEBING
CHUS & CEBALLOS
CONTI & LEOZINHO
CUARTERO
CUKY
D'JULZ
DA VID
DANNY TENAGLIA
DARIUS SYROSSIAN
DASHDOT
DAVID BERRIE
DAVID GTRONIC
DAVIDE SQUILLACE
DE LA SWING
DEL 30
DENNIS CRUZ
DETLEF
DJ CHINA
DJ DEP
DJ VIBE
DOC MARTIN
DUBFIRE
DUMONT & WAGENER
DUSKY
EATS EVERYTHING
ELIO RISO
FRANCISCO ALLENDES
GEORGE PRIVATTI
GREEKO
GUSTA-VO
GUTI (LIVE)
HECTOR
HEIDI
HITO
HOT SINCE 82
HUGO BIANCO
IDA ENGBERG
IGOR MARIJUAN
JACKMASTER
JAMIE JONES
JASPER JAMES
JAVIER CARBALLO
JAY TRIPWIRE
JESSE CALOSSO
JOESKI
JOEY DANIEL
JOEY K
JOHN ACQUAVIVA
JOSH WINK
JULIAN JEWEIL
JULIEN LORETO
KAZ JAMES
KENNY GLASGOW
KENNY LARKIN
LATMUN
LAUREN LANE
LEE BURRIDGE
LEON
LEONARDO GONNELLI
LOCO DICE
LOST DESERT
MAHONY
MARC MAYA
MARTIN BUTTRICH
MATT TOLFREY
MATTHIAS TANZMANN
MAUREL & FAUVRELLE
MICHELANGELO
NASTIA
NATHAN BARATO
NENO
NEVERDOGS
NICK CURLY
NICOLE MOUDABER
NITIN
NOUR
NOX
OMAR LABASTIDA
OSCAR L
OXIA
PACO OSUNA
PAN-POT
PATRICE BÄUMEL
PATRICK TOPPING
PAUL KALKBRENNER
PEGGY GOU
PETE ZORBA
PIRATE COPY
PIRUPA
POPOF
RAFA BARRIOS
RANDALL M
REBOOT
RENATO RATIER
RICHIE HAWTIN
RICHY AHMED
ROBBIE AKBAL
RONY SEIKALY
RUI VARGAS
RYAN CROSSON
SAM PAGANINI
SEB ZITO
SECE
SERGE DEVANT
SETH TROXLER
SHAUN REEVES
SKIZZO
SKREAM
SOLARDO
STACEY PULLEN
STEFANO NOFERINI
STEVE LAWLER
SUBB-AN
SUPERLOUNGE
SUPERNOVA
SYPER
TECHNASIA
THE LEGEND
THE MEKANISM
TOM TRAGO
TONI VARGA
UNER
VALENTIN HUEDO
YAYA
YON TEEJDA
YOUSEF
+More to be announced!
The BPM Festival Portugal 2017 Showcase Lineup:
AKBAL
ALL DAY I DREAM
ANTS
BACK TO THE FUTURE
DEEPERFECT
DETROIT LOVE
DO NOT SIT ON THE FURNITURE
DON'T BE LEFTOUT WITH VISIONQUEST
ELROW
FORM MUSIC
GIA SAI
KALUKI
NEOPOP
NICK CURLY PRESENTS TRUST
NO.19 / SOCIAL EXPERIMENT
NUMERO 00
ONE RECORDS
PARADISE
STEREO PRODUCTIONS
SUNRISE
VATOS LOCOS
WARUNG hosted by Ibiza Voice
YA'AH MUUL hosted by Deep House Amsterdam
+ More to be announced!
---
The BPM Festival Portugal 2017 – Essential Information:
Dates: September 14-17, 2017
Location: Praia da Rocha, Portimão, Algarve
Ages: 18+
Facebook Event Page: RSVP here
Tickets: Purchase tickets here
Travel Packages: Purchase travel packages here
---
Watch The BPM Festival Portugal 2017 Announcement Video:
---
Follow The BPM Festival on social media: