Exploring the cities of Europe is one thing, but the nightlife, and the music that comes along with it– is a whole other exciting adventure.
---
One of the things I was most excited for as I embarked on my four-month study abroad experience was the music! I'd heard talk of the underground techno scene in Berlin and the overflow of electronic stars coming out of Amsterdam, and I couldn't wait to experience it all for myself. While based in Barcelona, Spain, I hit a total of twelve cities within eight different countries. In most, I found myself some sort of music scene, each distinct from the others. As much as hearing the music, I loved experiencing the music cultures in each of these places.
Seeing the similarities and differences between how people interacted with the music and with each other was so interesting to me. Time and time again, I realized the beautiful truth that music brings people together, no matter what song, DJ, or language. Dancing to the same beat will never fail to forge a connection between people and create friendships that may last a lifetime. This in mind, here are some of the highlights of music, venues, and cultures from my four months exploring Europe. Let's start things off with London!
---
London
Our first big trip took us across Europe to the UK. London surpassed my expectations in so many ways; there were so many things that we were hoping to do that we just couldn't squeeze into a weekend, clubbing included! We did get to have one big clubbing night, where we stayed out until 6 am hitting two amazing places. The first was a more commercial club Cuckoo, with the top floor, blasting top 40s as rich people danced at their tables. But, if you pushed your way down the stairs there was a much cooler place below. Our friends guided us down to this dope room with a jungle theme, branches and leaves draping from the ceiling, making for a very intimate feel. An older female DJ was spinning some funky house beats, and the vibes were on point as everyone grooved to the music.
After a few hours at this place, we decided it was time for our main goal of the night: Fabric. I'd heard of the rich history the club has hosted iconic DJs and paving the way for genres of dance music within London's scene. All this in mind, I decided we absolutely had to check it out while we were in London. At 4 am (apparently you can't go any earlier, according to our British friends) we headed over. After the most intense pat down of my life, posing for a picture with security and paying a hefty 20 pounds of cover, we were finally in!
The place had a total underground, grungy feel, with old brick walls and metal railings throughout. There were three floors and two main stages; the first floor had a house DJ playing some fun tunes. A couple of people were lingering down there, but the real action was all happening up on the second floor. A drum & bass DJ was dropping some crazy beats, with a British rapper seamlessly rapping verses on top of the beat, getting the crowd even more into the set. On the dance floor, there were a bunch of raised areas built-in the walls, allowing people to headbang on so many levels. We danced our hearts out until the clock hit 6 and we just couldn't do it anymore, but left buzzing from the energy and insane music we experienced.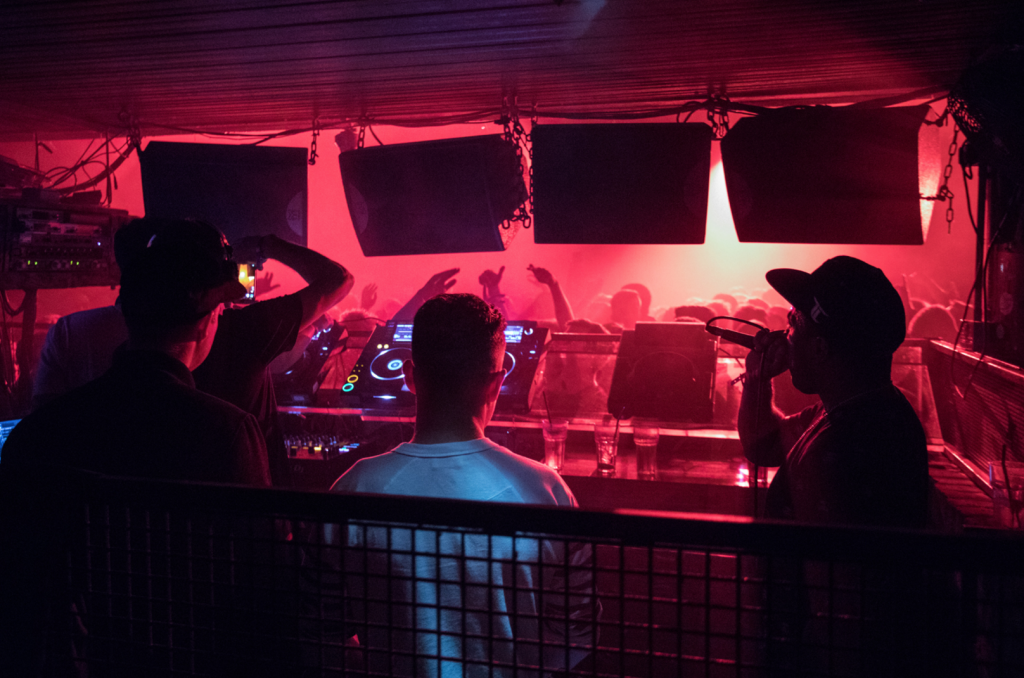 ---
Amsterdam
Although we didn't get to try out the nightlife in Amsterdam, we did get to attend one of the most extraordinary events that I've ever been to…A State of Trance 800.  Looking back on the experience, my best friend Allie said, "I think ASOT Utrecht was the coolest thing we've ever done," and I couldn't agree more. We've been to countless festivals together, but this one was special–experiencing trance music in the place where it was born, in Armin Van Buuren's home country, was a once-in-a-lifetime occurrence. We went in with little background on the genre, and came out trance lovers, especially when it comes to Vini Vici! The uplifting vibes, incredible people, passionate DJs, and exciting production all came together for a night that we will never forget. If I ever get a chance to go to another Dutch festival I will be there in a second.
You can read all about my experience at ASOT 800 Utrecht HERE!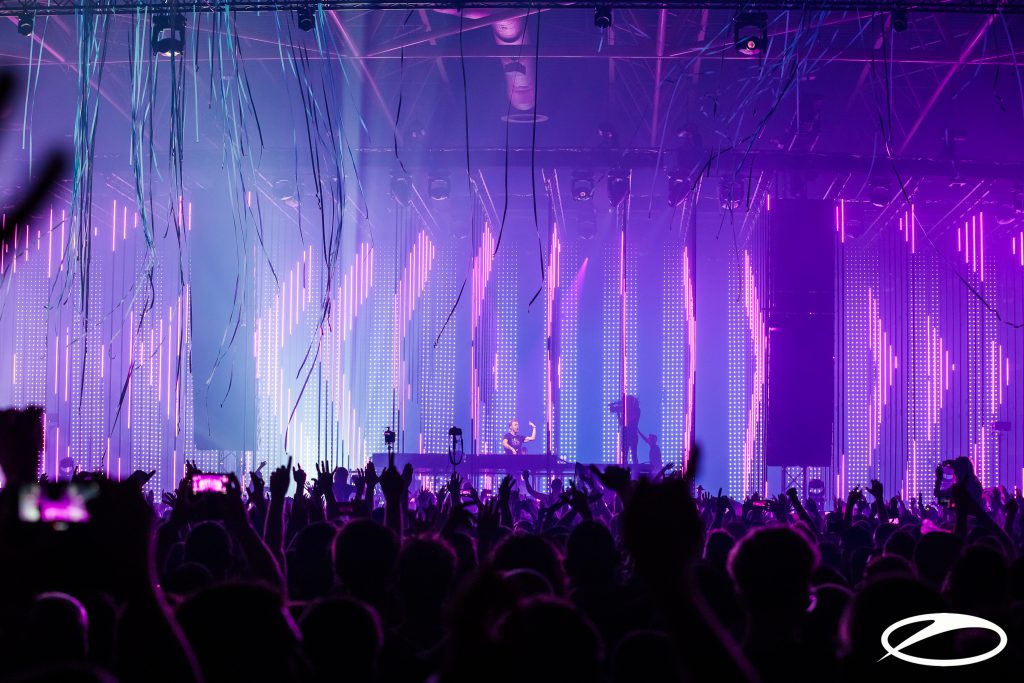 ---
Prague
Prague was king of the underground, cave-like smoky venues, and to my surprise home to a ton of throwback music. In our two nights, we hit up two different clubs: Lucerna and KARLOVY LÁZNĚ (better known as the five-story club). Lucerna Dance Hall was such a fun experience! We went on their 80s and 90s throwback night and danced the night away to old favorites. The stage was open for people to jump up, so there was even more room to get down to fun favorites. The crowd was mostly composed of study abroad kids, but there were also a ton of fun older Czech people dancing their hearts out too!
The next night we headed to the legendary five-story club, KARLOVY LÁZNĚ. It was in a picturesque location right by the river, which we got to enjoy as we waited in the long line to get in. As promised, there were five floors of five different types of music: radio hits, dance music, oldies, hip hop & R'n'B, and chill out. I automatically headed towards the dance music floor, dragging my friends along with me, but was a bit disappointed to find the DJ playing only generic Electro House.
After that, we wandered around, of course hitting my friends' favorite oldies floor! I enjoyed the chill out room, playing some feel-good tropical house. Without music that I really loved and crowded with drunk people, KARLOVY LÁZNĚ was a bit of a let down for me. The five-story aspect made for a fun night, but in the end, I didn't love the vibes or the music. But, with great company, the night was still a blast!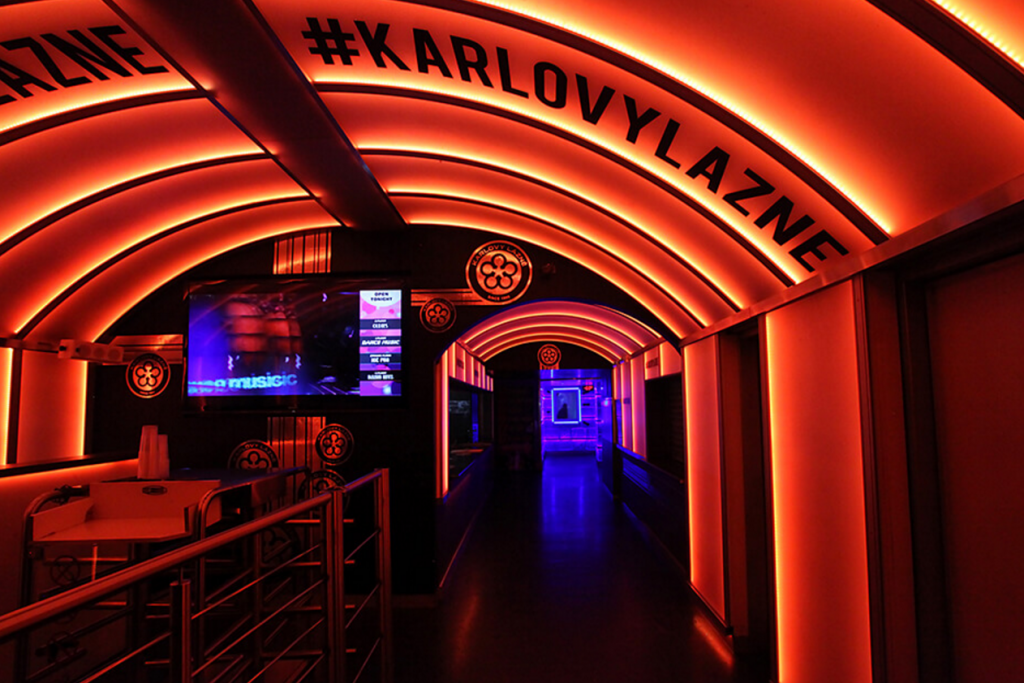 ---
Berlin
Berlin, ah Berlin. That place was something else! I knew it was famous for its underground techno scene, and from what I defined as 'techno,' I couldn't wait to experience the Berlin nightlife. Little did I know that my night would be filled with dungeons, smoke, minimalist techno, and some crazy people. The only real club we went to in Berlin was Tresor, an underground electronic music club within an old abandoned power plant. From our research, it was said to be the top club in Berlin next to the legendary Berghain, and a little bit easier to get into. We donned our all-black skinny jean and t-shirt outfits, split up into groups of two, and stood in the hour-long line trying to stay as indiscreet as possible.
We watched as group after group got turned away at the entrance, our confidence lowering with each failed entry. In Berlin, especially at the famous clubs like Berghain and Tresor, the bouncers are insanely strict with who they let into the club. Large groups, especially containing loud, drunken Americans, are almost always turned away. As we neared the front, I was surprised to see a female bouncer, strikingly beautiful with a shaved head and intense makeup. The two of us quietly approached, and she asked where we were from and for our identification, and surprisingly let us through with no trouble at all.
In a bit of awe that we got in, we wandered through the labyrinth-like hallways lined with slightly worrisome light-up electric fencing and found ourselves in a dungeon with techno pounding so loud you couldn't hear yourself think. Not knowing any better, we made our way farther in, passing cages with people dancing, until all the sudden the smoke permeated the dance floor and we couldn't see a thing! Upstairs, there was a less intense stage and bar area, where it was easier to see and hear the people around you. European techno legends were elegantly spinning up on stage, as the crowd danced along in any which way they liked.
There was no judgment at Tresor, people were free to be themselves, and there were definitely some characters in the crowd.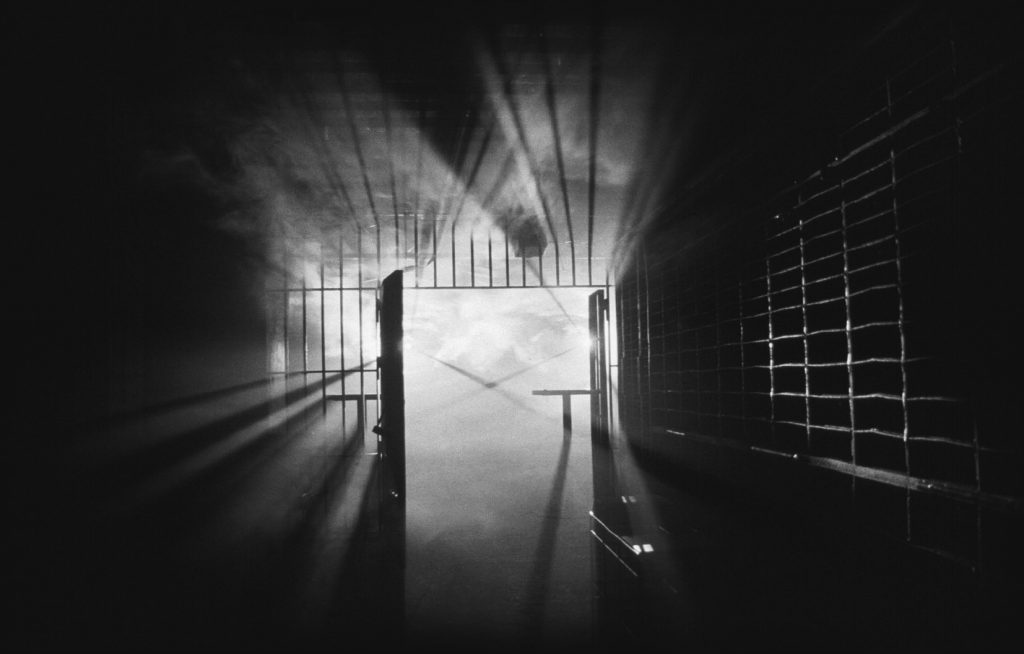 ---
Ibiza
The minute I decided to study abroad in Spain, I knew I absolutely had to make it over to Ibiza at some point. We took a quick hour-long flight from Barcelona and settled into our luxurious room at the Hard Rock, ready for some action. Since we were there in the off-season (early May), there wasn't too much going on, but I saw so much potential in the island. The Hard Rock, in particular, was pretty quiet while we were there, but the beautiful pools and beaches with incredible sound systems and neighboring stages were just asking for people to come and party all day long.
Considering most clubs were only in soft-opening mode if anything, our options were limited. The one big night we had was at Pacha Ibiza, which may be one of my most memorable nights out ever. With insanely high cover (50 euros) we prayed that this night would be worth it, and Pacha delivered in every which way. House and techno legend Loco Dice brought the house down, the crowd's excitement and passion tangible as he took us on a Spanish-infused musical journey.
The club itself was enormous, with different levels complete with exquisite dancers everywhere you looked. Palm trees and floating Pacha cherries gave the club a fun tropical feel, and the sound and stage production was unbelievable–it was clear to me how this club got its world-famous reputation. I'll never forget the energy I felt that night.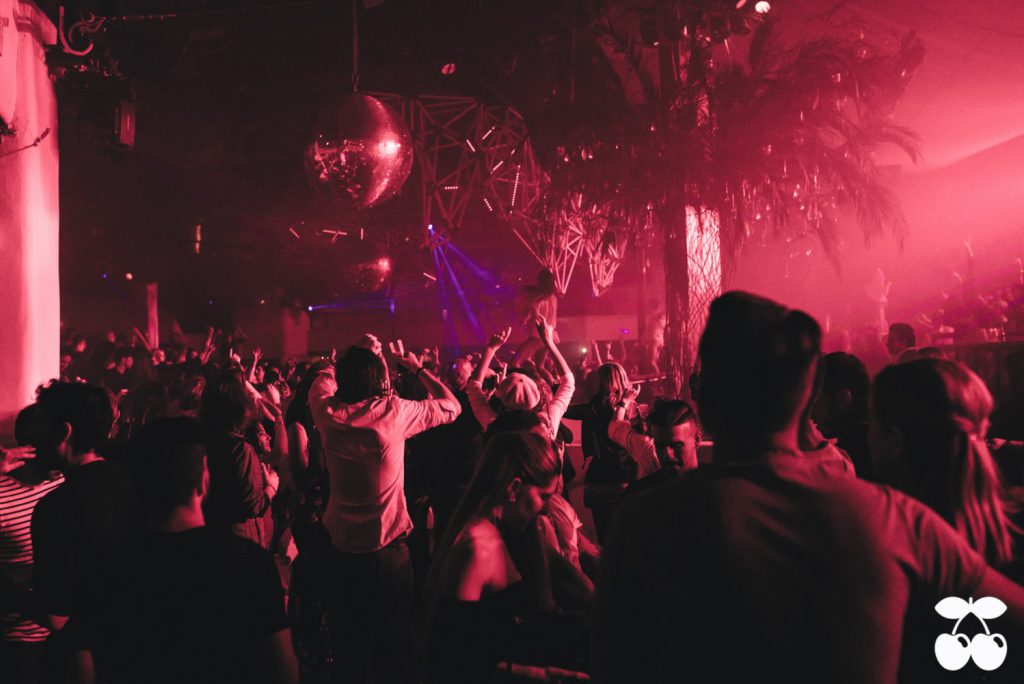 ---
Barcelona
Finally for my home base–Barcelona! Since I was able to spend significantly more time here than any of the above cities, I got a better feel for the music and nightlife scene in Barca. Most of our nights out included hitting the popular clubs Opium, Sutton, Shoko, and Bling Bling, which often brought in world-famous DJs on top of their already talented resident DJs. Some favorite nights included Borgore at Opium, Slander at Shoko, and Prince Fox at Sutton, and Jillionaire at Bling Bling. Opium was a favorite of many study-abroad kids in Barcelona, with the biggest night out on Mondays for "Loco Lunes." The club was immense and always had themed nights with crazy decorations and high-quality production to match their high drink prices. While the music was often more commercial than the deep house that I found to be very popular with Spanish people, it was nice to experience both.
When we weren't off living the high-end club life in Barcelona, there were a ton of other more authentic places for us to hit. My favorite spot in Barcelona was Razzmatazz, a warehouse style club with three floors and multiple rooms on each floor. I loved being one of the only Americans in the place, feeling completely immersed in the crazy energy present in Barcelona's music culture. The main stage on the bottom floor usually housed pop EDM music, but the rooms upstairs varied from booming house and techno, fun indie, and hip hop vibes.
My absolute favorite experience in Barcelona, and potentially in my entire four months abroad, was attending elrow. My Spanish friends had told me stories of the crazy festival, their favorite party in all of Barcelona, so I knew I had to make it to at least one. Going from early morning well into the night, elrow is not for the faint of heart! The theme for our particular day was "El Rowcio," filled with festive flamenco and bullfighting and all the costumes to go along with it. Hot Since 82 headlined, accompanied by many other house DJs that I'd never heard of but thoroughly enjoyed.
Being at elrow was the closest I felt to truly being in Spanish culture and seeing the similarities and differences between their rave culture and ours. The other people there couldn't believe that we were Americans and attending elrow, which was their favorite event. Although technically outsiders we didn't feel any sort of stigma, making countless friends throughout the day. It was such a welcoming atmosphere, and just as at raves at home, the music brought us all together.
Periodically, characters dressed up on stilts would come throughout the crowd, dancing with you and bonking you on the head with their various props. The confetti would drop and everyone would go even wilder! There were even theatrical bullfights where the characters dressed as bulls would charge the bullfighter characters for an entertaining and hilarious display.
Elrow was the perfect way to finish off the most incredible semester, definitely going out with a bang. From London to Ibiza to Berlin and back to Barcelona, I absolutely loved exploring the distinctive music scenes within each city– I can't wait to go back to each one day!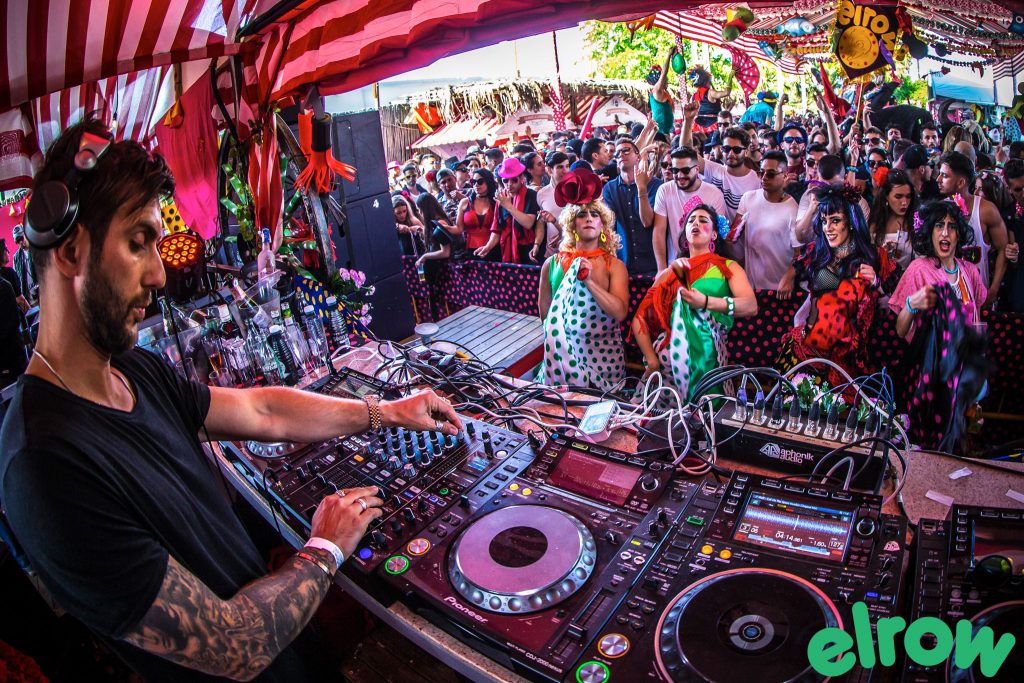 ---
Featured Image Credit: Elrow