Get to know rising star Memo Rex in this week's Artist Spotlight!
---
Making serious waves in the house and techno scene here in San Diego, Memo Rex is a name that any local music lover should get acquainted with soon. This former rocker is now taking the stage behind the decks, bringing a groovy sound with him that will make you fall in love immediately. The head audio engineer and VP of Tribe Out West, he is one of the leaders of the group that has been taking over the San Diego scene as of late. His weekly and monthly residencies allow for fans from all over to dance the night away to his sets, and they are definitely must-attend territory for anyone who loves tech house.
The Memo Rex story doesn't stop at DJing, though, as he also releases quality originals and some epic collaborations with other San Diego-based talent. Most recently he dropped some fresh beats with Lee Reynolds on The Seven Principles EP, which is out now on Desert Hearts Records. Listen to his exclusive guest mix and read on for our chat with him below!
Stream EDMID Guest Mix 074 || Memo Rex on Mixcloud:
EDMID Guest Mix 074 || Memo Rex – Tracklist:
Memo Rex – I Am The Sound (Coming soon on Stripped Recordings)
Memo Rex – Oceanica (Coming soon on Fast Mode)
Memo Rex, Susio – Shells (Coming soon on Klexos)
Lee Reynolds, Memo Rex – Everybody Knows (Desert Hearts Records)
Memo Rex – Relax (Coming Soon on Desert Hearts Records)
Memo Rex, Nicky Saponaro – I Want You (Coming soon on Klinik Room Recordings)
Memo Rex, Donald Thump – Spirals
---
What led to you picking up the headphones and beginning your career as a DJ/Producer?
I've always loved music. My first experience with its implementation was singing and song writing using live instruments. This all changed when I went to my first electronic gathering. I was drawn to the broad frequency range, the preciseness, and the absolute feeling of being engulfed in this new hypnotic sound. So, it wasn't long before I traded in my guitar for a synthesizer and began to fuse rock with electronica. This led to sharing the stage and DJing afterparties with bands like Chromeo, who inspired me to start listening to the subtleties of production. The quest for the cleanest fattest sound began…
Which artist was your introduction to electronic music, and who are some of your inspirations?
Depeche Mode was not necessarily my introduction, but their album Violator really opened me up to new possibilities and ideas. Bjork bridged the gap between song and electronica but it wasn't until seeing Goldie that I started going down the rabbit hole of electronic music. My current inspiration comes from deep progressive techno and house from the likes of Noir, Paul Urson & Anna. They really know how to blend deep grooves with melody and that's right up my alley.
Other inspirations stem from the people I share the many different stages of creation, production, and friendship. It's this reciprocal energy that gives way to new ideas and the evolution of our musical journey.
The sets you play are vibey and deep, what is your discovery process like for finding new tracks that fit your sound?
I get by with a little help from my friends as they say, and my friends are great at sharing new music with me. I also compile and mix 'The Top 20 Lovelist' for Music is 4 Lovers on monthly basis and I usually find some great gems through that process. That being said I love late night searches on Traxsource and Soundcloud as well as creating my own tracks to round it all out.
You recently collaborated with Lee Reynolds on the tune "The Seven Principles". How did that collaboration come about and did you approach it differently than your solo releases?
Lee and I have been friends for years, but it wasn't until I began my path into deep tech house that he got a chance to hear one of my releases on Tribe Out West. He called me to set up a studio session and we've in cahoots ever since. Our approach was to let the tracks happen organically, submit to the music and save the formal audio techniques for the post production process, while still keeping it strangely weird.
The San Diego scene has crept back into the spotlight lately in the electronic music scene. How do you feel it compares to other areas you've played or visited?
I feel San Diego is like a little Electronic Baby Jesus, fresh and open to the possibilities of all the electronic music scene has to offer. There's amazing new people, collectives, and venues sprouting up all over. We have the opportunity to learn from our peers and ourselves, and to extend this knowledge to others and that's exactly whats happening here. The SD scene is alive and well and part of this sort of Neo-Electronic Renaissance!
What has been your favorite show to play so far in your career?
I'm so grateful to have played at so many amazing shows and happy to have had so many favorites. I'd have to say the Lovelife Boat parties are excellent as well as sharing the stage with Tribe Out West. Always an amazing time playing those shows.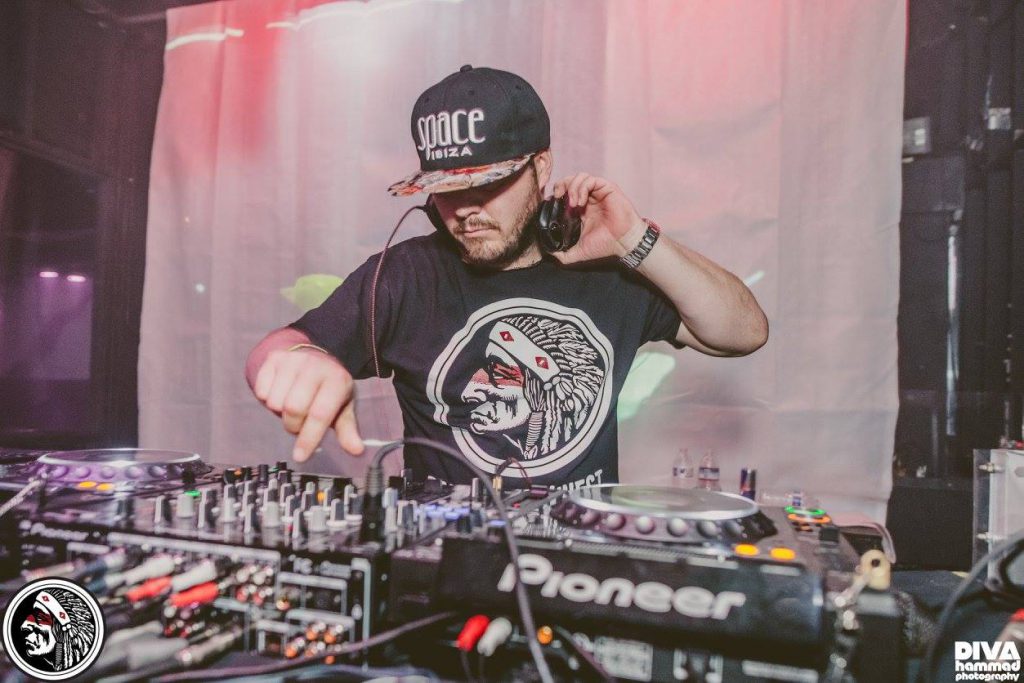 Is there a dream venue or event you want to play in the future?
I think my dream venue is a forest wonderland and I believe I'd love to play at Deserts Hearts, as their last party was absolutely bonkers. Also overseas at festivals like BPM in Portugal!
Coming from San Diego, you most definitely have a favorite taco shop. Where is your #1 spot, and what's the usual order?
Y'all know it's Tacos El Gordo in National City or H street. Although I heard Tortas are the new thing and Corazon de Torta in Sherman Heights is the place to be. Aaaaaaiiiiiii Guey!
What's in store for your fans for the rest of 2017? Any surprises or new releases coming up?
Well, the major surprise is this Q & A with EDMID which couldn't have come at a better time since I get to share some very techie tracks I've been working on with my friends: Lee Reynolds, Donald Thump, Nicky Saponaro & Susio. In the meantime I have upcoming releases and collaborations on Miguel Mig's Salted Music with Jesusdapnk, Desert Hearts Records, Late Night Jackin, Brazil's Klexos with Susio, Croatia's Klinik room Recordings with Nicky Saponaro, Oscar P's Heavy and Norman H's Stripped Recordings just to name a few ❤
---
Follow Memo Rex on Social Media:
Website | Facebook | Twitter | Instagram | SoundCloud