Shaun Frank Talks EDC Las Vegas, Upcoming Releases, & More!
---
Between opening kineticFIELD at EDC Las Vegas, releasing dope new tracks, and touring the country, Shaun Frank has been absolutely killing it this year! There are few people who truly possess raw passion, dedication, and talent, but after talking with Shaun Frank I'm convinced he has it all. You may know him from his collaboration with Oliver Heldens, "Shades of Grey," or his part in co-writing "Closer" with The Chainsmokers. Coming out of his energy-filled kineticFIELD set at EDC Las Vegas, Shaun was clearly excited and thankful to have had the opportunity to play such a grand stage. Despite the early hours of the festival, he had the crowd out there raging hard with him, kicking off day two with a bang.
With some upcoming track releases like "Upside Down," music videos in the works, and impressive festivals to hit this summer, Shaun Frank is moving quickly towards the top. He just finished up his wild No Future tour across the United States, playing everywhere from Miami to Detroit. We had a chance to sit down with him and talk about his EDC set, his process of music curation, and his exciting future endeavors. Read on below for more on the man of the hour, Shaun Frank.
Stream Shaun Frank – No Future ft. Dyson on SoundCloud:
---
You just played a sick opening set for day two at kineticFIELD, what was it like playing at that stage?
Pretty unbelievable, I got to play the sunset which is amazing. It's always good to play the sunset no matter what festival you're at. And, I debuted a couple new tunes, obviously playing kinetic field at EDC Vegas is a serious honor. So I hope I did it justice.
Did you go through any special preparations for your EDCLV set this year, was there a specific vibe you were trying to capture?
Well, I actually didn't do what I planned on doing because I played, they were having a problem something to do with doors and sound and stuff so I actually had a little less time than I thought I was going to have. So when I went on it was actually empty. And then it filled in by the time I was 20 mins into my set there was like 5,000 people there. That made me kind of not do what I was going to do, but that's the whole thing about DJing is you have to kinda like play the room.
I opened up a lot deeper than I thought I was going to, but I still got to play a bunch of new edits that I had made, I made a bunch of edits in the hotel room last night. Delaney and I dropped our new duet collab thing that we're putting out called "Throwback" which was awesome. Yeah, it was tight.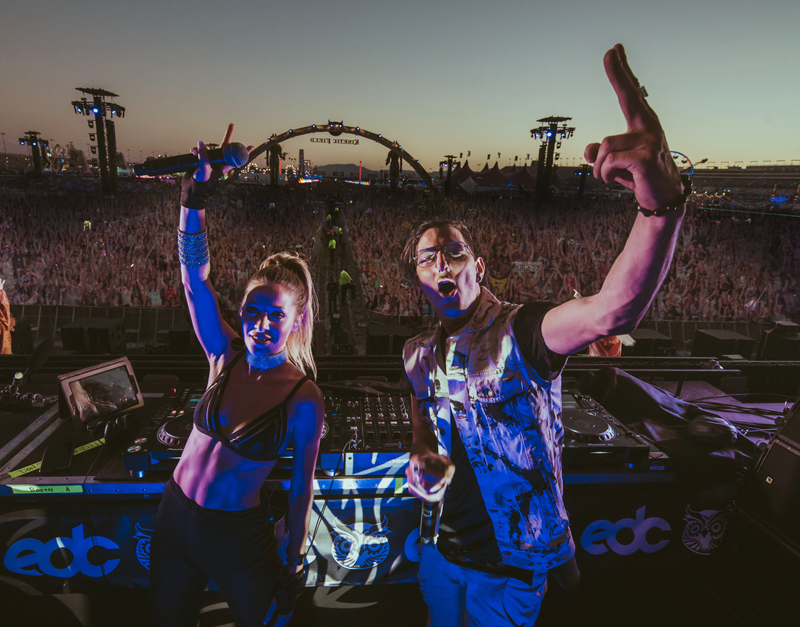 Many artists who play EDC Las Vegas are also able to catch some sets and experience the festival too. Is there anyone you're catching, and have you been able to tour the festival grounds?
Yeah, we just got to ride around and right after this, I want to go check out Louis the Child for sure. And papa Tiesto is on later tonight. I have to be out of here super early tomorrow it's crazy, we are heading back to Toronto for a thing called the MMVA's, it's a video awards show. So we've got to go back for that, have to be there tomorrow night. So we're in and out pretty quick.
Your new track "No Future" with Dyson has been a huge success and you just wrapped up the end of the "No Future" tour. Do you have any favorite memories on the road?
Wow, yeah the No Future tour was awesome. It just keeps getting better, it's so cool to keep coming back to some of the same places. You know every eight or nine months you go back to the same place and there are more people and more love and it's a really cool situation. The best part for me was when the tour met with The Chainsmokers, I did five shows with them in the Northeast United States on their Memories Do Not Open Tour. It was like an arena tour–I was doing a bunch of clubs and then all the sudden I was like in massive sold-out arenas. It was nuts. You can see the photos on my Instagram, it was basically the craziest shit I've ever done. Those guys are just amazing, I love those guys so that was probably a big highlight. LA was amazing on that tour, Atlanta was amazing on that tour, Hangout Fest was a huge surprise. That was a great, great show. I can't wait for this summer I have a ton of festivals coming up too.
You released a Diplo and Friends Mix a few months back that included everyone from Porter to Herobust. What draws you to certain artists to incorporate their music into your sets.
I don't really stop at any genre specifically, I'm pretty multi–I never got into this to just play one sound. And I'm really glad that I feel like it's going that way, it's more acceptable. I feel like if I did what I do now three years ago people would be like what is going on, he played like six different genres. But I kinda feel like that is where it's going, and for me, the song has to move me. I just listen to everything and if there's a song that really hits me, where it's like this is a really good one, in this genre or whatever, those are the ones. I'm really picky, man, it takes me forever to make those mixes. I'll listen to like 50 songs and find one that I like. So I'm really careful with those, that's why I don't do that many because I don't know how these guys do like weeklies. There's not that much good new music every week.
It seems like a lot of the weekly shows have switched to biweekly or monthly almost.
Yeah, and listen I get it. It's cool, I would love to do a radio show, like a monthly thing, but again I just am so picky with what I want to play. Even for the EDC set, last night I was in the hotel room trying to add more songs to my set, and I've only got a couple that I like.
What is the music discovery process like for you? Do you find new tracks on Soundcloud or is it people sending you links?
Yeah, SoundCloud is a big one. There's a lot in my promo email that comes in, I usually flick through that and find some stuff. But mainly I'll just talk to my friends most of the time, it's like I was with The Chainsmokers the other day and I was like Yo what's fire right now and they're like oh check out this tune. So that's a couple tunes I played today I just got from friends. That's the best way just passing around music, that's kind of how this whole thing started man, just passing around music.
You're heading to two huge festivals in Canada this summer, Center of Gravity and Shambhala. Are you excited to be going back to your home country for those two?
Yeah for sure! And Shambhala is one that I've been wanting to play for the longest time, and I'm going to do something, a completely crazy weirdo set at that festival, I have big plans for that one.
It's like the holy grail of bass music.
Yea, and obviously I play a little bit of bass music, I don't play a lot of bass music in my sets. But yeah I want to do some really weird, long built set. I have some ideas, something a little different.
Music videos like "Let You Get Away" paint vivid stories to accompany your tracks. You were just in the studio for back to back video shoots, can we expect similar creative storylines for those two?
Yeah, yeah. We just shot two music videos last weekend back to back. The first one is going to be coming out in the next three or four weeks which is exciting. It's called "Upside Down" and I did my own stunts in this video so it was pretty crazy, yeah I was like flying through on wires. And then the second one is the duet with Delaney Jane and that one's more of a story, the first one's a little more weird. They're both like one long take videos, so I'm really stoked. I've been using the same video director for everything, and he just has a knack for that.
So you're going to become a stunt man, right?
I'm the next Tom Cruise.
Last time we talked, you mentioned moving towards incorporating more live elements into your sets. On top of bringing in singers like Delaney Jane and Ashe are there any other live elements you've been using recently?
I've started to practice trying to find a way to do it a little differently from the way the other guys have been doing it. I grew up playing in bands, so I wouldn't be surprised if it was like a multiple people instrumental thing that I end up doing. I really want to incorporate drums if I can. But it's all dependent on the shows, you know I can only do that if I'm doing my own show in theaters, not clubs. So I'm trying to find a way to do it by the next door. I would think by the next tour there will be more live elements happening that I'm playing.
Do you have any upcoming releases in store that you can share with your fans?
Yeah this track, "Upside Down," is coming out in the next three weeks, yeah early July.
Finally, after two years of EDC and some Vegas club shows, have you discovered any yummy restaurants or favorite spots in Vegas?
Oh yeah, the food in Vegas is incredible. STK is unbelievable. Tiesto took me up to this restaurant up in the top of the Cosmo, a seafood restaurant. I can't remember the name but it was unbelievable. And then the other night we just ate at that restaurant, Andreas, in the Wynn it was crazy. Oh and Eggslut's like the best thing in Vegas.
---
Connect With Shaun Frank On Social Media:
Website | Facebook | Twitter | Instagram | SoundCloud | YouTube
Featured Image Credit: Shane Lopes Photo