ASOT 800 Utrecht flew above and beyond my expectations with once-in-a-lifetime sets, incredibly positive vibes, and innovative stage production. I never wanted to leave!
---
I can't stop thinking about the time I had at ASOT 800 Utrecht last month. I had uncertain expectations going into the night, seeing as this was my first large-scale European event as well as my first all trance event. I had watched videos and looked at pictures of past ASOT events, but nothing prepared me for the insane energy I experienced in Utrecht. As a lover primarily of house and bass genres, I was by no means a trance expert prior to the event, but I came out of the night feeling like I'd discovered a whole new world of music. I'm so excited to have fallen in love with a new genre and to have experienced such an incredible event! The positive messages, great vibes, and unreal sets came together for an unforgettable night.
The event was well-thought-out and organized from start to finish with little if any hiccups. Since we were coming from out of town, we decided to book our hotel through ASOT's travel package, which included a ticket for the event, hotel room, and optional shuttle transfer to the event all for a reasonable price. The shuttle picked us up around 8:00 PM from our hotel and dropped us off in the parking lot of Jaarbeurs where it picked us up nine hours later. We made some friends from neighboring hotels on the bus, and together we excitedly made our way towards the enormous convention center.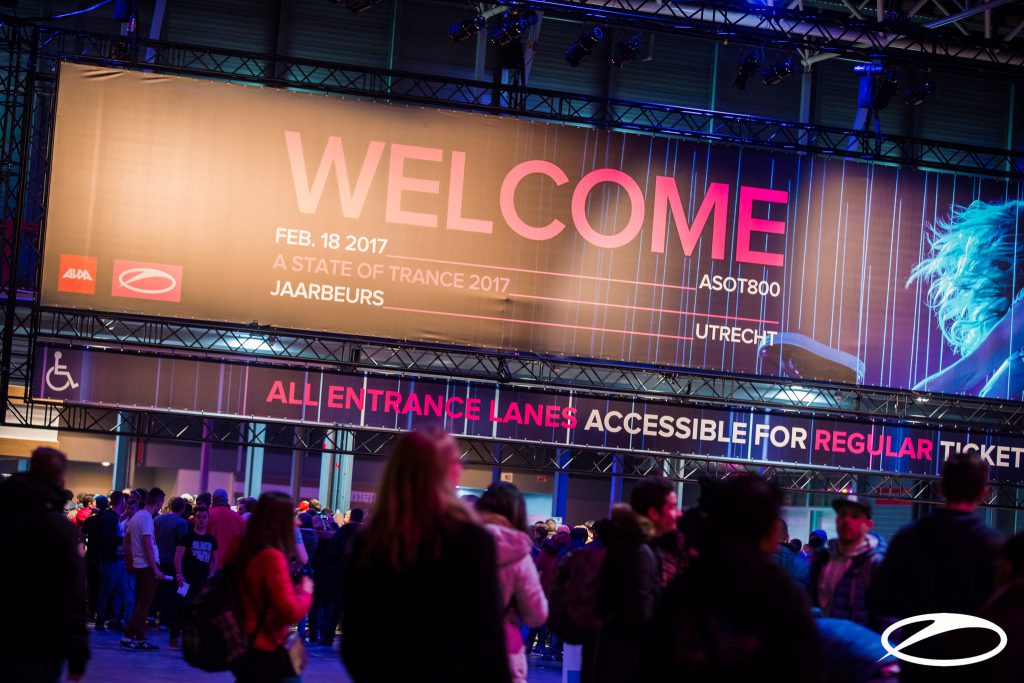 Once inside, we made our way to each of the four stages, getting a feel for each and figuring out the layout of the festival.
First, we hit the Who's Afraid of 138?! stage. This got our night going with an upbeat set from Pure NRG. Side by side was the Road to 1000 stage, the smallest of the four stages, but with some of the best music we heard all night. It was there that we saw Estiva, who might have been my favorite set! His passion and energy were off the charts. He was dancing, yelling, and doing all he could to get the crowd to go wild and feel his set as much as he was. It worked. He managed to get a crowd who was just starting off their night with a light bounce and head bob to full on jumping and dancing around. It was during that set that we started talking to some Dutch people with hilarious dance moves who ended up becoming our group for the rest of the night. Since it was only my one friend and I that went to the event together, we were so excited to have found a fun group of friends and the night only went up from there! Turns out one of our new friends knew Estiva from when they were kids, so we got the chance to meet him and congratulate him on his amazing set.
Next up we went to check out the PSY stage.
On our way, we explored the main area with food, drinks, and an enclosed area where you could watch the A State of Trance radio show broadcasting live inside a transparent bubble structure. They gave you a headset so you could tune in while seeing Armin and his guests talk right in front of you. We went in to check it out, and Armin was right there, smiling ear to ear while telling us about the various happenings at ASOT at that moment. He even brought in some fans, one of which even proposed to his girlfriend on the show! It was surreal to see Armin just feet away from us, but we tried not to get caught up there too long — we didn't wanna miss out on all the music going on elsewhere. We continued on our way to the PSY stage, which was my favorite production-wise. The room was a long oval shape with screens reaching all the way around the walls, giving spectacular 360-degree visuals.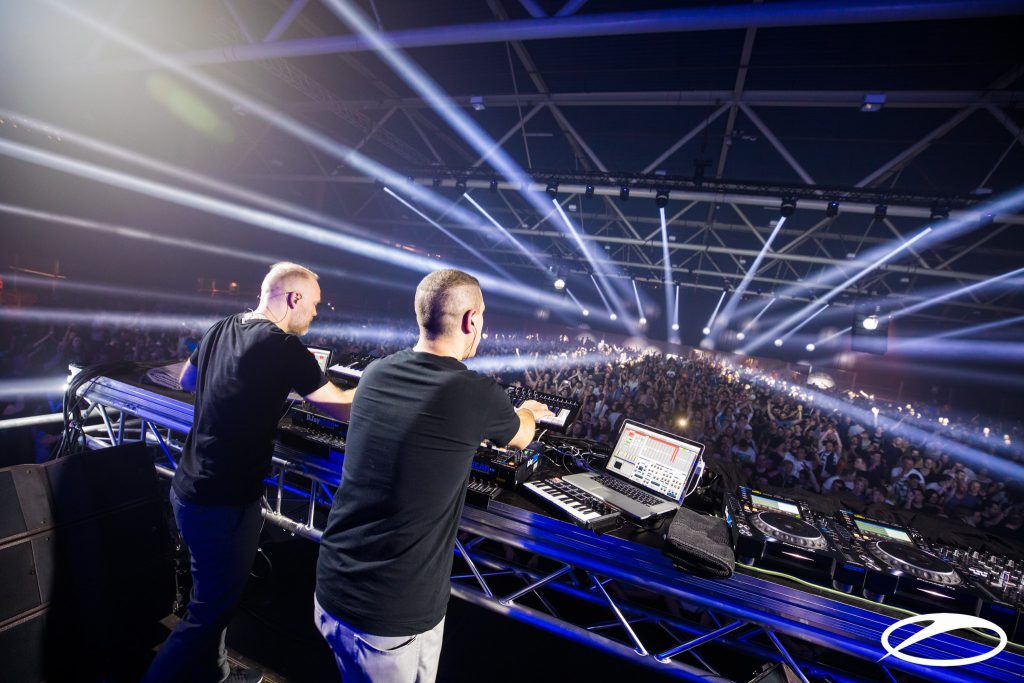 Organization-wise, ASOT 800 Utrecht was planned extremely well, and without any problems in my experience. 
One thing that I was unsure about at first, but ended up thoroughly appreciating, was the cashless card payment system. At any point in the night, you could load any amount of money onto your cashless card (it looked like a credit card), and then you would use that to purchase drinks, food, or merchandise at the vendors. I initially thought the cashless card idea might be too much work for what it was worth, but the system worked flawlessly. Lines went significantly faster (you could have your next drink in your hand in less than two minutes), and you didn't have to worry about keeping track of loose coins throughout the night. The only problem was that if you lost your card, anyone could use the money loaded on it. Luckily, we had no problems with that.
After exploring the PSY stage we excitedly followed the signs to the Main Stage, eagerly anticipating what it was going to be like considering the production and size of the three accompanying stages. To get there, you had to go through a long entryway that connected to a separate part of the convention center that seemed to be a giant arena. My jaw dropped when we emerged — the cavernous space so much larger than I had imagined! Thousands of people were dancing in the middle, and on both sides, there were beverage stands and raised VIP areas. The sound was booming even way in the back, thanks to speakers hanging periodically throughout the space, and the stage was ginormous. The stage production was different from anything I'd seen before. Instead of the usual LED screens, the stage was colorless, with column-like strings of lights that would light up at different times with varying colors for an overall dazzling effect. It was cool to see a new type of stage production that I'd never experienced. I appreciated the somewhat minimalist design that kept the focus on the music. although the lasers were anything but minimalist.
The sequence of artists at the Main Stage could not have been better. 
The rest of the night was spent enjoying sets from Orjan Nilsen, Aly & Fila, Armin Van Buuren, and MaRLo at the Main Stage, and we also caught some of Avalon and Astrix over at the PSY stage. I really enjoyed Aly & Fila; their set was so uplifting; filled with those perfect moments when the music, the people you're with, and the atmosphere all come together. Being a newbie to the trance scene, I only recognized a few songs during each set, but it was so much fun to be constantly surprised and excited by new songs that I'd never heard before, played out in the grandest of settings.
Armin's midnight set really kicked things off. His song, "I Live for That Energy", the anthem for the event, set the tone for his exciting set, although he also gave us all the feels with his older songs like "This is What it Feels Like", bringing me back to my first days of loving dance music. One of my favorite things about dance music and about the culture as a whole is when you can feel the passion of the DJ on stage — when he or she truly loves what they're doing and are so happy to be there sharing their music with all of us. Armin does that for me. His passion, excitement, and love are tangible when he's up there (just look at that smile!), and it makes the experience so special for all of us. It sets the tone for everyone else at the event. I can't name many other festivals where people treat each other with the same respect and positivity as they did at ASOT. Armin was present during the festival through the ASOT radio show broadcast, chiming in over the screen once or twice during every set, giving the DJ playing some introduction and getting everyone pumped.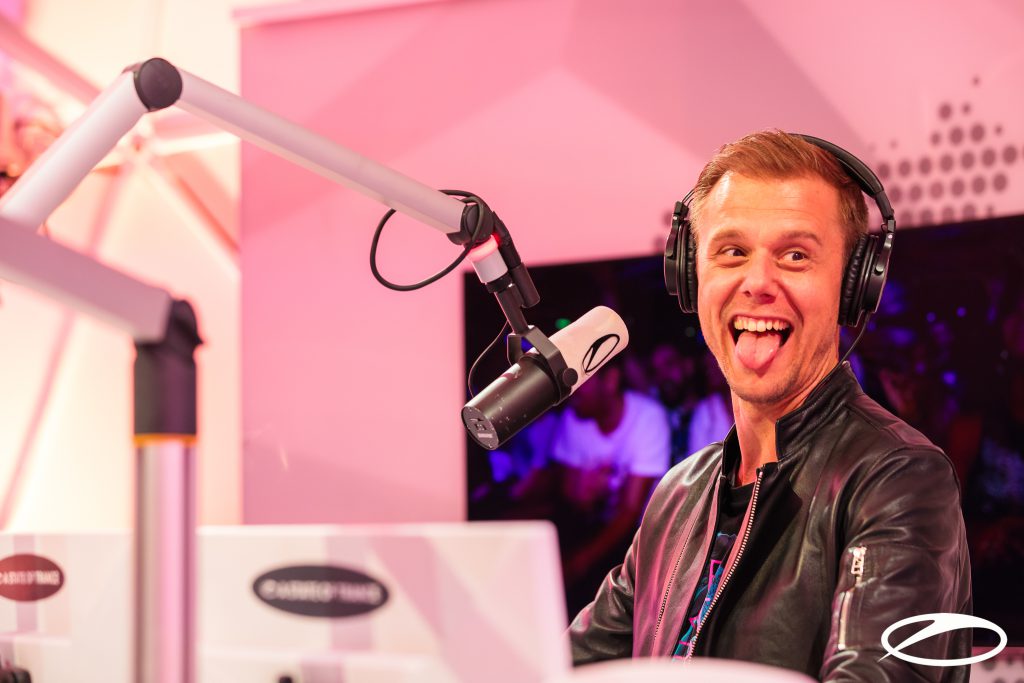 Following Armin, the night continued on the Main Stage with MaRLo, Aly & Fila, and Vini Vici.
Vini Vici was the perfect hard trance set to get out any last crazy energy before having some unforgettable moments at Armin's vinyl set. Artists rarely play vinyl sets anymore due to the difficulty mixing compared to digital equipment, but Armin skillfully created a beautiful hour-long set that paid tribute to many of the classics of trance music. On top of the amazing song selection, the set was even more special knowing the skill necessary to play a successful vinyl set. He closed out the night with uplifting moments that I will remember forever. The vibes in that arena at 5:00 AM in the morning were through the roof!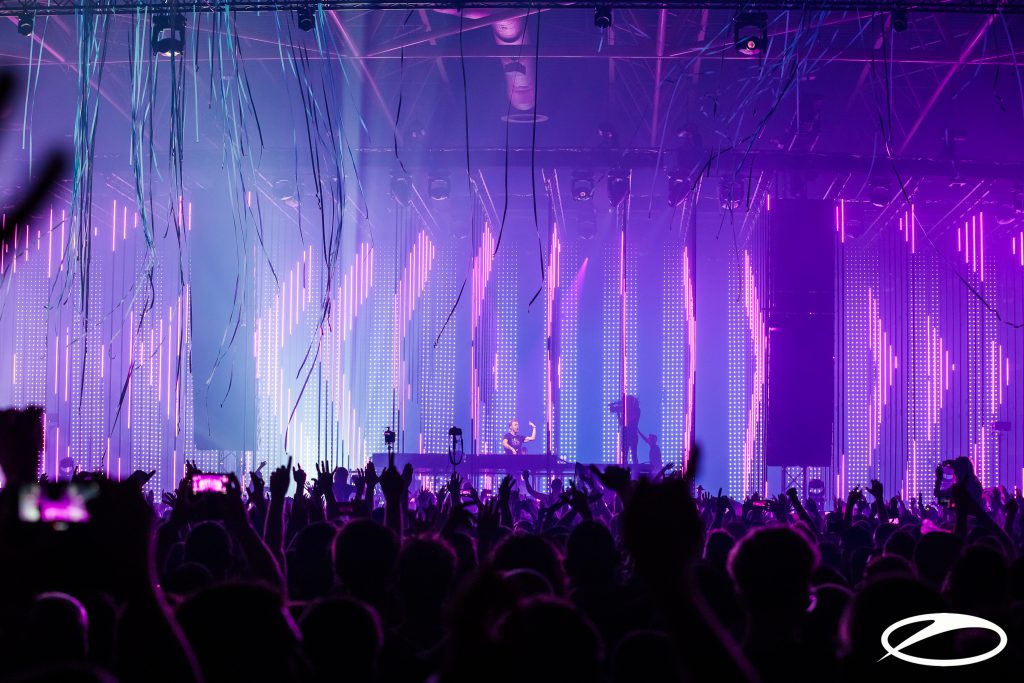 Looking back at ASOT 800 Utrecht, one of my absolute favorite parts was the people!
I was extremely excited to make new friends and see what the dance music culture is like over here in Europe. Most of the people we met were Dutch, and they were some of the most friendly, down to earth people I've ever encountered and had a real love for life and music. While they had no lack of community or positivity, they did not practice many of the aspects of rave culture that we have here in the states. Kandi was rarely encountered, and everyone was wearing normal day-to-day clothes, mostly just jeans and t-shirts. Many people were rocking A State of Trance shirts or flags, but apart from that there were no totems, fun creative outfits, gloves, or other festival gear that you might find at events in the United States. At first I was dismayed by that missing part of the festival experience, but then I realized that they were missing none of the PLUR that goes along with those aspects of our culture. They just expressed it in different ways, and it was amazing to experience that!
Another huge difference in the scene that I noticed was the age of the attendees. I couldn't believe how many people in their 30's, 40's, 50's, and even 60's were at ASOT! I would say almost a quarter of the crowd was older than my parents, which was crazy to see. It got me thinking since dance music arose earlier over here in Europe, all the older generations loved it just as much as we do now. It will be interesting to see if the age in festival-goers shows a greater range in America as time goes on and our generation gets older. All of the older attendees were having just as much fun as the younger people, truly showing that music has no boundaries.
From beginning to end, my nine-hour long experience at ASOT 800 Utrecht was nothing but positive.
The incredible lineup, top of the line production, and amazing people provided for an introduction to trance music that no event could top. I feel so lucky to have experienced a new culture, new music, and new friends, and I can't wait to continue to explore this genre of trance music that I have fallen in love with. I hope one day to find myself back in Utrecht and do it all again!
---
Connect with ASOT on Social Media