Canada shows us how to party with Ever After Music Festival 2017
Overall, Ever After Music Festival 2017 was a magical festival for my first time in Canada. The venue itself truly lends itself well to the event. It's hard to beat a festival that has a water park, inflatable games, and a lineup that broke all of our necks every day, complete with a foam pit. More than that, we made new lifelong friends, not just the ones I was able to reunite with. I'll be meeting up with some of them in the future in the forest.
Considering this festival is only in it's third year I have high hopes for it. I'm sure we've all heard the stereotype that Canadians are really nice; trust me that was my mindset when I was there. One thing I didn't consider was how hard they rage. They know how to have a good time and it could be felt throughout the whole weekend. I can't wait to see what they have in store for next year.
Last year at EDC, I met six Canadians super briefly and we all just seemed to click. One year later, we were all able to meet up at Ever After. Teen, Nick, Aaron, Andrea, and Kayla were the perfect hosts for my first festival in their home country. They had given me a lot of tips about the weather, the venue, and a quick overview of Canadian culture. As per their suggestion of trying poutine at some point, I did in fact order it along with fried chicken on the last day of the festival. It was a bowl of mouth watering happiness.
We entered Ever After Music Festival with high expectations, but found long lines, hidden water refill stations, and low sound volume dampered moods on day one.
Getting into the venue proved to be difficult on the first day. It was Friday and we got into line shortly after gates had opened. The line was growing rapidly as we started to see hundreds of people coming in from all around us. My friends went through the GA line, while I entered through VIP. All the lines were moving unusually slowly. The searches were extremely thorough and they spent a lot of time trying to accommodate people. One girl in front of us had brought a selfie-stick, an item on the prohibited list. Instead of having her throw the selfie stick away, they gave her the option to buy a locker from Customer Service and put it there. The whole process through the VIP line took almost 40 minutes while GA took slightly longer. These issues only happened on first day. The second and last days did not take nearly as long to get through security.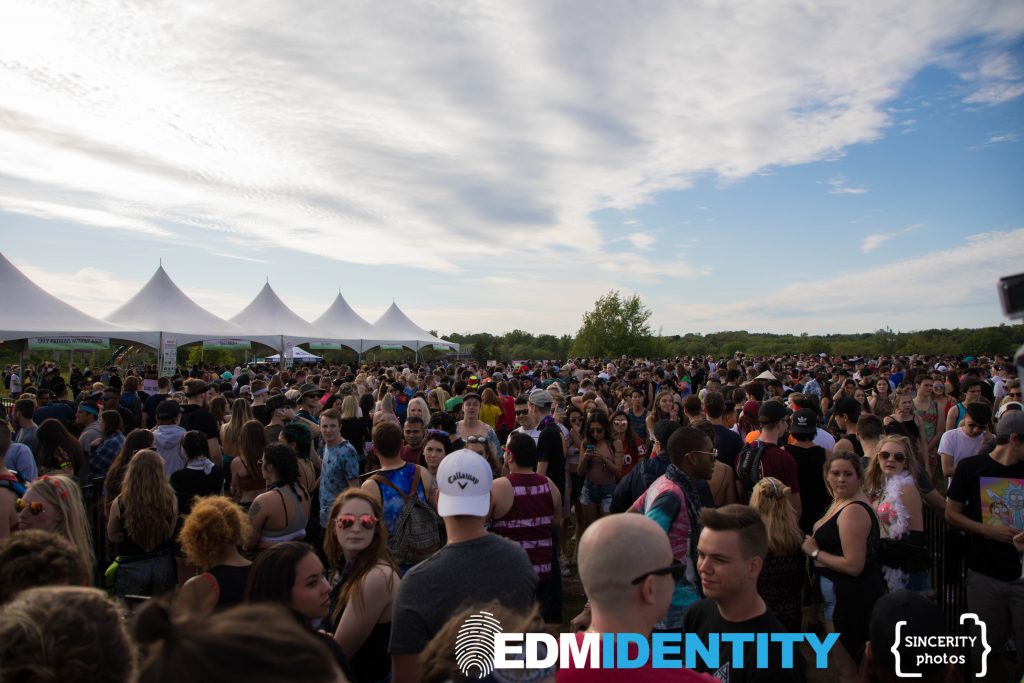 As we walked into the venue we realized we were on top of a big hill. The venue sprawled out below us. From our vantage point, we could see the separations of the venue. The carnival rides and local stage laid straight ahead of us. To our left was the water park and next to that was the main stage. All along the left side were the merchandise and local vendors. They also had a vendor doing on site tattoos, something I had never seen before and was mildly skeptical about. From the carnival rides and far to the right of the venue were the extensive amount of inflatable games. At the start of the path there was the waiver station where you would get a blue wristband to participate in the plethora of inflatable games. A climbing wall would also appear on the second day of the festival if you were looking for more of a challenge. As we walked down the hill we noticed the giant Ever After letters on the hill, the perfect photo opportunity for groups.
We walked down the hill to start exploring. As we walked on the path past the vendors we found a giant pink tent that would be our meeting spot at the end of each night. Bubbles floated through the air at various locations within the venue. The carnival included more than just rides. They also had games where prizes ranged from small stuffed animals to giant ones. There was a giant booth centrally located with the words Drink Tickets written on it. The booth served in all directions and the festival required that you get a drink ticket for each type of beverage. Prices ranged from 8 dollars CAD to 11 which would get you either a tall boy or a mixed cocktail. Unfortunately, they would also change the drink ticket colors each day so you had to be fairly thoughtful about your purchases. They did tell us that if you still had tickets the next day you could trade them out, but there were no refunds.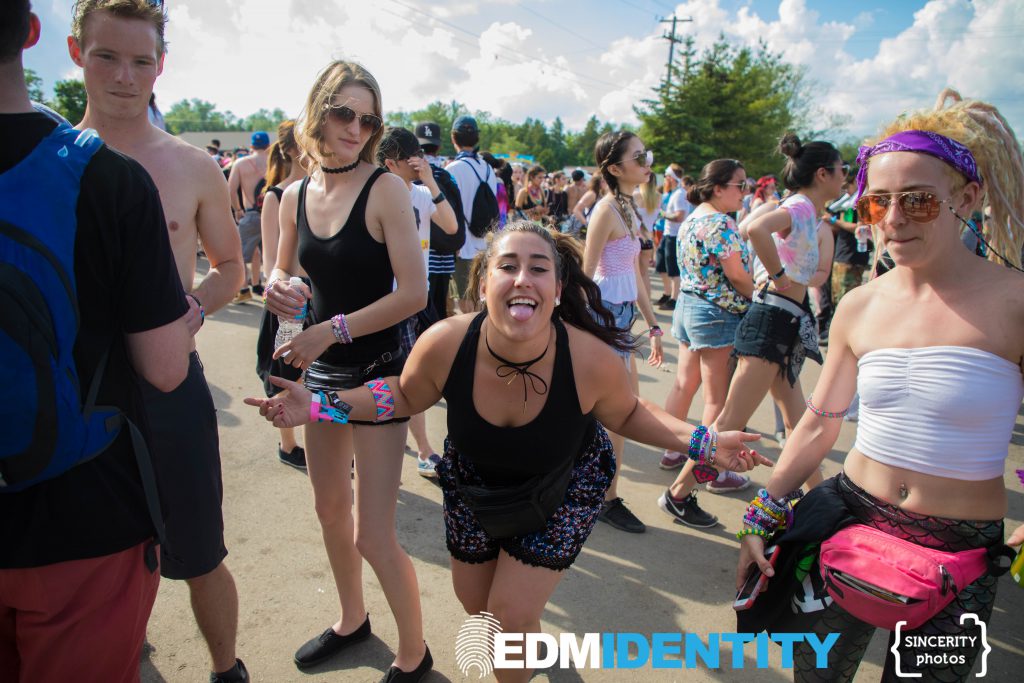 On the first day there were a couple of things that were notable right from the start. I always recommend the first step inside a venue is to always find the water stations. Since the first day was only from 5pm to 11pm, they did not have the water station set up yet. At first, the only available water seemed to be from a vending booth that was charging 23 dollars for a bottle and then giving unlimited refills of water. That obviously didn't sit well with us and after a short search, we were pointed in the direction of water taps that were hidden in the inflatable games area. These spouts were easy to use but clearly not intended as they had no safe guards from people simply turning them on and leaving them. By the third day many of the spouts would be used and a decent amount of mud was being created. On Saturday, the official water station would arrive in the form of a water truck located at the back of the inflatables.
As Black Tiger Sex Machine took the stage on the first day I began to notice a difference in the demeanor of the crowd. Everyone was super friendly, but they were also raging pretty hard. I didn't just see girls sit on shoulders during this set, they were standing on guys' shoulders. I would later ask some of my Canadian friends about this and they would tell me this is pretty typical action. BTSM's set was full of bass house and the shufflers were everywhere at the back of the crowd. As Bassnectar took the stage it was the first time I realized that the speakers weren't as loud as I would have expected. They definitely changed the volume when he started but the bass didn't reverberate like you might expect. As always from the photo pit, I saw the same collective that had been camping out at the rail all day.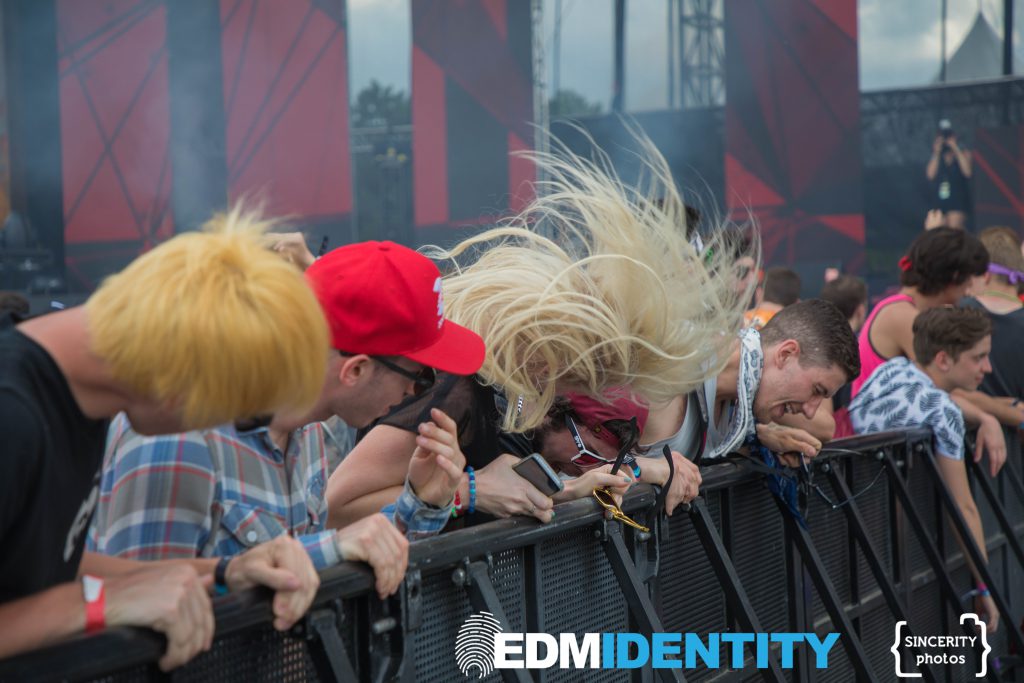 Day 2 was a much needed change for the better featuring good music, foam pits, and carnival rides with friends.
We arrived mid-afternoon a few minutes after gates opened and whether because of the time frame or just because it was the second day, the lines were short and fast. There weren't any artists that caught our attention right away, so we took our time taking pictures and wandering through the grounds. The second stage opened on day 2, so we decided to stop by and check out some of the artists we hadn't heard of. Khaos was one of the first artists we saw and her 90s house mixes were life giving. She was a pleasant surprise of the weekend. The second stage was much smaller than the main stage, but was outfitted with lasers on both sides and a large LED panel dead center behind the decks. It was warmer on Saturday than it had been the day before, so after a while of dancing we decided to pile into the Ferris wheel. All the carnival rides were included, but if you wanted to play the games to win a prize they took cash. We walked past a variety of food trucks serving various fried/fair foods as well as traditional poutine, a Canadian staple.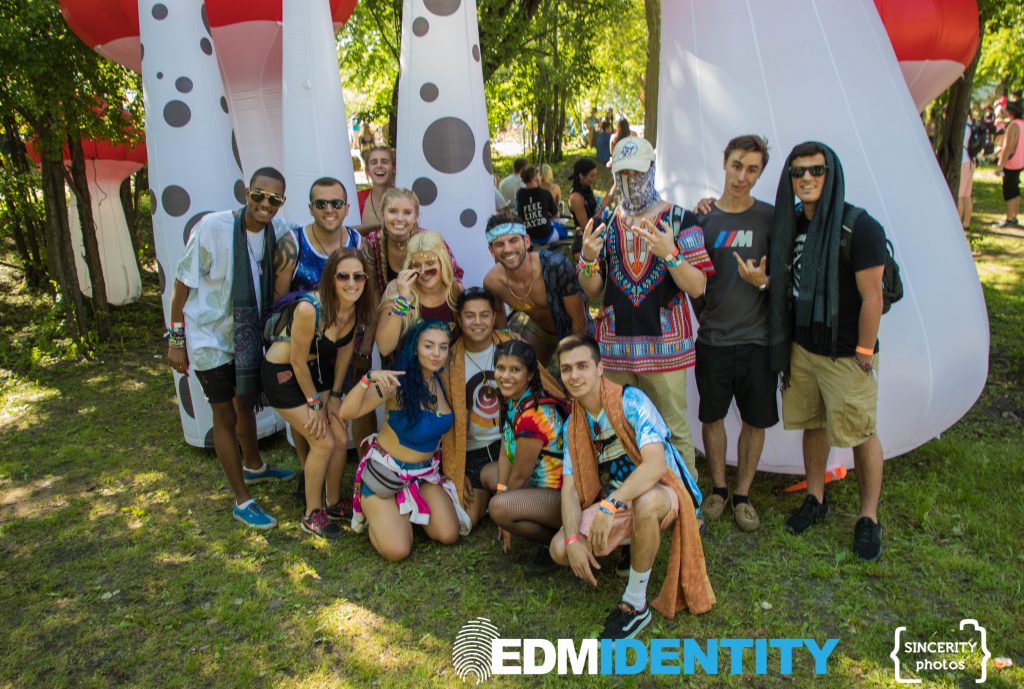 As we were taking an obligatory group photo at the giant letters of Ever After on the first day, we saw a guy holding an Okeechobee flag. Since Jesse and I had been to that event, we became quick friends with the man holding the flag. As we got off the rides, it was about time to meet up with them. Half our group went to explore the water park and the other half went to catch a little bit of Sikdope. I hadn't seen Sikdope since Beyond but I knew his set would be amazing. We settled in for half his set dancing as hard as we could. I would later learn that, David, Danielle, and Becca discovered a foam pit in the water park. They rolled around in soap and took adorable photos from yet another strangely perfect addition to this festival. We gathered our crew and headed to the meet up spot with Jon, Dana, Cam, Shane, and Jordan, our long lost, but new Okeechobee-fam.
It was time to regroup and get ready for Herobust. Our group was now much bigger than it was when we had started and in a few minutes we were extremely glad we had each other. Herobust's set was filled with some of the most bizarre, powerful, and definitely dangerous mosh pits I've ever been in close proximity to. The crowd was going so hard and you could feel the energy all around you. Multiple times people were flat lined jumping around in the open space before getting back up to do it all again. A few times when someone got laid out they would take a rightfully earned breather off to the side. Even those that were bleeding simply lit up a cigarette as Herobusts drops continued to enrage the crowd. Toward the end of his set I witnessed another Canadian crowd activity: the three man tower. This was just the first time I would see it, and it happened at many other sets to follow. As we closed out the night with Excision, the energy was still high. His sets visuals created commotion in the crowd as he played with his Paradox visuals on the main screen and paneled LEDs. His heavy drops brought out the fire canons that fanned out to the sides. This was the first time that I realized that although the stage was very tall, compared to last years stage pictures it was definitely smaller.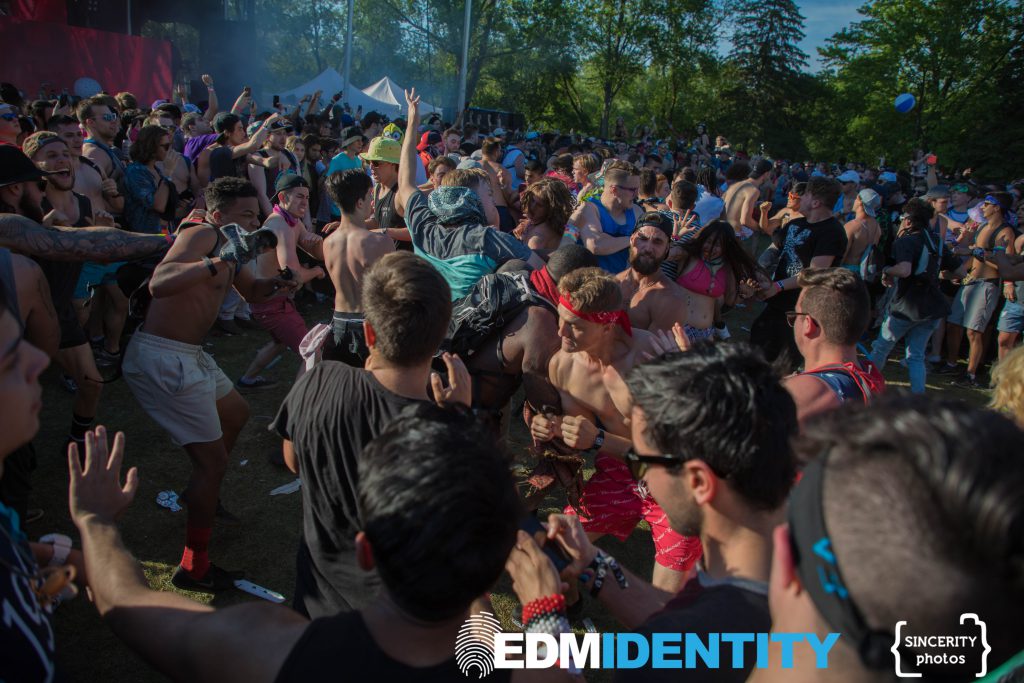 Day 3 was the perfect balance of weird and awesome featuring Zeds Dead and Destructo.
The last day came quickly for Ever After and we once again were inside the venue not much longer after gates had opened. The day was still pretty warm and we hadn't eaten much so today would be spent buying cooling drinks and food from within the venue. There was a slushie booth that also served fruit popsicles and a booth that served smoothies inside the body of different fruits. You could get a pineapple filled with a watermelon smoothie or vice versa, we chose the latter. There's something really strange and fun about dancing with fruit in a crowd; I think that everyone should try it at least once. The crowd's energy can only be described as wild.
Things got weird while Destructo played, people chomping into whole pineapples and scraping the inside of our watermelon with their teeth. It was weird but loved it. Throughout the day things would only escalate. As 12th Planet b2b Cookie Monsta b2b Funtcase took the stage the crowd was so ready to head bang you could feel it. The set was non-stop bangers and the crowd was more than ready to throw down.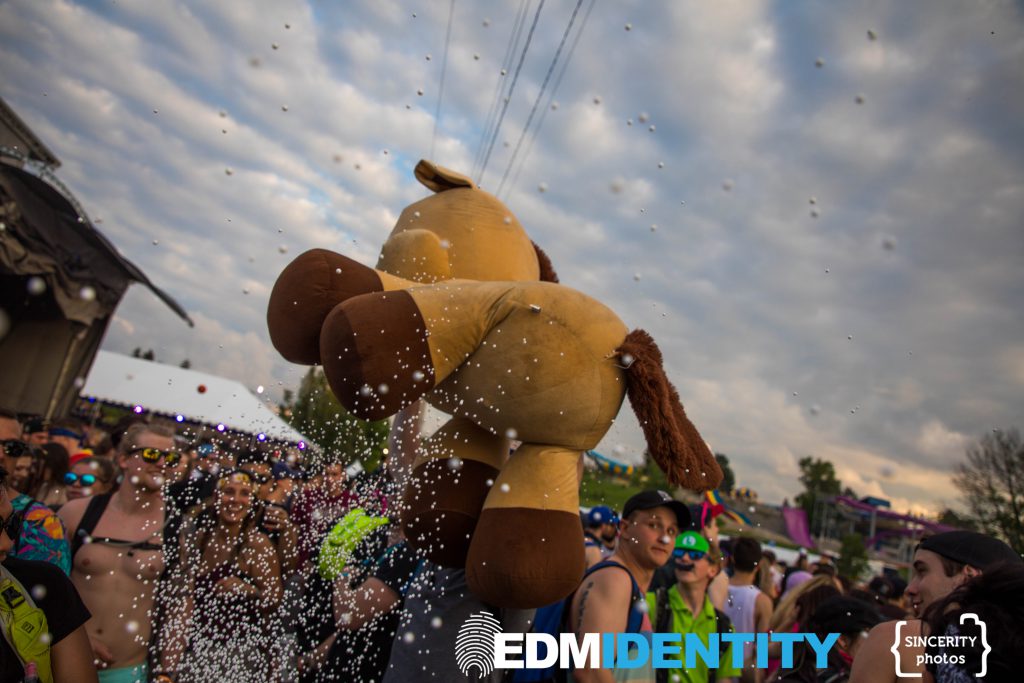 We began coming up with a game plan for water when we noticed a guy with giant stuffed animal around his shoulders. The animal was probably three feet high and filled with small bean bag balls. As he was walking through the crowd we realized that his bean bag animal was leaking. A few people punched the animal and the leaking became more pronounced. He took it down, sat in on the ground and then sat on top it to try and protect it, but that didn't stop the wildness of the crowd. Various guys continued to punch the animal until finally the owner gave up, stood up and attempted to throw it. In his attempted he actually just severed it's head. The tiny styrofoam balls were everywhere and the crowd was WILD! It didn't take long before the body and head were completely swallowed by the audience leaving a pool of small white foam on the ground. My friend, Teen and Nick, laughed and said, "well, you came to Canada in the summer and it snowed."
At this point we knew the rest of our time would be at the main stage so we all took various breaks, refilled water and got prepared to be there for the long haul. The wildness of the b2b set had us need a break so Jesse and I decided to wander over to the second stage. We didn't know who was playing but there was something very familiar and friendly about it. It was Daniel Portman and he was laying some deep house and techno that gave us back our lives after so much raging. We sat down in the grass enjoying the beats but our break was short lived as our friends arrived to bring us back for the last few sets of the night.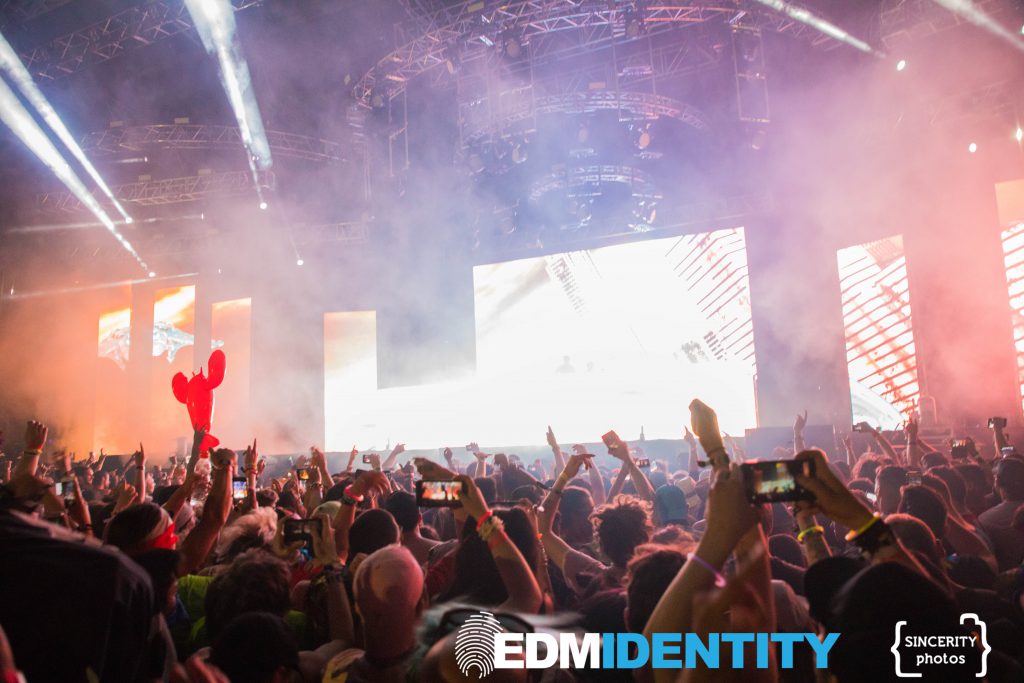 We were all excited and ready for Zeds Dead to take the stage. You could feel the electricity in the air and the crowd was filling in all around us. The sun was now gone and we were ready to be blown away and they didn't disappoint. It was the perfect amount of head banging, dancing, and simply appreciating their music for what it is. It was beautiful, fun, and they played every one of my favorites from their Northern Lights album. As the festival came to an end and they played their last song, a short parade of fireworks lit up the night. It was the perfect ending to three days of non-stop magic.
Be sure to check out our photo albums for Day 1, Day 2, & Day 3!
---
Follow Ever After Music Festival on Social Media: