Sonic Bloom 2017 Set Times, Festival Map, & More!
---
Sonic Bloom 2017 is nearly upon us! I can almost smell the fresh mountain air and feel the vibes from here, and dare I say – they are positively electric! No doubt all of you have been planning for months – making your lists, shopping for supplies, and loading up your vehicles to head to Hummingbird Ranch for the Summer Solstice. Whether you're headed in for the full weekend or just for a day or two, you're sure to be in for an incredible experience!
We've previously posted about some of the artists to check out at the festival. Also, check our post about some of the fantastic activities in store for participants, from yoga to workshops and more! Finally, if you're still getting packed or just looking for some tunes on the way there, check out our playlist of some of the top artists on the bill!
---
Sonic Bloom 2017 Essential Info:
Date: June 15, 16, 17, & 18, 2017. Early Arrival passes allow for venue entry beginning at 4:20 pm on June 14.
Ages: All Ages
Venue Address: Hummingbird Ranch, Spanish Peaks Country, Colorado
Tickets: HERE
Facebook Event Page: HERE
Box Office Information:
Early Arrival Only
Wednesday, June 14: 4:20 (VIP) | 6PM-10PM (GA)
Thursday, June 15: 10am-Noon
All Attendees
Thursday, June 15th: 10AM-Noon (VIP) | Noon (GA)
Friday, June 16th: 9AM-12AM
Saturday, June 17th: 9AM-12AM
Sunday, June 18th: 9AM-8PM
Venue Gates Schedule:
Thursday, June 15th: 4pm
Friday, June 16th: All Day
Saturday, June 17th: All Day
Sunday, June 18th: All Day
Necessary Information About the Box Office:
There is no Will Call option for ticket holders. You will need to have your print at home ticket, hard ticket you received in the mail, or mobile ticket available upon entry.
All vehicles must display a parking pass. If you are driving your vehicle on site, you must display a general parking pass, a car camping pass, or an oversized vehicle pass. Purchase your parking pass now if you haven't already.
ATMs will be available inside the venue, but there will not be an ATM at the Box Office. Credit cards and debit cards will be accepted.
For those using the mobile ticket option, turn the brightness up on your phone to make it easier for the scanner to detect and scan the barcode on your phone. We recommend that you take a screenshot of your mobile ticket and save it to your phone in case you're not able to access it via the internet once you're on site.
There is absolutely no re-entry. Once you're in, you're in.
---
Getting to Hummingbird Ranch
From Denver, CO:
Follow I-25S (130 miles) through Colorado Springs, Pueblo, and Colorado City, CO
Take Exit 64 – Lascar Road
Turn right onto Road 650
Follow 650 for two miles
Box Office will be on the right
From Albuquerque, NM:
Follow 1-25 N (300 miles) through Santa Fe, NM and Trinidad, CO
Take Exit 64 – Lascar Road
Turn left onto Road 650
Follow 650 for two miles
Box Office will be on the right
Note: There is no access to Public Lands from Road 650 and all surrounding land is private. Please respect our neighbors' property.
---
Sonic Bloom 2017 Set Times: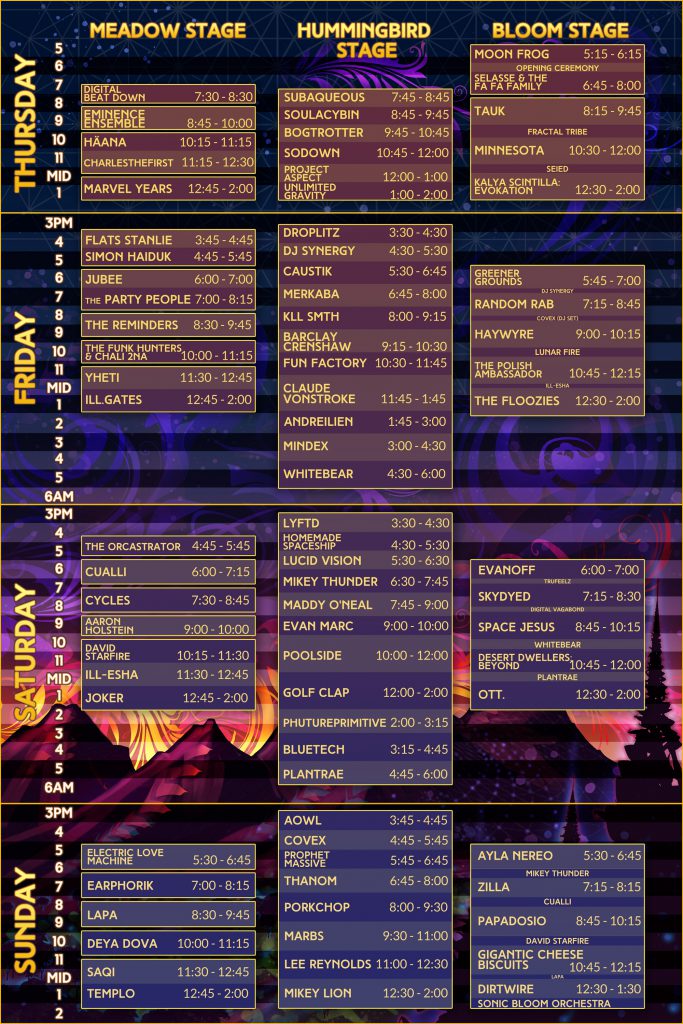 ---
Sonic Bloom 2017 Yoga & Workshop Schedule: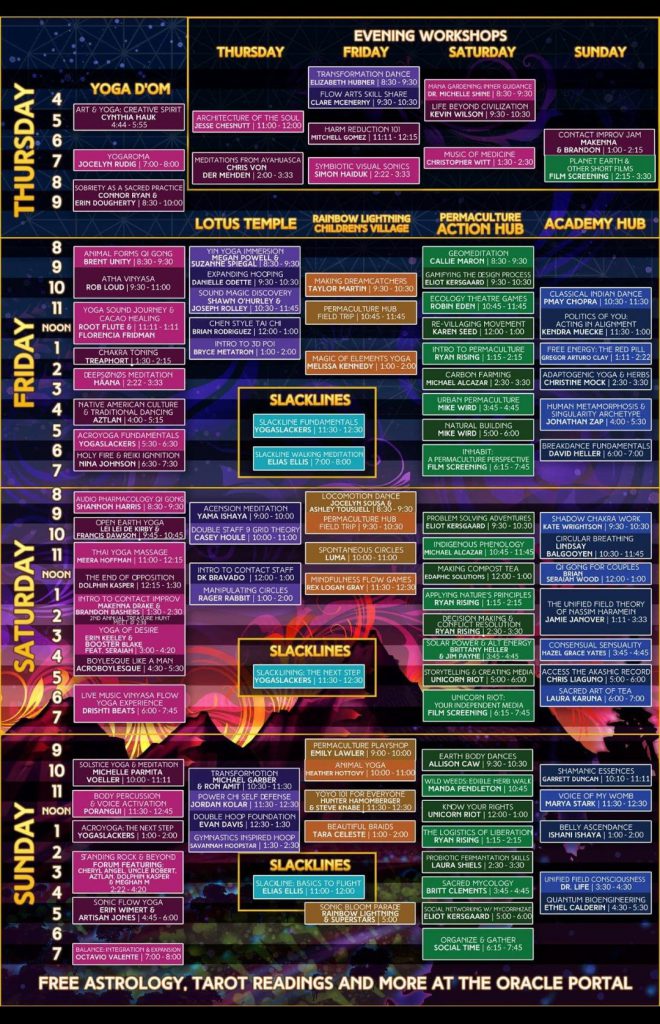 ---
Sonic Bloom 2017 Festival and Parking Maps: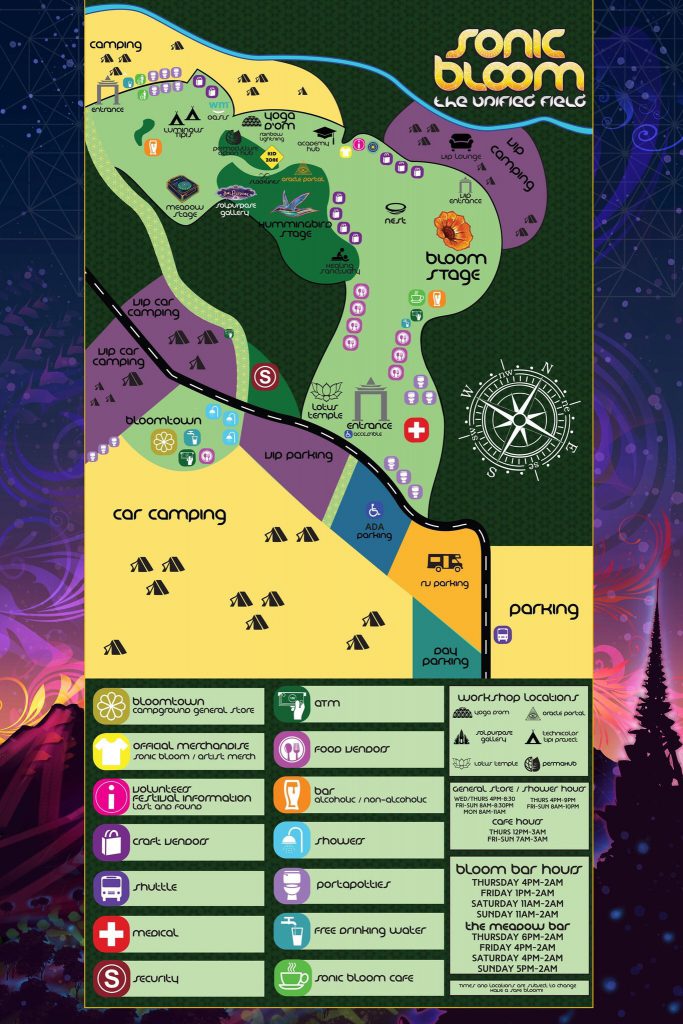 ---
Sonic Bloom 2017 Official App
Radiate is the official app of Sonic Bloom 2017. You can download it here.
---
Reminder To Mind Your Belongings
Unfortunately, many people have reported pickpockets, bag slashings, and theft of wallets, smartphones, purses and other valuables during this festival season. While this small number of bad apples in the bunch doesn't define an entire crowd, there are opportunistic people who come to these events to take advantage of unsuspecting party goers and it's important to be mindful of your valuables while at Sonic Bloom.
Pay attention to who's around you and what's going on around you. Keep your wallet and phone in your front pocket(s) if you can. Treat your phone the same way you would treat cash; don't set it down on a table or bar and look away. If a friend isn't standing behind you in a crowd, be careful of your backpack or purse, and don't put valuables in a pocket that could easily be unzipped by someone behind in a crowded spot without you realizing.
Festivals, in general, are very densely populated places and are a well-known place where pick-pocketing of unsuspecting people occurs. It's easy to find yourself in a crowded environment in a line, at a stage in the festival, elevator, or even out on the street where someone could slip your wallet or phone our of your pocket or bag in a matter of seconds. Stay alert, be careful, and make sure to not carry more than what you need!
---
Sonic Bloom 2017 Do's & Don'ts
Prohibited: 
Outside alcohol is not permitted into the festival area
Open containers and coolers are not allowed in and out of the gates
Underage drinking
Illegal substances
Pets
Campfires or open flames (including charcoal grills, tiki torches, Chinese lanterns, and candles – propane grills may be allowed depending on whether the county has a fire ban in place)
Unauthorized vending
Weapons
Laser pointers
Fireworks
Nitrous tanks
Glass containers of any kind
Amplified sound systems of any kind
Professional photography equipment
Excessive alcohol, defined as more than two cases of canned beer per person per car, and one plastic bottle of liquor (up to 1.75 liters) per person per car, and two boxes of wine per person per car.
Kegs
Permitted:
Attendees twenty-one and older may possess a limited amount of marijuana legally in Colorado. The law prohibits consumption in a "public place." The current legal interpretation is that the area inside the venue is a "public place" but your campsite is not.
Personal amplified music, but must be turned off between midnight and 10:00 AM
---
Sonic Bloom ADA Information
There will be ADA accessible parking and camping near the main gate. The venue has added a wheelchair ramp from the camping area into the main concert bowl and an ADA platform for the Main Stage. ADA accessible restroom facilities will also be available. However, keep in mind that the site is not fully developed as a permanent venue and, while passable, walkways are not paved and one may encounter some bumpy terrain.
Service Animal Policy
Service dogs are permitted, but pets are not. Under the ADA, the definition of "service animal" is limited to a dog that is individually trained to do work or perform tasks for an individual with a disability who is in attendance. The task(s) performed by the dog must be directly related to the person's disability. Under the ADA, "comfort," "therapy," or "emotional support" animals do not meet the definition of a service animal. Those who masquerade their pet as a service animal will be ejected from the site without a refund.
For everyone's safety, all vehicles and attendees are searched for contraband. Those who bring animals should identify themselves when security first approaches the vehicle. All animals and their handlers must check in with the Box Office. After screening, service animal handlers will receive documentation indicating the service animal has been screened. Staff are not likely to question you again unless the animal causes a problem. Those bringing pets will be turned away and may return only after boarding their pet in town.
---
Connect with Sonic Bloom on Social Media:
Website | Facebook | Twitter | Instagram | YouTube | SoundCloud