Whether you're being dazzled by performance art, getting your sweat on in a yoga class, or expanding your mind at a workshop, there is something for everyone at Sonic Bloom.
---
Sonic Bloom is not just a music festival – it is a truly immersive experience. In addition to the stacked musical lineup, Sonic Bloom offers a vast array of artists, yoga classes, and speakers to create a truly well-rounded experience. Check out some of the amazing activities that the festival has to offer!
One of the key features of Sonic Bloom is its commitment to Art of all kinds.
The festival will play host to a lineup of multi-talented performance artists, live painters, and VJs who are set to delight attendees throughout the weekend. Find yourself immersed in the flow with performance artists of all stripes. Notable acts include Fractal Tribe, who fuse dance, acrobatics, aerial arts, music, and fire to create spectacular experiences for their audiences and Lunar Fire, creators of a multimedia musical extravaganza with multi-cultural origins and a message that encourages viewers to make positive change in the world.
Sonic Bloom 2017 Performance Art Lineup: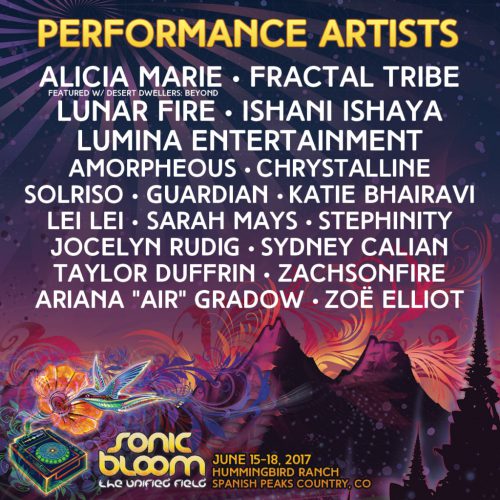 In addition to performance art, the festival is bringing on an entire lineup of live painters curated by SolPurpose, including Aloria Weaver and David Heskin, who will also host Sonic Bloom's Art Workshop in the days leading up to the festival. Finally, VJs Pogoda Visuals, Dilate Visuals, Illuminated Dimensions, and Lambent Visuals will all be on deck to enhance your musical experience.
Sonic Bloom 2017 Live Art Lineup: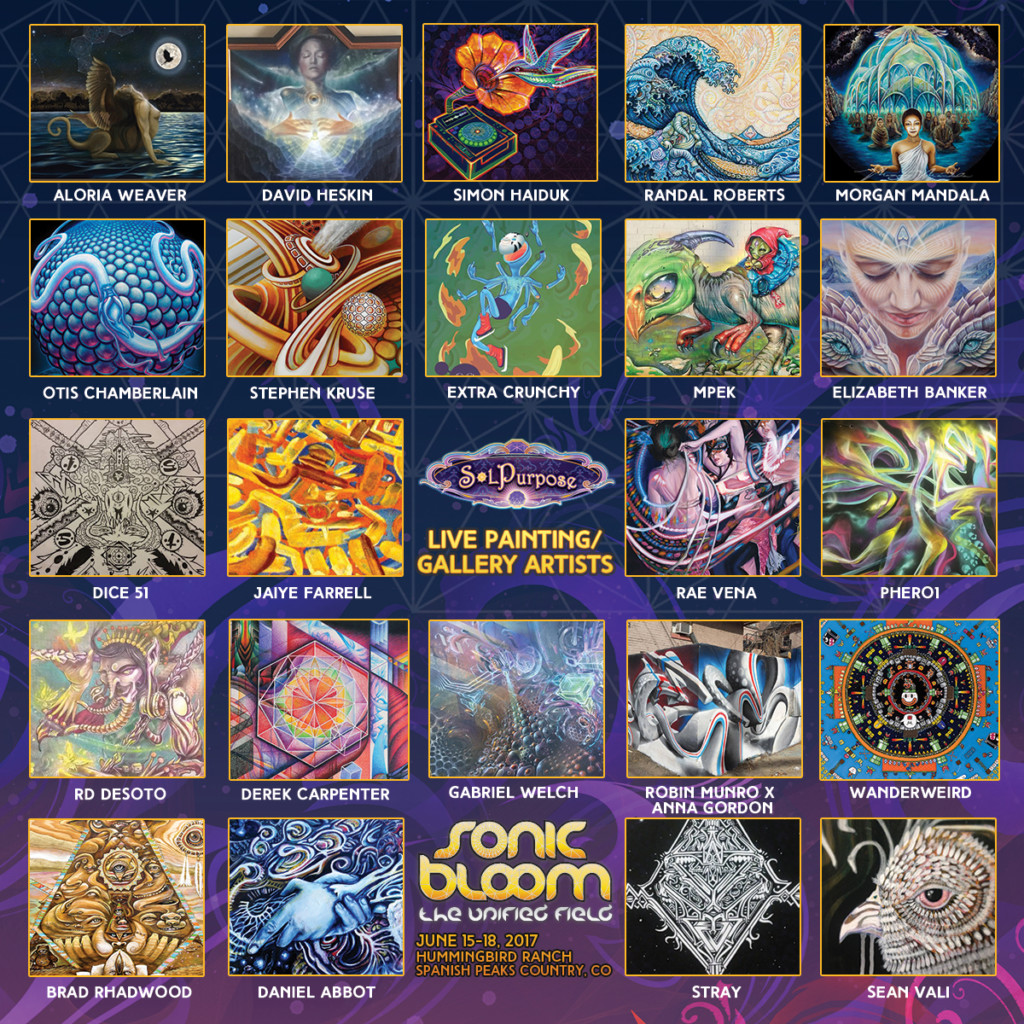 A diverse yoga and speaker lineup provide attendees with an opportunity to truly connect with the community during the festival.
As in years past, Sonic Bloom will be bringing together a variety of yoga instructors for experiences that will allow attendees to celebrate the solstice together as one. Classes include a live music vinyasa flow hosted by Drishti Beats, Acroyoga hosted by Yogaslackers, and a summer solstice yoga and meditation hosted by Michelle Parmita Voeller.
The speaker lineup features experts of all stripes who will impart their wisdom to attendees throughout the weekend. Make sure to catch Ryan Rising, best known for his work as a community organizer and co-founder of the Permaculture Action Network, and Unicorn Riot, a volunteer-operated media collective founded in 2015 that is breaking the boundaries of traditional media across the country!
As part of Sonic Bloom's commitment to greening and sustainability, organizers encourage attendees to consider environmental impact.
Through sensible packing, the use of carpools and rideshares, and a Leave no Trace program, attendees can help the festival to meet its environmental goals. In turn, the festival has partnered with ZeroHero to create a zero-waste event and will offset 100% of all electricity used during the festival with solar power provided by SunPort. The team also embarks this year on their Permaculture Design Plan for the Hummingbird Ranch site, which attendees can learn more about in the workshops detailed below.
The Sonic Bloom Academy Series offers an immersive take on specialized tracks.
Participants can get their hands dirty and learn the ins and outs of permanent agriculture through the Permaculture Series, hosted by Sonic Bloom Academy immediately prior to the festival from June 11-14. Other workshops are included as part of the Sonic Bloom Academy. The Movement Series is dedicated to body awareness through activities such as slack line, yoga, and acro yoga, while the Visionary Arts series, centered around painting and taught by master artists David Heskin, Aloria Weaver, Randal Roberts, and Morgan Mandala. Finally, the Ableton Live Master Series is taught by Ableton Live Certified Teacher Isaac Cotec of Subaqueous music and Aaron Holstein, better known to bass music aficionados as VibeSquaD and featuring beginner and advanced tracks.
Tickets to Sonic Bloom are still available HERE.
---
Connect with Sonic Bloom on Social Media
Website | Facebook | Twitter | Instagram
Featured Photo Credit: Eric Allen Photography