Washington native Grant Eadie, aka Manatee Commune, opens up about his vintage vinyl collection, love for pesto pasta, upcoming Petit Biscuit remix, and more!
---
If you haven't already heard of Manatee Commune, familiarize yourself ASAP! By interweaving live instruments with dreamy vocals and percussion, Eadie has created a sound equally as unique as his name (which, unfortunately, was not inspired by any real-life interactions with any manatees, as you'll learn below.) Manatee Commune's electro-pop feel is reminiscent of groups such as Animal Collective and Slow Magic, who Eadie has attributed some of his inspiration to, but it's this artist's masterful layering of string melodies and synths that truly sets him apart.
With two albums and an EP already under his belt, Manatee Commune has quickly made quite a name for himself in the electronic music world and after having the pleasure of catching his killer Sasquatch! Music Festival performance, I have no doubt that he'll continue to do so. I got the chance to sit down and chat with Grant later that weekend about his upcoming remix and what he has planned for this next year. Check it out below!
Listen to Manatee Commune's hit, "No Reason":
---
So your name, Manatee Commune, that's a great name. Where did you come up with that?
Oh man, being really stoned in my dorm room when I was like 19. I was going through a big Animal Collective kick at the time, so originally I was making music that was kind of like that style and then I wanted to kind of, like, do a little tribute to them so that was kind of the thing. I know it's goofy as hell, I'm not a huge fan of it right now. But it works!
I saw you [perform] on Friday and was blown away. How many instruments can you actually play?
I mean, I went to school for music education, so I kind of had to learn everything so I could teach kids and stuff. I haven't found a string instrument that I can't play, but there are things that I'm good at and there are things that I'm not good at. I can't play any wind instruments at all. I mean, I love playing guitar, and violin, and viola, and cello, and bass, and piano when I get a chance. And then drums is something, I mean I'm trying to pick up kit more, but I'm really good at hitting things in a rhythm so that's where that's at right now. It's a good time.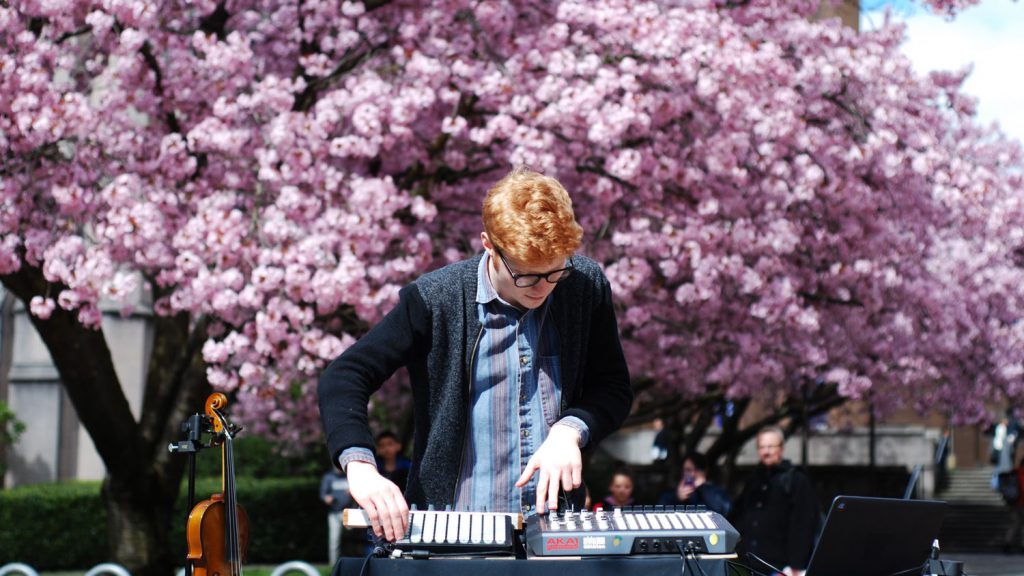 From what or where did you get your inspiration for your sound? You mentioned Animal Collective earlier…?
Oh yeah totally, I was listening to them a lot. I didn't really know about the producer and solo artist thing until I listened to Gold Panda. So that was in like, 2010 when I learned that was a possibility. But the inspiration for the sound is kind of just always been a reflection of me as a person. It's not super intentional, it's just what I love making and what I love listening to. I mean there's always the "Greats" that are my favorite, so like Tycho and Odesza and Slow Magic and Nosaj Thing… all those people I'm really inspired by but all my music is very from the heart. So the most inspiring thing is just being me I guess.
Touching on that, you have a new Petite Biscuit remix coming out. What inspired you to remix him?
Oh man, well he reached out which was cool. We lucked out with that one. I mean, that song is stunningly beautiful and it's really open-ended, it's Sunset Lover, so it's really open and it's really sweet so it's kind of easy to remix in that sense. But it's not a whole lot of elements so you can kind of bring your own touch. So I'm excited about that release; it's going to be really fun.
If you could play anywhere in the world, where would you play?
Right now, I would love to do a set in Tokyo. I've been dying to get over there for a really long time. Mostly just because I've seen the music goers in Tokyo. They're eclectic and they're also really enthusiastic about new music and I've kind of always wanted to get over there. And it's just a cool city, obviously. If I could get over there and get a chance to play… a lot of the reasons why I make music is to do what I love, get paid to go places, so that's probably my number one right now.
And what's your favorite part about touring?
Ooh man! Probably getting a perspective of the U.S. and the world and stuff. You get kind of a new context for how you fit in the world when you're touring. For me, it kind of stripped me of my ego, because, A) nobody knows who I am and B) nobody cares. But it's not until I've played my music and I really sell a good show that I end up getting respect from strangers and stuff like that which is really cool. So I don't know I guess I just feel a little bit tougher and I feel really cool about that. Like, I know what I want to do and I know what makes people happy. And that's really fun. But I'd say that and then my other favorite part is just meeting lots of strangers. It's wild how easy it is to relate to people who you just met. It's crazy.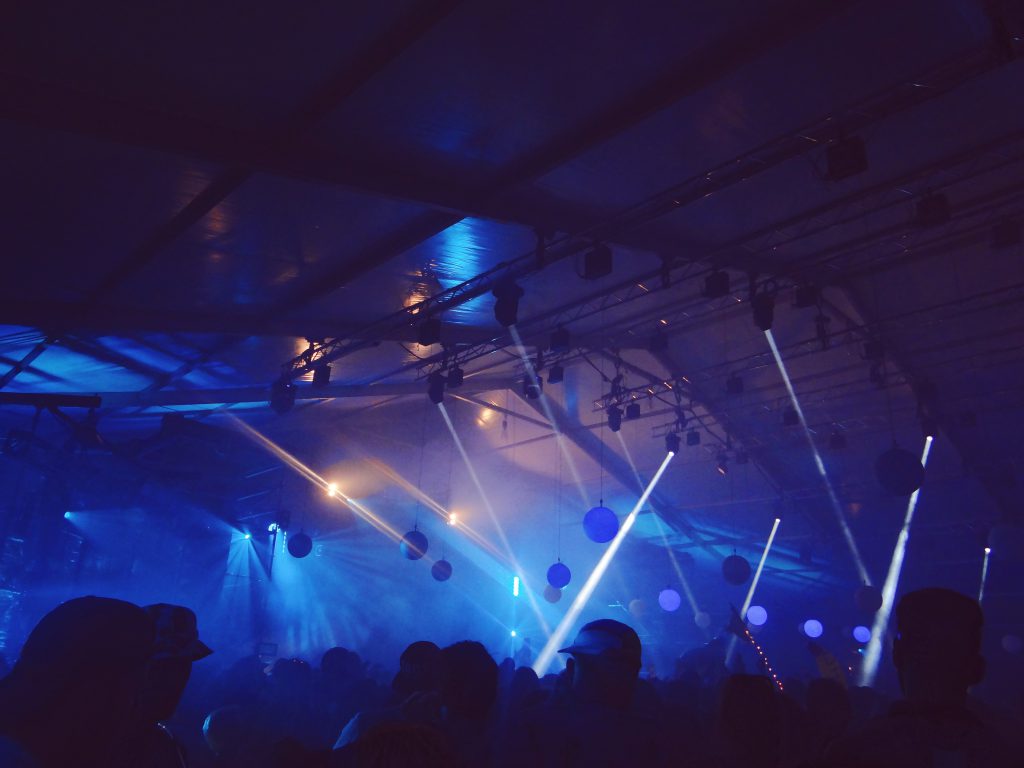 What do you do for fun when you're not making music?
I really love listening and collecting early 80's vinyl disco. I'm obsessed with Kashif, Change, The S.O.S. Band, Evelyn "Champagne" King, and that kind of stuff. I mean, I haven't really gotten into the vinyl Djing too much, but I'm very prepared to get into it. So that's kind of like one of my hobbies whenever I'm home. And then I also really love cooking. Way too much.
Oh, that's awesome! What's your favorite thing to cook?
Oooh. That's a good question. It's really fun to take on things that I've never done before but I really love making a good, fresh pesto. And making my own pasta. That's always a blast. Pesto with Shrimp is such a classic, I love-making those. And there are so many different elements when you're making those ones too – there's the boiling and the frying and the baking and the food processor and stuff, so I love that because there's so much noise involved with the kitchen. And then backpacking has always been a huge part for me. I don't know if that's as much of a hobby as much as it is something I need to do. I think everybody can relate with that though.
Last one, besides your upcoming remix, what do you have planned for the rest of the year?
That's a good question. As of right now we just have Capitol Hill Block Party and then Northern Nights and then just some little things here and then. Right now it's a little bit open-ended. We were gonna get done with this tour and kinda just get a feel of what the world wants and if this project, if it needs a change or if it needs a move and so… that's a really good question. To be honest, I don't know. I'll know in probably two, three weeks about what exactly is going to happen. But yeah, the Petit Biscuit remix is probably the number one. That's going to be tight when that drops.
Until then, check out Manatee Commune's latest remix of Flint Eastwood's "God Only Knows", on SoundCloud:
https://soundcloud.com/manateecommune/flint-eastwood-god-only-knows-manatee-commune-remix
---
Follow Manatee Commune on social media:
Facebook | Twitter | Instagram | SoundCloud