It's almost that time of the year — EDCLV is right around the corner! Here's a look at my experience from last year to get you even more excited to head to Vegas.
---
With less than a week until the big one, it's time to start getting pumped! EDC Las Vegas will be returning to the Las Vegas Motor Speedway this June 16th – 19th, and I cannot wait to step out onto those bleachers and get my first look at EDC Las Vegas 2017. With eight stages of cutting edge music, an incredible community of dance music lovers, and beautiful art installations everywhere you turn, EDCLV has it all.
What better way to prepare than to reminisce on some of our past unforgettable EDC experiences! If my favorite memories from EDC Las Vegas 2016 are any sign of what's to come next weekend, we are in for a treat. Here are some of the highlights from my time last year under the Electric Sky!
Click HERE for lineup information about EDC Las Vegas 2017.
Grace's Favorite Memories of EDCLV 2016
---
The brand-new circuitGROUNDS blew me away.
Last year Insomniac completely revamped its circuitGROUNDS stage. This stage is home to variety of genres, but a constant stream of fantastic beats. On day three, circuitGROUNDS hosted a trance takeover hosted by Dreamstate, filled with uplifting moments from artists like Orjan Nilsen and GAIA. In previous years, circuitGROUNDS was under a huge megastructure that was filled with lights and visuals on the ceiling and continuous confetti dropping. While it was an incredible design, it was almost always crowded and hot inside of circuitGROUNDS, since it was one of the more popular stages at EDC.
In 2016, they completely opened up the stage, making it into a huge 360 Stage with giant pillars of lasers and lights surrounding the entire thing. And there was no shortage of confetti! One of my favorite things about this stage, as well as all other stages at EDC, was how high up it was raised, so no matter where you are in the crowd you can still see perfectly.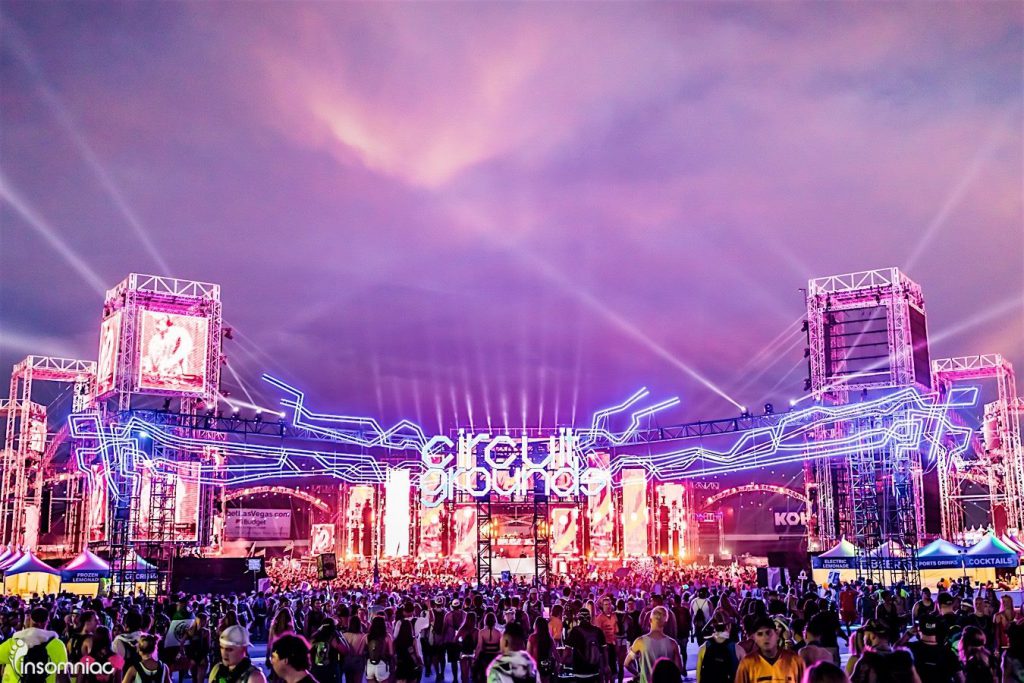 ---
Marshmello's set was absolutely insane.
Marshmello, the masked DJ who has gone from zero to one hundred in the past year with his happy melodies and crazy trap, played one of the biggest sets of the weekend. He played around 3:00 AM on Sunday, the last day of the festival. While a good number of people stay until 5:30 AM for the sunrise set, 3:00 AM is the last set of the night for many people as people start to get too exhausted. Our legs were killing us and the temperature was still in the nineties, but the minute Marshmello got up on stage with his giant light up Marshmello head, our energy skyrocketed.
It was the most packed I had seen cosmicMEADOW all weekend — even the bleachers overlooking the stage were almost completely filled up. All around me people were wearing Marshmello heads, showing their loyalty to the "Mello Gang." He absolutely killed his set from start to finish, playing a huge variety of music and always keeping the crowd on their toes.
Throughout his set, he brought out Ookay, Martin Garrix, and even Skrillex! We had been praying for a Skrillex surprise appearance at some point during EDC since he was nowhere to be found on the lineup, and our prayers were answered! I'll never forget him coming out with 'Burial' and the crowd going absolutely nuts. I have never experienced as much energy in my entire life as I did when Skrillex stepped out onstage. That set was legendary!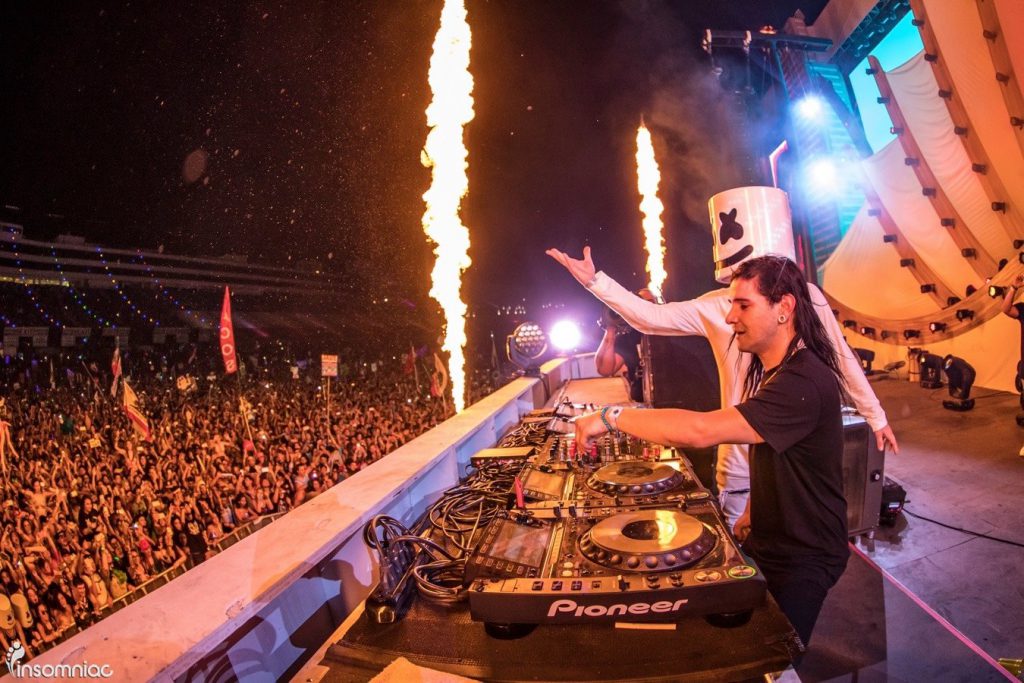 ---
The grassy cosmicMEADOW was a huge relief.
Whenever we needed a break from dancing, the grass at the cosmicMEADOW stage provided necessary relief. Being able to sit or lay down on the grass while listening to a set was awesome, and if anyone wanted to keep dancing they could do that too. Not to mention, some of my favorite acts played at the Cosmic Meadow stage, including Slander, RL Grime, Ephwurd, Shiba San, and What So Not. Right next door, also on the grass, was a beautiful sky bridge treehouse that provided a perfect place to chill and listen to a set at the cosmicMEADOW.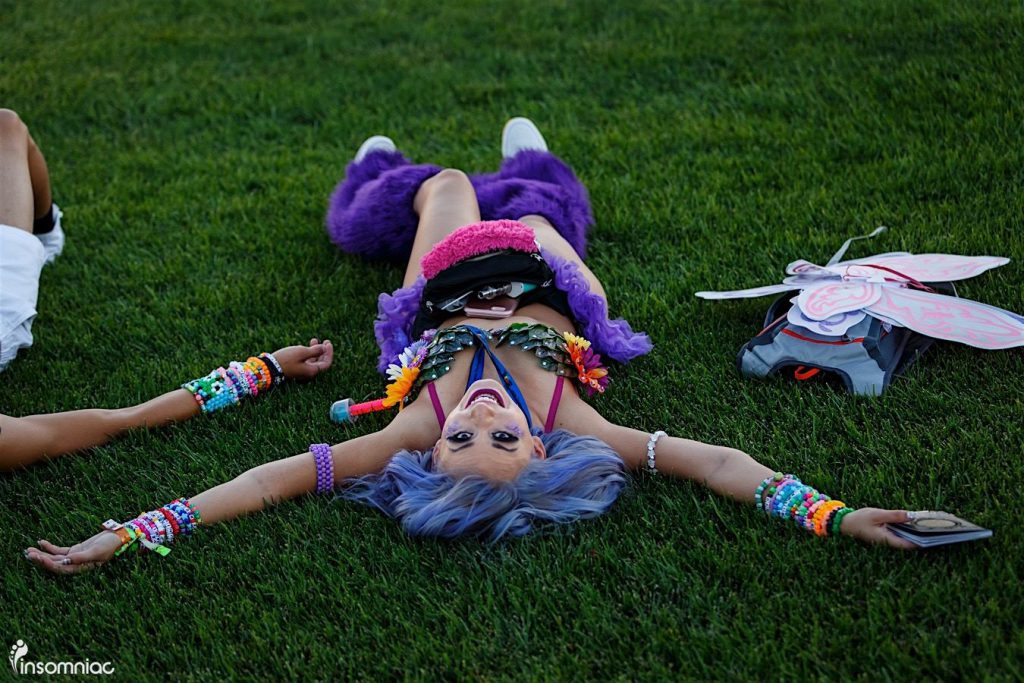 ---
Kaskade's surprise sunrise set was magical.
It was 5:30 AM on night one and we were dead tired sitting on the grass of cosmicMEADOW. Chris Lake had finished playing the sunrise set, and we were getting ready to make our way to the shuttles when all the sudden we heard some Kaskade playing in the background. We didn't think there was any way it was actually him playing, we thought it had to be some smaller DJ playing his stuff. But, we still decided to wander over towards the music and see who was spinning.
We made our way to the Sky Bridge Tree House to find Kaskade himself playing from the balcony. Peacefulness and love radiated from the lucky few people who got to experience this sunrise Redux set. Kaskade played his most beautiful, emotional music and left us with kind words expressing his love for us and this culture. I will forever remember that set -– it was one of those moments that makes EDC so special.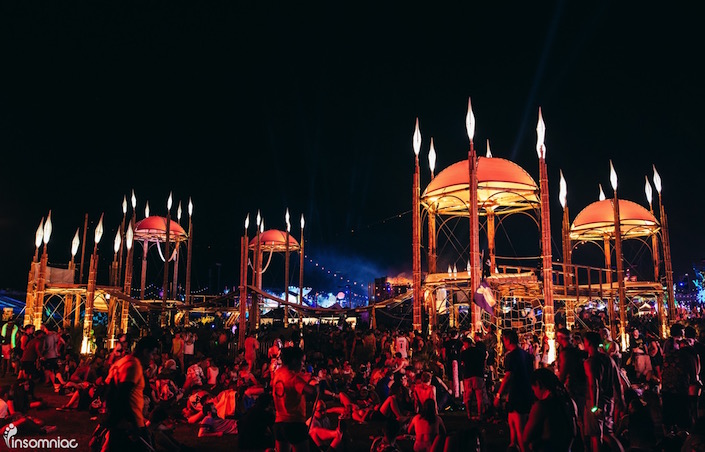 ---
As you can see, EDCLV completely blew me away for the third year in a row.
The vibes, stages, music, parades…everything.The magic of EDCLV was in the air, and, once again, it gave me memories and friendships that would last a lifetime. The production, the quality of the sets, the firework shows — everything ten steps ahead of any other festival or show in the game! Insomniac's "all out" mantra was apparent at their biggest festival of the year. I found myself in a constant state of my jaw dropping and eyes full of wonder; everywhere I turned there was some amazing piece of art, a lady bug car full of headliners driving by blasting music, or a stage with incredible state of the art technology.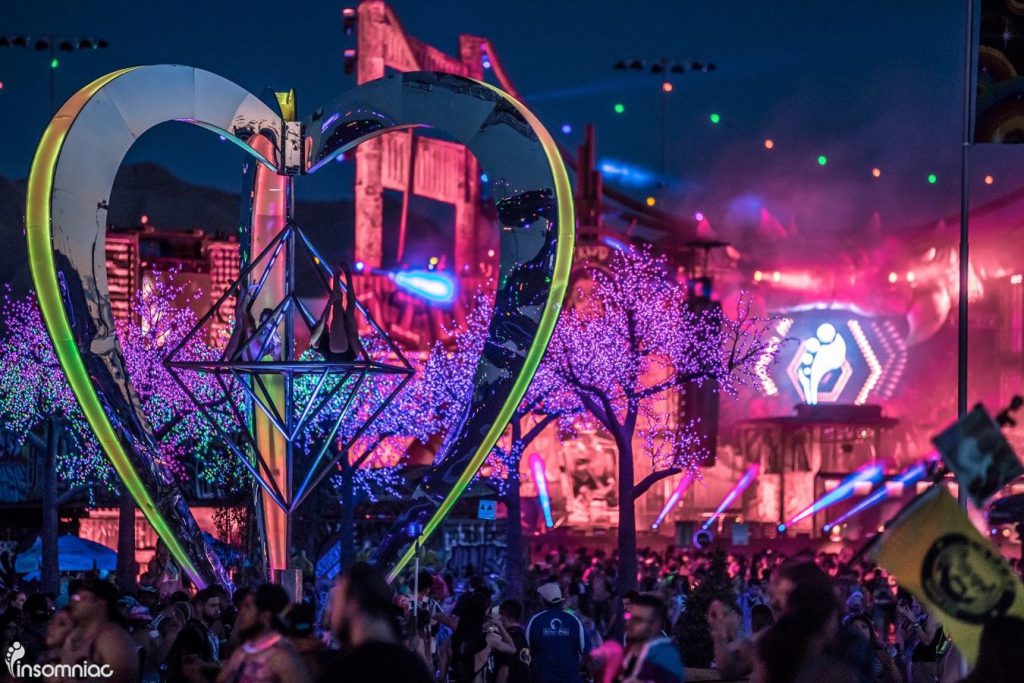 To me, the best part about EDCLV was all the dancing!
Everywhere I looked people were dancing, whether it be grooving in the water line, skipping to the next stage, or busting out moves at a set. Insomniac does an admirable job of making sure that you're hearing live music no matter where you go. The art cars, smaller stages, and alcohol tents (like the Smirnoff House) all have DJs constantly spinning. That's something you won't find at just any festival. Almost just as important as the music are the vibes at EDC that keep everyone dancing at all times. The air is free of judgment of any kind, and people are free to groove any way they'd like without anything other than yells of support!
The sense of love, community, and magic that EDC is known for was present throughout the entire weekend.
I left with my heart full, and a determination to bring the unity and happiness I experienced at EDC to my everyday life. Needless to say, I am beside myself excited to experience my fourth EDC in just a few short days. I hope all of you attending have the time of your lives–come find me on the dance floor!
For more on EDCLV dates, trailer, and other info, click HERE! For daily lineups by stage, check them out HERE! 
---
Connect with EDC Las Vegas on Social Media: