After successfully avoiding Sasquatch! Music Festival for the first two years of my Pacific Northwestern college career, I finally caved and gave in to see the views from the famous Gorge Amphitheater myself.
---
Prior to attending school at the University of Oregon, I had never once heard of the Gorge Amphitheater, nor did I associate the word "Sasquatch" with anything other than the famous bipedal beast better known as Bigfoot. Growing up in LA, I had little incentive to investigate the many festivals that existed beyond the breadth of California – my minimum wage high school job scooping ice cream barely covered the price of a local festival ticket, let alone the airfare required to attend one two or more states over. Of course, I managed to make it my personal mission to attend EDC my senior year, but the four-hour car ride to Las Vegas is relatively painless when broken up with a few stops for gas and Alien Fresh Jerky along the way.
After moving to Eugene for college, however, I quickly learned two things. First was that Sasquatch was not only the product of American folklore but also a music festival. Second, was that come Memorial Day Weekend nearly everyone I knew would stuff their cars to the point of near explosion and make the achingly long drive to Quincy, Washington to attend the event. I managed to prioritize my bank account over giving in to the FOMO-induced temptation of joining in with my peers and buying a ticket my first two years, but this time around my will power proved not to be so strong.
For better or for worse (after witnessing RÜFÜS DU SOL's closing performance Sunday night I've been leaning toward better), I finally got to experience Sasquatch! and the Gorge in all their glory firsthand. Check out my highlights from the weekend below!
To begin, let's touch upon the artists who absolutely killed their performances at Sasquatch! Music Festival this year.
---
LCD Soundsystem
As much as many of you saw this one coming, I actually didn't. My knowledge of LCD Soundsystem going into the weekend began and ended with "Daft Punk is Playing at My House," a song with which I had always been familiar, but considered to be more repetitive and annoying than anything else. So it was much to my surprise and delight when I found myself moving and grooving to – and later Shazaming for future listening purposes – their famous "I Can Change." And that was merely the beginning.
After getting off to a semi-awkward start by introducing themselves as essentially the band everyone wished was Frank Ocean but wasn't, the group quickly recovered with a powerful two hours of funky beats that made me feel like I had time traveled back to the 80's, except without the bad hair. LCD Soundsystem had the entire crowd channeling their inner Dad-at-a-BBQ dance moves, because how else do you dance to an electronic orchestra? Oh, and they also mentioned that their most recent album will be dropping within the next six weeks, so try not to Dance Yrself Clean before then.
Manatee Commune
If you haven't already heard of Grant Eadie and you have even the slightest appreciation for string instruments or electronic music, familiarize yourself immediately. His incorporation of live music into his electro-beats blends together to create a sound as unique as his name and his Friday night performance followed suit. The young artist danced about the stage in a flurry of creative expression and I'm pretty sure my mouth actually fell agape as I watched him bust out a violin from what seemed like thin air.
Manatee Commune knows how to work a crowd and they went wild as he masterfully broke down musical walls, blending together two genres that in theory should never work. Eadie's music is both classical and electronic, and when combined with his natural stage presence made for a show I will not soon forget.
Kungs
This young DJ made a name for himself after his "Cookin On 3 Burners" remix dubbed "This Girl" climbed to the international charts last year. Valentin Brunel was arguably the biggest EDM representative on this year's lineup and come Saturday night, every house-loving festival attendee willingly packed themselves into the El Chupacabra tent like sardines, eager to get their drum and bass fix of the weekend.
Kungs (pronounced "Koongs," as I learned only after embarrassing myself and mispronouncing it for the entirety of Sasquatch) has only been officially around since 2015, but this 20-year-old has been making music since he was five after his parents gifted him a wooden drum called a djembe. Brunel got the crowd jumping early on and kept energy levels high by providing the audience with a steady flow of remixed rap and pop bangers. I'm usually not a fan of tent stages due to their hot and sweaty nature but in this particular case the closed space paired with the tent's funky light installations made for an intimate setting that gave off vibes characteristic to a European nightclub in the best way possible.
Big Gigantic
No surprise here, livetronica powerhouse Big Gigantic killed yet another performance. I must admit that if anyone but Big Gigantic had been slated to play at midnight on Saturday, I would have happily retreated back to my tent early that night without a shred of regret. If you have the chance to experience Dominic Lalli dominate the sax live, however, you take it. And so, I chugged enough Red Bull to make any cardiologist scream and witnessed the group bring the outdoor stage to life.
Even those with no intention of catching the show were drawn to the noise as the group satisfied old and new fans alike by playing favorites off of their most recent album Brighter Futures, along with older tracks off of their classics, The Night Is Young and Nocturnal. Their 2015 single "Good Times Roll" appropriately got the good times rollin' and "The Little Things," which has generated far more than a little attention from critics and listeners, was dropped as well, making for one hell of a performance. It was well worth staying up for.
Hoops
I actually stumbled upon this set by accident in a desperate attempt to find some shade while exploring the festival early Sunday afternoon. Although not EDM in the slightest, I loved their nostalgic alt-rock sound and ended up staying for the entirety of their set, even though I could feel the sunburn rapidly forming on my exposed back. If you haven't heard of Hoops prior to this post, I highly suggest looking them up.
Chance the Rapper
Chance the Rapper was the penultimate performance of the weekend, and the one everyone was hoping for. Humble as always, he thanked the crowd in between what seemed like every other song and reminded us all why we love him so much. Chance's graphics were a show all on their own, with bright, playful designs specific to each song that lit up the stage nearly as much as the fireworks that sporadically accompanied them. Bros gleefully linked arms, rapping along together to their favorite tracks, and girls blushed as they pretended that Chance was singing "Sunday Candy" directly to them. Acid Rap fans were in luck too, for their fears that the show would exclude the artist's 2013 mixtape proved to be unwarranted when he launched into "Cocoa Butter Kisses" followed by a few other favorites.
Chance made sure to properly introduce every co-performer and band member on stage, in addition to "starting the show" a good three times, one of which occurred a good half hour into his set. Overall, it was a perfect, fun performance seemingly aimed at pleasing everyone in attendance. Chance is a man who is very clearly appreciative of his fans and more than deserving of the BET Humanitarian Award he's set to receive this Sunday.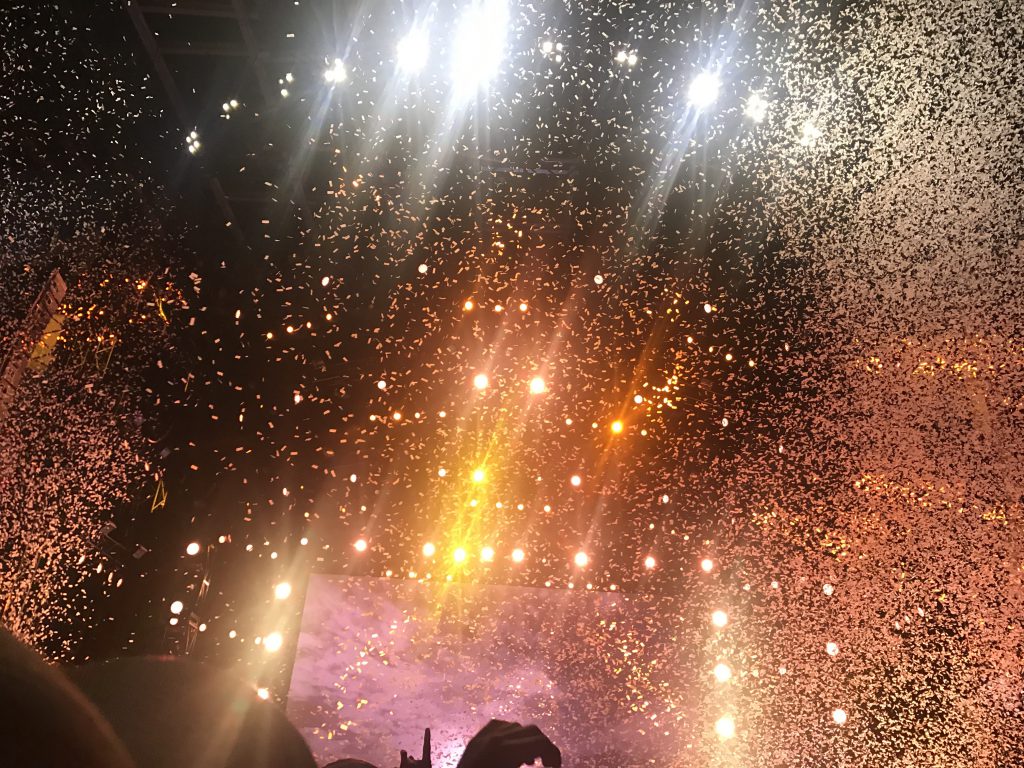 Unfortunately, due to a combination of the insane turnout for Chance, my group's insistence upon being front and center in the pit for his set, and a quick stop at the Hydration Station for water refills that turned out to be not so quick at all, by the time we made it to RÜFÜS DU SOL it was already a good half hour into their set. The hour that I did manage to see was a blast though. The group dominated the Bigfoot Stage with tracks off both of their studio albums, Bloom and Atlas, along with songs that I didn't even recognize before that night.
Finally, one other act I'm not sure I'm willing to admit I loved…
I will keep this brief because writing such a thing down is the equivalent of saying it aloud and I am unsure if I will ever be ready to admit it: 21 Pilots was amazing. I know what you may be thinking, but I have to give it to these guys – they put on one hell of a show. Between the guitar riffs, the impressive vocals, and a drum-off that included lead drummer Josh Dun, 21 Pilots was easily one of the best performances of the weekend. Despite any reluctance I may have felt toward this band, after embracing my inner teen angst, I ended up actually really enjoying their set.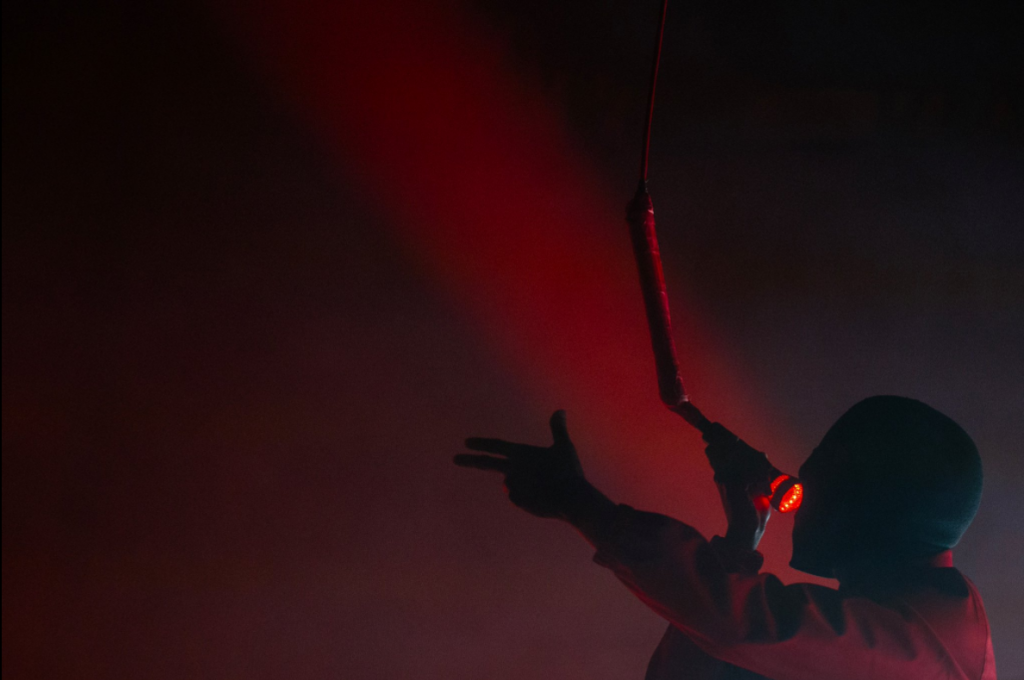 ---
Yes, the Gorge Amphitheater is just as beautiful as you've heard.
No, pictures do not do it justice. I'm still in denial that the sweeping views I had of the valley and river all weekend was not the work of Photoshop but actually existed in real life. It was truly a surreal experience watching the artists perform at the Sasquatch main stage with the entire gorge as their backdrop. With a view like that, it's impossible not to smile. In retrospect, that might explain why everyone I encountered at Sasquatch was in such a good mood the entire time – seriously, I didn't have one bad experience with anyone. Coming from someone who once turned down a hike in Malibu Canyon by explaining that "I could just Google pictures of it instead," this venue is truly a site worth visiting for yourself in person.
The food was good but a bit pricey, and the absence of art left something to be desired.
The food overall was a bit on the more expensive side as far as festivals go, but there was a decent selection offered outside of your classic chicken tenders or burger vendors. I learned to always read the fine print. There is a very large difference between $8 nachos and loaded $15 ones, and they weren't even that great!  My personal favorite was The Dump Truck, where I enjoyed the priciest but quite possibly best dumplings I've ever encountered.
As far as art goes, I was disappointed with how little of it there was. Specifically, the SASQUATCH! sign located next to the entrance to the festival was particularly dismal. I felt as though such central piece could have been better done. Hopefully, the increase in ticket sales from last year will give Sasquatch! the boost it needs to continue to improve next year.
After experiencing Sasquatch! for the first time, I've learned a few things about myself and camping festivals in general.
For example, the grass is actually pretty comfortable and there was zero need for lugging around my air mattress only to end up forgetting the pump and abandoning it entirely. Despite my and probably most of my fellow attendees' hesitation after Frank's cancellation, I can honestly say I'm glad I stuck it out and got to experience the festival anyway. So thank you, Sasquatch!, for popping my camping festival cherry and giving me a weekend's worth of great music, memories, and blisters.
---
Connect with Sasquatch! Music Festival on Social Media: