There are two main reasons to come to Bassrush Massive Arizona: to headbang and to mosh.
---
There is no mystery as to why people attend a Bassrush event. The international brand has a reputation to live up to, and this single day event in Phoenix was definitely another feather in their cap. The setup for Bassrush Massive Arizona was well thought out, the production was just right for an event of this size, and the performances were on point. The crowd was great, too – it was made up of mostly experienced ravers from what I could tell. I didn't meet anyone saying this was their first event, and they all came to headbang and of course, join in on the mosh pit. Overall, it hit all the right notes.
The layout suits the venue well, and the amenities were on point for the size of the crowd.
We got to the venue shortly after sunset and the sky was a brilliant mix of pinks, oranges, and blues. Arriving at a festival at sunset is always electrifying. As we approached the security lines we noticed their configuration was slightly different from the other festivals we've attended at Rawhide Western Town & Event Center, probably because Bassrush was a smaller event. Most of the lines were moving quickly, and we were inside the venue in under 30 minutes.
As we walked toward the warehouse we saw the food vendors located on the edges of the green space, with three rows of bathrooms located next to the single water station. A handful of merchandise booths broke up the large green space and made it easy for people to stop and make purchases. There were plenty of bars located inside facing the stage, and they all took credit cards and offered a variety of mixed drinks and beer. Bassrush is far from Relentless Beats' first rodeo, so the vendors, bar lines, bathrooms, and water lines never took more than a few minutes, which means you can spend more time listening to music.
SayMyName is an example of an underrated artist: not many know who he is, but he kills it every time.
As we entered, we noticed that they only had one garage door open at the time, but as soon as we thought about it, the second door began to open. We wandered into the middle of the crowd. While the production wasn't overbearing, the stage was decked out with quite a few lasers. The bass was enough to vibrate the concrete slab of the warehouse, but not enough to make you feel like you were experiencing an earthquake.
We found our spots behind the sound booth and began to rage with SayMyName. Most people hadn't seen him before, and I'll admit I don't see him on many lineups, but I truly believe he's an underrated artist. His set was a mix of genres, bassy and fun, while also emotional all at the same time. It was a great way to start the night.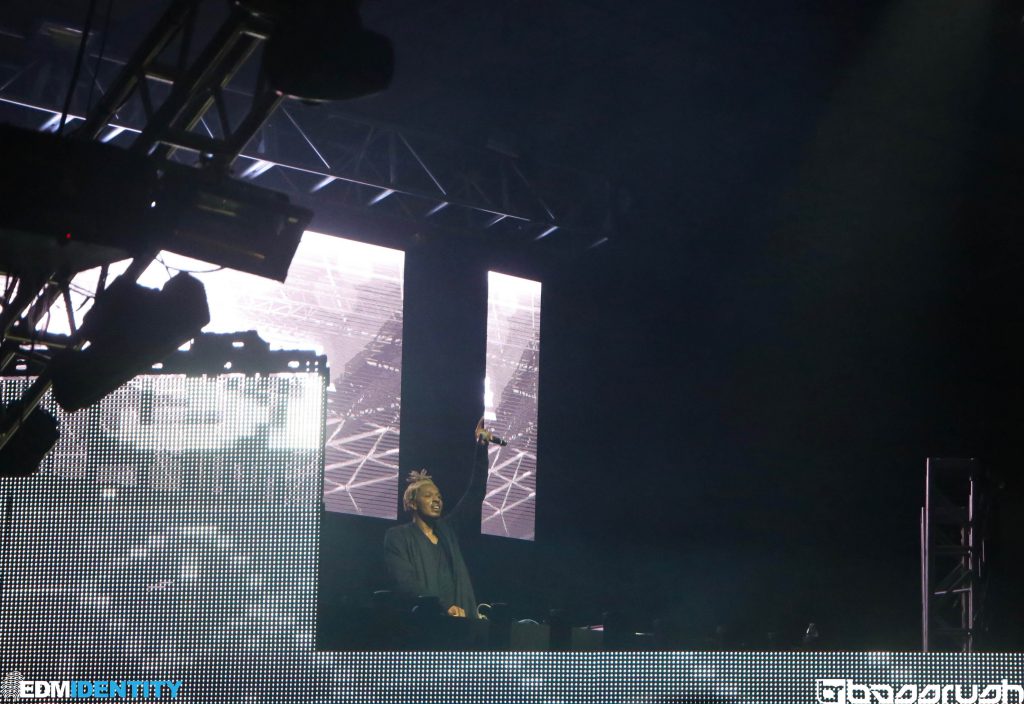 Herobust and Andy C put on two vastly different sets that both hit the mark.
Between the break, while we waited for "trap god" Herobust to take the stage, I met up with some friends I had made at other festivals in Arizona. Sage, Andrea, Brandon, and John were gathered by the side of the stage when I found them. We caught up just as Herobust's first song dropped. The set was intense and full of energy. The whole crowd was moving, and you could some girls lifting themselves up on the guard rail just to headbang harder.
After that set ended, I rejoined my group, Shahla and Grant, who are two friends I made at Phoenix Lights last year. There was a lot more breathing room to dance without completely drenching yourself in sweat where we settled in front of the DJ booth for Andy C. He took the stage and filled the warehouse with some drum and bass that really separated him from the other acts of the night. I've only seen him once before, so I didn't have much to compare it to, but his set was solid. The change of pace helped the crowd recover from the fairly consistent mosh pits that seemed to erupt during Herobust.
Single stage events are nice because you don't feel like you're missing anybody.
We refilled our water, got more drinks, and took in some of the night air before NGHTMRE's set. It's nice having a festival where there's only one stage – you don't have to split time between multiple acts, and the artists aren't restricted to 45 minutes. Giving the artists a full hour makes a difference in my opinion.
NGHTMRE has been a favorite of mine for a while, so while I may be biased, I thought he played a great set. He played songs I hadn't heard him play before and even dropped a Flume remix that surprised me. He is definitely an artist I'll need catch again this year!
Around this time I saw a text from "Jake Not From State Farm." It made me laugh out loud. He was a friend I had made at Crush AZ but hadn't seen since. We were able to meet up for a few sets and catch up on each other's lives and what future events we were planning to attend.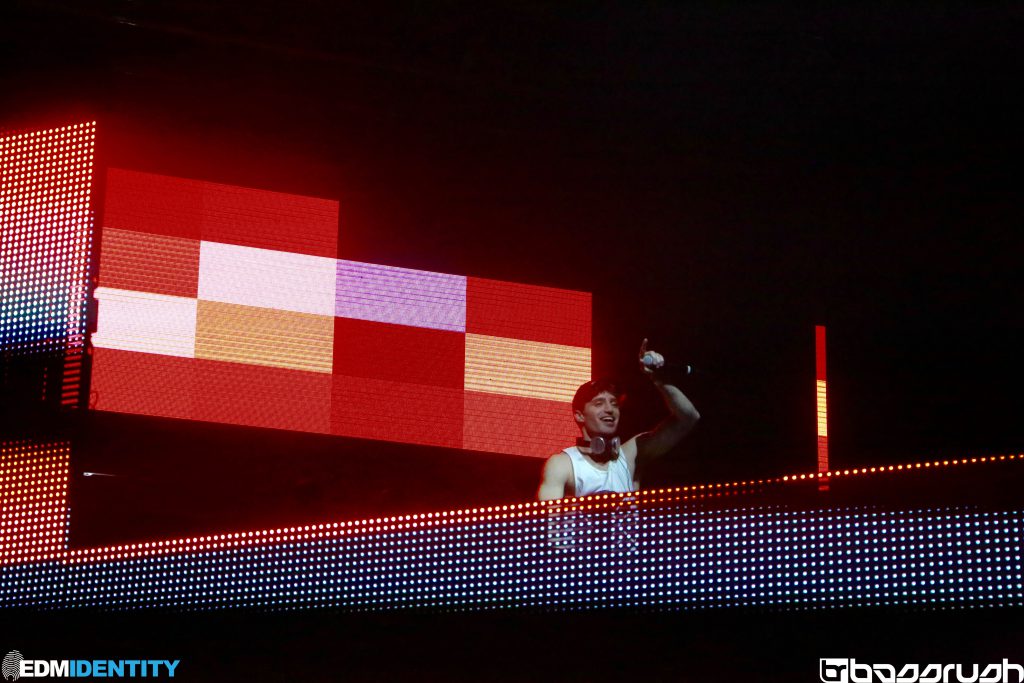 Meeting up with old and new friends is always a goal at events, and I managed to do both at Bassrush.
By this time we all needed a break – we had been raging for hours and wanted a moment to just sit down.Flux Pavilion was taking the stage, and he's another artist I hadn't seen in a while. My comment about most of his sets is that his transitions are more like periodic breaks: there's a sharp change when he switches from song to song, and this set was no different. Transitions aside, his mix had the crowd going wild, especially when he dropped Dillon Francis and NGHTMRE's "Need You."
The flow artists were now congregating toward the back of the warehouse and the LED hoops were slowly attracting attendees. As I sat down, Madi came up to my shoulder and asked if I wanted a massage. We talked about where she was from and how many events she'd been to. She likes to massage people and it's a really great icebreaker. Her smile was calming like I'd known her for a while. She offered a massage to everyone around us, and I didn't see anyone refuse. Toward the end of the night, we exchanged numbers, and I know I'll see her at another event.
I was really excited for Adventure Club's set, and they did not disappoint.
Adventure Club was finally on stage and I was more than excited. I hadn't seen them since EDC last year and definitely not since their new album dropped. Their set was just pure happiness and fun. They also dropped a Flume remix that was caught me off guard but made me smile. Their set was better from others I've seen and felt more like Adventure Club finding their groove.
I wandered a little farther back to get a video when I met Logan. He was vibing to the music. We talked about Phoenix events and what his next event would be. As we exchanged numbers and parted ways, and I wished him a good night and went back to find my group.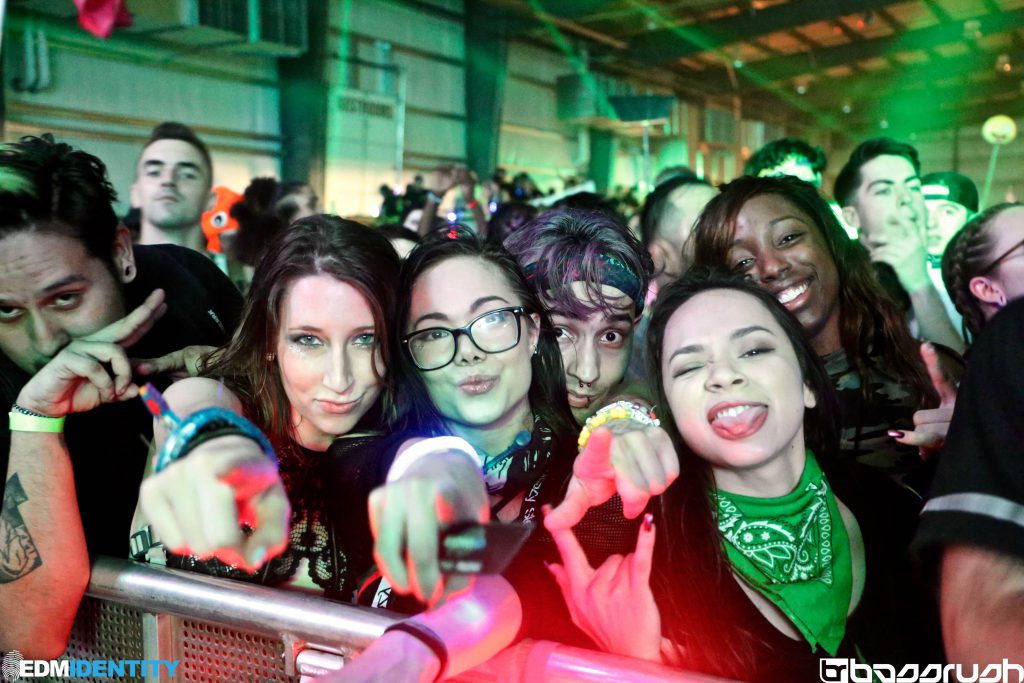 Overall, the lineup was great and so were the people. I'll definitely be back!
Bassrush Massive in Arizona was a purely fun experience. A lot of people asked me how it was and it wasn't mind-blowing or over the top, but it was fun. I don't think it was meant to be a festival overwhelmed with production. There were lasers and a great sub-system, but most importantly, everyone was there to headbang and have fun. It felt like a back-to-basics single day event that left me with a smile as I walked back to my car at the end of the night, content.
Be sure to check out our other photos on Facebook!
---
Connect with Relentless Beats on Social Media:
Connect with Bassrush on Social Media:
Website | Facebook | Twitter | Instagram
Featured Photo Credit: Tony Cottrell Photography