For the first time, Electric Forest will be hosting a Her Forest curated event!
---
Reaching its seventh year in 2017, Electric Forest will be taking place in Rothbury, Michigan over two distinct weekends and this year they will be hosting their first "Her Forest" Curated Event. This announcement will be the most comprehensive initiative of its kind at any music festival. The inaugural launch, last year, was a platform for the Electric Forest community to nurture a culture of connection and empowerment.
Watch this video about Her Forest Program:
Performers for the debut of EF's Her Forest Curated Event were selected from hundreds of fan submissions auditioning to be part of this unique celebration of women and all they offer to art. The winners are: solo female DJ/ producer and violinist Alfiya Glow, Indian dance duo The Dance of Anarkali, uplifting California pair Heartwurkz, female DJ M.O.B., unconventional dance and soundscape artist Frankie Taminal, and female singer/piano/looping talent Melody Monroe. Also performing the inaugural Her Forest Curated Event are Lynx & The Servants of Song and non-binary EF2017 Monarch Winner, Monarch Rachel & Their Royal Court Drag Show.
It's inspiring to be expanding Electric Forest's Her Forest program to include a Curated Event. It allows us to host an even more diverse and unique lineup of performers at the festival. It's important to us that Electric Forest continues to offer opportunities for new and distinct talent to share their art. Like all of The Forest's participation opportunities – we call them "Plug-In" programs – this collaboration invites the community to participate in shaping the EF experience.

– Alicia Karlin, Electric Forest Talent Buyer/Madison House Presents
The idea for a Her Forest Curated Event first came in 2016 when the festival hosted a Women's themed panel discussion as a part of its workshop series. Many attendees and festival artists participated in a conversation about what it means to be a woman int he Electric Forest community and tin the music festival scene in general. This conversation created the foundation and three pillars of the "Her Forest" initiative: connection, inspiration, and comfort.
The inspiration it created, for both women and men, was palpable. People walked away with more awareness, and with more appreciation and compassion for fellow EF attendees. The response to the panel showed us that expanding this conversation mattered to the Forest Family.

– Lia Holland, EF Community Engagement Manager/Madison House Presents
Each year, the Her Forest Artist Panel hosts a conversation featuring EF performers and production staff. This year, during the Second Weekend of EF2017, female performers Savanna Buist & Katie Larson of The Accidentals and Bay Li, Kaya Nico, and Daisy Spencer of The Skins join Madison House Presents Director of Branding, Partnerships and Marketing Darcy Schneider and music festival writer Edith Johnson to discuss the topic of "Being an Ally." Moderated by Women's Empowerment Advocate Kiki Frederico, the panel will dialogue about how we can support each other creatively, and nurture each other culturally. The Her Forest Artist Panel is open to all EF attendees.
Learn more about the Her Forest Artist Panel and theme here.
Our first goal was to start a dialogue and to better understand what the EF community itself thought this program should and could to become. We knew the Forest Family could guide us in what this program should and could become," says Stein. "It's been an amazing collaborative process, and it's still very much alive and evolving. Thus far, we've learned that this program is about listening to each other, being compassionate, encouraging self-expression, and harnessing this spirit of community not just during the festival but also out in the world.

– Jeremy Stein, Electric Forest Co-Producer/Madison House Presents Founder
Her Forest will also present Her Forest Circles and Meetups throughout EF's First and Second Weekend. Her Forest Circles are hosted as women's only events except for the Closing Circle which is for all genders on the final evening of the Second Weekend. It offers an opportunity for participants to connect more deeply with themselves, each other, and the meaning of their experience at Electric Forest via informal learning and games, story-sharing, and more. New this year Her Forest Group Camp will curate a schedule of informal Meetups around the festival.
Be sure to check out the complete schedule and details for Her Forest 2017 here.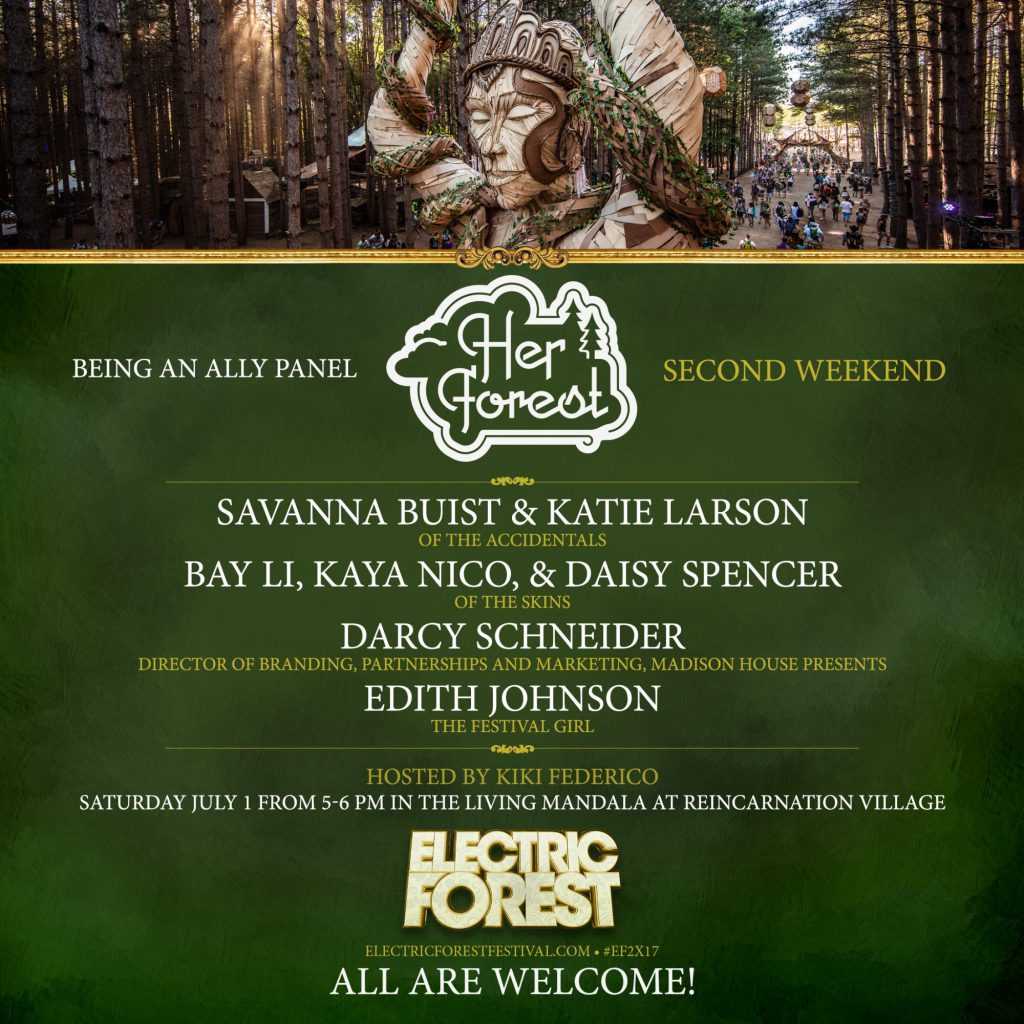 ---
Connect with Electric Forest on Social Media:
Website | Facebook | Twitter | Instagram | YouTube
Featured Photo Credit: Electric Forest