Ultra Brasil will be bringing the party back to South America with this epic first phase of artists!
---
Turning only two this year, Ultra Brasil is already getting past its infant stage by expanding to a full three days this year. Taking place in Rio de Janiero on October 12-14, 2017, the Ultra Team will be taking over the legendary Sambódromo once again to provide a home for all lovers of electronic music. Last year's edition boasted of over 60,000 attendees, and this year is expected to bring in more as the grounds have been expanded for this three-day affair. Cashless funding will return this year, to give festival-goers the option of ditching their credit cards in exchange for designated cashless cards. For you Ultra-loyal out there, the Ultra Passport is now working at Ultra Brasil, so you can accrue points towards upgrades and more by attending this year's edition. Additionally, Ultra Brasil has also announced unique travel packages featuring bundled flights, hotel deals and in-festival transportation that will soon be announced!
Announced in the Phase One Lineup are artists Adam Beyer, Alesso, Armin Van Buuren, David Guetta, Jamie Jones, Joseph Capriati, The Martinez Brothers, and the legendary Sasha & John Digweed! This shows off some diversity, and we cannot wait to see what the full lineup that Ultra will be bringing this year to Rio!
Tickets for ULTRA Brasil are currently on Tier 2 and are available exclusively here. Tier 2 3-Day General Admission tickets are on sale now for R$ 474.00 (half-priced tickets, available exclusively to Brazilian citizens*) and R$ 948.00 for other citizenships.
---
Ultra Brasil 2017 Phase One Lineup: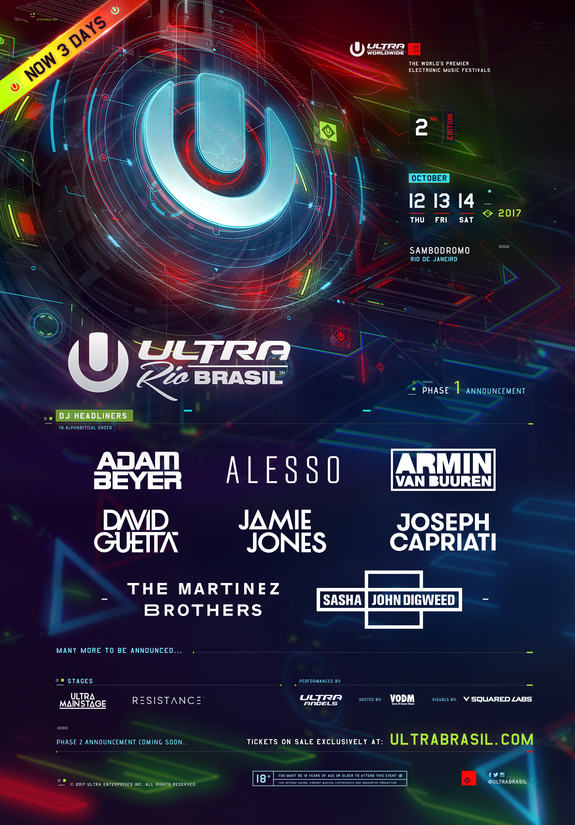 ---
Ultra Brasil 2017 Lineup By Artist:
DJ Headliners (in alphabetical order):
Adam Beyer
Alesso
Armin Van Buuren
David Guetta
Jamie Jones
Joseph Capriati
The Martinez Brothers
Sasha & John Digweed
---
About Ultra Worldwide:
Choosing to follow a unique and creative vision and a wholly organic growth focused on its true love for music, artists and fans alike, the ULTRA and ULTRA Worldwide™ brands represent not only the world's biggest and most successful remaining INDEPENDENT electronic music festival brand, but also the most international festival brand in the world. Event organizers continue to transport the unrivaled experience from the Miami flagship festival to an ever-growing number of destinations and Ultranauts all over the globe.
Over the past eighteen years, thousands of the world's most iconic DJs, producers, and live acts have mesmerized audiences with awe-inspiring sets at ULTRA festivals in ARGENTINA, BALI, BRAZIL, CHILE, CROATIA, IBIZA, JAPAN, KOREA, SOUTH AFRICA and of course MIAMI, as well as ROAD TO ULTRA® events in BOLIVIA, CHILE, COLOMBIA, JAPAN, KOREA, MACAU, PARAGUAY, PERU, THE PHILIPPINES, PUERTO RICO, SINGAPORE, TAIWAN, THAILAND and the USA. Each new global edition has been founded on the same successful recipe that has been perfected over eighteen years in Miami, combining the most diverse electronic talent with the most technologically advanced, large-scale festival productions in the world.
---
Follow Ultra Brasil on Social Media:
Website | Facebook | Twitter | Instagram | YouTube
Featured Photo Credit: Ultra Brasil