Bassrush Massive Arizona 2017 Set Times, Information, & More!
---
Festival season has been flying by and it seems almost every other weekend there's another event to attend. This weekend, I'm excited to get some head banging in at Bassrush Massive in Arizona. Beginning in the 1990's, Insomniac's Bassrush brand has evolved from its strictly drum & bass roots to include dubstep and other bass-oriented genres. Along with exclusive one-off events, they host stages at all major Insomniac festivals such as EDC Las Vegas, EDC Orlando, and Beyond Wonderland. This year Relentless Beats & Insomniac will be teaming up to bring fans Bassrush Massive Arizona!
If you're joining me on Saturday then here's everything you'll need to know to have a neck breaking a great time! Will you be heading out to Bassrush Massive AZ this weekend? Let us know in the comments below!
---
Bassrush Massive Arizona 2017 Essential Info:
Dates: Saturday, May 06, 2017
Show times: 5pm – 2am
Venue Address: Rawhide Western Town and Event Center – 5700 W North Loop Rd, Chandler, AZ 85226
Ages: 18+
Acceptable Forms of Identification for Entry
Arizona Driver's License
Arizona Identification Card
Passport
Military ID
Resident Alien Card
US Driver's License
Although any government issued ID will gain you entry, it should be noted that vertical driver's licenses are not acceptable for the purposes of purchasing alcoholic beverages in Arizona.
---
Bassrush Massive Arizona 2017 Set Times: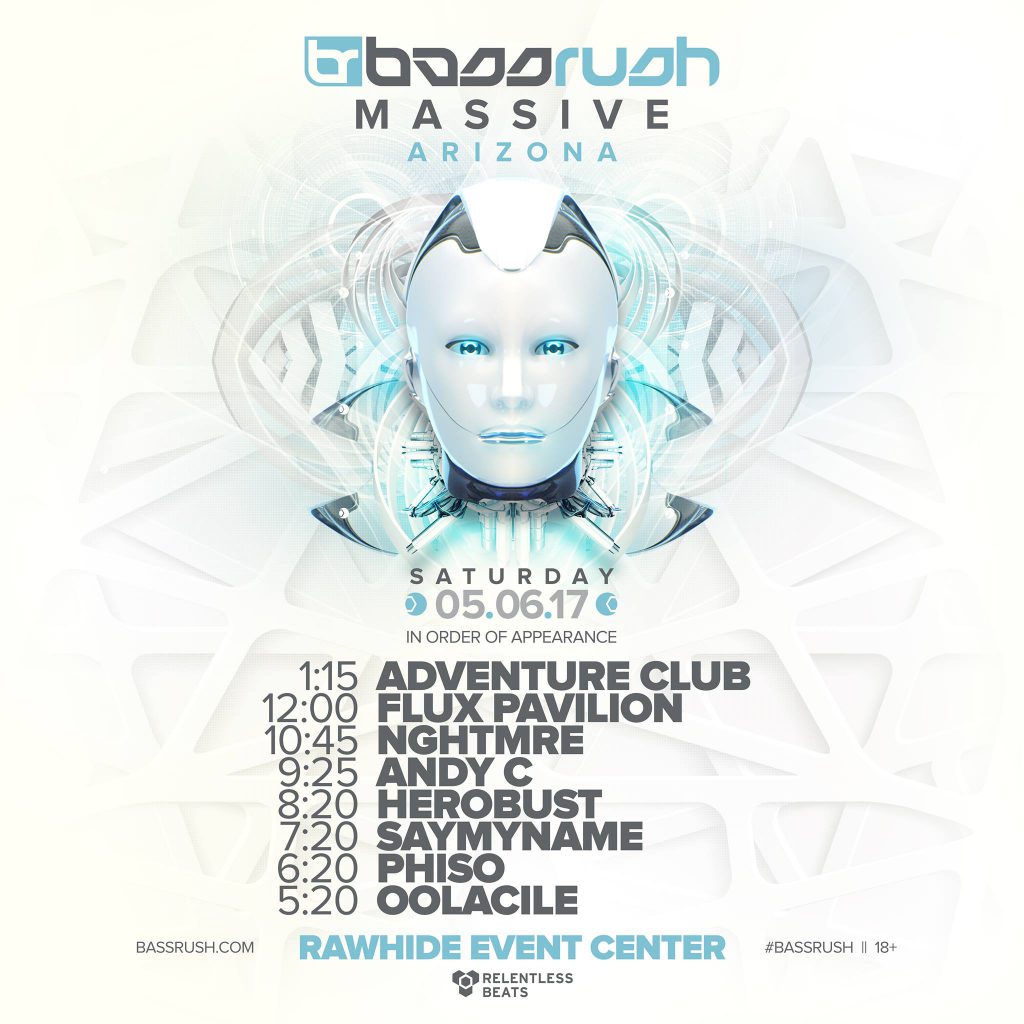 ---
Bassrush Massive Arizona 2017 Festival and Parking Maps:
Be sure to bring $10 for parking!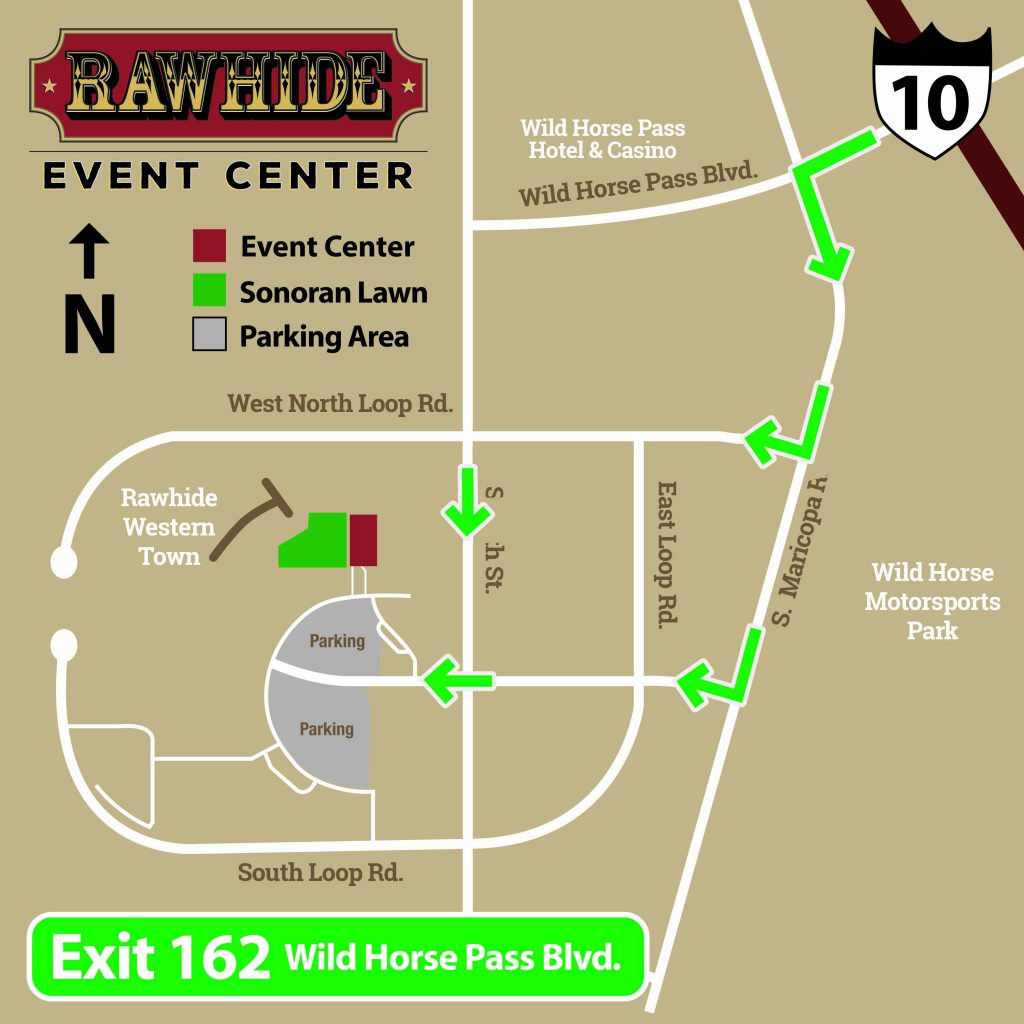 ---
Reminder To Mind Your Belongings
Unfortunately, many people have reported pickpockets, bag slashings, and theft of wallets, smartphones, purses and other valuables during this festival season. While this small number of bad apples in the bunch doesn't define an entire crowd, there are opportunistic people who come to these events to take advantage of unsuspecting party goers and it's important to be mindful of your valuables while at Bassrush Massive AZ.
Pay attention to who's around you and what's going on around you. Keep your wallet and phone in your front pocket(s) if you can. Treat your phone the same way you would treat cash; don't set it down on a table or bar and look away. If a friend isn't standing behind you in a crowd, be careful of your backpack or purse, and don't put valuables in a pocket that could easily be unzipped by someone behind in a crowded spot without you realizing.
Festivals, in general, are a very densely populated place, and are a well-known place where pick-pocketing of unsuspecting people occurs. It's easy to find yourself in a crowded environment in a line, at a stage in the festival, elevator, or even out on the street where someone could slip your wallet or phone our of your pocket or bag in a matter of seconds. Stay alert, be careful, and make sure to not carry more than what you need!
---
Bassrush Massive Arizona 2017 Do's & Don'ts
Things to Leave at Home

Things to Bring With

NO Illegal Substances
NO Drugs or Drug Paraphenalia
NO Pets
NO Massagers
NO Laser Pens / Pointers
NO Eye Drops
NO LED Gloves or LED Microlights used for Light Shows
NO Pacifiers or Dust Masks
NO Eyedrops
NO Glass, Cans, Cups, or Coolers
NO Markers, Pens, or Spray Paint
NO Large Chains or Spiked Jewelry
NO Stickers, Flyers, or Posters
NO Hard Balls, Frisbees
NO Tents, Large Umbrellas, Chairs, or Blankets
NO Backpacks Over 12″x12″ (except Camelbacs)
NO Bota Bags
NO Large Purses or Bags (Anything over 12″×12″)
NO Open Cigarettes, Lipstick, Chapstick, or Tampons (Upon entry)
NO Outside Food, Beverage, or Alcohol
NO Knives, Firearms, Pepper Spray, Fireworks, or Weapons of Any Kind
NO Toy Weapons or Real Weapons of Any Kind
NO Professional Cameras – SLR or Detachable Lens
NO Video or Audio Equipment
NO Native American Headdresses
OK Small Bags and Purses (maximum 12″×12″ inches)
OK Reusable Insomniac Aluminum Water Bottles (must be empty upon entry)
OK Camelbaks (empty upon entry)
OK Fanny Packs
OK Non-Professsional Still Cameras
OK Cell Phones
OK Small, Personal Umbrellas
OK Hats
OK Lighters
OK Sealed Packs of Cigarettes
OK Sealed / Wrapped Tampons
OK Sealed Packs of Gum
OK Earplugs
OK Sealed Chapstick and Lipgloss
OK Sunglasses
OK Removable Bandanas
OK Glowsticks
OK String Glowstick / LED Poi is permitted by must be performed 5′ from others (Please be responsible!)
OK Glowing / Illuminated Costumes or Jewelry
OK Hula Hoops (especially LED hoops)
OK Festival Totems (Pool Noodles or Lights, hollow decorated poles) See below for more info
OK Inflatables (deflated upon entry)
OK Flags/Banners or Handmade signs (no corporate or company-branded ones)
OK Handheld camera devices (eg Sony Action Cam, GoPro)
OK Plush Backpacks
OK GoPro Extendable Poles
OK Disposable E-cigs/Nicotine Vaporizer pens are OK, but none with refillable chambers containing visible liquid
OK Sealed, Unopened Hand Sanitizing Wipes
Totem Guidelines:
Maximum height is 10'.
Totems must be made from a lightweight material (e.g., foam, PVC / no solid metal).
Collapsible/telescoping camera extenders that follow the above guidelines are OK (lightweight/hollow aluminum/polycarbonate).
PVC, light wood, aluminum poles must be no thicker than 1" in diameter.
Decorated pool noodles work great for easy entrance through security.
Inflatables attached to totems must be deflated upon entry.
Any item deemed dangerous will not be allowed.
---
About Rawhide Western Town & Event Center:
Rawhide Western Town & Event Center is situated on the Gila River Indian Community and is Arizona's largest 1880s western-themed entertainment venue. Located just south of Phoenix, the venue is just 20 minutes from the Phoenix Sky Harbor International Airport in Chandler, AZ. Relentless Beats will be transforming Rawhide's Frontier Hall into the Arizona's biggest super-club for a decadent two nights. Guests are invited to indulge and live lavishly one last time, as they say good-bye to 2016 and prepare to welcome the fresh beginnings of a new year.
Updated 5/5/17: Tisoki was unable to make it, but never fear, Oolacile will be playing instead
---
Connect with Relentless Beats on Social Media:
Connect with Bassrush on Social Media: