Coachella begins this week and I am stoked to be returning to the Polo Grounds once again.
---
Those of you who know me, know that I love Coachella more than many other festivals. Why? Because Goldenvoice consistently brings not just great lineups, but unique ones too. Over the years I have been able to catch artists who I would have otherwise missed out on due to availability, ticket cost for solo shows, and more. I've seen countless artists who are on the undercard of the lineup rise up the ranks and headline or close stages out, and even more, who have leaped I have fallen in love with after stumbling upon. I honestly could go on and on about this year, and while it may not have been my most favorite lineup ever from Coachella, I found some names that you should definitely be checking out. Spoiler alert, there is no Radiohead or Porter x Madeon on this list.
Grant's Top Picks at Coachella 2017
---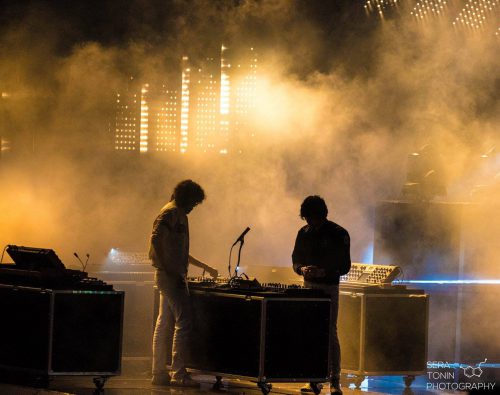 Justice
After having the pleasure of catching Justice at Ultra Music Festival last month, they immediately shot up to the top of my list of "must sees" this year at Coachella. With new music in tow, and of course the classics too, this set is going to be one for the ages. I simply cannot wait to be dancing away to their magical beats on the Polo Grounds this weekend, will you be joining me?
---
Richie Hawtin
Richie Hawtin is hands down one of the legends in the electronic music scene. His illustrious music career has consistently blown fans away over the years, and Coachella this year will be something else too. Coachella is THE FESTIVAL for artists to debut unique live sets or special performances, and Richie will be doing just that. His CLOSE – Spontaneity & Synchrocity show is going to be one of the best acts of the weekend, and you should definitely be there. Check out what he had to say about it below. Get more details on CLOSE by clicking HERE!
"'How can I bring people closer to what I'm doing? How can I make them feel that they understand how I play my instruments?'" asked Rich in the Los Angeles Times this past Sunday in Randall Roberts' feature. "This year he will experiment with a solution when he premieres one of his most extreme innovations. Rather than perform from behind the control station, Hawtin will be untethered, free to roam the stage as he mixes and creates. The desire is that fans get a better understanding of Hawtin's craft, and hopefully disabuse skeptics who consider DJs to be glorified button-pushers.  Called 'CLOSE — Spontaneity & Synchronicity,' the idea was born at festivals as he pondered the differences between rock and EDM performances."
---
Jai Wolf
Jai Wolf has had a stunning 2017 so far, and his music has become some of my favorite and most played tunes. Much like with Justice, after catching most of his set at Ultra Music Festival last month I was sold on catching him this year at Coachella. Known for some serious vibes and hopefully some live elements to be included, I cannot help but be stoked for him at Coachella this year.
---
Hans Zimmer
Hans Zimmer is probably one of the most unique acts on the lineup, and one that I will certainly be attending. He's the man behind much of the movie music that you already know and love, so seeing him perform it with a full orchestra is going to be out of this world cool. This is truly going to be an amazing spectacle and I cannot wait to hear some of my favorite songs played out in full. Check out the video of Hans Zimmer for a taste of what is in store!
---
Steve Angello
When you think of legendary DJs who helped shape the modern era of dance music, it is insanely hard to not include Steve Angello's name on that list. The SIZE Records Boss was world-renowned for his skills behind the decks well before the rise of the insanely popular Swedish House Mafia. Flash back to my first Coachella ever, back in 2012, and he took the stage with Axwell and Sebastian Ingrosso to play one of the most fun sets I've experienced. Now, many Coachellas later I am blessed to see him once again, this time playing solo and hopefully pumping out those house tunes that made me fall in love with his music all the way back when I started to really get into electronic music. Show him some love and make sure to check him out during Coachella!
---
Klangstof
As the first-ever Dutch band to play Coachella, I was surprised at how quickly I fell in love with this alternative band's music. Fresh on the scene, having only been around since 2015, they dropped a debut studio album last year that was full of fantastic tracks and super chill vibes. Notable DJ Sasha also gave them some love with an official remix of "Hostage" as well. Playing during the day, I'm excited to see what they have to bring to the table and hope that you'll check them out with me too!
---
Connect with Coachella on Social Media:
Website | Facebook | Twitter | Instagram | YouTube | Snapchat
Featured Photo Credit: Zarate Photography