Now that Mysteryland USA is no more, we've pulled together a list of our favorite East Coast-accessible festivals that you can check out to fill the hole in your summer!
---
The unfortunate cancellation of East Coast mainstay Mysteryland USA has left many a festival-goer with an unexpected free weekend this summer. Now that we've processed everything – we've speculated about why, we've shared our frustrations, and we've cried our tears over a missed chance to visit a cherished place with our friends – it's time to get up, shuffle on toward the future, and decide which festival will fill the void. 2017 is shaping up to be an incredible year for live music and festivals, and there are many excellent options for East Coast fans. If you're anything like us, you look forward to festival season all year, and when you spend your hard-earned money, you are looking for nothing less than an amazing experience. With that in mind, we took the liberty of brainstorming some ideas for where you can redirect your festival funds. Check out some of our recommendations for the best festival alternatives to Mysteryland USA below!
---
The Hangout Music Festival || Gulf Shores, Alabama || May 19-21, 2017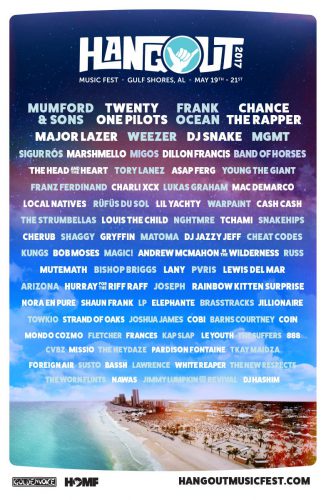 This three-day festival combines two of our favorite things: epic musical performances and relaxing on the beach. The festival takes place annually in Gulf Shores, Alabama, bringing along a crew of top-notch artists and even better people. The lineup features a dynamic range, from the energetic twang of Mumford & Sons to the Jamaican dancehall-inspired beats of Major Lazer and everything in between. The venue boasts a handful of stages right on the beach, so you can enjoy some exceptional performances while watching the sun set over the Gulf of Mexico. The Hangout Festival is one of the southeast's favorite live music destinations. Can't decide between working on your tan or being serenaded by Frank Ocean? Grab your tickets below.
Hangout Music Festival || Essential Info:
Check out the Hangout Festival 2017 Lineup Announcement on YouTube:
Follow Hangout Music Festival on Social Media:
Facebook | Twitter | Instagram | Website
---
Bonnaroo Music & Arts Festival || Manchester, Tennessee || June 8-11, 2017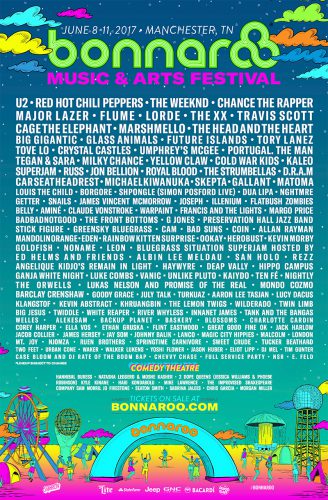 If you're trying to decide whether or not to go to Bonnaroo, I have to ask – is that even a question? This year, Bonnaroo comes back for another installment of diverse, talented, and in some cases, award-winning artists. As someone who has been to Bonnaroo, it is something that every live music lover should experience at least once. The production, the talent, the venue, and most of all, the VIBE are all next level and well worth braving the Tennessee heat. Where else can you go and receive HUNDREDS of high-fives as you walk through the entrance? Bonnaroo has a special place in many peoples' hearts; the time you spend with people there will quickly become some of your most prized memories. Be sure to snag your tickets for 'Roo 2017 – an epic experience awaits!
Bonnaroo Music & Arts Festival || Essential Info:
Watch 2016's Follow The Unicorn: A 360 Bonnaroo Adventure on YouTube:
Follow Bonnaroo Music & Arts Festival on Social Media:
Facebook | Twitter | Instagram | Website
---
Panorama NYC Music Festival || New York, New York || July 28-30, 2017
This festival has it all: the location in beautiful New York City; a lineup of amazing, eclectic, and timeless artists and performers; and a rumored Ibiza sound system for their latest disco-inspired club that will be at the center of the universe called The Point. Panorama festival continues to grow and expand its production and vision since the inaugural 2016 festival. For the electronic music-loving set, they have brought us a new disco-inspired party center called The Point. The Point will bring us a mixture of local NYC DJs as well as industry titans like Derrick Carter and Honey Dijon. This is an event that you will not want to miss!
Panorama NYC Music Festival || Essential Info:
Check out the Panorama NYC 2017 Lineup Announcement on YouTube:
Follow Panorama NYC Music Festival on Social Media:
Facebook | Twitter | Instagram | Website
---
Camp Bisco || Scranton, Pennsylvania || July 13-15, 2017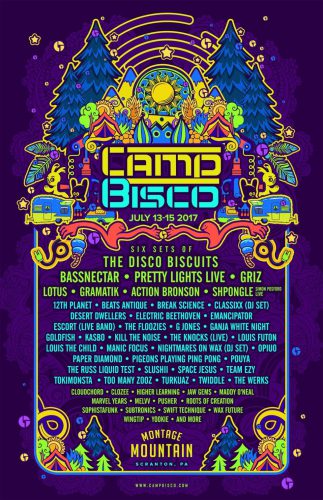 Fans of bass music and jam bands alike would be well advised to check out Camp Bisco, a three-day camping festival held at picturesque Montage Mountain in northeast Pennsylvania hosted by none other than the Disco Biscuits. Returning for its 18th edition in mid-July, the festival lineup is stacked with six sets by the Disco Biscuits and support from epic acts like Bassnectar, Pretty Lights, Griz, and Shpongle (Simon Posford live). As if that weren't reason enough to convince you to make the trip, Montage Mountain also contains a waterpark, including a wave pool, a lazy river, a zip line, and more that fans can enjoy during the festival. Billed as "the ultimate escape to your reality," this weekend of camping and music is guaranteed to be an incredible experience.
Camp Bisco || Essential Info:
Watch the Camp Bisco 2016 Aftermovie on YouTube:
Follow Camp Bisco on Social Media:
Facebook | Twitter | Instagram | Website
---
Electric Zoo || New York, New York || September 1-3, 2017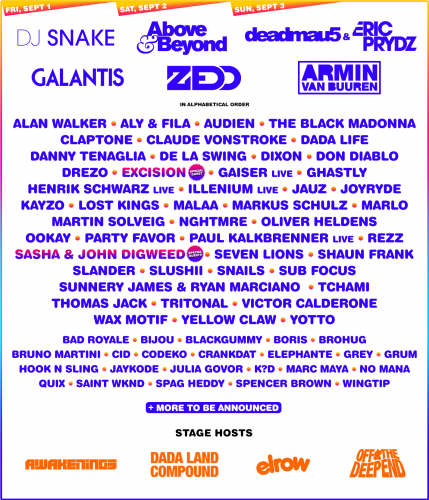 If what you really want is a nonstop onslaught of some of the best EDM acts in the scene today, look no further than Electric Zoo! Held at Governor's Island in New York City over Labor Day weekend, Electric Zoo has firmly established itself as the East Coast's premier dance music festival, and this year looks to be no exception. With headline sets by DJ Snake, Galantis, Above & Beyond, Zedd, deadmau5 & Eric Prydz, and Armin van Buuren, and stages hosted by Awakenings, Dada Land Compound, elrow, and Off the Deep End, fans of all electronic music genres will find something to suit their fancy. Festival-goers can also keep the party going long into the night at after parties hosted by some of New York City's best clubs. Check the essential info below to snag tickets and close out your summer in style!
Electric Zoo || Essential Info:
Check out the Electric Zoo: The 6th Boro 2017 Teaser on YouTube:
Follow Electric Zoo on Social Media:
Facebook | Twitter | Instagram | Website
---
Which festival will you be attending to replace Mysteryland USA this year? Let us know in the comments!
Featured Photo Credit: Electric Zoo