Phoenix Lights 2017 Set Times, Festival Map, & More!
---
The lights are ready to return to downtown Phoenix for the 4th year and we can't wait to greet them. This will be the one year anniversary of covering events in Arizona, and I can't wait to see how it's changed and grown. Phoenix Lights already boasts of a stacked lineup, and I'm sure it will be a great event. Get ready with this essential information below!
If you haven't bought a ticket yet, it's not too late, you can do it here.
Phoenix Lights 2017 Essential Info:
Dates: Saturday, April 8th & Sunday, April 9th
Show times: 12pm – 11pm
Venue Address:  Rawhide Western Town and Event Center – 5700 W North Loop Rd, Chandler, AZ 85226
Ages: 18+ to enter, 21+ bar
Acceptable Forms of Identification for Entry
Arizona Driver's License
Arizona Identification Card
Passport
Military ID
Resident Alien Card
US Driver's License
Although any government issued ID will gain you entry, it should be noted that vertical driver's licenses are not acceptable for the purposes of purchasing alcoholic beverages in Arizona.
---
Phoenix Lights 2017 Set Times: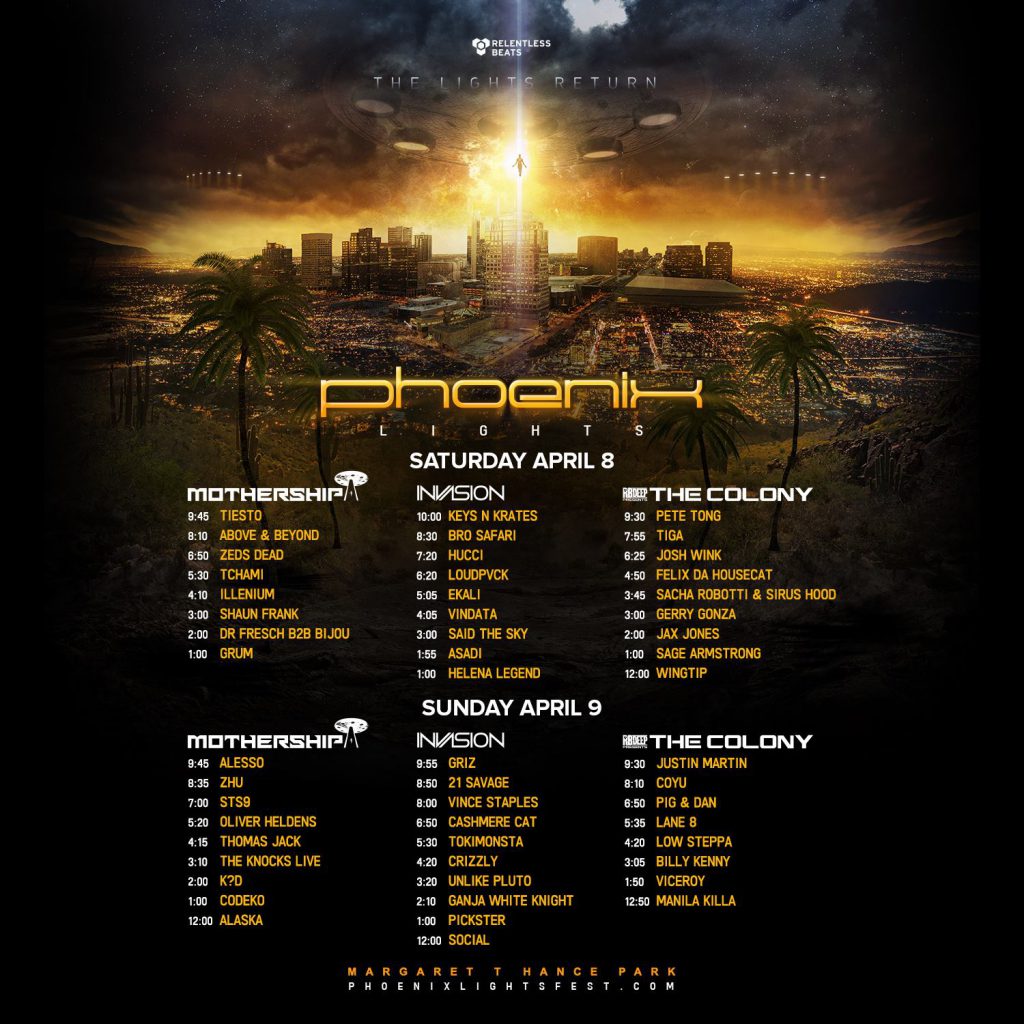 ---
Phoenix Lights 2017 Festival and Parking Maps
Due to venue change, there will not be a map available here. Please check once you arrive on site, there will still be three stages.
FREE PARKING: All parking fees will be waived at the Rawhide Western Town and Event Center and there will be plenty of it.
FREE SHUTTLES:
If you live in Phoenix, and were planning to drive to the festival, Rawhide is providing free parking for all attendees. If you are from out of town, Relentless Beats has arranged for shuttle buses to provide round trip transportation to Rawhide from Margaret T. Hance Park at 1st St and Moreland St.
---
Be Prepared For The Weather:
The weather this weekend will be partly cloudy and warm! With a high of 86 the first day and 78 the next you're definitely going to want to focus on cooler clothing and remember that partly cloudy should not stop you from wearing sunscreen. Stay hydrated and safe out there!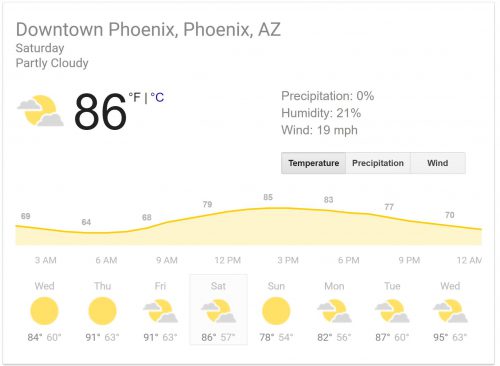 ---
Reminder To Mind Your Belongings
Unfortunately, many people have reported pickpockets, bag slashings, and theft of wallets, smartphones, purses and other valuables during this festival season. While this small number of bad apples in the bunch doesn't define an entire crowd, there are opportunistic people who come to these events to take advantage of unsuspecting party goers and it's important to be mindful of your valuables while at Phoenix Lights.
Pay attention to who's around you and what's going on around you. Keep your wallet and phone in your front pocket(s) if you can. Treat your phone the same way you would treat cash; don't set it down on a table or bar and look away. If a friend isn't standing behind you in a crowd, be careful of your backpack or purse, and don't put valuables in a pocket that could easily be unzipped by someone behind in a crowded spot without you realizing.
Festivals, in general, are a very densely populated place and are a well-known place where pick-pocketing of unsuspecting people occurs. It's easy to find yourself in a crowded environment in a line, at a stage in the festival, elevator, or even out on the street where someone could slip your wallet or phone our of your pocket or bag in a matter of seconds. Stay alert, be careful, and make sure to not carry more than what you need!
---
Phoenix Lights 2017 Do's & Don'ts
NO Illegal Substances
NO Drugs or Drug Paraphernalia
NO Pets
NO Massagers
NO Laser Pens / Pointers
NO Eye Drops
NO Glass, Cans, Cups, or Coolers
NO Markers, Pens, or Spray Paint
NO Large Chains or Spiked Jewelry
NO Stickers or Flyers
NO Tents, Large Umbrellas, Chairs, or Blankets
NO Large Purses or Bags (Anything over 10×10 inches)
NO Open Cigarettes, Lipstick, Chapstick, or Tampons
NO Outside Food, Beverage, or Alcohol
NO Professional Cameras – SLR or Detachable Lens
NO Video or Audio Recording Equipment
NO Knives, Firearms, Pepper Spray, Fireworks, or Weapons of Any Kind
NO Toy Weapons or Real Weapons of Any Kind
NO Open Sunscreen
NO Balloons, Balls, Frisbee, and/or Any Other Projectile
OK Small bags, purses, and fanny packs
OK Empty water bottles, including reusable and disposable water bottles
OK Empty CamelBak-style water bladder systems
OK Fanny Packs
OK Non-professional cameras including GoPros
OK Cell phones
OK Lighters
OK Sealed: cigarette packages, tampons, packs of gum, and chapstick/lip gloss
OK Festival Totems
OK Glowing / Illuminated Costumes or Jewelry
OK Inflatables (deflated upon entry)
OK Flags / Banners or Handmade signs (no corporate or company-branded ones)
OK Sunglasses and hats
OK Sealed Liquid sunscreen and cosmetic products
OK Disposable E-cigs / Nicotine Vaporizer pens, but none with refillable chambers containing visible liquid
OK Guide dogs for people with disabilities and other service animals with current rabies certification
OK Totems per rules in next section
TOTEM/COSTUME GUIDELINES:
Decorated festival 'totems' are okay to bring!
Maximum 10ft tall
Must be made from lightweight material (eg foam, PVC / no solid metal)
Collapsible camera telescoping extenders that follow the above guidelines are OK (lightweight/hollow aluminum/polycarbonate)
PVC, Light Wood, Aluminium poles must be no thicker than 1″ diameter
Decorated pool noodles work great for easy entrance through security
Inflatables attached to totems must be deflated upon entry.
Please note that any items that are deemed dangerous may not be admitted into the event.
---
Connect with Phoenix Lights 2017 on Social Media:
Website | Facebook | Facebook Event Page | Twitter | Instagram
*UPDATED 4/7/2017 to reflect new venue, parking, and shuttle locations