ANGELZ, a house producer with a distinct style, sat down with EDM Identity at Beyond Wonderland to talk about his upcoming projects, how he made the jump from Def Jam producer to DJ, and more!
---
ANGELZ, is a French-Canadian DJ that has been absolutely smashing the dance music scene. His quality and distinctive style garnered the attention of Tchami. ANGELZ has had numerous releases on Tchami's record label, Confession, and his songs have gotten thousands and thousands of plays. Upon first listen, you're instantly hooked with the groovy and catchy basslines that ANGELZ puts in his songs. He sat down with EDM Identity at Beyond Wonderland SoCal 2017 and gave us some details on his time with Def Jam, his relationship with Tchami and his future endeavors.
Stream ANGELZ – Saint Thug EP on SoundCloud:
---
Who or what were your early influences that led you to a career in the music scene?
My biggest influences have to be The Neptunes and Timbaland. That's who I looked up to when I started producing. They were the ones who were pushing me to get better, by the stuff they were putting out. So they have always been my main influences. Over the years, after that, I started taking influences from other people. Especially in the dance music scene. But my main influences always came from hip-hop. So definitely…. Pharrell, Timabaland and all of those guys. Listening to their stuff got me thinking, "hey I like the actually like the thing they're rapping on. Maybe I could start making my own."
You were scouted by Def Jam at an early age and began producing for them. What was the turning point when you decided to get into dance music?
At that time, I was producing hip-hop and I began feeling stuck. There were the people who were always asking for beats. They were always asking for the same stuff and it felt like I was always making music for other people and it was not something for me. I would never really get a chance to express myself. So when I started, I was seeing more and more dance guys going around and they all had their personal identity. They all had their own worlds and it was independent. They did not need someone singing on their music. It could just be instrumental. As soon as I started understanding that was the thing that was happening, I did not look back. I still make hip-hop stuff.
I'll probably make some more in the future, but now I'm in a position where I get to be like "ANGELZ featuring…. this rapper" and I don't get to compromise on the sound. That was my goal. When you're stuck in the producer mold, especially in hip-hop, it is hard to branch out of it. You're always just making songs for other people. Like an example of someone who almost got stuck – my friend DJ Snake has a lot of success right now. However, for a while, he was only producing for other people and he changed everything once he started putting songs out by himself.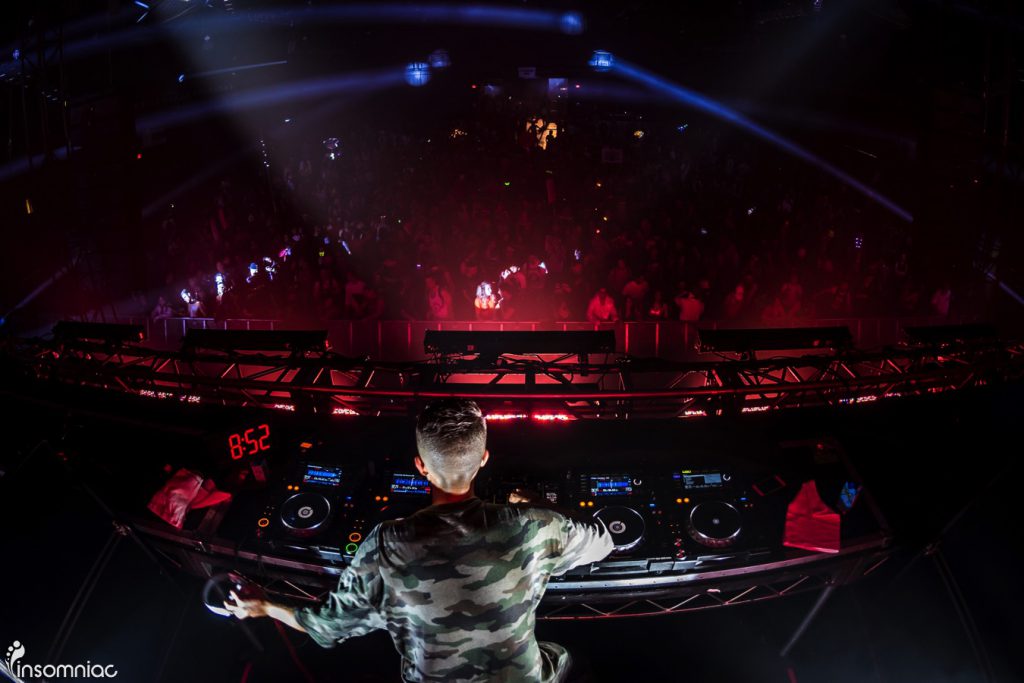 What is the music scene like in Quebec, and how does it compare to other places you've traveled or played?
The music scene is really good in Quebec, but the dance scene is almost nonexistent. Like sure there is a lot of underground stuff, but I never really got into it when I lived there. It's definitely a good city to think about music. There are so many creative producers that come from there. From Montreal too, like Kaytranada….like some of the most original guys around. A lot of it comes from being away from everything. You kind of have to develop your own scenes. A new sound will start with 20 friends making it and making little waves…. I don't know, man. The music scene, in general, is good, but Quebec didn't really help me to expand. At first, it was hard I was sending everything I was making to the local DJs and they would never even play it. Years later, though, it's completely different.
With a background involving hip hop, can we expect to see some cool collaborations in the future?
I actually have a song coming out in about 10 days that has Pusha T on it. That's a dope one, besides that, I'm just working on a bunch of stuff with rappers don't know about. I like just finding the best guys that people don't know about and if they are good I will try to put them on, you know. I love working with big names when it happens, but a lot of the time with those big names come big demands such as money and it becomes complicated. Sometimes they will hold up an entire release just for a little detail. When you work with unknown artists, you get something that no one has had before so you find something that's totally unique.
Your track "Devils" was recently featured on the Confession Talent EP, 'Alchemy'. What has it been like working with Tchami's label?
It's good, man! The sound is so new. The problem we would run into a lot – me and some of the other producers on Confession, was before Confession existed we would send our songs to different labels and they did not want them because it was too different. We would always send Tchami stuff, and he would be like "aw that's crazy!" When I sent him "Hey Girl," that's what started the label. But I just think it was a culmination of – at that time, everyone was trying to make stuff that was different than what the labels were putting out and no one was willing to release it. So we were all dropping it for free. So, Tchami had just decided he is going to get behind this movement and push it. It's been really good being in a high position on that label. My ideas are trusted and most of the time I'll send him something and he's like "yeah I'll put it out."
Everyone from super-EDM to underground are playing the tracks so it's removing the barriers. You get guys like BROHUG that used to be John Dahlback who used to be a huge progressive house producer. It does not discriminate. As long as the songs are good, who cares. That's the cool part about the label.
If you could only listen to three artists for the rest of your life, who would the be and why?
The Prodigy. It's like techno and drum n bass. They're an old school group from the UK. They pretty much started the rave moment. I got into them a lot when I was younger and I always liked their stuff.
Jay-Z. I really like The Black Album. I remember when I bought it and having that CD for such a long time. I listened to the songs so many times.
For the last one…. I'm gonna have to say some weird stuff like The Social Network soundtrack. The soundtrack is really dope. It's like some crazy stuff – weird, dark, ambient. I like that stuff! *laughs*
Is there any advice you can give to aspiring producers?
Keep at it and the quickest for you to get noticed is having a couple big songs on SoundCloud. That's what I did, just make cool remixes, it is what it is. You just have to be smart about it and I got noticed even though I was from Quebec where there was no scene and I did it all online. Anyone can do the same thing. It's just about putting in the hours. Ask all the people who get to that next level and it looks like it happened quickly, but they will all tell you the same thing. They started as fans making music and eventually they got good. If you haven't started, start today because if you don't you can dream about it, nothing will come. I check ALL the songs I get sent on SoundCloud. I get a lot of garbage, but once in a while…. like 1 out of 20 the guy will send me something dope and I'll be like "oh that's crazy!" and after that, you can be sure the next tracks he sends are pretty good. I'll listen to all of them and I'll even play them in my sets. It's within anyone's reach.
What does the future hold for ANGELZ in 2017 and beyond?
Definitely more shows. People are starting to recognize my name and….yeah man, I've tried to make a couple of songs that might reach a bit more people – some more vocal stuff, but still bring my taste. I get a lot of artists sending me vocals and it's a lot of love songs and stuff. I don't want to make just that. I want to make a song that reaches a lot of people, but at the same time, is me. So I'm still trying different vocals and different vibes and stories.
Thank you so much for this interview with EDM Identity, ANGELZ.
Thank you!
---