GoldFish Talks South Africa, Live Instruments, Their Upcoming Album, & More!
---
The electronic dance scene is full of artists pushing the boundaries of sound and production. GoldFish is an electronic duo based out of Cape Town, South Africa and are gaining serious momentum with their catchy blend of live instruments and house beats. Consisting of David Poole and Dominic Peters the duo have already achieved some huge milestones since the release of their debut album Caught in the Loop back in 2006. Since then Poole and Peters have locked down a Friday night residency at super-club Pacha in Ibiza and have played some of the largest festivals and venues around the world. With support from everyone from Dr. Dre to Sebastian Ingrosso and Pete Tong, GoldFish are rippling into the scene around the world. Check out our interview with them below!
Stream GoldFish's Roadtrippin And GoldFishin Mixtape on SoundCloud:
---
Being from Cape Town, South Africa, how has the culture and sounds from your home influenced the GoldFish project?
Cape Town is a huge melting pot of cultures with people from all over Africa and the world, which makes for an interesting mix. It's an incredibly beautiful city with amazing natural scenery and a super chilled vibe which has undoubtedly influenced the way we have created music there. Interestingly we've even noticed that living in San Diego has started to influence our music in the last eight months. Your surroundings always influence your music everything you listen to in fact does, it's almost like you are what you eat except musically!
Was it always your vision to blend elements of dance music with the instruments you began playing as kids/young adults? (Sax and Piano) And, how has your vision for GoldFish changed over the years?
We have always had a passion to bring live elements back to dance music. We believe that the excitement that live instruments bring really lifts the experience on the dancefloor. Dave and I started as jazz musicians studying at the University of Cape Town, and this was a great foundation to build on. Once we made our first electronic track the response we got from friends was so crazy that we knew we were on to something.
Why did you choose Slaptop to officially remix your single, "Deep of the Night"?
We heard his remix of Bob Moses's "Tearing me up" . We really liked what he did with that track and thought he could do a great job on the Deeper the night!
Can you talk about "Perceptions of Pacha" and being resident performers at the Friday night Pacha in Ibiza?
This was undoubtedly a dance music university education. Being exposed to all the amazing DJs who came through every summer had a huge influence on our music. Living in Ibiza for 7 summers really evolved our sound into what it is today.
How does the music scene differ in Cape Town compared to other music hot spots of the world?
Deep house is like the national language that everyone can speak in the country with eleven official languages and it's been like this for years!
On your website, there is a tab specifically for lyrics. How do you go about the songwriting for your tracks? Is there a certain process or place you like to write?
We take a lot of time and effort to write Songs that have depth and a story to them that people can relate their lives to. How creative process works differs from song to song sometimes it starts with a musical loop or riff and sometimes it begins with a lyrical idea. Most recently we have collaborated with an amazing vocalist and songwriter from San Diego called Ashe, who is sure to be a superstar soon. Look out for the track on our new album coming out later in the year.
You recently took the stage on Groove Cruise Miami! What was your favorite moment from the trip?
Groove Cruise is always seriously fun. There is something about being on the ship with the same people for five days that develops a real camaraderie that has turned this event into a something special. Being able to interface with fans and artists for five days is a unique experience. Our tequila tasting sessions are always a hoot and a great to get the party started!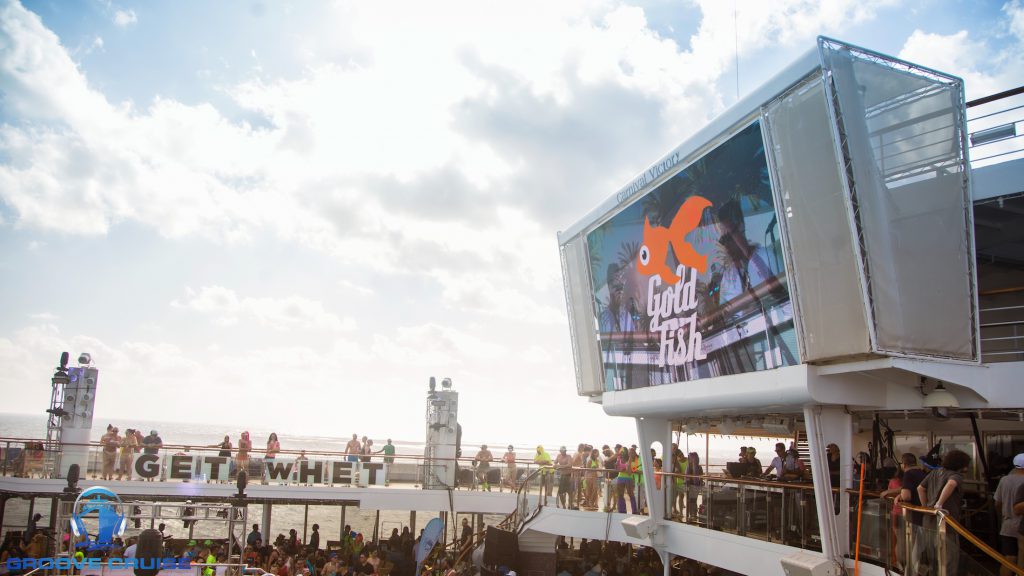 From small beach clubs in Cape Town to Glastonbury, you've played shows all over the world. What is one of your most memorable shows/tours?
Playing for Nelson Mandela's 466664 HIV/AIDS awareness concert in Johannesburg for 20,000 people and meeting him was definitely our career highlight.
You've been making music together since 2008. How have you seen the electronic music scene develop/change over the years?
When we started it felt like no one was using saxophone, piano, double bass and organic instruments in the music they were making and now it feels like everyone is doing it! It's great to have this live sounds so dominant in the scene right now. Welcome everyone!
What can fans expect from Goldfish in 2017? Are there any new projects, collabs, EPS/albums, shows we can look forward to?
Our new album tipping the scales will be out later this year and it will feature various collaborations and brand-new Goldfish music. We are really excited about it so watch this space for details!
---
Connect with GoldFish on Social Media:
Website | Facebook | Instagram | Twitter | SoundCloud