Dada Life: The Compound Evolved in San Francisco was B-A-N-A-N-A-S!
---
Since their inception, the Swedish-duo Dada Life has alway been about fun and following the rules of Dada. If you're unfamiliar with the rules of Dada, they are in place to ensure you "never bring your brain to the rave" and that you "arrive beautiful, leave ugly." To put it simply, forget your troubles at home or work and just enjoy the night. Visitors of Dada Life: The Compound Evolved SF were encouraged to go b-a-n-a-n-a-s and let loose from the get go.
Upon entry, visitors were met by signs saying, "you are now leaving the United States of America, you are now entering Dada Land," which is meant to mimic border crossing. I found this to be a nice touch along with the Dada Life branded passports that were being handed out. It really was an event that encouraged attendees to explore, while they're not listening to the sounds of ARMNHMR, LOUDPVCK, ARTY, and Dada Life of course.
Interested in learning more about Dada Life? Check out our interview with Olle Cornéer HERE!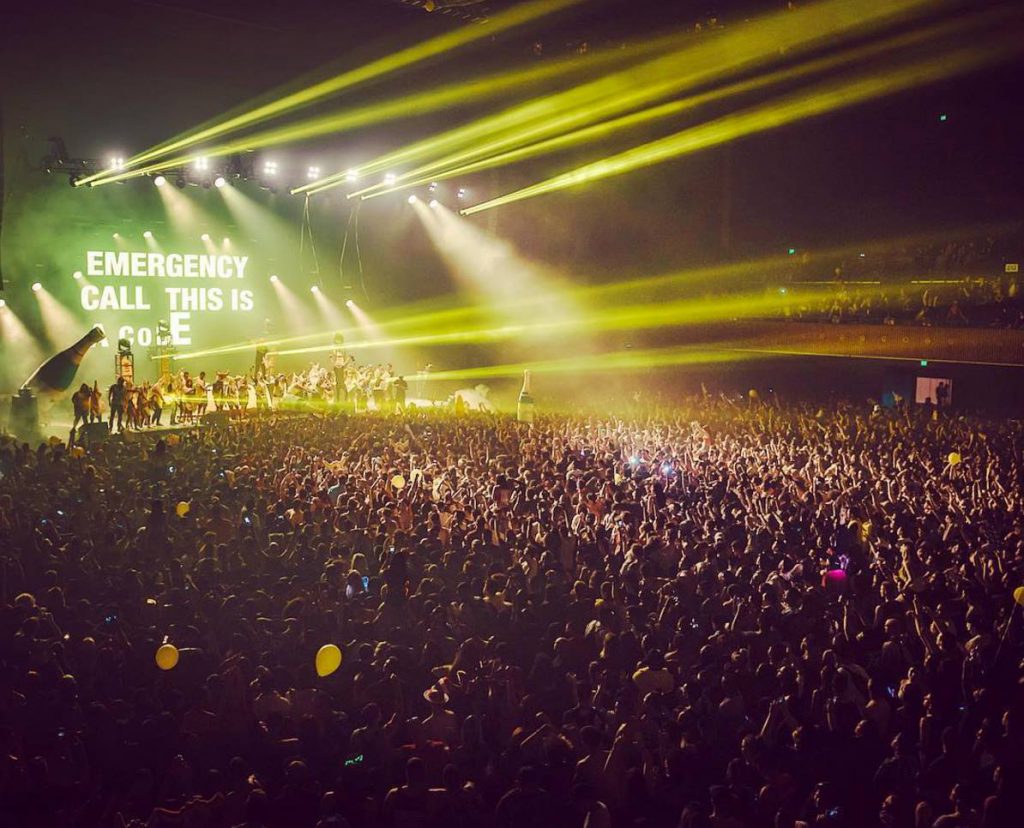 When I first saw the release about the Compound Evolved tour, I was a bit skeptical of what exactly would make this tour stand out from its predecessor, the Compound tour. After attending their last Compound tour in San Jose, I had an idea of what to expect — inflatable champagne bottles and a bunch of bananas running around. While this did happen at the Compound Evolved SF, there was a lot more being offered.
We wanted to expand and evolve the Dada Land Compound show. This time we wanted to focus on bringing the experience into the crowd. There's going to be lots of new activities in and around the venue–and not just during our set–but from doors opening until the very end. Some things will be easy to find, other's will be harder. We're also looking forward to playing a lot of new music that we've been working on and getting ugly with all our proud Citizens of Dada Land! – Dada Life
With officers of Dada Land stationed throughout the event to enforce happiness, there were a plethora of ways to get involved and score some free swag. Outside of the main room, lining the hallways and side rooms were stations giving out free temporary tattoos and buttons. You also can't forget the famous black and white "smile" masks that allow you to have the biggest grin, because who wouldn't be grinning as a bunch of wild people in banana suits or yellow fat suits stumble by you? It's all about that "Happy Violence", which everyone seems to embrace whether they're just holding a yellow foam fist clenching a banana or partaking in the massive pillow fight during Dada Life's set. For those not inclined to wander much during the event, I noticed that several officers of Dada Land were handing out fortune cookies in various areas around the venue. These weren't any normal fortune cookie you would get at a Chinese restaurant, these were special Dada Life cookies. I don't want to ruin the surprise for future Compound Evolved tour attendees, so just be sure to read your fortune.
I arrived right before LOUDPVCK, the dynamic duo consisting of Kenny Beats (NYC hip-hop producer) and Ryan Marks (LA electronic producer). With their ability to cross genres from hip-hop to EDM, their set was fluid and lively. With Ryan Marks standing on the booth hyping up the crowd with his hands, it really got people moving. I can honestly say I've never been disappointed with a LOUDPVCK set — they're great! Next up was Russian record producer and DJ, ARTY, who falls somewhere between house and trance. His set was primarily house, but that didn't mean he didn't incite the feels. I was especially happy when he played his remix of Porter Robinson – Lionhearted, which got the crowd singing along. Keep an eye out as he tours under his more trance oriented alias Alpha 9. Closing out the night was Dada Life, who surprised even me with a few new re-works from their record-breaking album The Rules of Dada. They also stuck to their tradition of bringing a few bananas on stage to party with them, which always makes me smile. If you were one of those lucky bananas, I hope it was "appeeling". All jokes aside, Dada Life will always bring out the best in everyone. I think the reason why they've seen continued success is because they take the time to get their fans involved and ensure that everyone has a good time.
Apart from the artists, I'd also like to mention the high production value of this event in comparison to most events at Bill Graham Civic Auditorium. Dada Life: The Compound Evolved SF had C02 cannons, confetti, lasers, LED panels, huge inflatable hands/letters, and more. The stage was a sight to see during Dada Life as the inflatable hands hovered back and forth. Interested in checking out The Compound Evolved tour for yourself, view the remaining dates HERE.
Looking for your photo booth photos from Dada Life: The Compound Evolved SF? See them HERE!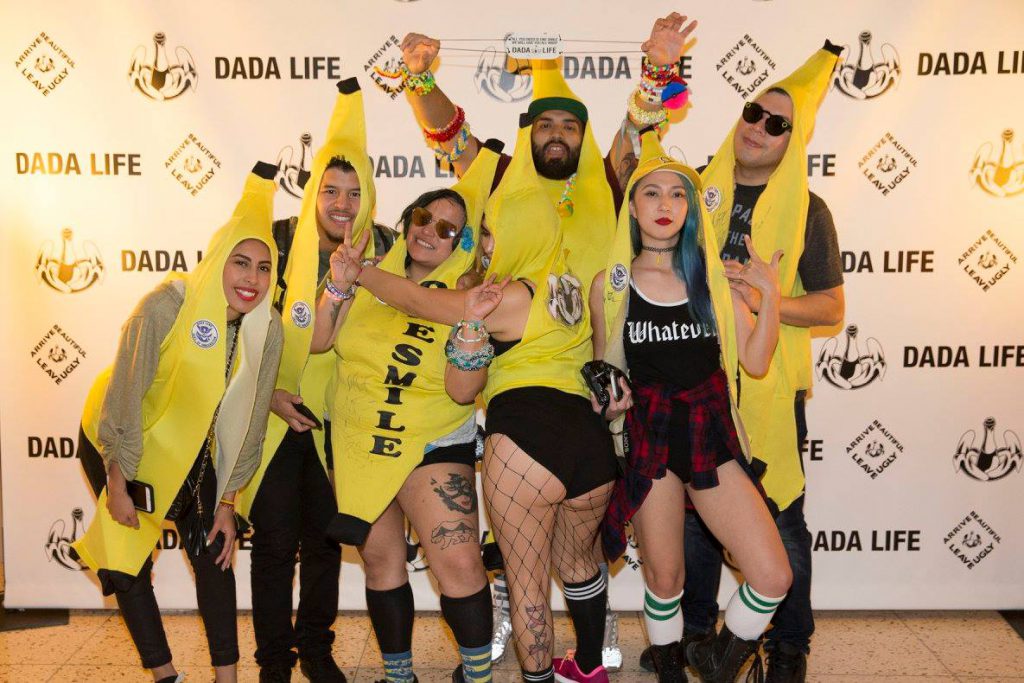 ---
Follow Dada Life on Social Media:
Website | Facebook | Twitter | Instagram | SoundCloud | YouTube
Featured Photo Credit: Insomniac Events