Last year they teased us with two days of beats, this year Insomniac Records will be taking full control of the upside-downHOUSE at EDC Las Vegas 2017!
---
Insomniac Records is the flagship label of Insomniac itself that curates some of the latest sounds from rising stars and releases them for your listening pleasure. A natural transition for artists who have seen success in the Discovery Project contests, the label has also gone on to sign plenty of acts who are also clearly primed to dominate the electronic music scene. For those of you who attended EDC Las Vegas 2016, Insomniac Records hosted two days at the upside-downHOUSE and brought in some quality names to dance the night away to. Artists like Sacha Robotti and Billy Kenny were joined by legendary acts like Armand Van Helden and Rell The Soundbender. The stage also played host to Discovery Project Winners from the past like the 219 Boys and Kyle Walker.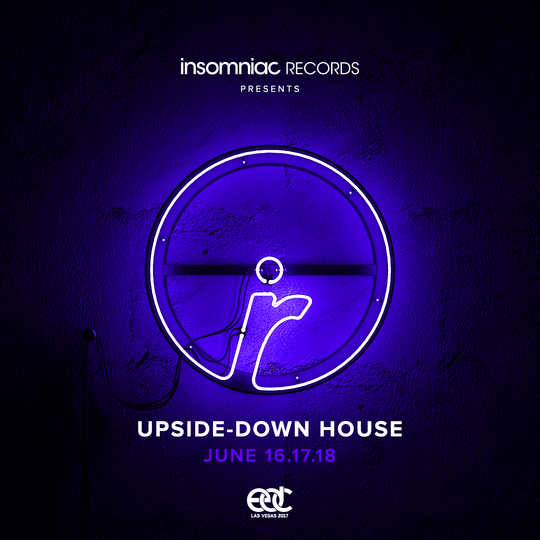 In today's announcement, Insomniac revealed that the label will be taking over for a full three-night affair. Set on showcasing both Discovery Project winners and artists signed to their forthcoming sub-label, In / Rotation, this stage is surely a place to get your groove on. Later this month, In / Rotation will introduce Insomniac Records followers to a brand new wave of artists with notable names from the roster bringing their highly anticipated sets to EDC Las Vegas 2017. Throughout the weekend, some of the hottest names in electronic music will be playing their hearts out, and if you're looking to be "in the know" about fresh acts this is the stage for you. The stage itself is a marvel in its own rights, clocking in at 30-feet tall and 50-feet wide with an elevated DJ booth. This year, the upside-downHOUSE will be brought to life with gallons upon gallons of UV Paint and vibrant neon colors.
Check out the teaser video for the upside-downHOUSE this year:
---
About Insomniac Records:
Founded in 2014, Insomniac Records explores the best new sounds in dance music while curating a diverse catalogue of quality releases in all electronic genres. More than just a label, Insomniac Records is a destination where fans of all styles can discover and enjoy top tracks from a roster that includes world renowned artists and producers. Pasquale Rotella, Founder and CEO of Insomniac, has modeled the label's trajectory to fit the ever-changing needs of the industry. As it was built to initially focus on long-term projects and collaborations, Rotella has introduced signing one-track deals with artists as well as releasing master compilations. In June 2016, the label released it's very first compilation titled, "Insomniac Records Presents: EDC Las Vegas 2016," which featured tracks from notable names across the dance music spectrum. Insomniac Records continues to build its audience by releasing multiple exceptional tracks every month, hosting curated stages at major music festivals and assembling an unparalleled lineup of talent breaking ground in the scene.
---
Connect with EDC Las Vegas on Social Media:
Website | Facebook | Twitter | Instagram 
Connect with Insomniac Records on Social Media:
Website | Facebook | Twitter | Instagram | SoundCloud
Featured Photo Credit: Insomniac Events