As the Mardi Gras shenanigans came to a close on Saturday, February 11 the doors at Soul Kitchen would open up for an event ushering in the southern rave enthusiasts looking for a release found in the bass soaked rhythms that only The Union could provide.
---
When I first learned about the collaborative event that was set to take flight on this evening I was through the moon with pure and unadulterated joy. The boys from  Trapezoid Entertainment, Future Astronaut Co., Pass The Good Entertainment, Invazzion Entertainment, and O-Zone Entertainment have all become near and dear to my heart throughout the years in one way or another and the thought of each brand coming together to throw a party, letting go of egos, doing away with competitive spirit, and expressing a motive born solely out of the love for dance music and our precious community, I just knew that I had to be part of the experience. So, come with me as I take you on my journey and paint you a picture of my evening at The Union featuring bass aficionado, Luzcid!
Upon entering the venue I was already excited for the upcoming experience…
My first brush with the splendor of The Union was within moments of walking in. I began in the front room, as the main room was receiving the final touches, perfecting an evening that would be packed full of insane lasers and lights. Cosmos had just taken to the decks and as we were serenaded with some original music and live lyrics my mood couldn't have been any better. With a fresh drink in hand, I took to the dance floor warming up my moves as my rave family filed through the front doors. Suddenly I heard the call of the bass from the main room, a sign that they were up and running and ready to tear the roof off and so I made my way to the back to settle in for a wild ride.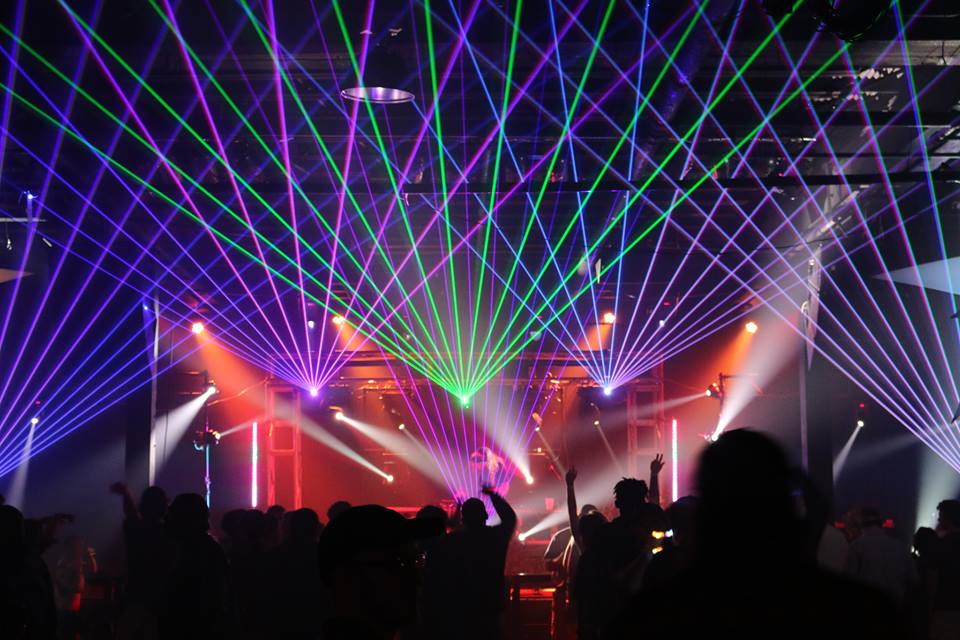 The experience that unveiled itself before me in that first hour was nothing short of spectacular.
Charlie-B was on the decks and what he was dishing out had me bouncing around the club like a jackrabbit on steroids! Anyone who knows me understands that I am a sucker for that main stage sound and boy was he dishing it out like it was nobodies business! His set was the perfect way to introduce the evening with an energy that ripped straight through the airwaves and into my soul. I had reached my zen and the night had literally just begun! And as Charlie-B wrapped up his set the wild world of bass music would take over. A world in which this trance girl tends to dabble in every once in a while and a world that The Union organizers know better than anyone I know. So, without any fear or hesitation, I allowed each DJ to bring me into their own world and show me exactly how the south gets down!
As DJ Krave was warming up his audience I decided to take a quick journey to the green room for a meet up with the man of the evening, Luzcid. What I discovered was that not only was he a talented man but a pleasant soul through and through. But it wasn't long until I headed back to the action considering the fact that I really didn't want to miss a beat. I am a sucker for this stuff as all of my associates and friends can attest. In an instant, I was swept away by a set that blew the roof off. This highlight came from Luzcid's direct support; A dear friend of mine and a master every time he takes the stage, James E Gotnew aka #PARTYSLUT. With urban vibes and an ear for everything bass, he never disappoints. This evening he was clearly in the zone. #PARTYSLUT took the crowd on a musical journey full of filthy swag brought forth by some seriously ingenious track selections.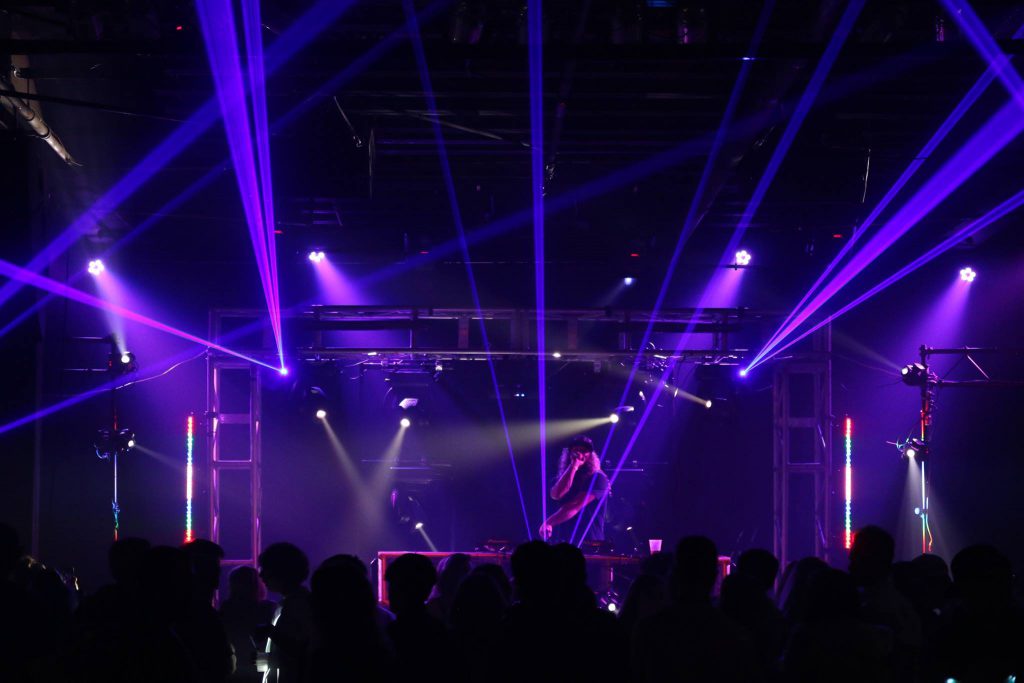 Now, at this point, I needed to show some love for the artists rocking the front room.
So as Luzcid was taking the stage I did the dip to check out DrOne and see what he was dishing out. It was one of those decisions I will never regret as he cleansed my palate with some funky house beats, as I let my brain settle from the madness that was unfolding in the back. As much as I wanted to stick around I knew that Luzcid was digging into his set. So, with a quick dance, friends in tow, and a deep breath, it was time to head back to experience the man in action.
What I discovered was a style that was much different from any other act throughout the evening. The tempo was mellow but the energy was everything but. As ravers lurched and vibed out to his beats I knew that what I was hearing was something special. And then it happened. A track that I have become familiar with as I prepared for this event suddenly came over the speakers. It was Luzcid's track collaboration with Bassnectar called "Science Fiction". Now he had my attention. And my feet responded appropriately as a second wind came over me. This was a great night.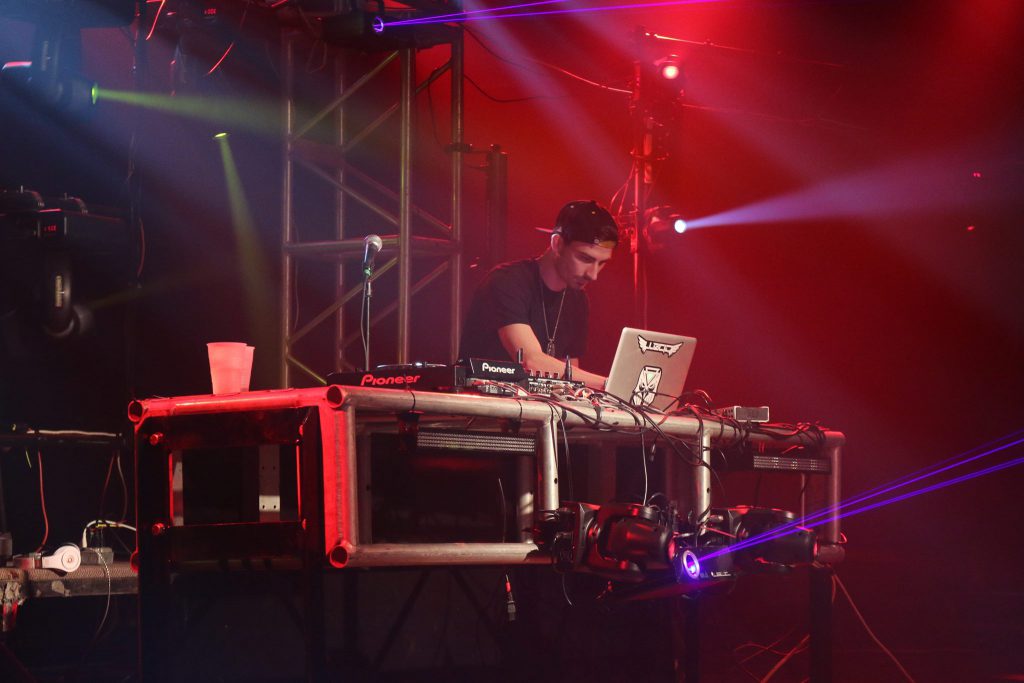 In summary, The Union had it all.
Insane light shows with lasers that could rival any major festival, state of the art sound with a crisp quality that allowed everyone to enjoy every beat and note that flew out of the speakers, and one hell of a lineup full of talented up and comers and artists who I am proud to call my family. As I left the venue all I could think about was the fact that I am so blessed to be part of such a fantastic community of musicians and dream chasers. My hat goes off to everyone that was involved in making this experience one that will never be forgotten!
Want to know what's up next on the agenda? Look no further than Spring Beats; The multi-day spring break extravaganza that lit up the Gulf Coast last year for the inaugural event. Check out my review of Spring Beats right here! And as always, keep on dancing my friends!
---
Follow 'The Union's Event Coordinators on social media:
Trapezoid Entertainment:
Future Astronaut Co.:
Pass The Good:
Invazzion Entertainment:
O-Zone Entertainment: