Air + Style LA 2017 Set Times, Festival Map, & More!
---
Returning for a third year Air + Style LA blends a Big Air snowboarding competition with a mini music festival to create an event unlike any other. I can't wait to see world-class snowboarders compete and charge a 6 story ramp while having intermittent dance sessions at the two music stages. There's no other time you'll catch snow in LA so make sure you're there this weekend! Below you'll find all the essential info you will need along with a special playlist to get you excited for the night ahead.
Read about Hector's experience at Air + Style LA last year, here!
Air + Style LA 2017 Essential Info:
Date: Saturday, February 18, and Sunday, February 19, 2017
Hours: 2:00 p.m. – 11:30 p.m.
Location: Exposition Park @ LA Coliseum – 700 Exposition Park Dr, Los Angeles, CA, 90037
Age Restriction: ALL ages
Event Page: HERE
Tickets: Purchase HERE
---
Air + Style LA 2017 Spotify Playlist:
---
Air + Style LA 2017 Set Times: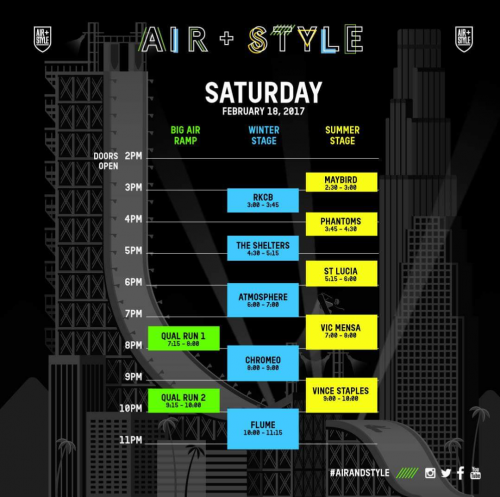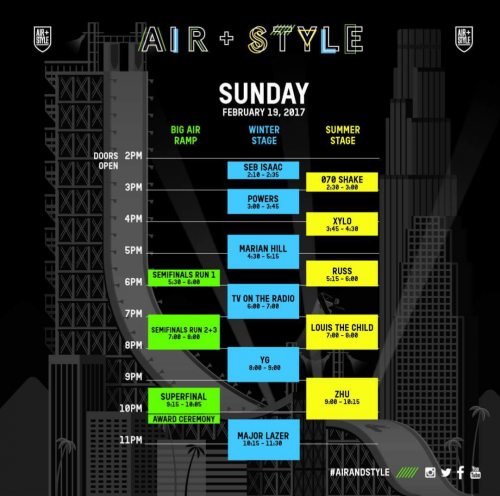 ---
Air + Style LA 2017 Festival Map: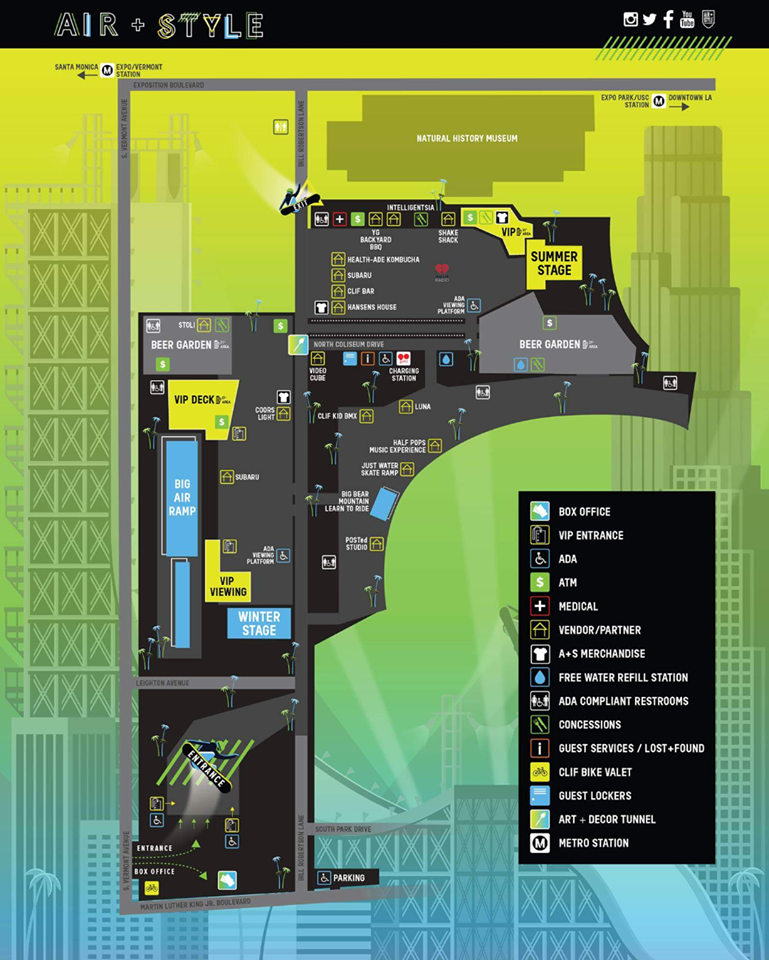 ---
Getting to Air + Style 2017:
If you are coming from out of town be sure to give yourself enough time to travel safely and beat weekend traffic. Go Metro and save $5 on Festival Merch! Plan your trip and find out more details at metro.net/discounts or call (323) Go Metro or (323.466.3876). Exposition Park is right across the street from Expo/Vermont Station on the Metro Expo Line. Roundtrip fare is $3.50 in stored value + $1 for a reusable TAP card, per person. Skedaddle is a super easy way to get to Air+Style.
With Skedaddle, you can start or join professionally driven bus routes directly from your neighborhood to the event. Click here and use the search bar to find existing routes or start your own from your neighborhood!
---
Reminder To Mind Your Belongings:
Unfortunately, many people have reported pickpockets, bag slashings, and theft of wallets, smartphones, purses and other valuables during this festival season. While this small number of bad apples in the bunch doesn't define an entire crowd, there are opportunistic people who come to these events to take advantage of unsuspecting party goers and it's important to be mindful of your valuables while at Air + Style LA 2017.
Pay attention to who's around you and what's going on around you. Keep your wallet and phone in your front pocket(s) if you can. Treat your phone the same way you would treat cash; don't set it down on a table or bar and look away. If a friend isn't standing behind you in a crowd, be careful of your backpack or purse, and don't put valuables in a pocket that could easily be unzipped by someone behind in a crowded spot without you realizing.
Festivals, in general, are a very densely populated place and are a well-known place where pick-pocketing of unsuspecting people occurs. It's easy to find yourself in a crowded environment in a line, at a stage in the festival, elevator, or even out on the street where someone could slip your wallet or phone our of your pocket or bag in a matter of seconds. Stay alert, be careful, and make sure to not carry more than what you need!
---
Air + Style LA 2017 Do's & Don'ts:
Do's:
All Ages Welcome
Baby Strollers
Backpacks (medium)
Camelbaks(empty)
Cell Phones/Chargers
Chapstick/Lip Balm
Sealed Cigarettes
Dancing Shoes
Camera (non-pro, no detachable lenses)
Ear Plugs
Eye Drops (subject to testing)
Fanny Packs/Hip Bags
Gum
Hats
Makeup
Parasols
Purses/Handbags
Smiles
Sunglasses
Sun Block (non-aerosol)
Walkie talkies
Water Bottles(empty plastic reusable)
Dont's:
Aerosol Products/Aerosol Cans
Air Horns
Audio Recording Devices
Bikes
Blankets/Towels
Bottles (glass or metal)
Cameras or Video Cameras (detachable lens)
Chains/Chain Wallets
Chairs
Coolers
Drones, Remote Control Aircraft/Toys/Cars
Drugs or Drug Paraphernalia
e-Cigs/Vapes
Fireworks/Explosives/Road Flares
Flags
Flyers/Sampling/Giveaways
Glow Sticks/LED Gloves
Guns/Ammunition/Tasers
Hoverboards
Hula Hoops
Ins & Outs
Instruments
Kites/Sky Lanterns
Knives/Weapons/Sharp Objects
Laser Pointers
Mace/Pepper Spray
Massagers
Outside Food or Beverage
Pets/Animals (unless ADA approved)
Selfie Sticks/Narcissists/Tripods
Sharpies/Markers/Paint Pens
Skateboards/Skates
Squirt Guns/Toy Guns/Sling Shots
Stuffed Animals
Totems
Umbrellas
---
Connect with Air + Style LA 2017 on Social Media: