If you haven't caught a set from Unlike Pluto yet, now is your chance as he embarks on the Everything Black Tour in March!
---
A rising star in the electronic music scene, Unlike Pluto has received lots of love from the likes of fans around the country, as well as major promoters such as Insomniac Events. Coming off a hot 2016, he's hitting the ground running this year with the release of brand new single "Worst In Me" and has no plans on stopping there. Named as one of our top bass artists to watch this year, we are excited that Unlike Pluto has also announced the Everything Black Tour that will kick off in March 2017 and stop all over North America. On the 23-date, two-month run, the Atlanta-born music-maker will headline shows in Los Angeles, Denver, San Francisco, Toronto, and Chicago among others, look below for full tour dates!
Purchase tickets for the Everything Black Tour here!
Watch the lyric video for "Worst In Me" on YouTube:
Unlike Pluto 'Everything Black Tour' Flyer: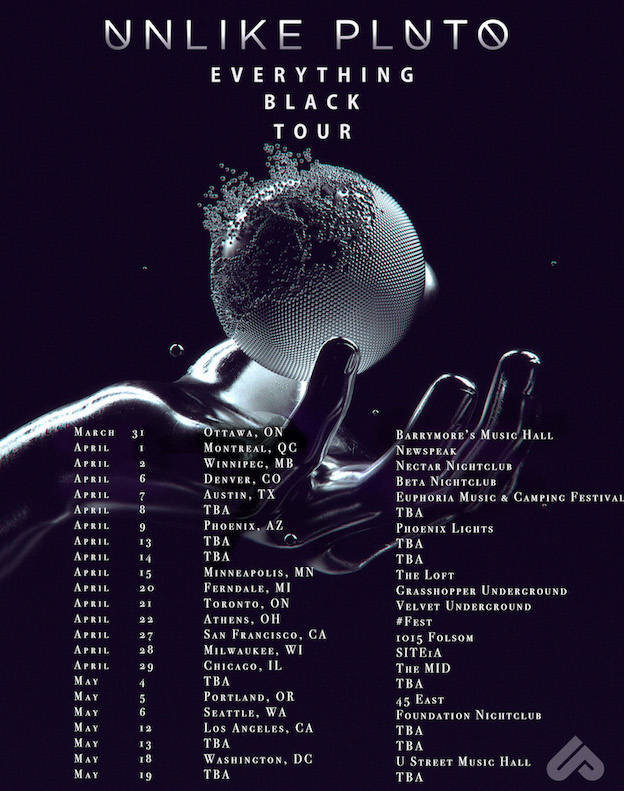 Unlike Pluto 'Everything Black Tour' Dates:
March 31 – Ottawa, ON – Barrymore's Music Hall
April 1 – Montreal, QC – Newspeak
April 2 – Winnipeg, MB – Nectar Nightclub
April 6 – Denver, CO – Beta Nightclub
April 7 – Austin, TX – Euphoria Music & Camping Festival
April 9 – Phoenix, AZ – Phoenix Lights
April 13 – Vancouver, BC – Celebrities (SEASONS Music Festival)
April 14 – Edmonton, AB – Northern Lights Music Festival
April 15 – Minneapolis, MN – The Loft
April 20 – Ferndale, MI – Grasshopper Underground
April 21 – Toronto, ON – Velvet Underground
April 22 – Athens, OH – # FEST
April 27 – San Francisco, CA – 1015 Folsom
April 28 – Milwaukee, WI – SITE1A
April 29 – Chicago, IL – The MID
May 4 – Salt Lake City, UT – Sky
May 5 – Portland, OR – 45 East
May 6 – Seattle, WA – Foundation Nightclub
May 12 – Los Angeles, CA – TBA
May 18 – Washington, DC – U Street Music Hall
---
About Unlike Pluto:
Unlike Pluto (AKA Armond Arabshahi) is a DJ/Producer/Songwriter from Atlanta, based in Los Angeles. Pluto began teaching himself how to play the piano at the age of 5. His obsession with music lead him to learn the guitar, drums, & for the heck of it, clarinet. Throughout Pluto's childhood, he began navigating through different genres of music, starting with rock, country, folk, screamo, and most recently electronic/dance music. His experiences in all of these genres can be heard in his most recent releases, utilizing real instruments & classic songwriting techniques. Whenever Pluto has free time, he likes to go to record stores and find obscure records for inspiration; now he may has too many to count. From playing multiple major festivals to releasing timeless originals, 2016 has been quite a year for Pluto. After being included in Billboard Dance's Artists to watch in 2016, one can only imagine what else he has in store.
---
Follow Unlike Pluto on Social Media:
Facebook | SoundCloud | Instagram | Twitter