The Do LaB just made all our wishes come true with this lineup of epic proportions for Lightning In A Bottle this year!
---
Besides the Coachella lineup, Lightning in a Bottle's is one that we have waited all January to see. Well, wait no longer because Lightning in a Bottle has finally unveiled their 2017 lineup! The event will return to San Antonio Recreation Area in Bradley, California, on May 24th to 29th over Memorial Day Weekend. This year's headliners include Bassnectar, Bonobo, Rufus Du Sol, Kaytranada, Richie Hawtin, Troyboi, and more! Notable names on the undercard are Big Wild, Barclay Crenshaw, Fakear, and iLL.Gates b2b Stephan Jacobs. Check below for the full lineup, it is definitely one that you won't want to miss this year!
After a highly successful pre-sale, passes for LIB 2017 are already 50% sold out. Make sure to grab them soon if you plan on attending!
General sale for tickets begins tomorrow, January 24th! General Admission 4-day tickets are $280 plus fees with the additional Early Arrival Pass add-on for $75. Other ticket and camping options will be available during the general sale. Be sure to grab passes while you can as the event is likely to sell out! Find more ticket info here!
Check out Zach's Lightning in a Bottle Experience last year by clicking here!
Lightning In A Bottle 2017 Lineup: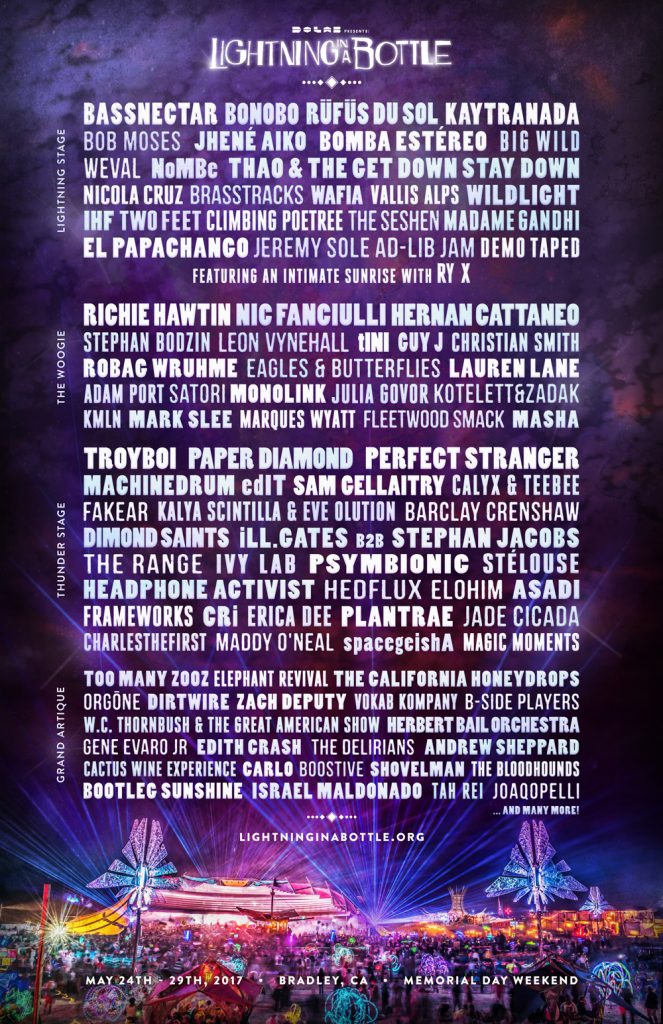 ---
Lightning In A Bottle 2017 Lineup By Stage:
Lightning Stage: Bassnectar, Bonobo, RÜFÜS DU SOL, Kaytranada, Bob Moses, Jhené Aiko, Bomba Estéreo, Big Wild, Weval, NoMBe, Thao & The Get Down Stay Down, Nicola Cruz, Brasstracks, Wafia, Vallis Alps, Climbing Poetree, IHF, Two Feet, Wildlight, The Seshen, Madame Gandhi, El Papachango, Jeremy Sole & Friends, Demo Taped
Thunder Stage: TroyBoi, Paper Diamond, Perfect Stranger, Machinedrum, eDIT, Sam Gellaitry, Calyx & Teebee, Fakear, Kalya Scintilla & Eve Olution, Barclay Crenshaw, Dimond Saints, iLL.GATES B2B Stephan Jacobs, The Range, Ivy Lab, Psymbionic, StéLouse, Headphone Activist, Hedflux, Elohim, Asadi, Frameworks, CRi, Erica Dee, Plantrae, Jade Cicada, Charlesthefirst, Maddy O'Neal, spacegeishA, Magic Moments
The Woogie: Richie Hawtin, Nic Fanciulli, Hernan Cattaneo, Stephan Bodzin, Leon Vynehall, tINI, Guy J, Christian Smith, Robag Wruhme, Eagles & Butterflies, Lauren Lane, Adam Port, Satori, Monolink, Julia Govor, Kotelett&Zadak, KMLN, Mark Slee, Marques Wyatt, Fleetwood Smack, MASHA
The Grand Artique: Too Many Zooz, Elephant Revival, The California Honeydrops, ORGŌNE, Dirtwire, Zack Deputy, Vokab Kompany, B-Side Players, W.C. Thornbush & The Great American Show, Herbert Bail Orchestra, Gene Evaro Jr, Edith Crash, The Delirians, Andrew Sheppard, Cactus Wine Experience, CARLO, Boostive, Shovelman, The Bloodhounds, Bootleg Sunshine, Cannibal Catering Company, Israel Maldonado, Tah Rei, The Great American Talent Show, Lucia Soaring Diamonds, Those Folk, JoaqoPelli, Brenda Carsey & The Awe, The Little Miss, Jeremiah and The Red Eyes, Breck, Dolan, Dusty, Wagons aka Mugger
---
Get hyped with "Fluidity" The Lightning in a Bottle 2017 Official Video!
---
Connect with Lightning in a Bottle online: