Steve Aoki and Louis Tomlinson are gearing up to perform the song for the very first time in the U.S. on Tuesday, January 24, 2017, at 11:35 pm EST on everyone's favorite NBC late night show, 'The Tonight Show Starring Jimmy Fallon'!
---
Before we talk about the Steve Aoki performance that every raver and EDM fanatic will surely be tuned in for let's first familiarize ourselves with the show itself. Emmy Award and Grammy Award winner Jimmy Fallon brought NBC's 'The Tonight Show' back to its New York origins when he launched 'The Tonight Show Starring Jimmy Fallon' from Rockefeller Center back in 2014. Right off the bat, Fallon put his own stamp on the storied NBC late-night franchise that was once hosted by the famed and beloved Jay Leno, a transition that seemed flawless in its birth.
When Jimmy Fallon took the reigns it seemed as though the show had never skipped a beat. Bringing his own unique comedic wit, his unmatched understanding of all that is pop culture, infectious personality, and impeccable taste in music made evident by the diverse and noteworthy types of musical genres and artists that have graced his stage throughout the years, Jimmy Fallon has become the true reigning king of late night television, bringing his fans and viewers the very best in both comedy, news, and pop culture. And since electronic dance music epitomizes everything that is pop-culture in America today, it only makes sense that Fallon would want America's EDM wild child Steve Aoki to represent the industry with a performance set to make headlines.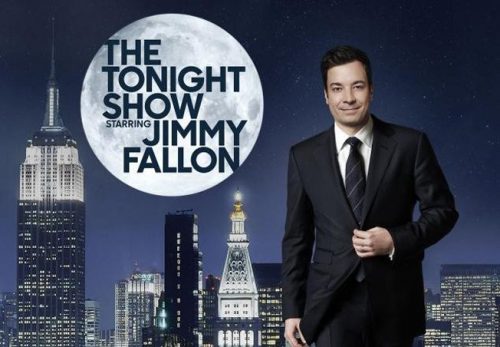 Prior to the holidays, Steve Aoki joined forces with One Directions dreamy band mate Louis Tomlinson, crafting a tune that combines strong lyrics with an easy listening melody and of course that beloved EDM beat that we can't help but love. The track, called "Just Hold On" is the first solo production for Louis Tomlinson outside of One Direction and is the perfect choice to be performed on a show with demographics that run the gamut. "Just Hold On" saw its first live performance on the 'X Factor UK' where it instantly shot to #1 on iTunes in over 40 countries, becoming a global smash with every new play. Since then the track has racked up over 70 million Spotify plays in just one short month and with an announcement like this one it certainly has no chance of slowing down!
Stream Steve Aoki & Louis Tomlinson – Just Hold On on SoundCloud:
With the momentum at full tilt let's talk details!
I don't know about you but I plan on planting myself in front of my television with speakers turned up and dancing shoes ready! Now you may be wondering "why all the excitement"? Well, for me this performance signifies the moment that electronic dance music breaks free from the stereotypes and reveals itself as a relevant and widely accepted genre of music in a country that has been very slow to the punch.
Sure, this isn't the first time that we have seen electronic dance music grab the spotlight on a mainstream platform, an example being when The Chainsmokers performed live on American Idol, but to have a representative of the dance music industry perform on one of the most popular late night shows of all time is something that deserves an astounding round of applause. It's a beautiful step in the right direction. And I can't think of a better individual to land this opportunity other that the cake throwing, head banging, crowd surfing, champagne popping master of dance, Steve Aoki!
---
Follow Steve Aoki on social media:
Website | Facebook | Twitter | SoundCloud
Follow Louis Tomlinson on social media: