Brooklyn's House of Yes stands alone in the NYC nightlife scene, and is celebrating it's first birthday with a FREE dance party the first week of 2017.
---
The EDM Identity team has had the pleasure of attending several events at House of Yes in 2016. The venue, which hosts events featuring everything from renowned DJs to alternative theater performances can best be described as an avant-garde fun house. Back in September, they wowed us with their showing of the acclaimed and sold out "Ketamine: The Musical" as well as their Love Muscle: Pre-Playa Art Extravaganza to follow, where we learned that a typical evening at the venue usually includes a combination of theatrical performances, outrageous go-go dancing and DJs spinning everything from indie rock to dance pop and disco.
Artists that have performed at House of Yes this year include Chris Malinchak, Craig Richards, Damian Lazarus, Dimitri From Paris, Francois K, Glass Animals, Grandmaster Flash, Jonas Rathsman, Kidnap Kid, Lee Burridge, Lee Foss, Moon Boots, Nicky Siano, Skrillex, and Totally Enormous Extinct Dinosaurs.
They recently delivered yet another fantastic experience to NYC party goers by teaming up with art crew Treetops to curate an 18th century Victorian themed party dubbed Let Them Eat Cake, which featured Totally Enormous Extinct Dinosaurs and Dimitri From Paris.
To kick off 2017 the right way, House of Yes will be celebrating the first anniversary of its reopening with an evening of their own resident DJs.
RSVP for this free event by clicking HERE!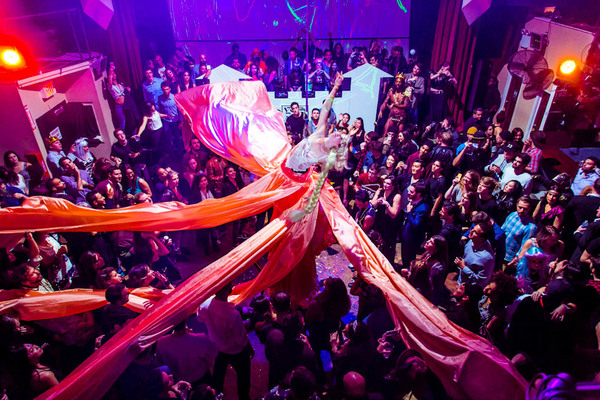 ---
Thank You For Everything: House of Yes Turns One! Information
Date: Friday, January 6, 2017
Ages: 21+
Hours: 10PM – 4AM
Venue Address: House of Yes – 2 Wyckoff Ave, Brooklyn, New York
---
Full DJ Line Up:
---
About House of Yes:
House of Yes opened its third iteration in Bushwick at the beginning of 2016 to become a beacon of NYC nightlife after shuttering its doors too soon in East Williamsburg three years ago. Original partners Anya Sapozhnikova and Kae Burke, teamed up with Ilan Telmont and Justin Ahiyon to build out the best venue ever with a little help from their friends, seeding a Kickstarter campaign for $92,340 (original goal: $60,000).
House of Yes has been dubbed "NYC's coolest new nightclub" by USA Today and co-founders Anya Sapozhnikova and Kae Burke have recently been featured in Brooklyn's 30 Under 30 Mag for House of Yes' successful events and its unique contribution to New York City nightlife.
The space includes an art-deco restaurant parlor, a spectacularly decorated warehouse-sized performance space, a courtyard with kitschy repurposed decor, and a clandestine mini-club. House of Yes is now the home of circus spectacles, immersive cinema, burlesque and cabaret shows, aerial extravaganzas, nightlife parties, morning raves, brunch, BBQs, and bubble baths, all with superior sound and exemplary service. Each night is specially curated to create an immersive experience with music, theatrics, and performances to titillate the senses and expand your mind, unlike any other venue in Brooklyn right now.
---
Connect with House of Yes