Infinity NYE 2017 Set Times, Festival Map, & More!
---
Infinity NYE 2017 is right around the corner! With a lineup including talents like G-Eazy, Dillon Francis, Dada Life and MORE, you don't want to miss out! Here's everything you need to know about the upcoming New Years event.
We've partnered up with Infinity NYE to offer our fans a discount on their purchase. Click HERE to grab your tickets and use the code 'edmidentity' to receive a discount off your GA / VIP pass or hotel booking!
Click HERE for the Infinite NYE 2017 Event Preview!
Check out our experience at Infinity NYE 2016 HERE!  Want to meet others going to the event? RSVP on our event page HERE!
---
Infinity NYE 2016 Essential Info:
Dates: November 25th & 26th, 2016
Show Times: 9pm – 2am on Friday, December 30th, 2016 | Saturday, December 31st,2016 from 8pm – 3am
Venue Address: 500 Hotel Circle N, San Diego, CA 92108
Parking: $20
Ages: 21+ to enter and to drink
Accepted forms of ID:
Any U.S. government issued driver's license or identification card that has a photo and date of birth.
A U.S. or foreign government issued passport that has a photo and date of birth.
Unacceptable forms of ID:
School ID
Consular ID
Military ID
Licenses issued in countries other than the U.S.
Any expired ID
Temporary ID paperwork from the DMV
---
Infinity NYE 2016 Set Times: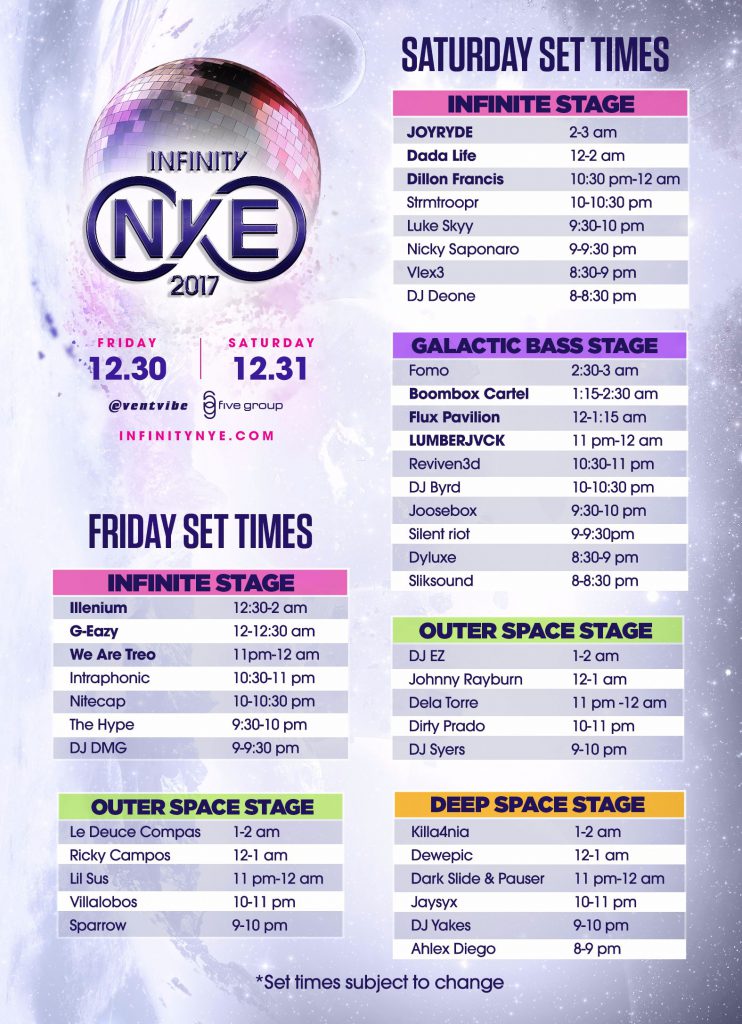 ---
Infinity NYE 2016 Festival Map: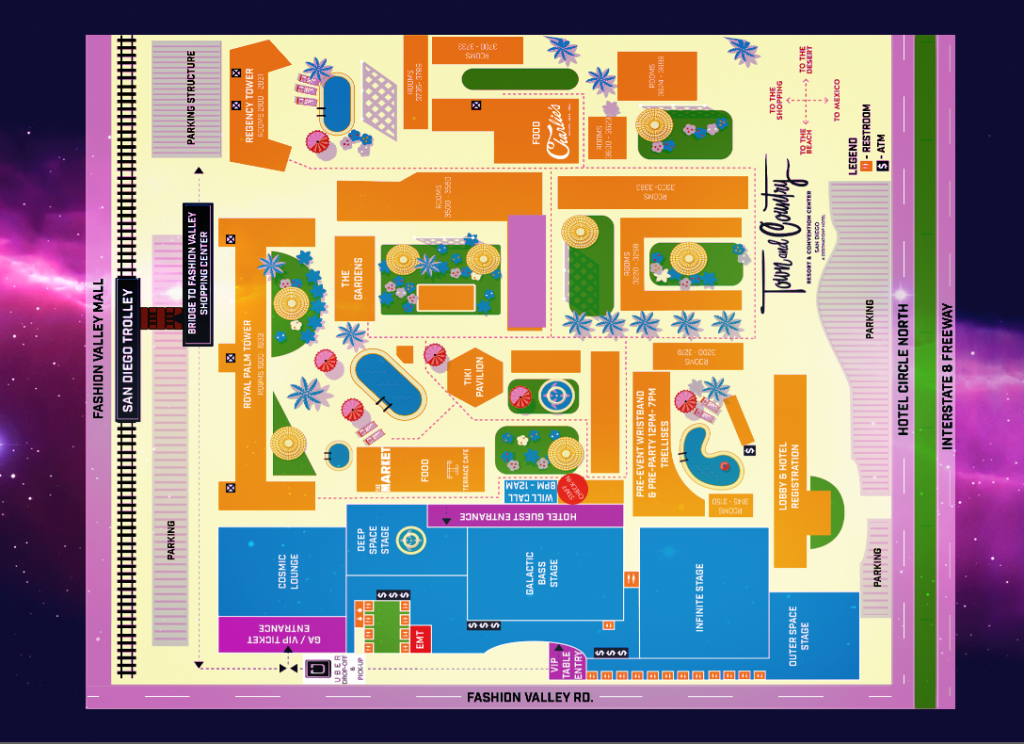 ---
Reminder To Mind Your Belongings
Unfortunately, many people have reported pickpockets, bag slashings, and theft of wallets, smartphones, purses and other valuables during this festival season. While this small number of bad apples in the bunch doesn't define an entire crowd, there are opportunistic people who come to these events to take advantage of unsuspecting party goers and it's important to be mindful of your valuables while at Infinity NYE.
Pay attention to who's around you and what's going on around you. Keep your wallet and phone in your front pocket(s) if you can. Treat your phone the same way you would treat cash; don't set it down on a table or bar and look away. If a friend isn't standing behind you in a crowd, be careful of your backpack or purse, and don't put valuables in a pocket that could easily be unzipped by someone behind in a crowded spot without you realizing.
Festivals in general are a very densely populated place, and are a well-known place where pick-pocketing of unsuspecting people occurs. It's easy to find yourself in a crowded environment in a line, crowd in the festival, elevator, or even out on the street where someone could slip your wallet or phone our of your pocket or bag in a matter of seconds. Stay alert, be careful, and make sure to not carry more than what you need!
---
Infinity NYE FAQ
Will there be ATM machines at the event?
Yes, there will be ATM machines at multiple locations inside the venue. Please note that 50% of the bars will be CASH ONLY!
Will there be lockers available?
Unfortunately, no lockers will be available on-site.
What is the dress code for the event?
Attendees are encouraged to welcome in the New Year looking their best, however they wish to express their own unique style! Shoes and clothing are required at all times.
Will there be a coat check?
Yes, coat check will be available to attendees at $5 per item.
Is re-entry allowed?
There is no re-entry allowed into the venue. Hotel guests may, however, go to and from their hotel rooms as they please. Please remember a hotel guest wristband is required to access hotel rooms (included with a room package or additionally obtainable as an add-on purchase for existing rooms).
Where can I park?
Parking will be available in the hotel parking lot for $20. There will also be a designated area for Uber, Lyft, and Taxi rides. Please, no drinking and driving! Responsible transportation to and from the event is strongly advised.
Is smoking permitted?
There will be a smoking patio outdoors where smoking will be permitted. There will be absolutely NO smoking indoors. Getting caught smoking indoors is grounds for removal from the event.
Will we be searched?
All persons entering Town & Country are subject to search!
---
Infinity NYE 2017 Do's & Don'ts:
Prohibited Items:
NO Drugs or Drug Paraphernalia
NO Outside Alcohol
NO Pets
NO Bottles or Cans
NO Outside Food or Beverages (including candy)
NO Open Packs of Cigarettes
NO Weapons of any kind (such as pocket knives, pepper spray, fireworks, etc….)
NO Professional Cameras (as well as detachable lens)
NO Professional Audio or Video Recording Devices
NO Camelbaks
NO Backpacks or Large Bags
NO Laptop or Tablet Computers
NO Laser Pointers
NO Drones
NO Selfie Sticks or Go-Pro Sticks
NO Pamphlets/Product Samples/Flyers
NO Spikes or Chains
NO Glow Sticks
NO Permanent Markers
Any item that can be deemed potentially harmful by security
**ALL OF THE ABOVE ITEMS MUST BE RETURNED TO YOUR VEHICLE OR DISPOSED OF IN AN APPROPRIATE RECEPTACLE.**
Acceptable Items:
YES Small Bags (maximum 10"x10")
YES LED Gloves or LED Micro-lights
YES Lighters and Un-opened Packs of Cigarettes
YES E-cigs/Vape Pens
YES Un-opened Packs of Gum
YES Un-opened Chapstick
YES Glowing/Illuminated Costumes
YES Hula Hoops (including LED Hoops)
YES Non-Professional Cameras
YES Cell Phones
YES Go-Pros (without the stick)
YES Kandi
Totem Guidelines:
Maximum height is 10 feet
Must be made from lightweight material (ex. foam, PVC)
There must be no metal or glass
Poles must be no thicker than 1 inch in diameter
Pool noodles are encouraged
Any totem deemed dangerous will not be allowed
---
HOTEL FAQ
What time is check-in/out?
Check-in starts at 3pm on Friday, December 30th and 12pm on Saturday, December 31st. Check-out is by 12pm on Sunday, January 1st. If you would like to check-out later, it may impose a half day rate. The hotel will provide early check-in if rooms are available.
What will I need to check in?
The following items are required to check in:
Your I.D.
A credit card to keep on file for your room
A printed copy of your hotel reservation confirmation from eventvibe.com
Can I transfer my room to another name?
Unfortunately, hotel rooms are non-transferrable.
What if the guests of my room arrive separately?
The person whose name is on the reservation will need to check into the room first. They will be asked to provide the first and last names of the guests that are arriving at a later time. The guests that arrive later will need to check-in to the room also at the check-in counter.
What can I bring to my hotel room?
Hotel guests are allowed to bring luggage, food, beverages, and other personal items into their rooms. Illegal substances, weapons of any kind, and any other dangerous items are prohibited. Items larger than a standard suitcase are also not allowed.
Can I bring alcohol into my hotel room?
Outside alcohol is not permitted on the premises.
PLEASE NOTE: You may not take alcohol from your hotel room to the event.
What can I bring from my room into the event?
There will be a security checkpoint between the hotel rooms and the event. You will not be let through with anything on the Prohibited Item List into the event.
Will WiFi be available?
Yes! There is complimentary Wi-Fi in each hotel room.
Are there non-smoking/smoking rooms?
All hotel rooms are non-smoking.
Can I bring a guest to my room who does not have a hotel guest wristband?
A hotel guest wristband is required at all times to access the hotel rooms. Up to 2 additional hotel guest wristbands may be purchased per room (for $20/each the day of the event) for non-hotel guests. The hotel guest wristbands allow full access to the rooms during the event and overnight.
Where can I purchase an additional hotel guest wristband?
A hotel guest wristband can be purchased at the box office.
How many people can stay in a room?
For single king rooms, 2 guests are included on the reservation and 2 additional hotel guest wristbands may be purchased for a maximum of 4 guests. For double queen rooms, 4 guests are included on the reservation and 2 additional hotel guest wristbands may be purchased for a maximum of 6 guests.
Are there any restaurants on-site?
Yes, the restaurants providing food are located near the lobby.
Will I be able to use the pool during the event?
The hotel pool is only accessible by hotel guests and will be open during the regularly posted pool hours.
---
Connect with Infinity NYE 2017 for More Info: