Looking for a holiday gift idea for your rave bae? Want to save some money on tickets to future Insomniac events? Look no further than the Insomniac Holiday Pop-Up Shop!
---
Insomniac Events has announced that it has combined forces with Meltdown Comics in Los Angeles to provide their faithful fans with a physical outlet to purchase tickets to put under that Christmas Tree. Announced today on all of Insomniac's social media channels, the Insomniac Holiday Pop-Up Shop will offer a unique opportunity that has not existed in years. For those of you who weren't raving a few years ago, it was common to be able to purchase hard copy tickets to Insomniac Events at a variety of outlets throughout Southern California. With changes in technology and the purchase of Insomniac by LiveNation, this opportunity went by the wayside as sales moved to the digital spectrum.
From December 16th to the 24th, you can swing by Meltdown Comics in Los Angeles from 12 pm to 9 pm to grab tickets to EDC Las Vegas 2017, Countdown, or the inaugural edition of Middlelands!
To bring you some holiday cheer, these ticket purchases will be FREE OF ALL SERVICE FEES! Additionally, if you purchase your ticket for EDC Las Vegas 2017 at this outlet you will receive your choice of a free plush Owlie or Insomniac LED-water bottle (while supplies last).
Meltdown Comics Address: 7522 Sunset Blvd. Los Angeles, CA 90046
Insomniac Holiday Pop-Up Shop Flyer: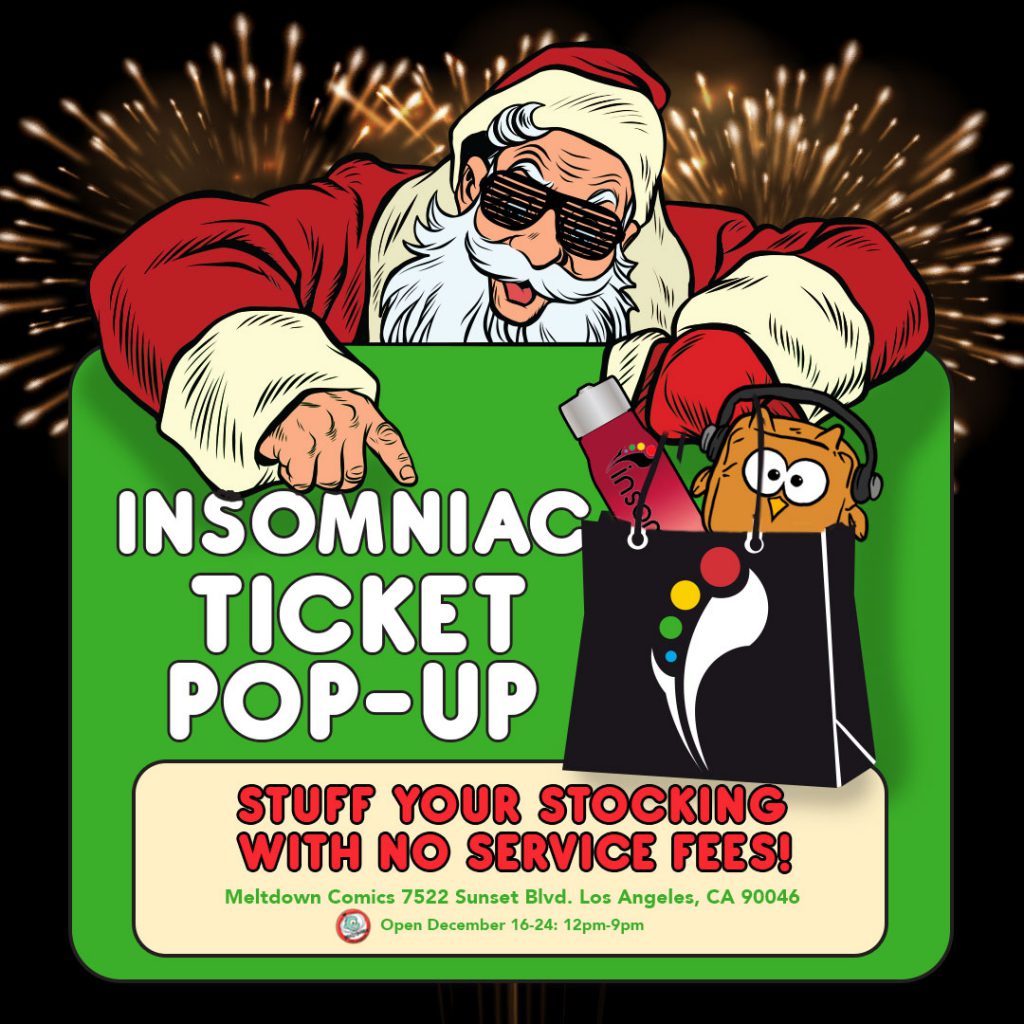 ---
About Insomniac Events:
Insomniac produces some of the most innovative, immersive music festivals and events in the world. Enhanced by state-of-the-art lighting, pyrotechnics and sound design, large-scale art installations, theatrical performers and next-generation special effects, these events captivate the senses and inspire a unique level of fan interaction. The quality of the experience is the company's top priority.
Throughout its 23-year history, Insomniac has produced more than 1,000 festivals, concerts and club nights for nearly 5 million attendees across three continents. Insomniac's events are held in California, Florida, Michigan, Nevada, New York, the United Kingdom, Australia, India, Mexico and Brazil. The company's premier annual event, Electric Daisy Carnival Las Vegas, is the largest multi-day music festival in North America and attracted more than 400,000 fans over three days in June 2016.The company was founded by Pasquale Rotella, and has been based in Los Angeles since it was formed in 1993.
---
Connect with Insomniac Events:
Website | Facebook | Twitter | Instagram | YouTube
Featured Photo Credit: Insomniac Events