The stage is set for Deadmau5 to return to the Coachella in 2017, but will he be on the lineup this year?
---
Earlier this month, during the Daft Punk "Alive 2017" discussion and hype that ended up being a hoax, I intended on writing a piece regarding why I wanted the robots to return to the Empire Polo Grounds this year. While this piece was never published, but might be in the future, it sparked my interest in thinking about who may actually be on the lineup this year. Sure, there have been serious rumors over the past few months, notably the massive names of Beyoncé, Kendrick Lamar, and Radiohead as per the internet and radio. Those names are looking more and more likely to be the headliners this year.
Of course, there have been smaller names rumored too…but one that I never thought I'd say I was thinking about being on the lineup was Deadmau5.
In the past, and even now, I had written off the mau5 not being on the lineup due to him being "banned" alongside Tommy Lee from the festival back in 2010. Why? Well because they decided that it was going to be a great idea to land a helicopter in the middle of a field with a burning van involved. As per the Coffee Run chat that they had back in 2013, the promoter (who was not to be named) was furious with the duo after landing. Evidently, he was so mad about the ordeal that he said, "Motley Crue will never play Coachella!" which Tommy Lee responded "Okay" and laughed about it. Check out the video from the Coffee Run below, fast forward to the 7:15 mark if the time stamp didn't stick.
So you might ask, what is the purpose of this post, why are you talking about this if they are banned?
Look, I don't usually make posts like this but I feel like the stage is set for Deadmau5 to return. I honestly didn't even begin to put the pieces together until the album and tour were completely announced and released yesterday, and I believe that this is going to happen. It all began when the full dates of his tour were posted in Reddit Coachella, and I joking said it was going to be "deadmau5chella" to my friends. That was when the thoughts really began to stew…
As I looked deeper, I noticed a few gaps that might actually work. Coachella Weekend 1 is taking place on April 14th, 15th, and 16th, with Weekend 2 on the 21st, 22nd, and 23rd. Now, look at the tour dates below and notice that the potential open dates would be 15th, 16th, 21st, and 23rd. Seeing as this is Coachella, where acts don't traditionally play on separate days, IF Deadmau5 is to play this year it would be on the Sundays of both weekends.
That would mean you are looking at seeing Deadmau5 at Coachella 2017 on the 16th an 23rd, and perhaps even closing the festival those days.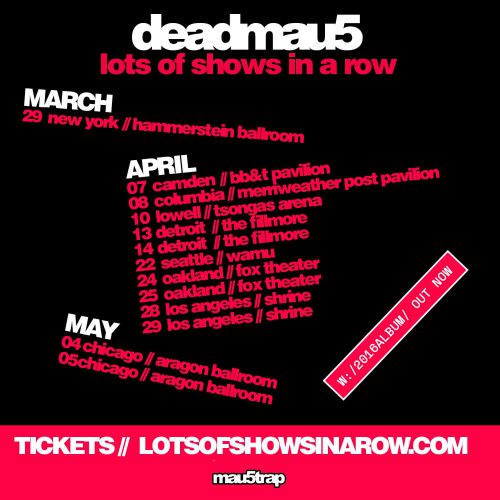 Here is my rationale as to why I think Deadmau5 will be playing Coachella 2017:
The rumor of them being officially banned has seemingly dissipated over time, and Tommy Lee was even sighted at the 2015 edition of Coachella, so honestly I think that rumor should be squashed at this point.
In the past, it has been clear that Coachella seems to book artists who have recently released new material or are planning on doing a reunion tour.
We know that the radius clause on artists playing Coachella is pretty strict, but that doesn't affect other Goldenvoice productions.

Evidence of this, outside of the LED Dayclub parties, are shows happening in Los Angeles and San Diego surrounding Coachella in the past with artists on the lineup.

Deadmau5's upcoming tour is utilizing Goldenvoice-friendly properties in California, The Shrine in Los Angeles and Fox Theater Oakland both have been involved with Goldenvoice in the past.

Even the WaMu Theater in Seattle, which is at CenturyLink Field, is owned by AEG. If you didn't know, AEG is the parent company to Goldenvoice.

The dates of the tour still allow for him to play Coachella, both weekends.
Regardless of if this is actually going to be confirmed or not, only time will tell as the lineup will be released prior to tickets going back on sale in January. It is always fun to ponder who will be playing major festivals like Coachella, and I am personally hoping to see Joel play at one of my favorite festivals.
Stream Deadmau5 – W:/2016ALBUM on Spotify:
---
What are your thoughts on Deadmau5 possibly playing Coachella 2017? Which artists would you like to see on the lineup this year?
Featured Photo Credit: Rukes