After taking a hiatus in the Fall of 2016, Desert Hearts will once again be returning to the Los Coyotes Indian Reservation for a weekend full of amazing beats and epic vibes. Slated to take place from March 31st to April 3rd, the Desert Hearts Spring Festival will be celebrating the 5th year of its existence. Lovers of house and techno will be treated to 72 hours of non-stop beats to get down to on the dance floor, while also hanging out with some smiling faces and making new friends. Starting small, Desert Hearts began a few years ago as a gathering of friends and has since exploded onto the scene. This has attracted major artists ranging from DJ Harvey and Claude VonStroke to M.A.N.D.Y. and Monkey Safari, and plenty more. These editions of the festival have continually sold out, and tickets are capped at a very low 3,500, making this one seriously desirable event for the Desert Hearts faithful.
Purchase tickets to Desert Hearts Spring Festival on December 6th HERE!
Check out the Desert Hearts Spring Festival 2017 Trailer on YouTube:
To help further spread the Desert Hearts message of love, their City Hearts brand has allowed for them to bring their beats to both domestic and international destinations. This year's City Hearts events will take place over 23 dates in 20 cities, with three dates in Los Angeles and two in Brooklyn over the span of the tour. Whether they are heading to Brazil for the Som & Sol Festival, the Crow Bar in Boise, or closing out in a secret warehouse location in Brooklyn, this is definitely a show you should check out.
City Hearts 2017 Tour Dates: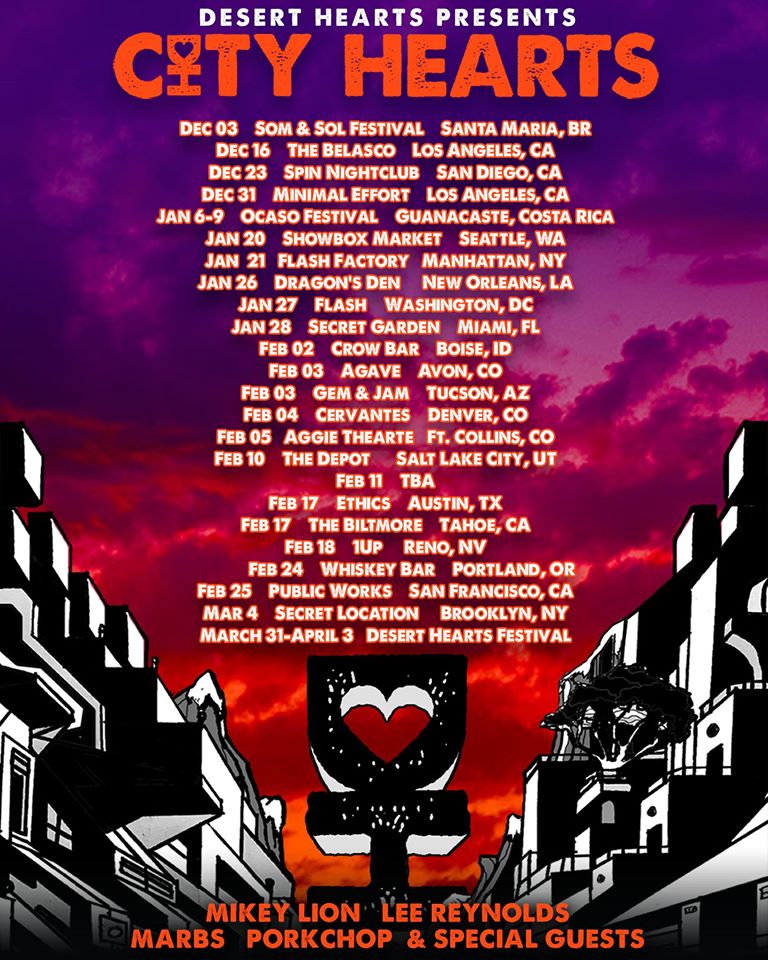 City Hearts 2017 Tour Dates Listed:
Dec 16 – The Belasco – Los Angeles, CA
Dec 23 – Spin Nightclub – San Diego, CA
Dec 31 – Minimal Effort – Los Angeles, CA
Jan 6-9 – Ocaso Festival – Guanacaste, Costa Rica
Jan 20 – Showbox Market – Seattle, WA
Jan 21 – Flash Factory – Manhattan, NY
Jan 26 – Warehouse – New Orleans, LA
Jan 27 – Flash – Washington, DC
Jan 28 – Lemon City Studios – Miami, FL
Feb 02 – CrowBar – Boise, ID
Feb 03 – Agave – Avon, CO
Feb 03 – Gem & Jam – Tucson, AZ
Feb 04 – Cervantes – Denver, CO
Feb 05 – Aggie Theatre – Fort Collins, CO
Feb 10 – The Depot – Salt Lake City, UT
Feb 11 – TBA – Los Angeles, CA
Feb 17 – Ethics – Austin, TX
Feb 17 – The Biltmore – Tahoe, CA
Feb 18 – 1Up – Reno, NV
Feb 24 – Whiskey Bar – Portland, OR
Feb 25 – Public Works – San Francisco, CA
Mar 4 – Secret Location – Brooklyn, NY
Mar 31 – Apr 3 – Desert Hearts Festival
---
About Desert Hearts:
Desert Hearts has given rise to a family of tens of thousands and it's safe to say the Love Movement has touched lives around the world. With a new year on the horizon and more need than ever to spread its ethos, Desert Hearts is prepared to lengthen its stride and continue to work towards changing the world one dance floor at a time.
House, Techno, & Love… We Are All Desert Hearts.
---
Connect with Desert Hearts on Social Media:
Website | Facebook | Twitter | Instagram | SoundCloud | YouTube