After his North American debut earlier this year, Atmozfears will be embarking on the G/\TE Tour in January!
---
Having recently made his debut in the United States at Nocturnal Wonderland, Atmozfears has been taking the hard dance community by storm as of late. Fans couldn't get enough of his epic sets, so it was decided that a North American tour would be in order to usher a new leader in the hardstyle scene here stateside. Choosing a triangle as the symbol for his career, the name G/\TE provides a unique event concept centered around the three points.
Check out our chat with Atmozfears HERE!
The first dots have been connected: Atmozfears will tour the US, Canada and Mexico in January and February of 2017. Three times, three interconnected performances, in three weekends, in three countries really drive the idea of the trinity home if you ask me. This tour isn't planning on stopping anytime soon. Atmozfears will take the G/\TE Tour globally and announcements with information on those shows will be coming in the future!
Atmozfears – G/\TE – North America Tour 2017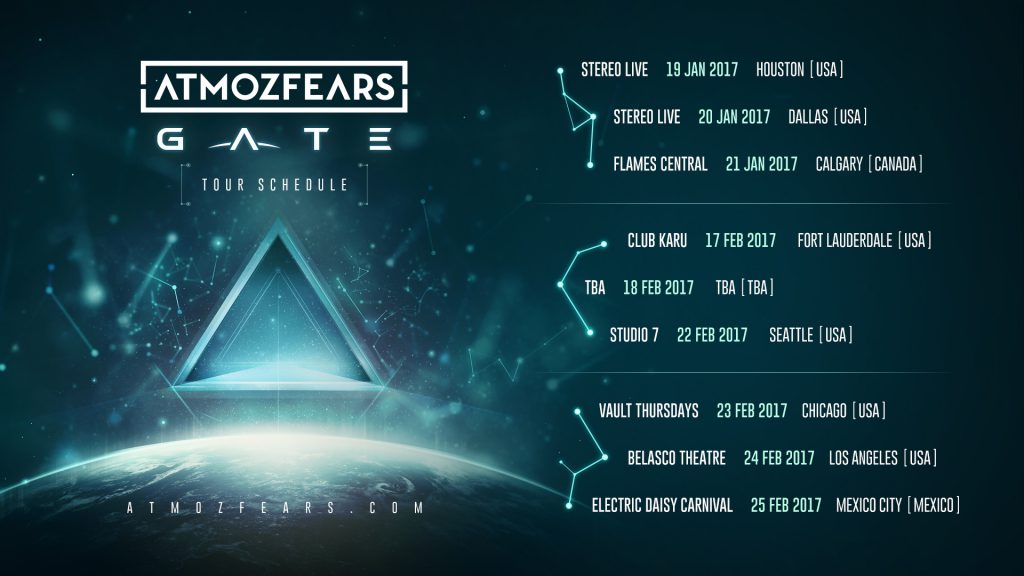 Atmozfears – G/\TE – North America Tour 2017 Dates and Venues:
19 January 2017 – Stereo Live, Houston (USA)
20 January 2017 – Stereo Live, Dallas (USA)
21 January 2017 – Flames Central, Calgary (CAN)
17 February 2017 – Club Karu, Fort Lauderdale (USA)
18 February 2017 – TBA, TBA
22 February 2017 – Studio 7, Seattle (USA)
23 February 2017 – Vault Thursdays, Chicago (USA)
24 February 2017 – Belasco Theatre, Los Angeles (USA)
25 February 2017 – Electric Daisy Carnival, Mexico (MX)
---
About Atmozfears:
Tim van de Stadt, better known as Atmozfears, has been a rising star in the hardstyle scene over the past few years. His unique sound has been combining Hardstyle sounds with traditional dance tracks to create an innovative, energetic and emotional experience. Known for his dedication to music, it seems as if he is always in the studio or playing a show somewhere in the world. Having impressive performances for crowds at massive hard dance events like Defqon.1 and Qlimax led us here in the US to count the days down in which we could finally see him live. Atmozfears finally debuted in the US at Nocturnal Wonderland 2016 and played an epic set to a devoted fanbase.
---
Connect with Atmozfears on Social Media:
Website | Facebook | Twitter | Instagram | SoundCloud | YouTube