Factory 93 is bringing Nicole Moudaber to Los Angeles for a special editon of MoodRAW! Will you be there?
---
Always looking to bring some amazing house and techno to their new series of underground-styled warehouse parties, Insomniac Events has announced that Factory 93 will play host to the legendary Nicole Moudaber in January! The globally renowned show, MoodRAW, incorporates unique elements from Nicole's personal life into the performance. Slated for a four-hour set on January 21st, 2017, the special night will give a unique look into her roots as an artist. From promoter and club-goer to the current day in which she has transformed into the musical mastermind playing stages around the world, you can count on MoodRAW to tell a story and then some.
"My MoodRAW events are about having a 'real' musical experience between my fans and myself minus all the distractions," said Nicole Moudaber. "It's been nearly a year since I last played in LA and I can't wait to be back, especially in a warehouse setting as one of the first events in this new space dedicated to the deeper darker sounds and warehouse culture. We're bringing the gritty vibes back to LA for the second time with MoodRAW!"
Curious about our experience at Factory 93 last May? Click HERE for our event review of the first edition!
MoodRAW is not a new brand, as the tour has sold out at off-the-grid locations from Los Angeles to London, and even garnered enough attention to bring a MoodZONE stage at EDC New York back in May of this year. The intimate venue, minimal lighting, and underground feel will bring a unique night to fans of both Nicole and techno. The support acts have not yet been announced, so stay tuned for an update on this epic edition of Factory 93!
Tickets willo on sale starting Friday, November 18th at 12pm PT HERE!
Factory 93 Presents MoodRAW: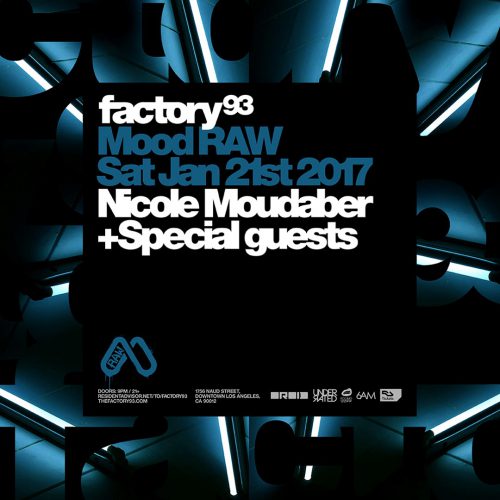 Factory 93 Presents MoodRAW Event Information:
Date: January 21st, 2017
Ages: 21+
Doors Open: 9PM
---
About Factory 93:
The very first Insomniac event series began in 1993, aptly named "Insomniac." Every Friday in Los Angeles, hundreds of people would come together to celebrate the culture and its enthralling music. Factory 93 channels the energy of Insomniac's earliest gatherings for incredible experiences – centered by a true appreciation and understanding of the origins of the underground. Insomniac will continue to offer fans the opportunity to travel back in time to its storied roots and experience all that the 90's underground music scene had to offer.
---
Connect with Factory 93 on Social Media: