Coming out of this past weekend I'm completely blown away. While I knew Freaky Deaky was a reputable festival, I had no idea how much fun I was going to have.
---
Creepy masks and costumes aside, the vibes were nothing but positive and the festival had close to no hiccups.While Freaky Deaky was one of the smaller festivals I've been to, the stage production was still top-notch and the lineup was incredible. Walking between the three tented stages–The Shrine, The Crypt, and The Big Top–took less than five minutes, and meeting up with friends was a breeze. There were carnival rides, a wide variety of food, and fun Halloween themed art installations in every corner. The festival was laid out nicely, with the two larger stages, The Shrine and The Big Top, on the outer edges, and food, seating, and the last stage, The Crypt, in the center. They even had a big projection screen playing the Cubs games every night, allowing fans to gather around between sets to catch the score.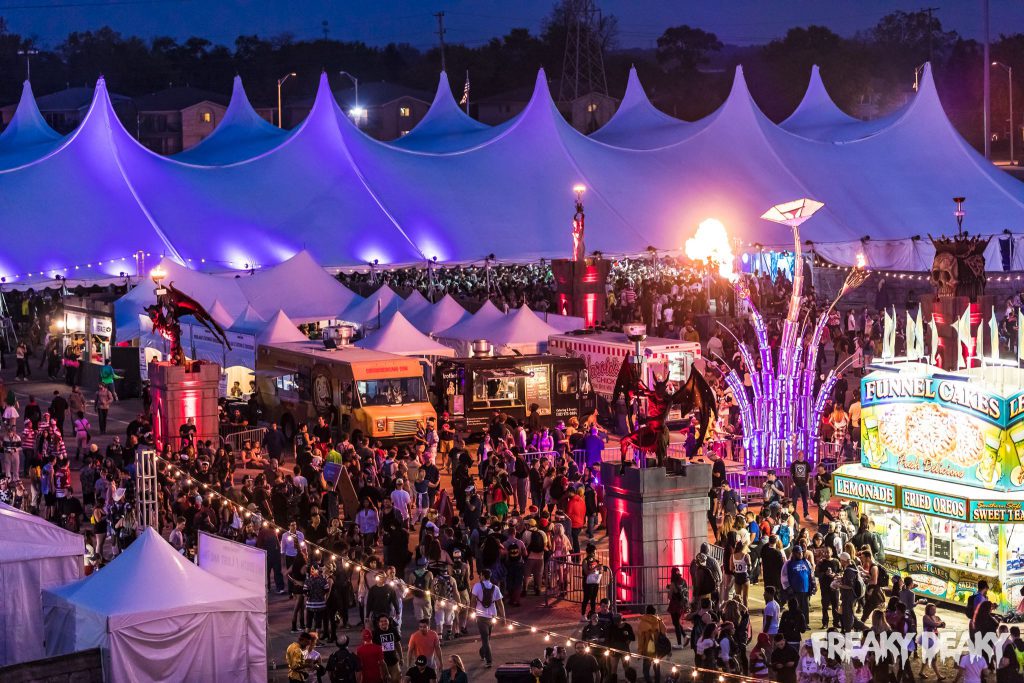 Friday was a bit hectic—I had a presentation to do for one of my classes before we could head over to Chicago. My friends Evelyn, Joe, and Allie picked me up straight from class and we started the four-hour drive from Ann Arbor to Chicago. We hit a good amount of traffic, mostly due to people traveling to Chicago for the Cubs games, but ended up making it there by 2PM. We quickly got our costumes on and called a cab, hoping to get to the festival for San Holo at 4:30PM. Unfortunately, Friday afternoon plus Cubs traffic didn't bid well for us, and we were stuck in our cab for almost an hour and a half, barely making it at 5:45PM for Loudpvck. Though getting there took 45 minutes longer than expected, once we arrived it took less than 20 minutes to get in! Allie had to go to Will Call to pick up her wristband, and that line took only 10 minutes. ID check, security, and wristband scans took probably only another 5 minutes—the staff was efficient and friendly.
And then, we were in! We ran into Loudpvck, who had just started ten minutes ago. They were playing at the middle stage—the Crypt, which was home to trap, bass, and dubstep on day 1, and primarily deep house and techno the next two days. We met a fun guy in an Olaf onesie who led us through the crowd, and before we knew it we were front and center, Loudpvck going hard and the festival in full swing.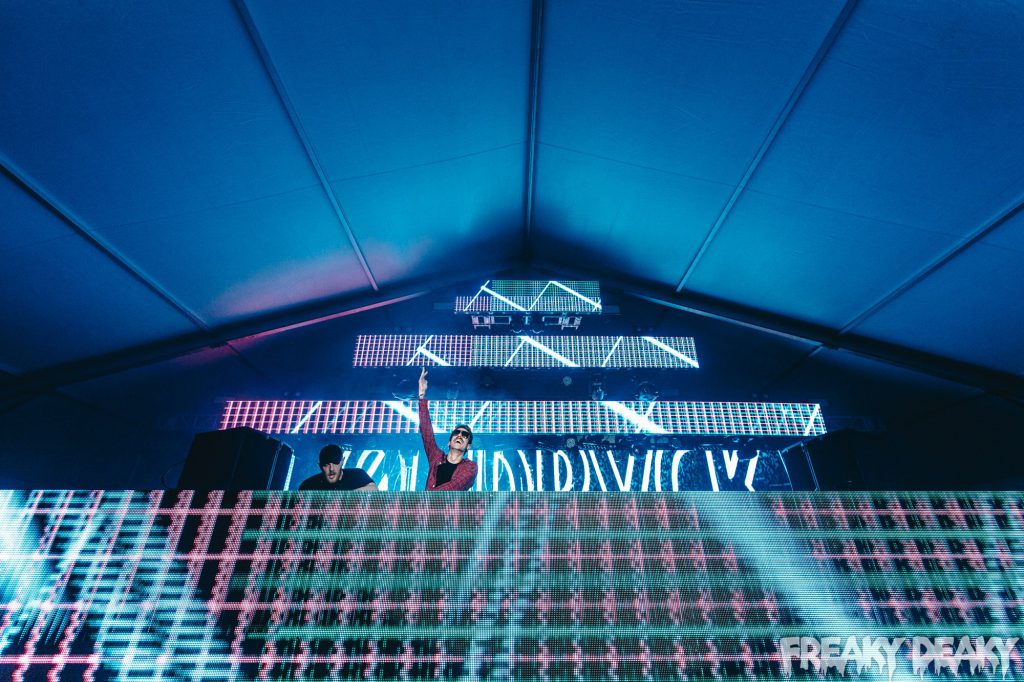 After Loudpvck, we headed over to one of the bigger stages, The Shrine, to meet the rest of our group, where Destructo had us all shuffling along to his signature G-house. Looking around, I was blown away by how creative and hilarious everyone's costumes were. There was everything from a couple dressed as Daisy Buchanan and Jay Gatsby in a full suit and dress, to a guy running around an inflatable T-Rex costume, to masked characters from The Purge, and anything in between. The Halloween spirit was tangible within seconds of entering the venue.
The rest of the night was spent bouncing from stage to stage, seeing some incredible sets from Bro Safari, Disclosure, Crizzly, and Nervo. My favorite set of Day 1 definitely goes to Illenium; he absolutely killed it–starting off with the happy melodies of his tracks and then mixing it up with some insane bass and dubstep. Beginning to end it was a breathtaking set; any chance I get to see Illenium again I will take in a heartbeat.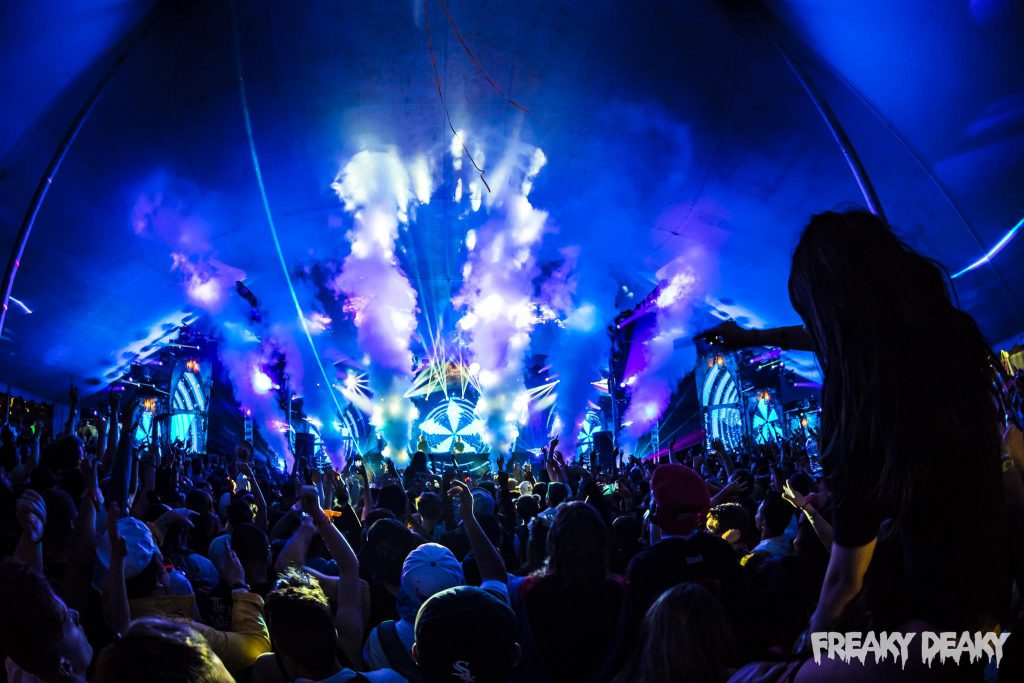 After ending the night vibing with Disclosure, we headed out to catch a cab home. On Freaky Deaky's website they assured that there would be a designated area for UBERs and cabs, so we weren't too worried about finding one. Unfortunately, there were no cabs lined up anywhere–it was pretty chaotic with people trying to flag down cabs and hanging around the gas station outside the venue. Toyota Park isn't in the best area, so being out on the street attempting to find a ride was a little scary. While it isn't the festival's responsibility to ensure everyone gets home safely, things would've gone smoother if they organized an area where cabs were lined up, so people weren't running across the busy street, stressed out trying to find a way home. The next two days, we drove to the festival to avoid this, and were able to get in and out of the parking lot safely and easily.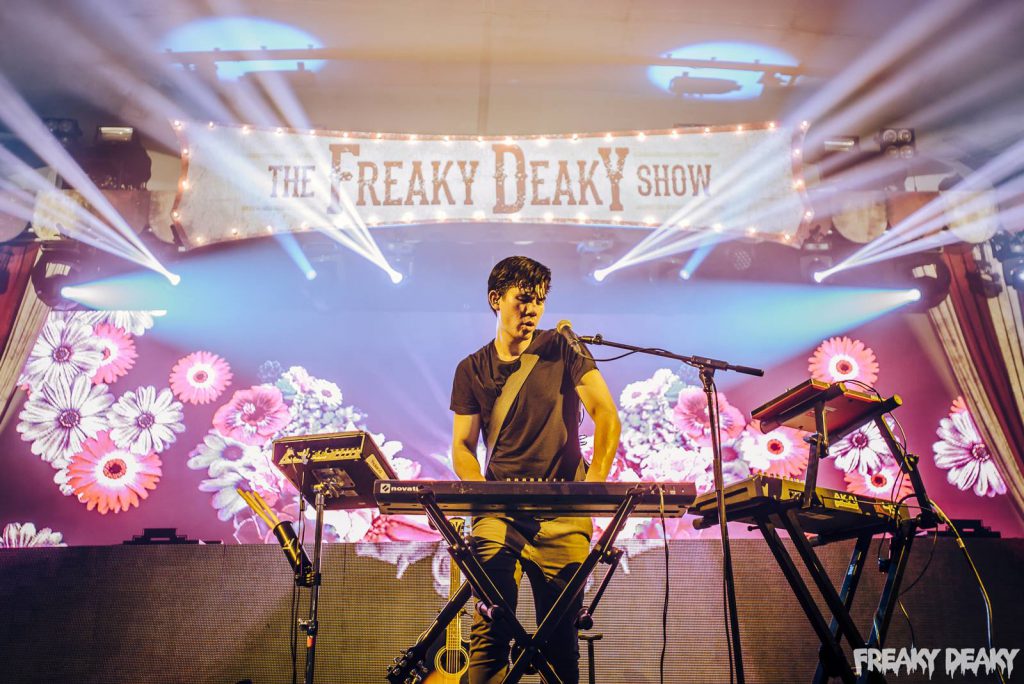 In order to avoid traffic and have more time at the festival, on Saturday we left a little earlier, and made it there around 4:30. We kicked off the day with Gryffin at The Big Top stage, and his completely live set and great vibes left us smiling ear to ear. I was blown away by his passion and talent on stage–fluidly switching from guitar to drums to keyboard–his set was really something special. Next up was Hippie Sabotage, but we had a little time before they came on, so we grabbed drinks and water in the mean time. There were food and beverage stands, a water refill station, and port-a-potties surrounding all the stages, so refill and bathroom stops were quick and easy.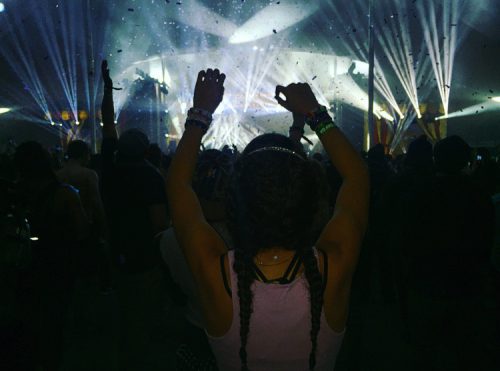 Hippie Sabotage was another quality set, with slow, heavy bass and hip hop infused beats. They had the crowd totally engaged–one of them didn't DJ for a minute, just danced in front of the crowd and crowd surfed the whole time. We jumped around between stages for a while, catching some of Claptone, Metro Boomin, Gramatik, Dubfire, and Snails. Hardest set of the weekend goes to Snails for sure; he was nuts and didn't slow down for one minute. After announcing, "You just got Snailed," he walked off stage, leaving us all open-mouthed and in shock of the insane set we just experienced. Closing out the night was DJ Snake, who did not disappoint, integrating the hits from his new album seamlessly into a high-energy trap set. He slowed it down for the last few minutes, with "Let Me Love You," "Lean On," and "Middle," leaving us with some happy vibes to head home with.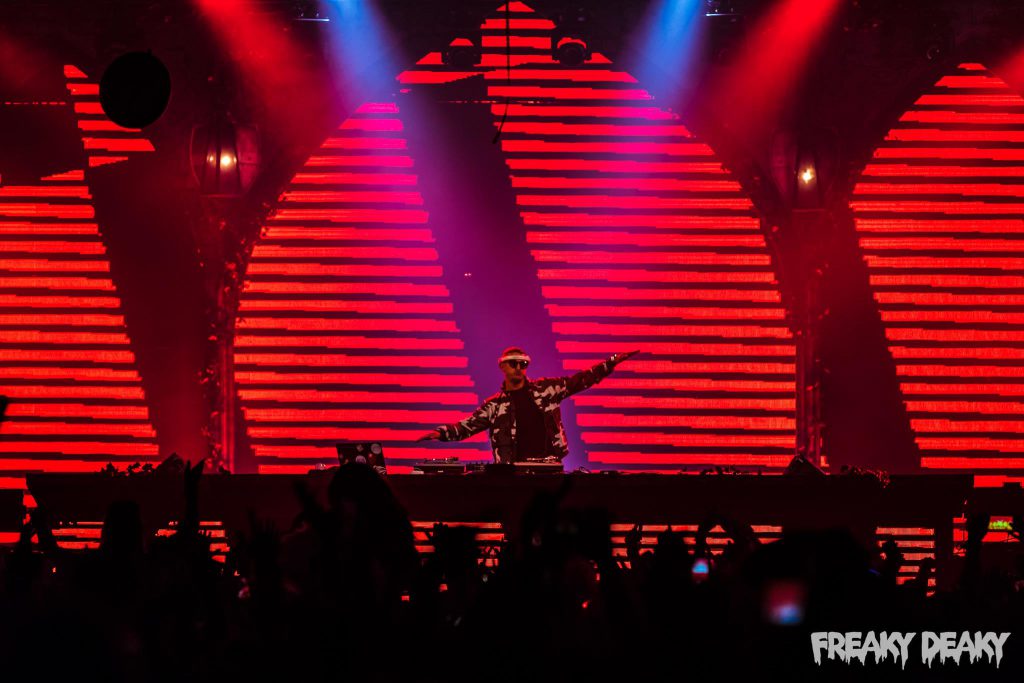 We were all most excited for Day 3–we couldn't wait to see Jauz and Tiesto! It was significantly colder on Sunday compared to the first two days, which were a perfect temperature of around 65 degrees. We got a little worried walking in that we were going to be chilly without jackets, but quickly forgot our concerns once we got inside the tent of The Shrine. After jumping around to some hardstyle at Headhunterz, we headed over to The Crypt to bop around at Lee Foss, then got some great deep house in at Duke Dumont.
Duke ended with his classic feel-good track, "I Got You," which might have been one of the best moments of the festival for me. Nothing but hugs and smiles permeated the crowd as we all danced along to the happy melody.
After Duke, we made our way over to The Big Top, where Boys Noize was already going strong. His deep, dirty beats combined with tasteful lasers made for a very cool set. Then, it was finally time for Jauz. I hadn't seen him since Hard Summer two years ago, and his style has evolved incredibly since then. We had high expectations, but he sure delivered. His set had extraordinary variety–he played everything from Porter to heavy metal to house to dubstep to his signature "wubs."  His stage presence was captivating; he was having a great time up there and made sure the crowd was in it with him. He made a couple of speeches about keeping the good vibes, being there for your friends, and the power of the unity and peace that music brings all of us. His passion on top of the quality of his set made it one of my favorites that I've ever experienced.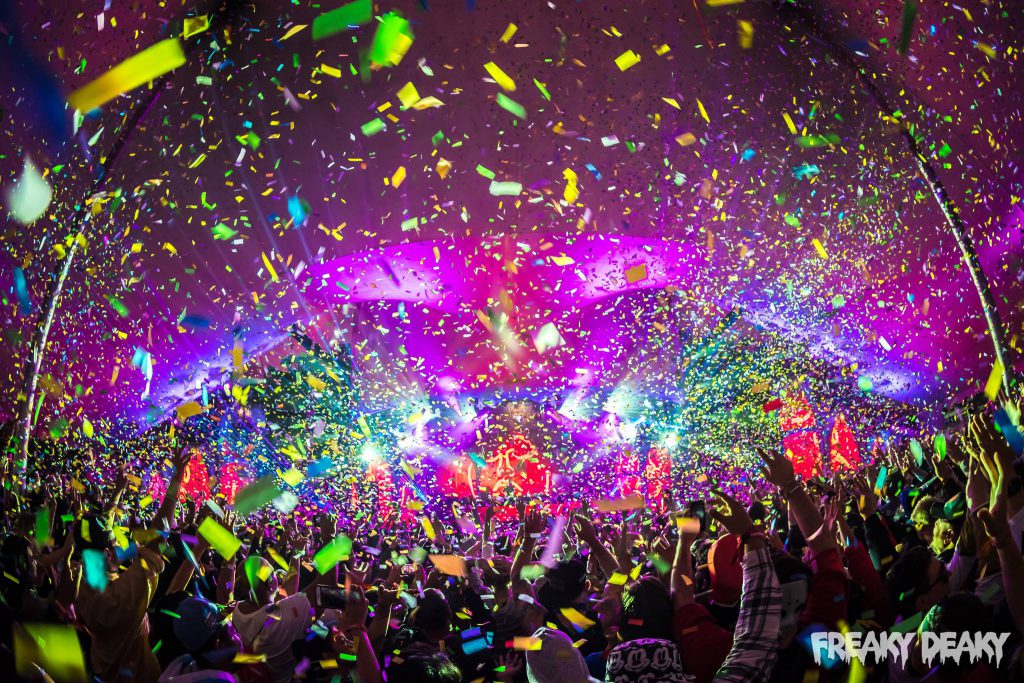 As Jauz ended, we ran over to Tiesto, who had already started fifteen minutes ago. As we made our way through the crowd, I spotted Tiesto up on stage with his bright red suit jacket on. This was my third time seeing Tiesto, so I thought I knew what I was in for, but within minutes of arriving he announces–"This is the new Tiesto–expect the unexpected"–and all sudden dropped some filthy beats. Most of his hit songs, like "Wasted," he mixed up with much harder drops, but he also didn't forget to deliver some feels; his remix of Coldplay's "Yellow" had the whole crowd feeling the love. The lasers, confetti, and visuals during Tiesto's set were the best of the weekend– they definitely saved up for a great finale.
I left Freaky Deaky feeling so happy and satisfied–I knew it was going to be a fun weekend but I wasn't expecting a full festival experience.
From the top-notch stage production to the diversity and quality of the music, I was overwhelmingly impressed by Freaky Deaky. My friends and I had the time of our lives, and apart from the cab situation on the first night, we had no problems at all with the festival or the staff. Everything was organized, smooth, and well done. Though the creepy costumes might have suggested otherwise, the festival-goers were nothing but friendly and I witnessed nothing but positive interactions between people. Well done React, I can't wait for next year!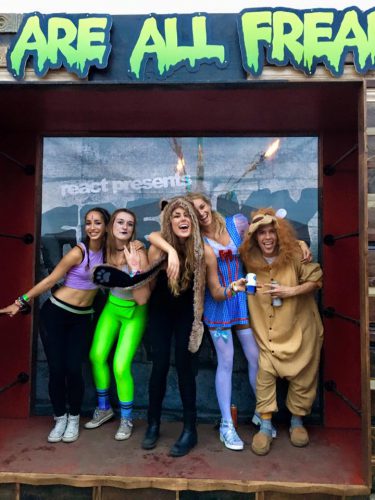 ---
Connect with Freaky Deaky on Social Media