Trance Family, assemble! Saturday, October 15th will be one epic night of trance as Coldharbour Recordings takes over Avalon Hollywood!
---
Get ready for a night of magic, incredible sounds, and a beautiful journey through trance heaven. Avalon Hollywood is excited to welcome back Coldharbour Recordings for a label showcase featuring Chicane, 4 Strings, Fisherman & Hawkins, and Grube & Hovsepian. Getting excited yet? You should be! This is going to be a night to remember!
Coldharbour Recordings, founded by Markus Schulz in 2005, is known for releasing amazingly progressive trance and big-room genre dance music. Every Coldharbour Recording track I've listened to is full of life and power. Coldharbour artists are certainly masters of their crafts…and what better venue to house such artists than the legendary and historic Avalon Hollywood, which Markus Schulz himself has chosen for his majestic open-to-close sets? I'm sure that each Coldharbour headliner's performance at this show will be one that you'll never forget!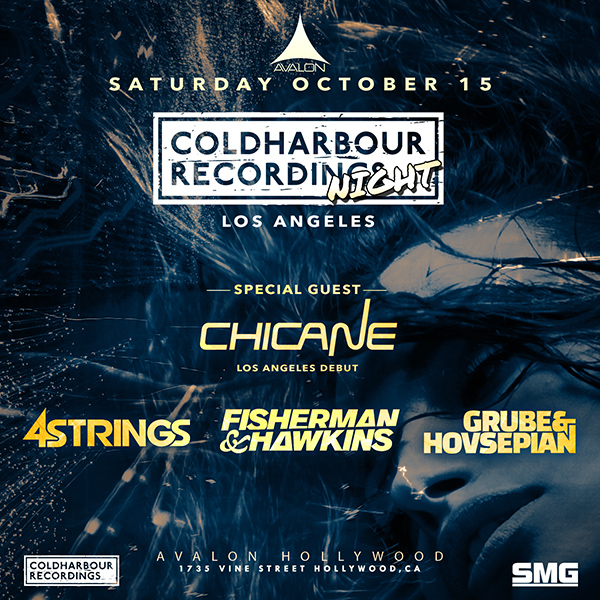 The show will feature International Dance Music Award Winners, 4 Strings. This Dutch superstar group, who has created music since the early 2000s will showcase their iconic trance/progressive creations. Get ready! 4 Strings will be sharing the stage with producer/DJ duo Fisherman & Hawkins from The Netherlands, who previously toured with Marcus Schulz and is known for a harder take on trance electronica.
Listen to a taste of Fisherman & Hawkins on SoundCloud:
Now, if that wasn't enough, Avalon will also be featuring Tim Grube and Mike Hovsepian! Better known as Grube & Hovsepain, this duo from Miami, Florida is ready to rock the house with their progressive, trance, and electro beats! My favorite Grube & Hovsepian tracks include "We All Need" and "Morning Sunrise."
Stream one of Grube & Hovsepian's incredible sets from Heart Nightclub:
Finally, this incredible show will also be featuring an artist who has been a master of the trance scene since the late 90s. His epic motion-picture-soundtrack like music captured my heart with incredible releases like 'The Sum of Its Parts' and 'Far From Maddening Crowds.' This none other than the one and only Chicane! This Coldharbour Recording night at Avalon will be Chicane's Los Angeles debut…which will be pretty amazing considering he has six studio albums under his belt and has co-written and produced for Bryan Adams, Cher, Natasha Bedingfield, Paul Young, William Orbit, Ferry Corsten, Owl City, Kate Walsh, Christian Burns and Armin Van Buuren during his epic career!
Check out Chicane's 'The Sum Of Its Parts' Minimix on SoundCloud:
---
Coldharbour Recordings Night at Avalon Hollywood Important Info:
Date: Saturday, October 15, 2016
Ages: 21+
Hours: Doors open at 10PM. Coldharbour artists will play until 3am.
After Hours: Avalon will stay open until 7am featuring other local artists.
Venue Address: 1735 Vine Street, Hollywood, CA 90028
Purchase tickets to see Chicane, 4 Strings, Fisherman & Hawkins, and Grube & Hovsepian at Avalon HERE.
---
Follow Chicane on Social Media:
Facebook | Twitter | Instagram | SoundCloud
Follow 4 Strings on Social Media:
Facebook | Twitter | SoundCloud
Follow Fisherman & Hawkins on Social Media:
Facebook | Twitter | Instagram | SoundCloud
Follow Grube & Hovsepian on Social Media:
Facebook | Twitter | Instagram | SoundCloud