Who doesn't love a good collaboration between Kaskade and Deadmau5? Check out "Beneath With Me" now!
---
Only an hour ago or so, the highly anticipated collaboration between two legendary artists was unleashed upon the world. After teasing the release, and multiple versions surfacing all over SoundCloud and YouTube, Kaskade and Deadmau5's latest collaboration, "Beneath With Me", has been officially released. Many people have followed the progress of this track since May of 2015, and even after it was released and a subsequent tweet from Deadmau5 showed his lack of pleasure in the drop. Version 4 was set to be released in the future…and finally that day has come.

Kaskade took to twitter yesterday to spread the news, but apparently Deadmau5 was still left in the dark.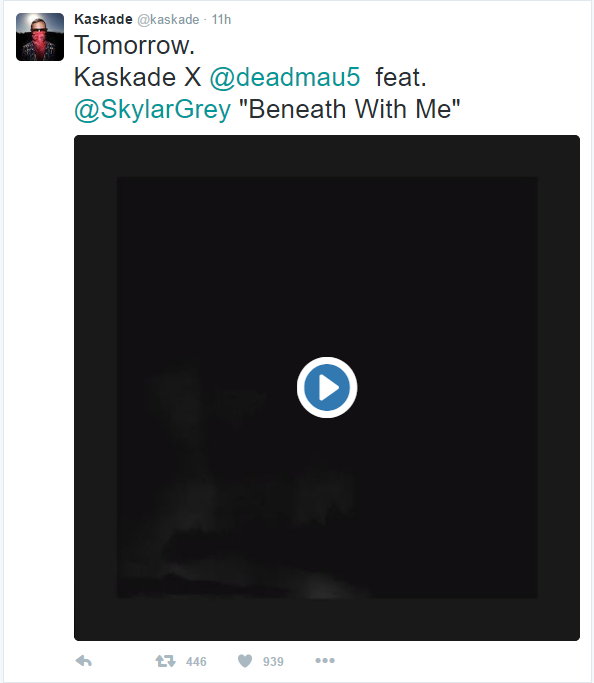 This dark, groovey track is driven forward with serious melody and techno vibes. Featuring vocals from Skylar Grey that pierce your soul and make you question everything about your life. A perfect song for those late night drives or when you really want to get down and dirty in a darkened warehouse's dance floor. Most notably Kaskade recently dropped the track, or a version of it at least, at his sold out show at the Los Angeles Convention Center earlier this year. Fans of both artists have been dying for this release for ages, and we are happy to share it with you tonight!
Stream the track or purchase it today by clicking HERE!
Watch Kaskade x Deadmau5 – Beneath With Me on YouTube:
Stream Kaskade x Deadmau5 – Beneath With Me on SoundCloud:
---
Connect with Kaskade on Social Media:
Website | Facebook | Twitter | Instagram | SoundCloud | YouTube
Connect with Deadmau5 on Social Media:
Website | Facebook | Twitter | Instagram | SoundCloud | YouTube