Looking for pictures from Moonrise Festival 2016? Click HERE to check out the full album on Facebook! Don't forget to tag yourself and your friends!
We got to the venue promptly at 11am on Saturday morning. Our friends dropped us off and when we got out of the car, it wasn't the line for wristbands that startled us, it was instead the line for what we assumed was for entry that did. The wristband lines were moving quickly and after a few minutes of asking we discovered we were actually supposed to be in the VIP wristband line. I double checked my watch, because everything I had read said that gates would open at 11am, it was now 20 minutes past that. We neared the front of the line, and saw that barricades were still being separated to form lines. Additionally it became clear that this long line we had just passed was only one side, another line had formed opposite to it. There had to have been hundreds of people waiting to get inside.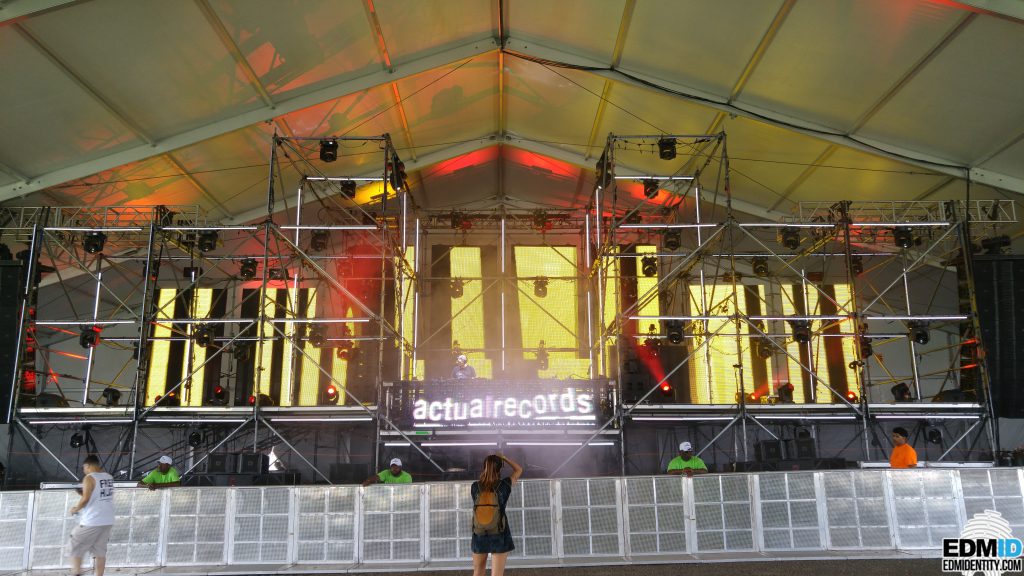 When we finally got to the VIP wristband check-in the process was again very speedy but we noticed that the entry way for VIP was also still being set up. No one was being let in yet, it was now 11:35am, and the stages had been alive this whole time. At first we were worried about not getting in quickly, but we were pointed to a third entrance where we were swiftly let inside the venue. As we walked in it was clear that it was not just the gates that were running behind, but many of the vendors were still finishing setup inside their booths as well.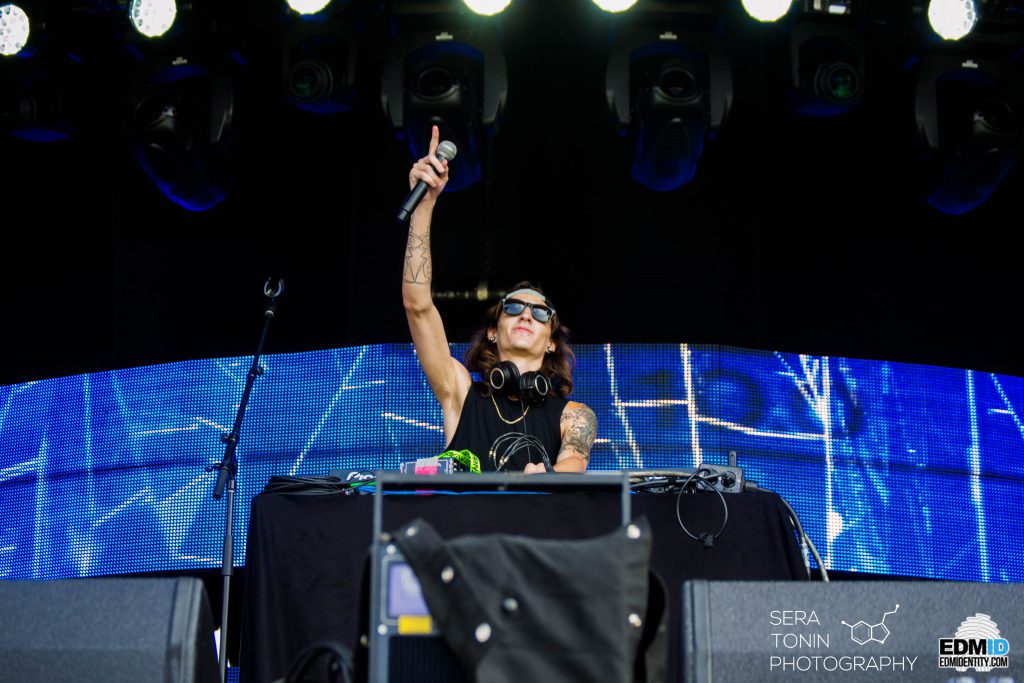 We stopped by the Lunar stage first to see one of the contest winners. His set was half over and we were his only audience members for some time. Obviously the delay in getting in dictated the lack of a crowd. A few minutes had gone by when we turned around to see people running across the field, probably those who were the first in line. We walked toward where they had come from and began to see a steady stream of festival attendees now coming through the race track tunnel. They were all excited and ready for the day.
While walking around we came across a number of things that really caught our attention.
The first is that Camel, the cigarette company, had a pop-up building. The interesting part of this pop-up was not so much that it was there, but what you had to do to get in. It was an air-conditioned unit so of course there was a line, but as we approached we heard that some people were turned away. There were signs indicating it was 21 and over, so at first we thought it must be their age. The first question they asked was "are you already a smoker?" It seems simple enough but if you said, "no" you weren't allowed in. This was the interesting part. Once inside the air conditioned area they were actually giving out coupons for a dollar a pack of your favorite Camel brands. I asked why they were turning people away, and they said it was not a recruitment tool, but a feature for people who already use their products. In a weird way I found this fairly commendable.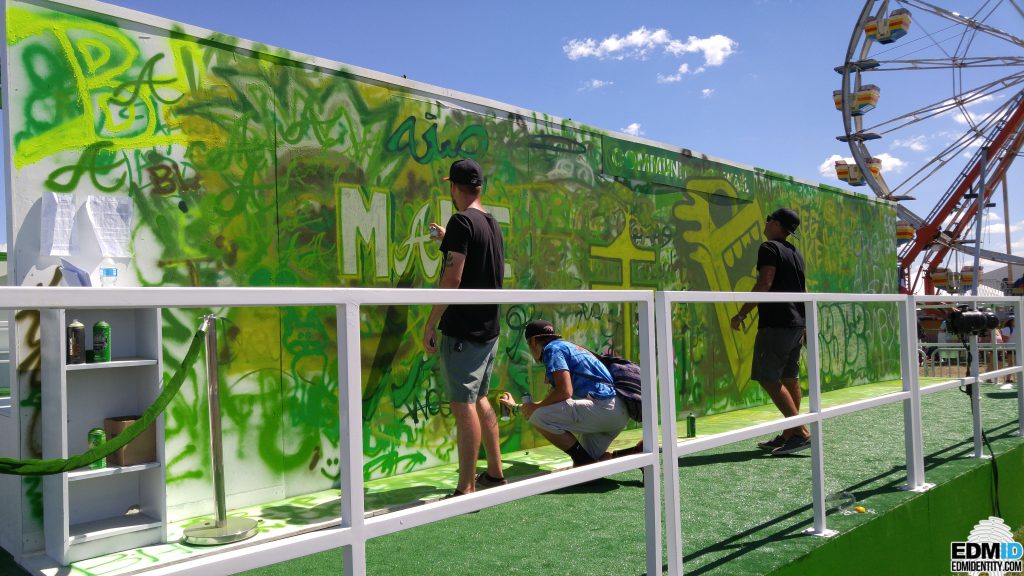 The second exhibit that really caught our eye was, what appeared to be an igloo. There were security outside but nothing really indicated what it was, so we ventured inside and found that the place was air-conditioned as well. I honestly would have been satisfied just knowing it was a cool down tent, but once inside we noticed a small sign toward the back next to a curtain opening. It read: Planetarium. Yes, that's right, past the igloo part we entered a grassy, also air-conditioned section that was projecting space onto the ceiling. There were even little foam squares scattered throughout where you could lay your head.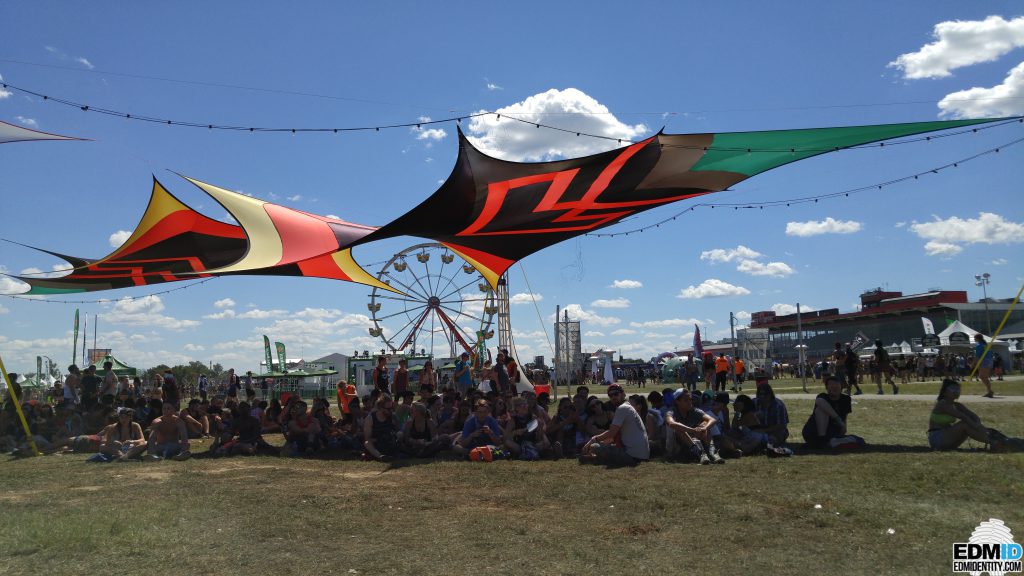 The giant peacock and flying saucer with octopus arms were great photo opportunity type attractions. However, at night, the peacock really took the cake. The whole tail would spread out and light up in flashing LEDs. The multi colors and size of it made it a pretty impressive attraction. Additionally, at every outdoor stage (one stage was a tented stage) they hand large overhangs providing shade for people. They were almost always filled with people and their positioning was actually perfect to be able to see each of their respective stages.
More festivals need to use their ground crews like the Moonrise Star Team…
I cannot say enough about the many great and wonderful things I saw the Moonrise Star Team doing. They were doing things that every festival should take notes on. I had the opportunity to speak with a few of them and learned quite a bit. First they were all volunteers, given a single day ticket in exchange for their services. Star Team Volunteers got to choose one day to attend and the next day they were working, pretty cool benefit. Given about 30-40 minutes of instruction at the beginning of their day, their focus was on keeping people cool and assisting them if they needed help. They traveled in teams or groups of 4-5, I almost never saw them alone but their presence was at every stage.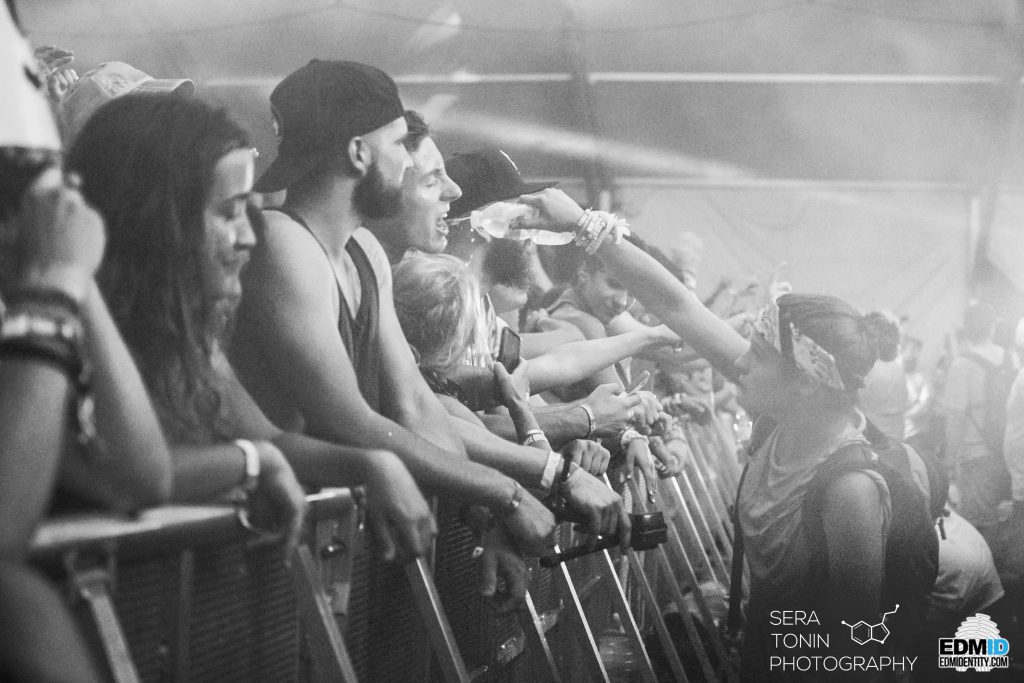 On either side of the every stage there was a giant red cooler, filled with water bottles. They would puncture holes in the tops and walk around offering water to people in the crowd or offering to spray them if they wanted. I watched as they went through case after case after case, and on the second day even started doing the same with Gatorade. If you needed a whole bottle of water, all you had to do was find a Star Team member and ask for one. At this point I was sold on the Star Team and water that seems simple enough, but then I saw them handing out ice, not just for your camelbaks, but for your person too. Want to just hold ice and rub it on your neck or hold it in your bandanna? They were literally carrying bags of ice around to give out.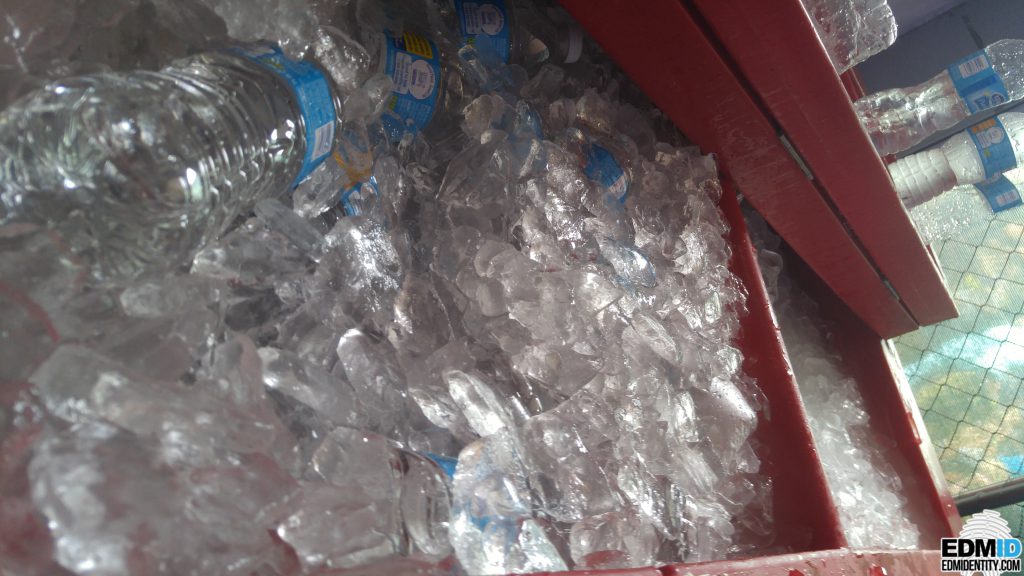 Their attitudes were always happy and their focus was helping people. They were doing everything else you expect of a ground team. They were asking if people were OK, they were present to get help if needed, they were offering information to those with questions. However, they were doing more to help make sure people were hydrated and cool enough than I've seen any team do at another festival.
There were not too many set time conflicts and the size of the festival made getting from set to set a breeze.
If you saw the lineup then you know that it was stacked. There are few places or events that you can see Bassnectar, ZEDD, The Chainsmokers, and Tiesto all on the same lineup and not run into major conflicts. The stages were close enough that it was only a short walk away and honestly, the Lunar and Stellar stages were both what I would consider to be main stages. In both size and lineup they were comparable in varying genres but again both very open areas for audiences to gather. We started our Saturday with Cheat Codes, went to see Apashe to Manic Focus to Shaun Frank. Later on during the evening we saw Flux Pavilion, Tritonal, and Oliver Heldens, ending our night with the earth-shaking of Bassnectar.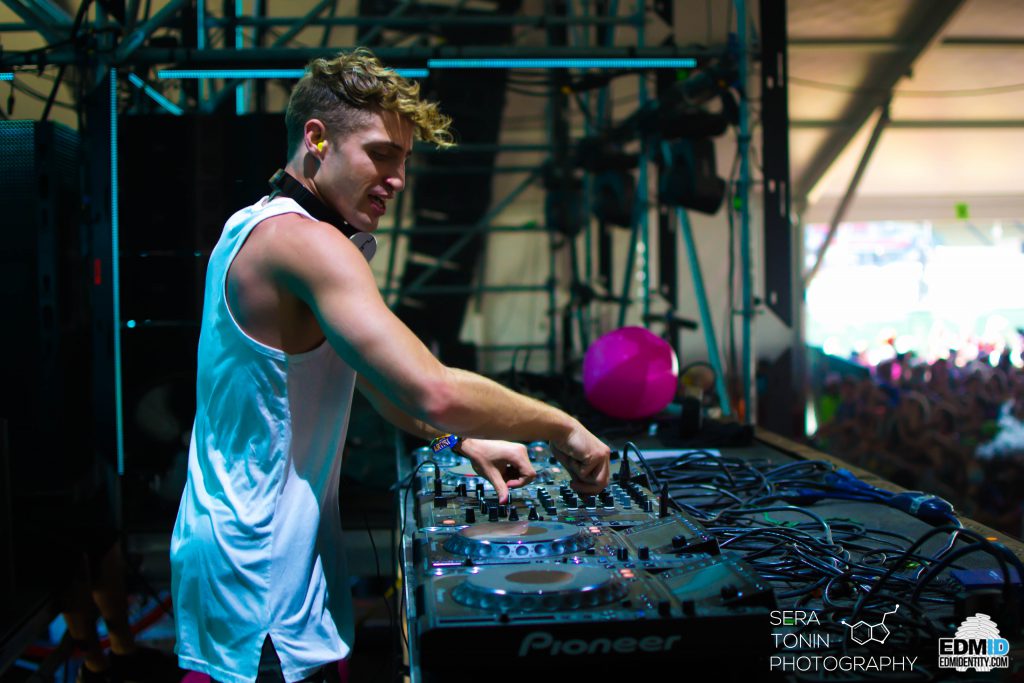 Sunday we spent a lot of time between the Celestial and Solar Stages getting our fill of house, techno, bass and trap. This was by far my favorite day as artists like Mija got personal with the crowd, going so far as coming down into the photo pit for a picture with her fans. Other artists like NGHTMRE and Herobust were seen on site (on the day they weren't even performing) and at one point Herobust joined LAXX on stage for the end of his set. There was a strong feeling of camaraderie between the artists and a genuine appreciation for the event.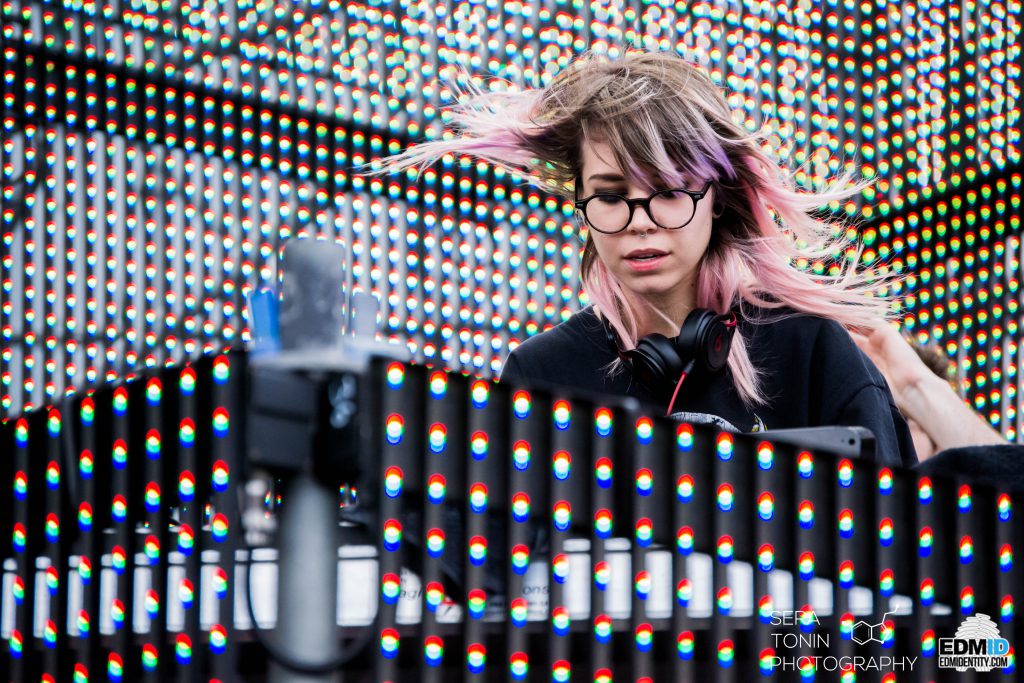 The sound systems were incredible and considering the size of the venue there was very little noise pollution between the stages. For an estimate of how strong the sounds system was, there was a moment where my photographer came up to me and said that the speaker literally blew the shirt up her back. Of course with that kind of power there are certainly drawbacks, a few times throughout the weekend a generator would blow a fuse and the stages would suddenly shut down for a few minutes.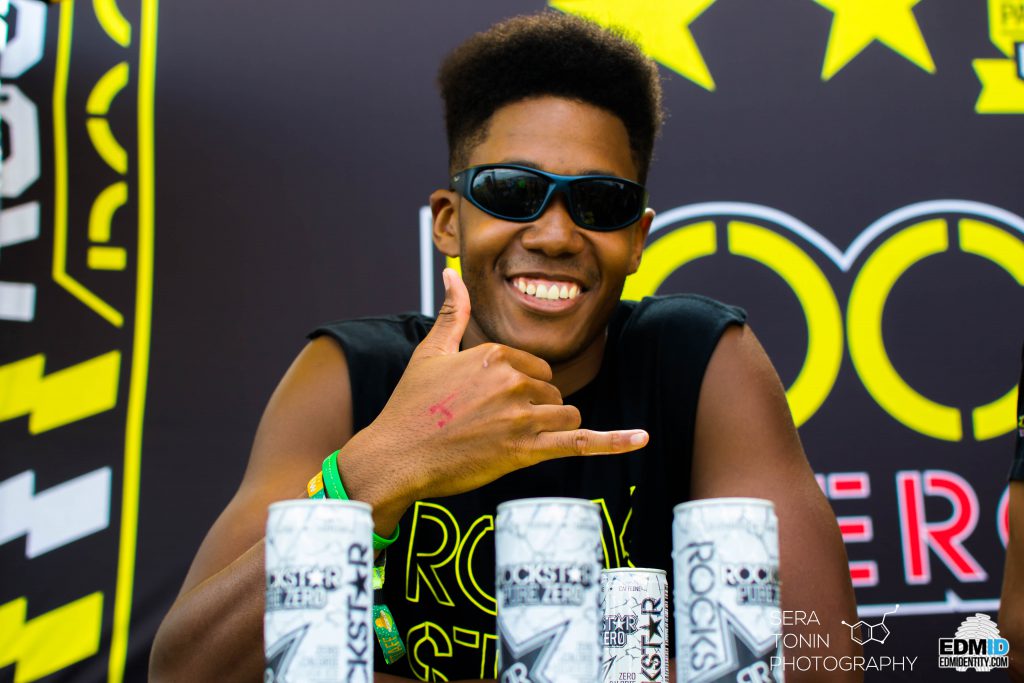 Rockstar was a sponsor so their tent and free varieties of energy drink really kept us going throughout the festival. The food booths covered an impressive range of tastes ranging from pulled pork barbecue to turkey legs. The only issue we really saw was that a majority of the food was lined up in a straight line, creating a wall of people who made it slow to get around or cut through. Smirnoff also had a strong but friendly presence with margaritas and a blueberry vodka lemonade slushy that was quite refreshing in the heat. A handful of places took credit card but the majority were cash only, which wouldn't have been a problem if the ATMs hadn't run out of money of the first day – though they did end up being refilled.
Everyone seems to have a different experience with security at festivals, but my interactions with them were mostly positive.
Much of my interaction with security occurred in the confines of the photo pit. Each stage had security that ranged from super strict to more relaxed. The one thing that was clear is that instructions were not always explicitly handed down. We often got mixed results and answers from different security guards that would contradict what another security guard would say. However, overall they were friendly, handed out water, and genuinely seemed to want the crowd to have a good time. That being said I know that was not every person's experience.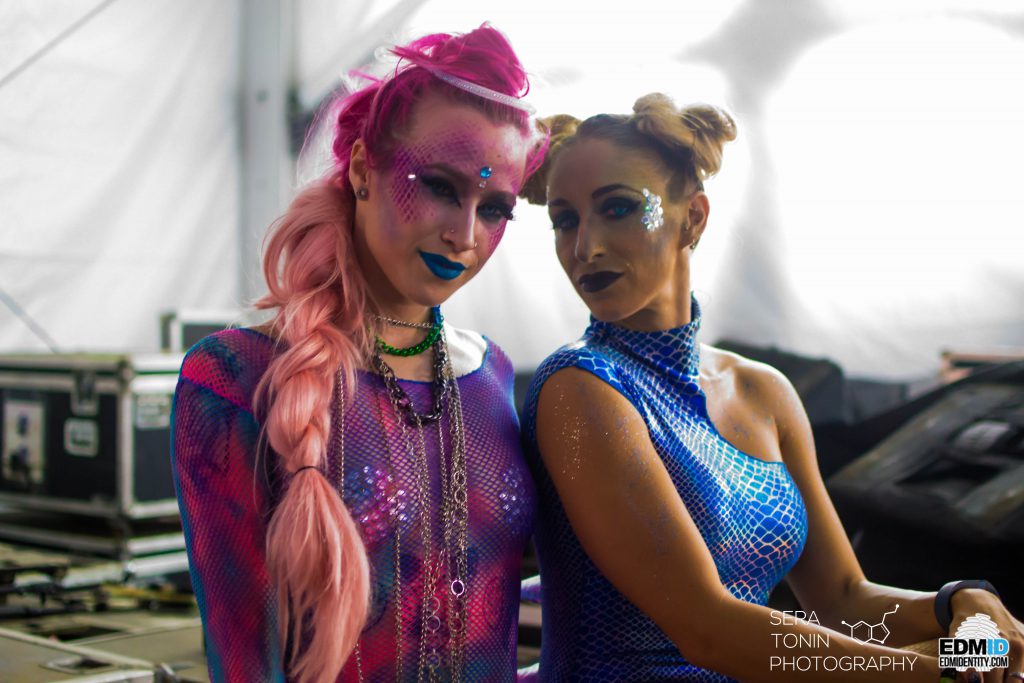 The crowd was also incredible. Speaking with multiple attendees, I learned a number of things about this event. This was the third year that Moonrise was being held here, but it had previously been known as Starscape and held in a different site. I was able to catch up with people who had attended both and they all agreed that this was a much-needed improvement over the years. Many people I spoke with kept returning each year because of the lineups and the overall vibe of the crowd, which admittedly was very nice. Traveling from San Diego, I didn't come with a lot of kandi to trade, but I was often approached to trade and got an inordinate amount of compliments on my hair (which is bleached right now).
There were definitely some hiccups with this festival, but I feel that it was worth it.
In conclusion, I was initially worried when we were basically the only two people in the venue thirty minutes after the first artists had started. My worries went away as the festival progressed. The second day, with no long line to start the day off, everything seemed to go much smoother. Throughout the weekend, I frequently kept hearing people say things like, "this is my first festival," and I felt it was a good way for them to ease into this scene. It was the perfect size with just the right amount of people. Not to say that Moonrise Festival did not have their share of issues, which definitely have come to light since, but my overall experience was a positive one. Given the chance I would definitely return for Moonrise Festival 2017, and hopefully would see you there!
Looking for pictures from Moonrise Festival 2016? Click HERE to check out the full album on Facebook! Don't forget to tag yourself and your friends!
---
Connect with Moonrise Festival 2016 on Social Media: