We've been waiting since last winter and the wait is finally over…Life Is Beautiful 2016 is here!
We are just a day away from the Life is Beautiful 2016 and we are beyond excited. This weekend will be packed with amazing performances, inspiring art, hilarious comedy acts, delicious food, and so much more. This will be a place of community, a place representing the here and now, both inspiring and transformative. Get ready to have all your senses enlisted in this endeavor and here's everything you'll need to know!
Haven't bought a ticket yet? Don't worry tickets are still available here.
Check out Zach's top picks for this weekend HERE, or take a peek at who Carlos is excited for HERE!
---
Life Is Beautiful 2016 Essential Information:
Dates: Friday, September 23 – Sunday, September 25, 2016
Gate Open Daily: 2pm
Show times: Festival gates will open at 2 p.m. daily and will close at 1 a.m.
Venue Address: Life is Beautiful encompasses 18 city blocks in Downtown Las Vegas, extending from 7th to 11th streets and from Mesquite to Carson avenues. The festival entrance is located at Fremont and 7th streets. While at Life is Beautiful set aside time to explore both the iconic Fremont Street Experience and the bars and restaurants of the Fremont East District, both right outside of the footprint.
Will Call Hours:
The Life is Beautiful Box Office and Will Call is located on 6th Street and Carson Avenue (in the Fremont Country Club parking lot) in Downtown Las Vegas.
Wednesday, September 21: 12–8 p.m.
Thursday, September 22: 12–8 p.m.
Friday, September 23: 11 a.m.–midnight
Saturday, September 24: 11 a.m.–midnight
Sunday, September 25: 11 a.m.–midnight
---
Life Is Beautiful 2016 Daily Schedules:
FRIDAY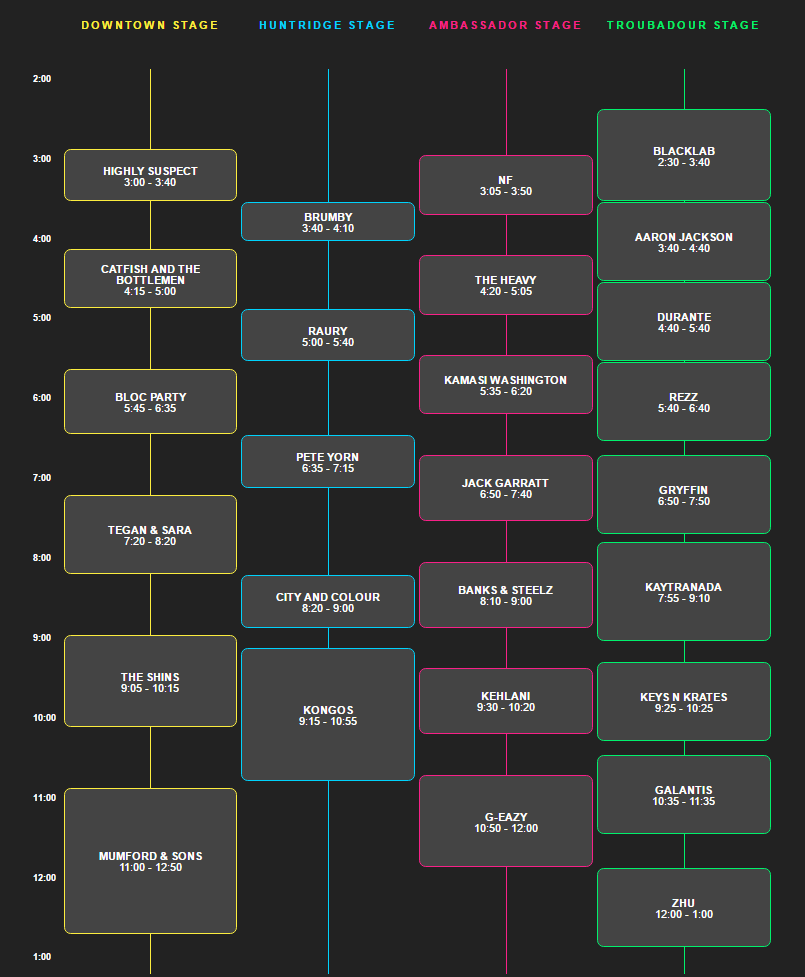 SATURDAY
SUNDAY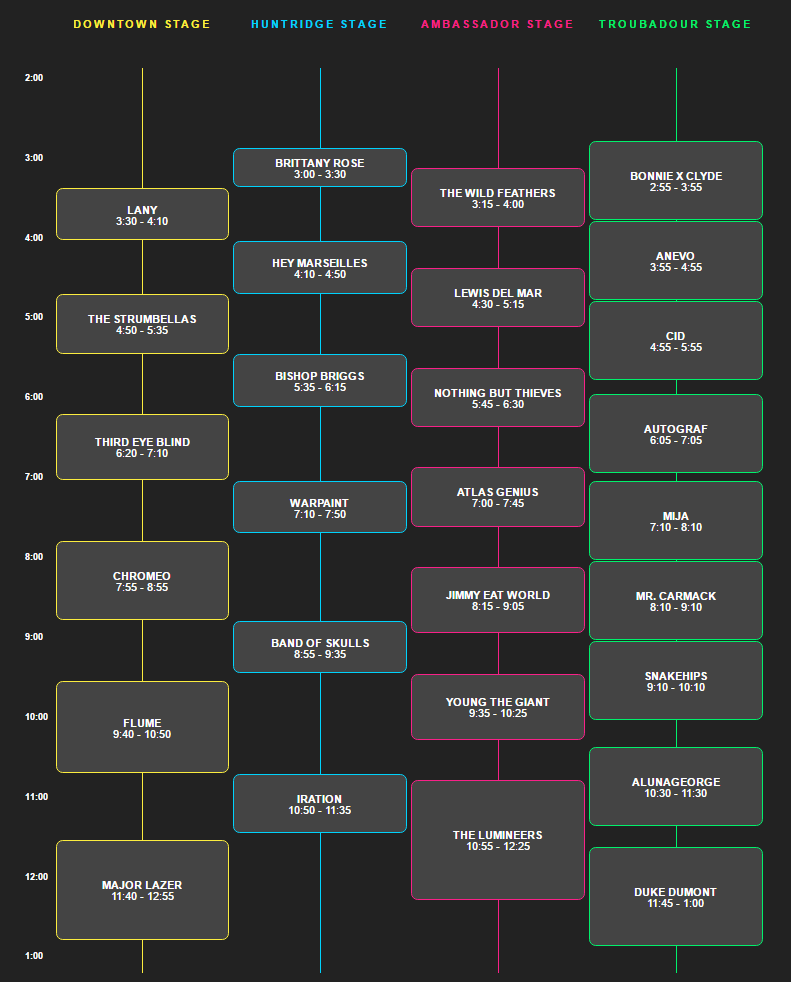 Boombox, Kalliope, and Space Wench Art Car Set Times: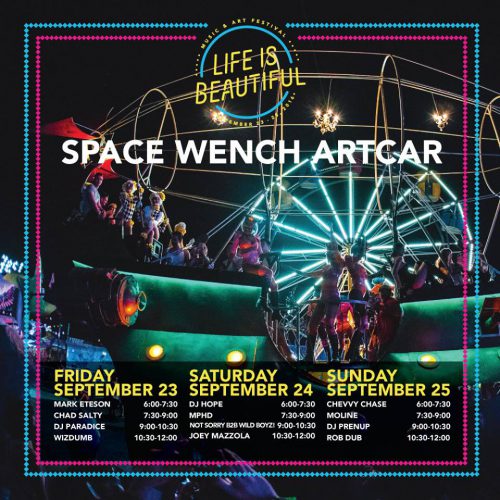 ---
Life is Beautiful 2016 Festival Map: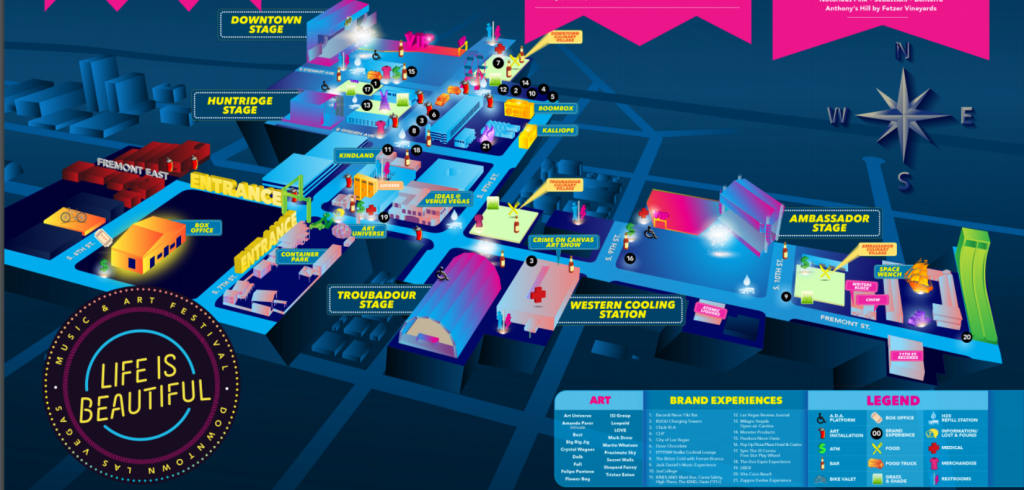 ---
Parking and Shuttle Information:
Parking at the festival can be tricky. So make it easy on yourself and take advantage of a guaranteed spot in the World Market Center lot and round-trip shuttle rides to Life is Beautiful in less than 10 minutes.
3-day Park & Ride passes are available for $45 per person
A pass includes round-trip shuttle rides for individual passengers between World Market Center and the festival all weekend
Park & Ride is located at World Market Center, 495 S. Grand Central Parkway
---
Reminder to Mind Your Belongings:
Unfortunately, this festival season, many people have reported pickpockets, bag slashings, and theft of wallets, smartphones, purses and other valuables during. While this small number of bad apples in the bunch doesn't define an entire crowd, there are opportunistic people who come to these events to take advantage of unsuspecting party goers and it's important to be mindful of your valuables while at Life is Beautiful.
Pay attention to who's around you and what's going on around you. Keep your wallet and phone in your front pocket(s) if you can. Treat your phone the same way you would treat cash; don't set it down on a table or bar and look away. If a friend isn't standing behind you in a crowd, be careful of your backpack or purse, and don't put valuables in a pocket that could easily be unzipped by someone behind in a crowded spot without you realizing.
---
Be Prepared For The Weather:
The weather this weekend is shaping up very nicely. Remember that Las Vegas is a dry heat and with temperatures ranging from 80-90 degrees in a place that frequently breaks 100, we're not complaining.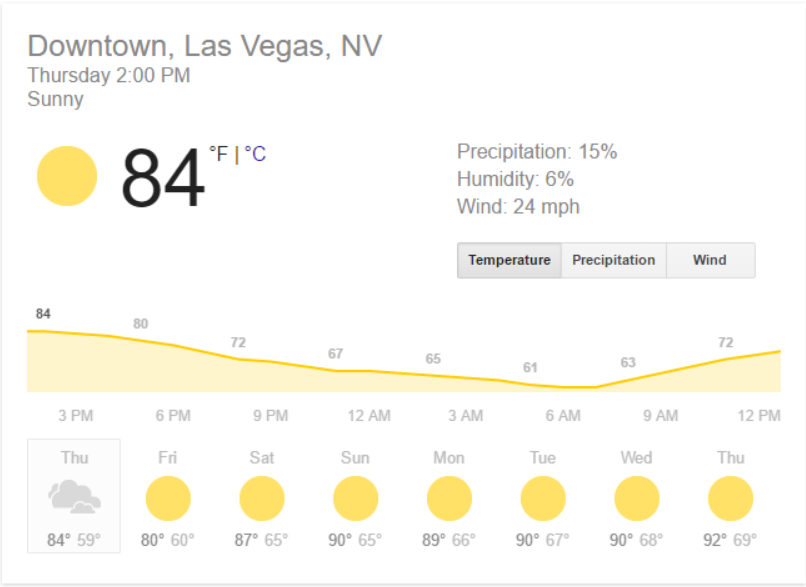 ---
What To Bring:
| | |
| --- | --- |
| · Blankets (Clean and bed-bug free.) | · Two factory-sealed water bottles up to 1 liter each (Stay hydrated.) |
| · Small bags, single-compartment backpacks, plush backpacks and purses—regular-size/unframed backpacks (Now is the time to break out that Hello Kitty backpack you haven't worn since 3rd grade.) | · Empty Camelbak or other empty plastic containers, i.e. Nalgene bottle (Indulge in all that free water in the middle of the desert.) |
| · WWE Superstar Seth Rollins | · Portable phone chargers |
| · Baby strollers (We love the little ones.) | · Binoculars (To watch the action on stage, not to be a creep.) |
| · Soft-sided coolers no larger than a 12-pack size (But don't think of filling it with beer.) | · Personal cameras with a detachable lens 2 inches or shorter |
What Not To Bring:
| | |
| --- | --- |
| · Unsealed water bottles (We caught on a long time ago that vodka and water are both clear.) | · Musical instruments (While we appreciate that you played the French horn in 7th grade, the only music we want to hear is from the performers onstage.) |
| · Weapons of ANY kind | · Picnic baskets, large or hard-sided coolers (We wouldn't want to insult our food vendors.) |
| · Drones / remote flying device | · Pets/animals; dogs that are individually trained to assist a person with a disability are allowed on the grounds of the event (We love Fido, Sparky, Boots and Whiskers, but we think they will be much happier at home in their air-conditioned pet condo.) |
| · Illegal substances and/or paraphernalia (This is a family-friendly event, so get high on your time.) | · Laser pointers |
| · Large or framed backpacks, purses or bags (You aren't moving in, just staying awhile.) | · Fireworks or explosives |
| · Professional video/audio recording equipment (Try Snapchat instead.) | · Laser pointers |
| · Professional still camera equipment with a detachable lens longer than 2 inches, tripods, big zooms, or commercial-use rigs | · Glass or can containers of any kind |
| · Selfie sticks, GoPro attachments, Monopods | · Markers, sharpies, paint pens or spray paint |
| · Aerosol containers, except sunscreen (There's no place for Aqua Net at this festival.) | · Promotional items, samples, giveaways, flyers or stickers |
| · Bicycles inside festival grounds (Bike valet will be provided.) | · Sharp objects, large chains, spiked jewelry |
| · Skateboards, hoverboards, scooters, wagons, carts or any other personal motorized vehicles | · No illegal vending is permitted; no unauthorized or unlicensed vendors allowed |
| · Lawn furniture, chairs, tents (Inflatable pink flamingos will be considered.) | · Hula hoops and umbrellas |
| · Bicycles (inside fairgrounds) | · Professional radios or walkie-talkies |
| · Skateboards or scooters (except for medical scooters) | · Water guns, water balloons, any other kind of water projectile |
| · Fireworks and explosives | · Large totems; must be smaller than 6 feet, and no thicker than 1/2 inch. Must be made of light material: swim noodles, foam-type material, cardboard tubes, fabric, string, yarn, light plastic, balloons and/or blow-up items. Totems made of wood, metal and/or PVC material will NOT be allowed. This includes flagpoles and heavy sticks. |
---
Connect with Life is Beautiful 2016 on Social Media: