A nickel can provide over one day of clean water to a child in Ghana. Yet, still so many children are left without access to clean drinking water.
---
In the United States, we take water for granted and sometimes we often forget that there are people all over the world who lay sick in bed, or even worse have lost their lives or the lives of loved ones simply because they did not have access to clean drinking water. This has to change. Luckily we have charity organizations like AQUA to get the momentum moving forward for those suffering from this epidemic.
What exactly is AQUA and how is the team making an impact? I had the opportunity to sit down with AQUA Co-Founder Luca Rietti just this past week while attending Imagine Music Festival in Atlanta, Georgia. Our conversation revealed the heart of a man who was passionate about making a change for those so desperately in need of water and how using water shows and displays at events like Imagine Music Festival have helped to be a catalyst in the movement to bring clean water to those who just don't have the access. In fact, with each ticket purchased for one of their events the result is one month of clean water for someone in a third world country. At Imagine Music Festival took they took it a couple of steps further. If you threw your pocket change in the special donation buckets, you just gave some one at least a day of clean water. All it takes is a nickel. Yes, 1 nickel and someone can have clean water for an entire day! If you purchased the special AQUA x IMAGINE package you actually provided 1 year of clean water for a child in Ghana! Now, that is something to celebrate.
Check out AQUA x Imagine Music Festival Trailer on YouTube:
---
How did AQUA come to fruition and what was your inspiration for choosing the theme and its ultimate goal?
We tell this story a bunch. My business partner Pat and I went to school together and just started promoting local events and producing concerts. But he wanted to do something through the school; an event on the quad. The first year he did it, it got rained out and he was really bummed. The next year he planned it again and it was during Hurricane Sandy. So back to back, he was devastated. So I went to him and said "What if we did an event where it didn't matter if it got rained out." Like water was almost encouraged. We both thought that would be a pretty cool idea. So we both started googling stuff, and looking online into what different water effects were possible. Then we went to Home Depot, made some prototypes, and tested some things. Once we realized we had a cool idea, we started to get more serious about it.
That's when we started building the systems we have now, and built pretty much a complete show out of water. Here at Imagine we are creating effects out of water, which is a little different from what we do at our shows. But that's the basis of it. We wanted to use water as much as we could. Build all the visuals and use the lights in the water. In our shows we don't use any LED walls. We use minimal lights. And if we are using lights they're to complement the water; to change them different colors. So that's how we came up with the idea. We just wanted to do something different. We went to a lot of shows and just kept seeing the same effects, over and over. The stages change but you always have the same lights and LED walls with fireworks. We just wanted to do something different and this was pretty different.
For the individual who may not truly understand how important clean water is, Can you explain some of the effects that water contamination can have on an individual and on an entire community as a whole?
So there are, more crazy clean water facts than I can even explain. I had no idea about the water crisis before I started this. I was how most people are. They take water for granted. Clean water comes out and you don't worry about it. Close to a billion people don't have access to clean water. There are more cell phones in the world than there are toilets. Dirty water is the number one killer for children under five, worldwide. One out of five children, that are prone to unclean drinking water will die from a disease or bacteria that they got from drinking unclean water. Things like that devastate entire communities. Some people spend up to eight hours a day just getting clean water. Walking four hours, getting it, and carrying it four hours back. All the solutions to get the water are there. It's just getting people to do it, and the money to bring it. A lot of it has to do with awareness. When someone comes to our show we donate a month of clean water off the top of the ticket. If someone wants to donate more that's great, if they just want to come see the show they donate whether they want to or not. So that's one part. The other is just spreading awareness. I was like most people and I didn't know.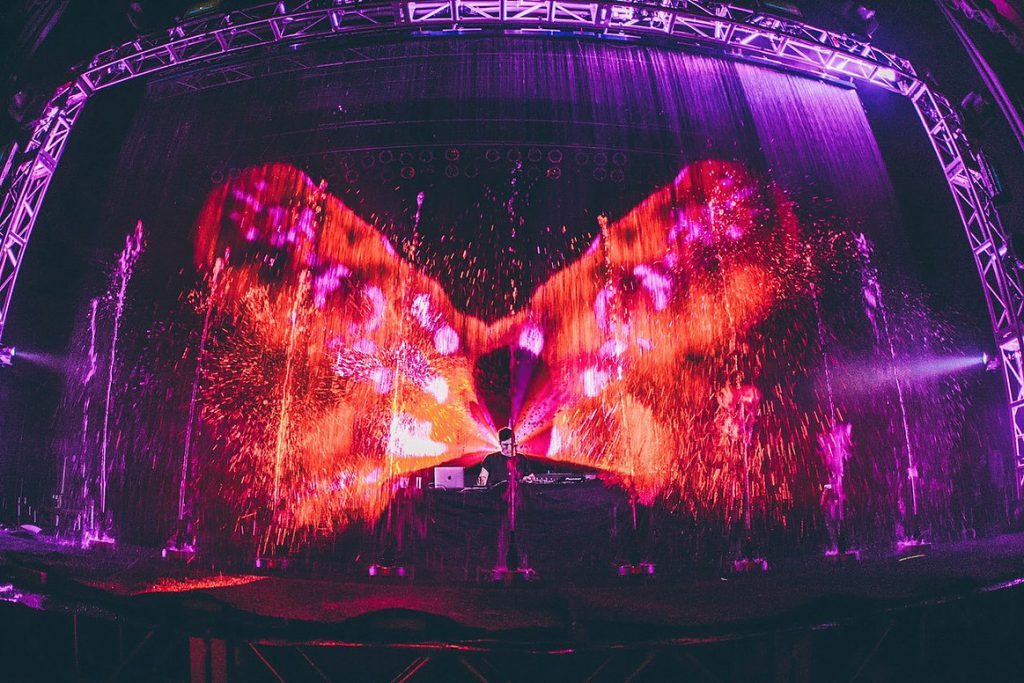 What sets AQUA apart from other charity organizations?
What sets us apart is, I think the brand as a whole. In the aspect that, we donate out of throwing a show. Even if we do a show and we lose money, we still donate per ticket to Water Is Life. For us, it's everything we do regardless whether we're at a festival, a small show, or a wedding. We will do something if it offers the opportunity to spread awareness and help that cause. I think it's good because it's just so deeply rooted into our company. I hope that other people, other artists, or promotional companies will start doing things like this too. There are people who help, but having more is always better.
Tell us the story of how AQUA partnered up with Imagine Music Festival. What led you in their direction?
So it was just a given since they call their festival an Aquatic Fairytale. We had someone connect us with Glen and we brainstormed a little bit. We told them what we could do and obviously we had to fit in certain budgets but we wanted to bring a really cool water experience to the aquatic fairytale. I think hopefully we can grow and incorporate it even more in the next year and the year after. I think it's really cool because they seem really open to it. It's definitely a good fit. I think every festival should have water first of all, but definitely one that is like an aquatic fairytale, it's like a no brainer.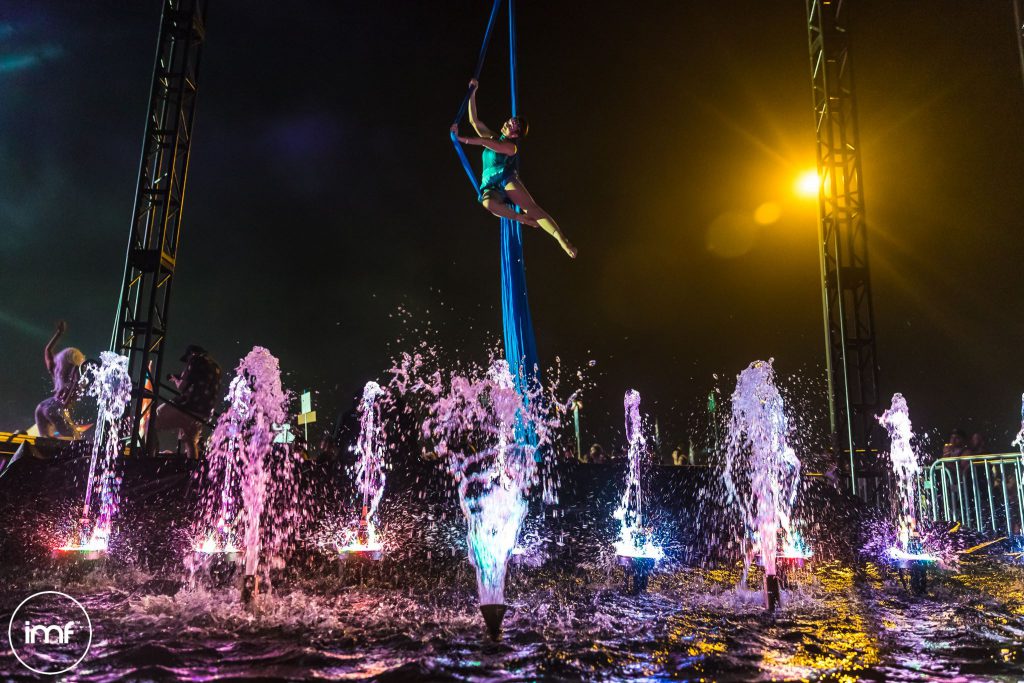 You touched on it already, but let's go a little more in-depth. For someone not attending IMF, or someone who's not ever seen an AQUA production, Can you paint a picture of what to expect at your show?
So for IMF we have three main elements, they all differentiate depending on how we position them and how we light them.  We have the water screen which is pretty much a sheet of water that drops down and creates a canvas out of water. So anything we project or light gets captured in the water, and it's suspended in mid-air. So obviously water is see-through when it's not lit, and when you shine light on it images appear and they seem to be floating. That's what gives it like a hologram sort of look, which is really cool. At our shows we'll put the screen in front of the artist, so it makes it super 3D, giving the stage a whole depth. You have the artists behind the visuals, and it looks like they're going through them, around them, in front of them. You can't really comprehend where they're coming from. That's one element. Then we have fountains which is kind of a given. They dance to the music and we have different nozzles that create different effects. We can light them differently to make them look like they're rainbow or even changing color from top to bottom. And then we have mist. I don't think we're doing any mist here, but we have mist that goes out into the audience and that also captures light so you'll have lights and images that reach out into the crowd. It also provides that interactive element, it will cool people down, and they're kind of feeling the water while they're watching the water. Yeah mist would be good here.
How has AQUA developed and change since its first event?
We've definitely changed a lot and we've learned a lot. Pretty much every part of our company has grown for the better. When we started this we both had pretty much no production background at all. Just had this idea, and pretty much ever since we've been figuring out a way to do it, make it happen and make it look cool. To do it in a way that people leave and think they saw something different as well as knowing that we're helping people. I don't know if we have one specific thing that we're doing better because we're still young and still learning, taking it one event at a time. We try to make every event better than the last one. Just to bring people a good experience.
Have you went on to see Aqua's impact in the third world countries that you're trying to help? Can you give me an example of a country that has been directly affected by your company for the better?
We've been specifically working on the villages in Ghana. So the charity Water Is Life has stations in multiple countries. We decided that since we're still growing, we would focus on one area. We're focusing on this village in northern Ghana. To date, we've donated 11 years of clean water to an entire school in that village. We started a GoFundMe to head over and have our team experience what is happening there. We've read about it, we've seen videos, we've talked to people who have been there, but I think going there firsthand, filming, and taking all of that back to our fans and audiences, will help the charity get more attention, help our shows, and help to get people out there and make a difference.
Using water as your show theme and charity focus is very unique, do you plan on expanding and developing new themes for future shows, possibly targeting other types of needs other than water?
I don't know. We definitely want to focus on water. I don't know if the water crisis is going to go away anytime soon. But hopefully we're making an impact. So ideally we don't want to get in over our heads and be like "Oh yeah we're gonna end the water crisis as a whole in five years." We're trying to help the people we can help now. Going from there, if we can help more people that would be great. But I definitely want to focus on the water crisis. And I mean there's so much to do in that one field, and there's so many people who need help. I really feel like I wouldn't be able to go and do something else, knowing that water was still a problem. If we can cure one village completely, there's always another one. The goal would be to help a country or a section of a country. That'd be amazing. I think that's our goal for now. And that's what makes the most sense for us I think.
After IMF comes to a close, and people head back to their regular lives, how can we continue to help and support your cause? Describe a way we can get involved outside of the festival to keep the ball rolling.
So either with AQUA, or with Water Is Life. We just started a brand ambassador program, so people can sign up for that if they want to help on the production side, or on the Water Is Life side, or both. And awareness is the biggest thing. Water Is Life has a ton of stuff that they offer for people to get involved. So if people want to get involved they definitely can and there's definitely a need for people to get involved. There's plenty of things that people can do, from the extremes of literally going on a mission trip somewhere, to simple things like sharing a Facebook post. I think more-so it's just spreading the message. I think if more people just knew, they would do more things. It's not a thing here. We don't have a water crisis. Awareness is the big thing. So if you want to get involved, tell your friends.
Where can we expect Aqua to appear next? What are you plans for the rest of 2016?
We have a lot of things in the works. I don't know if I can actually say any of them. Hopefully more festivals, doing our own shows, partnering with other shows. We're just trying to get the brand out there right now; the AQUA brand itself. And just to get the message out there. We're working on a bunch of different avenues to do that. But I think we'll be doing some pretty cool things coming up.
---
To get 
involved
 with the charity or to learn more follow AQUA via social media: