One of the things that stood out to me at my first Ultra Miami was the RESISTANCE stage. The underground free-spirited atmosphere pumping techno and stacked with a massive line-up completely had my heart during that entire weekend.
---
RESISTANCE, a concept created by Ultra, debuted 18 months ago at their Buenos Aires event. With the launch of RESISTANCE Peru, the concept is now officially becoming a standalone event! This event will this be the first solo event and marks the first time Ultra Worldwide have run an event outside of their Ultra Brand. Its launch is with Carl Cox & Friends and will include Carl Cox, Nicole Moudaber, Matador and more artist to be announced. The debut will occur in Peru on October 14, 2016.
Check out Abisola's Experience at Ultra Music Festival Miami 2016 HERE!

Interested? Check out the teaser trailer for RESISTANCE Peru:
Before heading to South America, the RESISTANCE Stage will be present in three of the ULTRA Worldwide stops. You can catch sets at Ultra Singapore, Ultra Beach Bali, and Ultra Japan if you're in the area! Initial support has also been announced for the RESISTANCE presence at Ultra Rio De Janeiro as well featuring Carl Cox, Hot Since 82, Matador, and Anna. It is clear that the sounds of techno have once again begun their ascent into the limelight, and we are excited to see what this new style of event will bring in the future. Dates and lineups for the upcoming Asia Stops can be found below.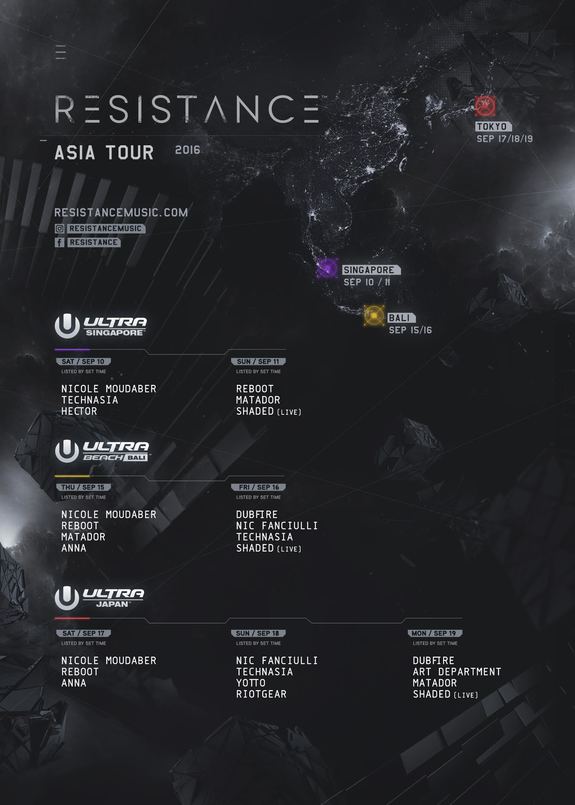 Watch the RESISTANCE Tokyo Trailer on YouTube:
---
Upcoming Dates and Lineups:
RESISTANCE Singapore – September 10 & 11 (in alphabetical order)
Hector
Matador
Nicole Moudaber
Reboot
Shaded (Live)
Technasia
RESISTANCE Bali – September 15, 16 (in alphabetical order) 
Anna
Dubfire
Matador
Nic Fanciulli
Nicole Moudaber
Reboot
Technasia
RESISTANCE Tokyo – September 17, 18, 19 (in alphabetical order) 
Anna
Art Department
Dubfire
Matador
Nic Fanciulli
Nicole Moudaber
Reboot
Riotgear
Shaded (Live)
Technasia
Yotto
RESISTANCE Peru – October 14 (in alphabetical order) 
Carl Cox
Matador
Nicole Moudaber
RESISTANCE Rio de Janeiro – October 14, 15
Carl Cox
Hot Since 82
Matador
Anna
---
ABOUT RESISTANCE™:
A unique concept pioneered by ULTRA Worldwide in 2015, RESISTANCE™ has fast become known for producing some of the highest quality house and techno experiences around the world.
First witnessed at ULTRA Buenos Aires in February 2015, receiving rapturous responses from fans and critics alike, the concept was then rolled out at the flagship Ultra Music Festival Miami the very same year. Housed in the awe-inspiring, state-of-the-art 'Afterburner' stage, powered by UK production company Arcadia Spectacular, the RESISTANCE™ concept drew huge international attention and recognition in Miami and has since had custom productions on five continents, including a subsequent show with the 'Afterburner' at Ultra Europe 2015.
ULTRA Music Festival 2016 saw RESISTANCE™ team up with Arcadia Spectacular once again, this time for the highly anticipated North American debut of the legendary 'SPIDER' structure, complete with its own breathtaking 'Arcadia Landing Show.' In only its second year, the burgeoning concept continues to expand at breakneck speed, introducing newcomers and avid fans alike to the very finest realms of house, techno and everything in between.
---
Follow RESISTANCE on Social Media: