KAABOO is not your typical music festival, it strives to bring you arts and entertainment for a "Mixperience" unlike any other.
---
This is the second year that the Del Mar Racetrack will be hosting the KAABOO Mixperience. Last year's event was a huge success showcasing 100+ acts across 7 stages including comedians, art work, and a tremendous lineup of gourmet foods. Not your typical music festival experience, the creators have gone to great lengths to ensure every detail lets you escape your every day typical life. Attendees will enjoy a 3-day sound voyage exploring rock-n-roll and taste-making events while taking in the pacific beach feel at KAABOO 2016!
KAABOO was created by music lovers for music lovers. An adult escape, uniquely curated to appeal to all five of your senses, with world-class music, hilarious comedy, incredible cuisine, craft libations, inspiring contemporary art, and personal indulgences.

– KAABOO Creators
The creators of KAABOO don't believe a festival experience has to be a dirty one, so you will see this as a dirt free zone. There are plenty of grassy areas, benches and tables to sit and you will not find port-a-potties on-site instead you'll find regularly serviced flushing facilities. Additionally, though the festival takes place when the average San Diego temperature is in the mid 70's if you need a break from the sun they will have plenty of indoor, air conditioned attractions. Finally the biggest selling point is it's location. Located on the vast space of the Del Mar Racetrack + Fairground it is centrally located in San Diego and has a variety of high-quality lodging for your convenience.
KAABOO 2016 Music Lineup: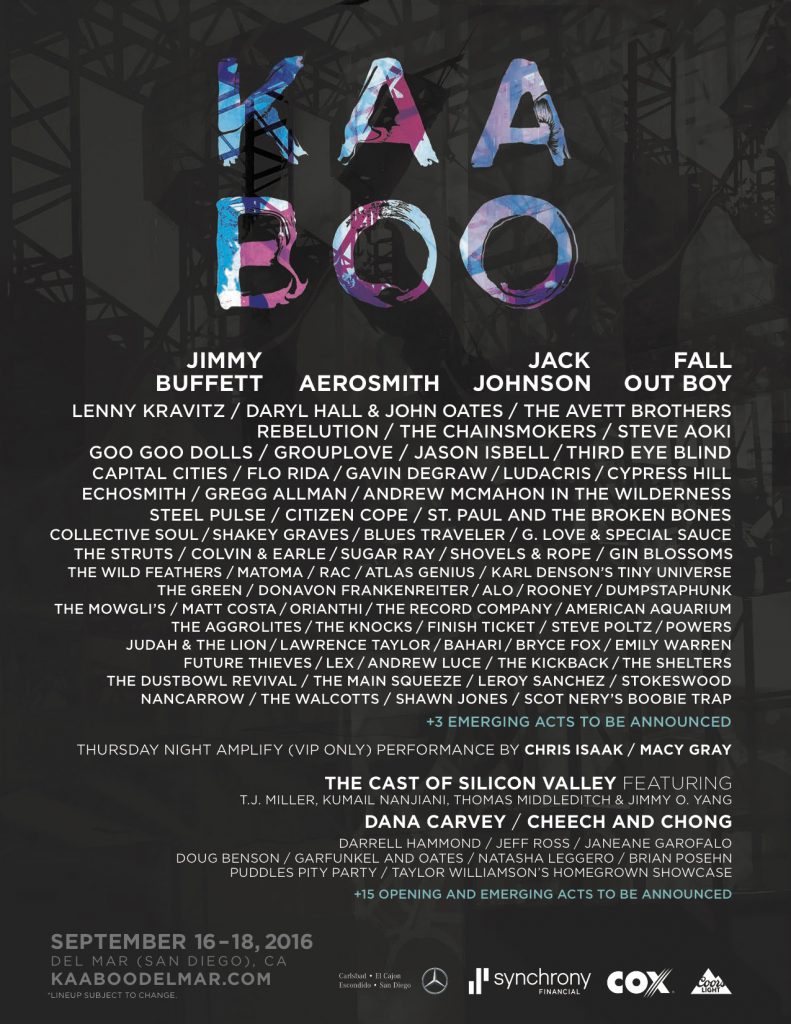 Explore their other line-ups here: Comedians | Art Work | Palate
Event Information:
You can buy your tickets here.
Where: 2260 JIMMY DURANTE BOULEVARD, DEL MAR (SAN DIEGO), CA 92014
When: Friday, Sept. 16 – Sunday, Sept 18
Cost: Hang Loose (GA) $279 – Hang Five (VIP) $779
Whether you come for the Gin Blossoms, Aerosmith, or The Chainsmokers, or maybe you just attend to see the cast of Silicon Valley. Either way this festival will definitely be a highlight of my summer so I hope to see you there.
---
Follow KAABOO 2016 on Social Media: