Any vinyl fans out there? Well, I have something major that you are going to want to hear about! Legends Bad Boy Bill and Richard Vission have teamed up for the first ever all vinyl tour dubbed the Back To Vinyl Tour! Hitting over 20 North American cities it has already begun, making its debut in Cincinnati on July 8. Yes, Bad Boy Bill and Richard Vission are taking electronic dance music back to its beloved roots for a tour that is already making history. In fact, they have taken it one step further producing brand new tracks, all on vinyl, which will be included in their show. One of these tracks is called "Everybody Jumpin" and will be released on Vission's label Solmatic. Remodeling an old disco record and featuring vocals by the Jackie Boys, this track will be a perfect addition to get the dance floor rocking. Of course, they will be playing some classics as well as many of their own originals to bring each show full circle, stay true to who they are as artists, and pay homage to the music that helped to begin the electronic dance music craze so many years ago.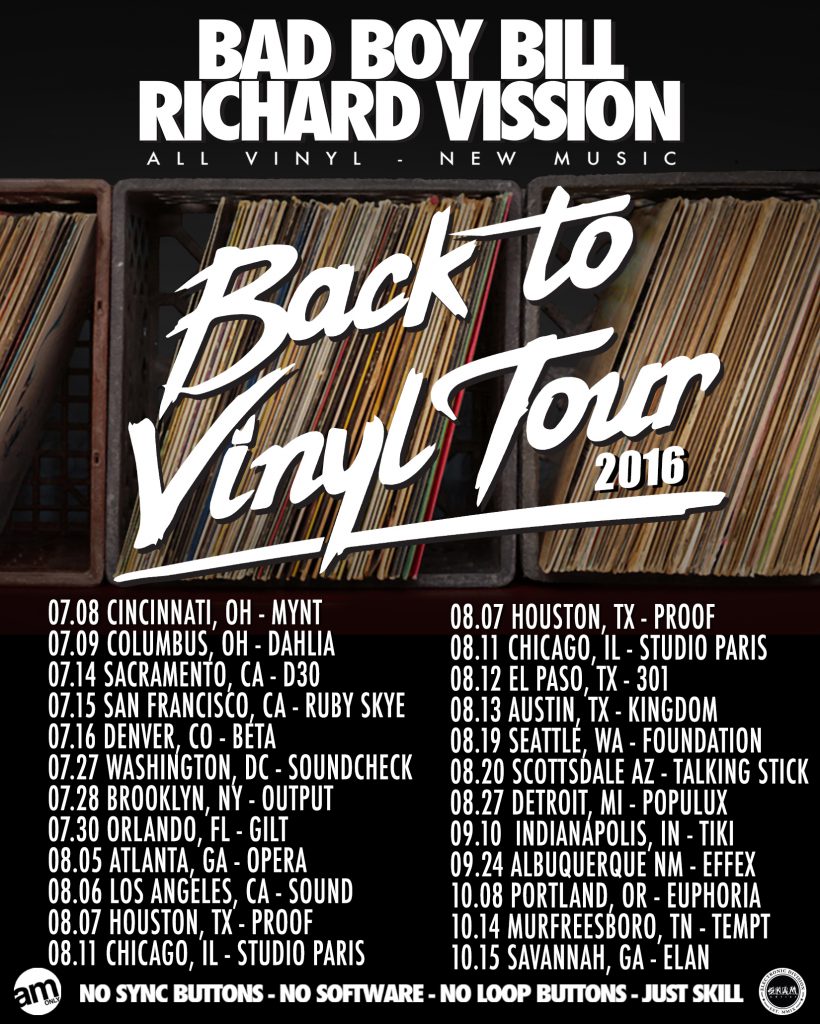 So what do we get when these 2 men get together for a legendary vinyl tour? I can only imagine how epic each show will be as they make their way across the United States and pump out those sweet electronic dance music beats. Bad Boy Bill and Richard Vission are bringing the old school back with a vengeance and if you are lucky enough to live in a city where they will be visiting I would highly suggest checking them out. It's a wonderful head nod to the industry and its roots and I give them a round of applause for bringing this tour to fruition.
Back To Vinyl Tour 2016 Dates:
07/08 Cincinnati, OH- MYNT
07/09 Columbus, OH- DAHLIA
07/14 Sacramento, CA- D30
07/15 San Francisco, CA- RUBY SKYE
07/16 Denver, CO- BETA
07/27 Washington, DC- SOUNDCHECK
07/28 Brooklyn, NY- OUTPUT
07/30 Orlando, FL- GILT
08/05 Atlanta, GA- OPERA
08/06 Los Angeles, CA- SOUND
08/07 Houston, TX- PROOF
08/11 Chicago, IL- STUDIO PARIS
08/12 El Paso, TX- 301
08/13 Austin, TX- KINGDOM
08/19 Seattle, WA- FOUNDATION
08/20 Scottsdale, AZ- TALKING STICK
08/27 Detroit, MI- POPULUX
09/10 Indianapolis, IN- TIKI
09/24 Albuquerque, NM- EFFEX
10/08 Portland, OR- EUPHORIA
10/14 Murfreesboro, TN- TEMPT
10/15 Savannah, GA- ELAN
To purchase tickets for the first ever "Back To Vinyl Tour" visit Bad Boy Bill and Richard Vission on the web and click on tour!
Curious about what these boys bring to the table? Check out Bad Boy Bill & Richard Vission's- House Connection 3 on YouTube:
---
About Bad Boy Bill:
If you are in the electronic dance music scene than I have no doubt that Bad Boy Bill's name has hit your ear drums at some point or another. Bad Boy Bill is without question one of the original Chicago House dance maestros getting his start in the late 1980's. He is one of the first men to light the fire that begun the electronic dance music craze in America and paved the way for future DJ's and producers alike. If that isn't enough he is also one of the co-founders of a little company we all know as Beatport.com! He has also founded record labels which include Moody Recordings and International House Records and he can be heard on the electronic airwaves hosting the monthly "Behind The Decks Radio Show".  That's just a short little snippet of what this man has done in his 30 years working in the industry.
About Richard Vission:
Let's just start of by saying that Richard Vission, also known as Richard "Humpty" Vission, has certainly paid his dues when it comes to earning bragging rights in the scene. He is a Grammy nominated DJ/producer/remixer with over 40 #1 Billboard dance chart remixes! These remixes include tracks by Major Lazer, Lady Gaga, Black Eyed Peas, Alessia Cara, Jesse Glynne, Trey Songs and Steve Aoki. And the list doesn't even end there. He is the pioneer of Solmatic Records which boasts over 2 million mix compilations sold! Richard Vission also hosts the longest running weekly EDM mix show in the United States called "Powertools" hosting EDM heavy hitters that include but is not limited to Claude Vonstroke, Laidback Luke, Oliver Dollar, Chris Lake, and Tiesto.
---
Follow Bad Boy Bill on Social Media:
Follow Richard Vision on Social Media: