Pretty much everyone knows that I love flags more than most any other rave accessory. Whether you're flying your flag at Coachella, rocking it as a cape, or using it as a totem at the Electric Daisy Carnival so your friends can find you in a crowd, having a custom flag is definitely the new trend in the festival community. Enter Ardon Lukasiewicz, founder of ShirtWasCash and the creator of a revolutionary new way to rock flags at events. Taking the basic flag design, he looked at how it could be improved for both ease of use and style to create the concept of what a SpiritFlag should be. I had the pleasure of chatting with Ardon about where he began with ShirtWasCash, the development process of SpiritFlags, and what's in store for the future with this epic Kickstarter!
Check out the SpiritFlags Kickstarter Video:
Interested in helping Ardon and SpiritFlags reach their goal? Click HERE for the Kickstarter page!
---
First and foremost, let's get our readers up to speed with what Shirtwascash actually is as a company. Where did it all begin, what was the inspiration?
I started Shirtwascash two years ago from a laptop in my bedroom. After several failed startups and a corporate job I disliked, I saw a post on the front page of reddit called "4chan designs some shirts". The response was incredible – the internet loved it since it was authentic to them – and I did too. I put together a survey to see which designs people wanted most and I've stayed true to the user-submitted/community voting process ever since. After a couple of weeks I decided to quit my job (way too early, mind you) and haven't looked back since.
For a while, I just wanted to deliver on my promises and I naturally have a high expectation of quality and customer service. The real key to this company succeeding compared to my previously failed companies was that I truly cared about both the product and the customers – it aligned with who I am. Until today, I stayed anonymous because this was never about me. I never wanted to be famous or meet celebrities, the only thing I cared about – which I only understood in time – was that these clothes are an extension of peoples' true personality which gives them an extra boost of endearing confidence in many situations. The amount of compliments you get from random strangers in the mundane world is unreal. Wearing such bold clothing has an immense social impact and I am personally so inspired by people's stories.
Shirtwascash will rapidly change in the future and is finally spreading its wings in major ways. I realized last December that I needed more help and was limiting the impact we could have. Since then, I have expanded our team and am on a new journey to claim my true role in this company – be a source of positivity and inspiration to those around me and my customers. I want to be there in spirit when you wear our clothes to enable you to be awesome and the best version of you. I want to hear back and form real relations with my community – where ever you may be.
Sublimation printing has changed the way that people view apparel, what have been some of the most unique prints you've done?
We're a little different from most sublimation companies and I'm really happy when others notice – our brand tries to be authentic in everything we put out. Whether it be some of the most time-intensive design work, finding the latest fabrics/cuts (many to be launched this year), or the type of designs itself, we don't try to go overboard with LOLINTERNETS or try to guess what you actually want. From day one, this company developed a concept for anyone online to submit their ideas with no sales or bullshit. The website will have a major facelift in the future, but currently our social mockup board can be found at www.shirtposts.com. After we round-up people's designs, the community itself votes on their favorites. We are also different because I don't steal from independent artists, after designs have been voted we do licensing and design in-house. Many others just have interns search through Deviantart with their copy/paste ready.
I think all of our prints are unique in their own right. I don't claim to be the ultimate source for one type of genre or niche, but we cater to a bunch of dank memes, passions, and artwork that speaks to people. It's a benefit of having such a diverse community born from the internet. That said, our branding and designs are going to have major improvements as income grows and the number of really amazing artists I directly work with expands. We're finally also adding completely original design work which I feel represents the brand I want to continue developing towards.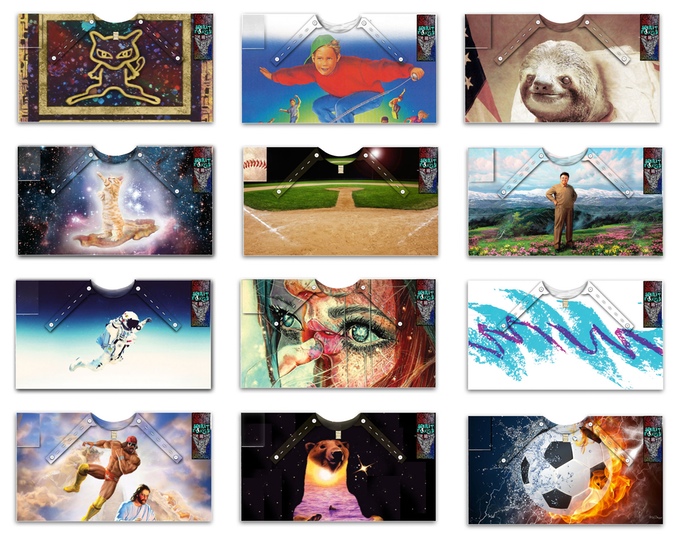 You mention on your site that the customer experience is one of the most important things to you and Shirtwascash, how to do you feel you provide a better experience than the competition?
This world is filled with too many robots, canned corporate responses, and profit-motivated decisions. The root of everything I care about and the success of this company has stemmed from my deep and personal care for customers – money is an after effect of the positive things we do and enables us to do better in the future. There is a bit of give-and-take we have to incorporate as we expand but customer experience will always be the bedrock of Shirtwascash. We've had to grow into lowering shipping and email response times but it's extremely important to me. I am personally available at any time of the day to help solve issues and hear feedback. Thankfully, I am so in-touch with my customers (my personality is a complete fit for what we do) that our message really resonates with people and we've formed much deeper bonds with individuals than probably any other company I've ever seen.
We provide better customer service than the competition because I actually give a fuck. I care and everyone I hire either cares too or cares a lot about me/this company. All of our competitors have issues that will only get worst as they grow such as poor attention to design, hands-off/cost-motivated manufacturing, or lack-luckster customer service resolutions. Although a little slower than others – we're building towards something better.
Customer feedback is always something that can either make or break a company, have you gotten any unique responses? Have you seen your products out and about?
This is my favorite part! Any festival or concert I go to, I have the privilege of running into someone wearing our clothes and get to have a surreal experience with them. I didn't realize it when I started this company but the amazing experience I have with our customers and their stories motivate me most and are my legacy. I've had so many unique responses I don't even know what to begin. They range from the products themselves giving them the boost of confidence to ask that girl out to my personal messages/story being the thing that motivates someone to start a company or go to college. I don't focus on celebrities but it's awesome to see so many YouTubers or even someone like the founder of Oculus wear our stuff during his AMA on Reddit. Stories and feedback are my preferred drug, I am so happy when I hear back.
So what brought about the concept behind SpiritFlags?
SpiritFlags is the first product that I created from scratch using my own imagination, hours of pattern making and stitching, and design work. It entirely encompasses what our brand is about and I am beyond excited to start seeing people stand out at events or in their daily life. Flags in general are a symbol of things people identify by and fly high to shower those around them with confidence and strength. I feel this will resonate particularly well with the EDM crowds since flags at festivals are commonplace and people who go to them typically are diverse, want to have the most fun they can, and share a piece of their true authentic self. This is the first product that truly encompasses our message from every pixel and hand-crafted inch of fabric. I can wait to get it onto the shoulders of those I share so many passions with.
The handmade nature of your products allows for you to create unique designs that are high quality, will you be using a similar process with SpiritFlags?
The SpiritFlags do and are on another level compared to anything we've ever done before. I sourced every piece of fabric, which is unlike anything people have felt before and didn't exist a few years ago, and brought the cut back to the drawing board to enable you to wear it anyway you like. We have implemented our high standards of design and the limitless nature of sublimation printing to help create something that is special. It is the first of many new things to come from this company and its success is critical to our capability to expand, make different version/improvements, and fulfill our future goals.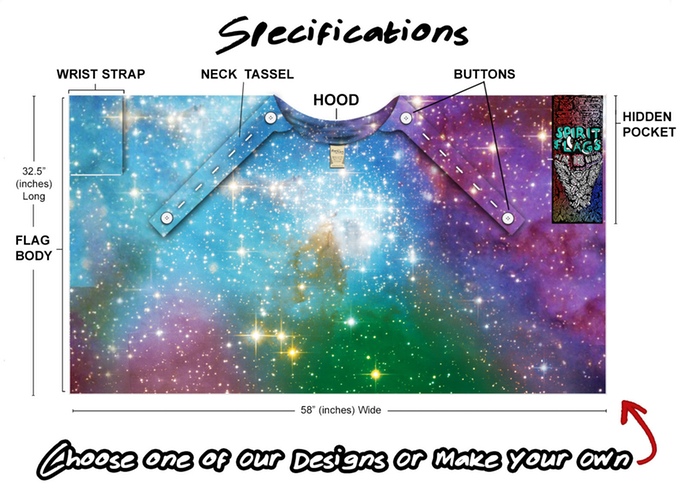 Launching the project with a Kickstarter allows for you to expose your company beyond your current reach. What are some things you intend to offer up to entice potential investors to sign on with SpiritFlags's mission?
Since Shirtwascash is already an established brand, we can thankfully launch this with full guarantee that your funds will not only result in an awesome delivery but we don't need some excessive goal to get going. Kickstarter gives birth to many original concepts and this is a perfect match. I wouldn't have launched any other product on it because this is truly new and I want it to rapidly share it with the world. Kickstarter also gives us a unique opportunity to showcase our brand in a much bigger sense than ever before. The amount of work that goes into creating the content, video, product, and more has been a really great thing for us since it continues to raise the bar of expectation and sets hard deadlines. We've never had the opportunity for a campaign like this and it was very difficult. I generally thrive under pressure and have been getting so little sleep I shouldn't even give you the numbers.
We will be offering a bunch of different tiers so anyone can participate in our cause. The Kickstarter is really focused on our underlying message to have endearing confidence, be the best version of you, and a beacon to those around you. Since we have a bunch of really fun manufacturing capabilities, and our company itself is pretty cool, the tiers are really diverse.
Flags are gaining in popularity with both artists and festival attendees around the globe. What makes your flags stand out from the rest?
I put a lot of time into making something I wanted to wear out in Vegas, at events like EDC and felt truly unique – in both the quality of the flag and print. There is nothing else on the market that comes close to what SpiritFlags is and it actually might be the most "flexible" article of clothing ever since the design can have anything on it and there are so many ways to actually wear it. I've personally found five ways I prefer to wear different designs, it's so friggin cool because I'm still discovering more, and many combinations of design / how its worn works in different environments that go way beyond just festivals. It can be a flag, a poncho, a cape, a hooded cloak, a one-shoulder overhang, an undershirt/jacket flair out, a mega scarf, and many more. We have a hashtag for people to show off what ways they've discovered to wear it #spiritworn. Did I mention it also has a hidden pocket?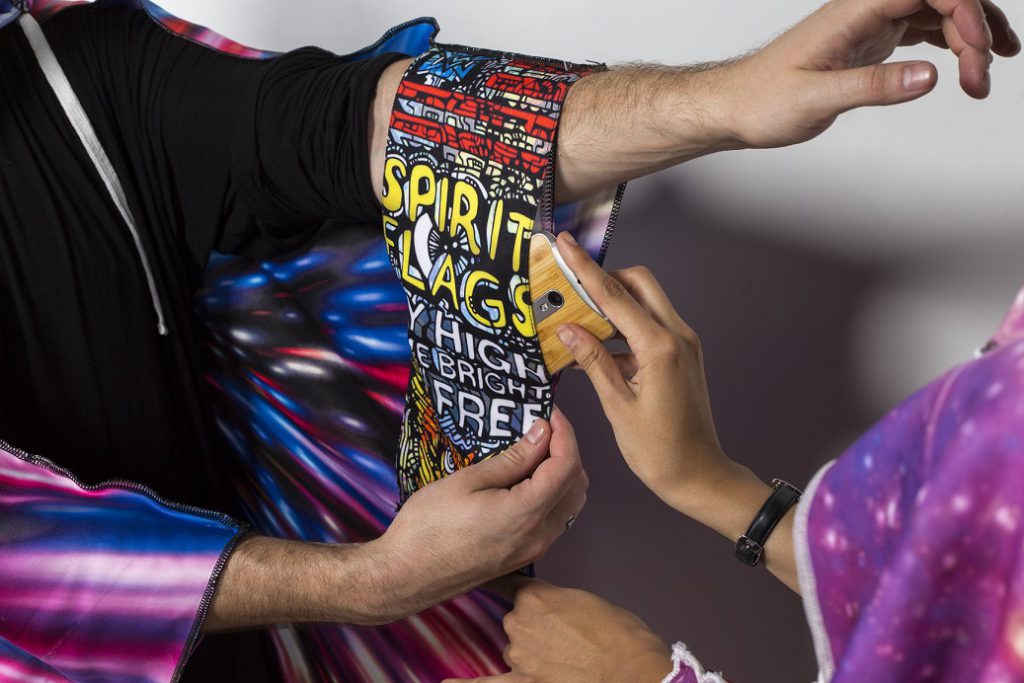 Why should I purchase a SpiritFlag for my next event?
Every SpiritFlag sold gives birth to one happy kitten. Besides that, these flags give you a unique opportunity to express your true self and the things that make you happy or unique. The possible uses and designs are endless, the quality is awesome, and I hope it will bring fun unintended social encounters for you and those around you wherever you may go. It's an opportunity to share yourself and prove that it's okay to be different. On the flip side, supporting and sharing this Kickstarter is the most important thing for our company to grow, pursue our mission, and accomplish our future goals. Every Facebook share and dollar contribution makes a profound impact on such a bootstrapped company.
Interested in helping Ardon and SpiritFlags reach their goal? Click HERE for the Kickstarter page!
---
Check out the SpiritFlags look!
---
Connect with ShirtWasCash and SpiritFlags on Social Media:
Website | Facebook | Twitter | Instagram | SpiritFlags Kickstarter