HARD Presents has released tickets and guidelines for its first ever camping experience this year at Hard Summer 2016. The event will be held at a new home the Auto Club Speedway that boasts over 500 acres of land and convenient parking. After releasing the lineup and venue announcement, we now get some details about the experience for Hard Summer Camp this summer, July 29th to the 31st. In the spirit of the silliness of Dillon Francis, watch the Hard Summer Camp official trailer below!
Check out the HARD Summer Camp 2016 Official Trailer:
---
HARD Summer 2016 Car & RV Camping Passes:
HSMF Camping will be able to accommodate campers arriving in both RV's and cars with RV's at $400 plus service fees and cars at $250 plus service fees. Each campground will have a maximum of five people and all campers must have a camping wristband in addition to the HARD SUMMER 2-day pass. Hard Summer camp tickets available here. 
It's not clear how just how strictly these guidelines will be enforced, but it seems as though the policy is going to reflect interests of security. It may require all campers to arrive to the campsite together rather than groups joining up after the weekend has already commenced. HARD is making a bold first attempt at establishing a fun camping experience for festival goers. A clear positive side to camping is that it can seriously ease the struggle that would come with having to commute form the greater Los Angeles area to the venue.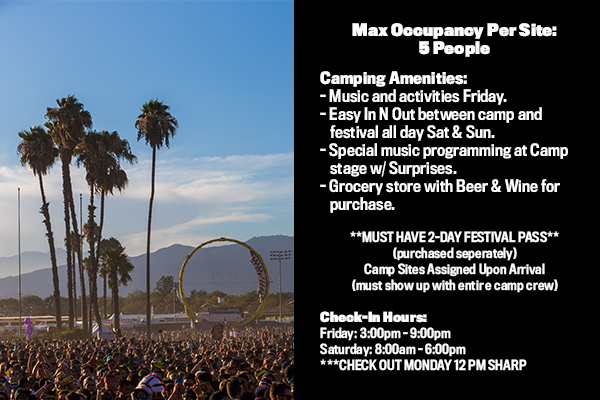 Camping Amenities:
The campground will include a grocery store located within and food, drinks, ice and other general store items available for purchase throughout the area.
Available Friday-Monday:
Portable Toilets and Portable Water
Showers
Cell phone chargers (Sorry, there are no electrical outlets)
24-hour emergency medical services
Info kiosks
ADA camping for those with special needs
Tickets for Hard Summer Music Festival 2016 are still available here.
---
Hard Summer Mixtapes are being released stream them below on SoundCloud:
Keep on the lookout for the Hard Summer 2016 series, by yours truly, which will give you insight on 16 artists on the lineup this year.
---
Connect with Hard Summer 2016 on Social Media:
Website | Facebook | Twitter | Instagram | SoundCloud | YouTube