Over the past 20 years, Insomniac Events' Electric Daisy Carnival has provided long-lasting memories for attendees.
For today's #EDC20 segment we are giving you the second part of Robert LeSage's epic eleven year run of attending this event.
New to the story? Click HERE to read Part 1 – The NOS Years to catch up on the saga!
---
Eleven Years Of My Life (Part 2 – The Coliseum Years)
Eleven years of my life. Eleven years of EDC, and I don't regret a single moment. The last two years at the NOS Events Center did the impossible and changed my life forever. The friends I've made and the memories that replay in my mind were possible because of the journey I've embarked on.
However, things were changing. Things were about to begin anew. A rebirth of sorts. Even though Insomniac had made its home for EDC at the National Orange Show, there was still an air of mystery for what's to come. Little did I know, the next few years would be huge! What some would consider to be the "golden age" of electronic music was about to begin, and I would be present. It was going to be absolutely fantastic.
---
EDC Los Angeles 2007
I fully expected in 2007 to make the arrangements to return to the NOS. I've looked up nearby hotels and checked the prices for flights. I was committed to having all the travel arrangements completed months before the first festival of the summer was slated to begin. The excitement was already brewing and we made the typical roll call posts on Glowsticking.com in order to account for all the members that were planning to make the annual journey home. We were completely prepared.
Then Insomniac threw us a curve ball. I don't recall when it was announced, but when it did, the anticipation and excitement grew massively. After four years, EDC was returning to Los Angeles. Specifically, EDC was going to take place at the legendary Los Angeles Memorial Coliseum. I remember posting on the forums at iLoveRaving and hearing these wondrous stories of how vast and open the coliseum was when Insomniac and GoVentures collectively produced Together As One there to ring in the year 2000. I was now going to experience this first hand. On top of all the new excitement, the line-up included Washington DC's own, Deep Dish! After nearly a decade, I was finally going to hear the artists that got me hooked on electronic music.
I scrambled to get all my plans together. I flew down to San Diego again and made the road trip up with a friend. We were on a budget, but we were able to afford a few nights at a Knight's Inn off of Figueroa. The Friday before, we all got together and met at Bixby Park for our annual Pre-EDC BBQ. There was only a handful of us there that year, but we still had an amazing time showing each other what we've been working on in regards to glowsticking (freehand and stringing). Some of the group even went on to help out with a glowsticking workshop at the annual Anime Expo that coincidentally fell on the same weekend that year. Although everything felt different, it was still the same. Our annual family reunion.
When we finally arrived to the coliseum, we didn't know what to expect or how massive this experience will actually be. It wasn't until you're walking through the corridors to get inside the coliseum that you feel transported into a different world. It felt like you're going to escape reality and forget about what else was happening in your life leading up to this particular moment.
You hear the kick drums pounding, getting louder and louder. You finally see daylight and you're overlooking something fantastic. You see the enormous crowd moving and grooving in waves. They look like ants! You absolutely can't help but smile from ear to ear.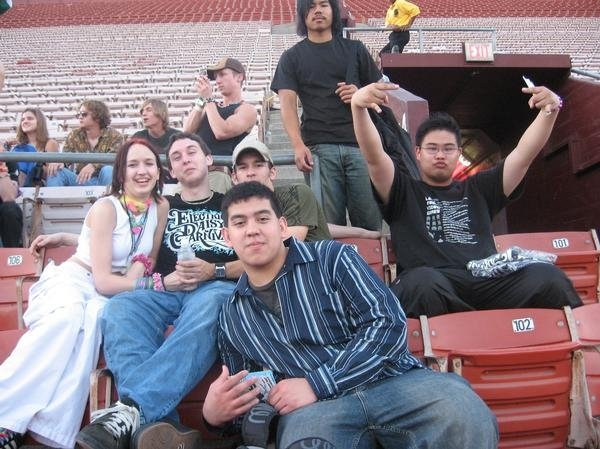 As for the music, the two stand out artists that bring back memories are Above & Beyond and Deep Dish. I enjoyed every single moment of Deep Dish's set. They opened with an acapella version of their most famous track, "Say Hello," featuring the absolutely amazing Anousheh Khalili. Her lush vocals rang throughout the coliseum and I was just absorbing it all in. The only thing that could've made it better was if she was there to perform it live. They even played Eric Prydz' "Proper Education!" (For those who don't know, Eric Prydz had a crippling fear of flying, so the chances of seeing him live back then were close to zero.) Sharam also mixed in his remix of "Party All The Time (P.A.T.T.)" that got everyone grooving. It was most definitely a set to remember. Little did I know, this would be one of the last few chances to catch Deep Dish live as they decided to call it quits shortly thereafter. They would later reunite in 2014, but I still hold this live set to be one of my favorites.
Another group of artists that I particularly fell in love with that year was Above & Beyond. This was starting to become a year of firsts. First EDC at Coliseum, first time seeing Deep Dish, and now the first time seeing Above & Beyond perform live. I immediately fell in love with their use of melodies and vocals that sent the crowd soaring. Hearing their Tri-State classics like "World On Fire," "Air For Life," and "Can't Sleep" piqued my interest greatly, but it wasn't until I heard Justine Suissa's soothing vocals on "Satellite" that I became a lifelong fan. So much so, that I'll be seeing them this weekend for their second acoustic appearance in Southern California.
Production wise, the stages were darker in comparison to the level where stages are at present. There were two massive projection screens on the sides of the stage, but other than that it was the typical rectangular stage set up of major festivals of the time. However, in typical Insomniac fashion, there were projected lights all over the place swirling about against the coliseum walls.
I'd have to say that this EDC ranks amongst my favorites as it was the first time I was able to meet with two people I now consider to be my best of friends. We didn't know it at the time, especially considering I thought one was an asshole, and he also thought I was an elitist prick, but I would even go so far as to now consider them closer than family. James and Patrick, I love you guys.
---
EDC Los Angeles 2008
2008 was a little different and a little more spontaneous. I originally had planned to skip this year, but my current boss at the time and a fellow coworker heard about EDC and wanted to see what all the fuss was about. We made last-minute plans to go and booked a small hotel in Inglewood (I was young, naive, and didn't know any better). We packed up my little Hyundai Elantra on Friday night with a cooler and for the first time, I drove down to California. Since this was all last-minute, I didn't get a chance to attend the GSC Pre-EDC that year.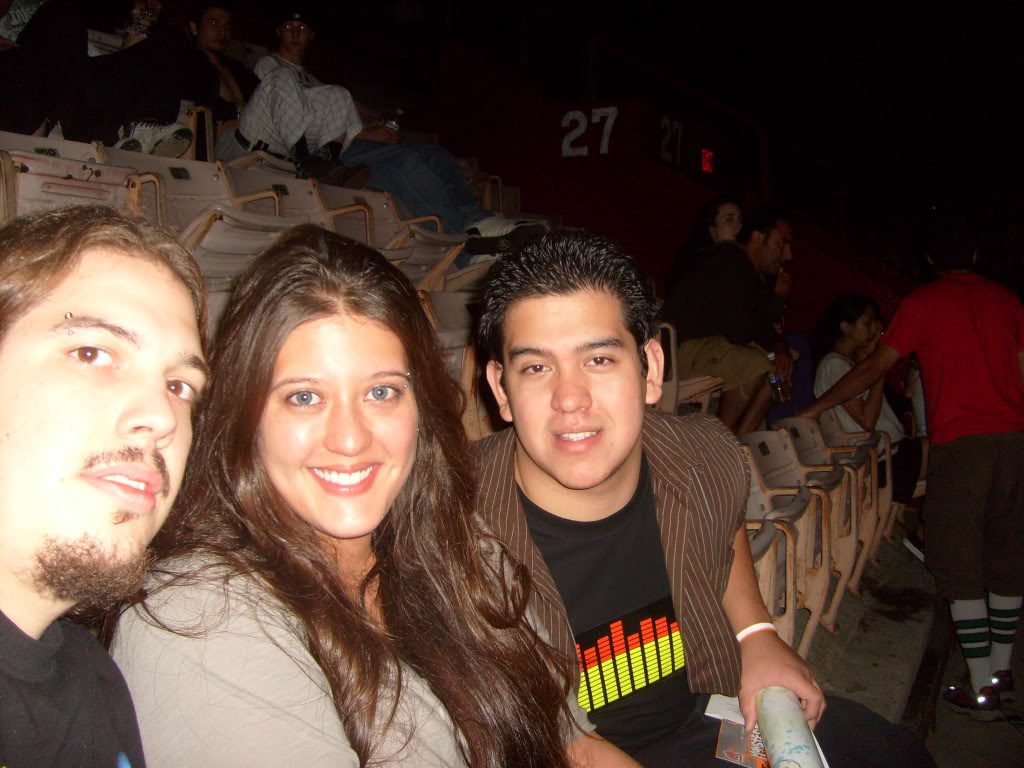 I recall arriving at the hotel around 2 AM and then heading straight to the pool for a late night swim. I told them stories of my past EDCs and what they had to look forward to. I was hoping to get them excited for what would come. We woke up late the next day, but my boss had some last-minute homework to complete, so we didn't arrive to the coliseum until night fall. They knew how much being at the GSC Ultra Circle meant to me, so we split up after waiting in line for an hour or so. With typical rave unicorn magic, I somehow managed to arrive just before the crack of the symbolic high intensity glow of orange glowsticks. That year we decided to hold the ultra circle during Benny Benassi's set. I recall it being amazing, but nothing particularly stands out as I was too focused with hanging out with my second family with the short amount of time I had.
I met up with my group later on where we explored the grounds a little bit more. We found caramel apples and even carnival games. Somehow, we even won a cheap acoustic guitar. I found out that they didn't even go inside the coliseum. I was aghast. How does one forget to check out the main stage?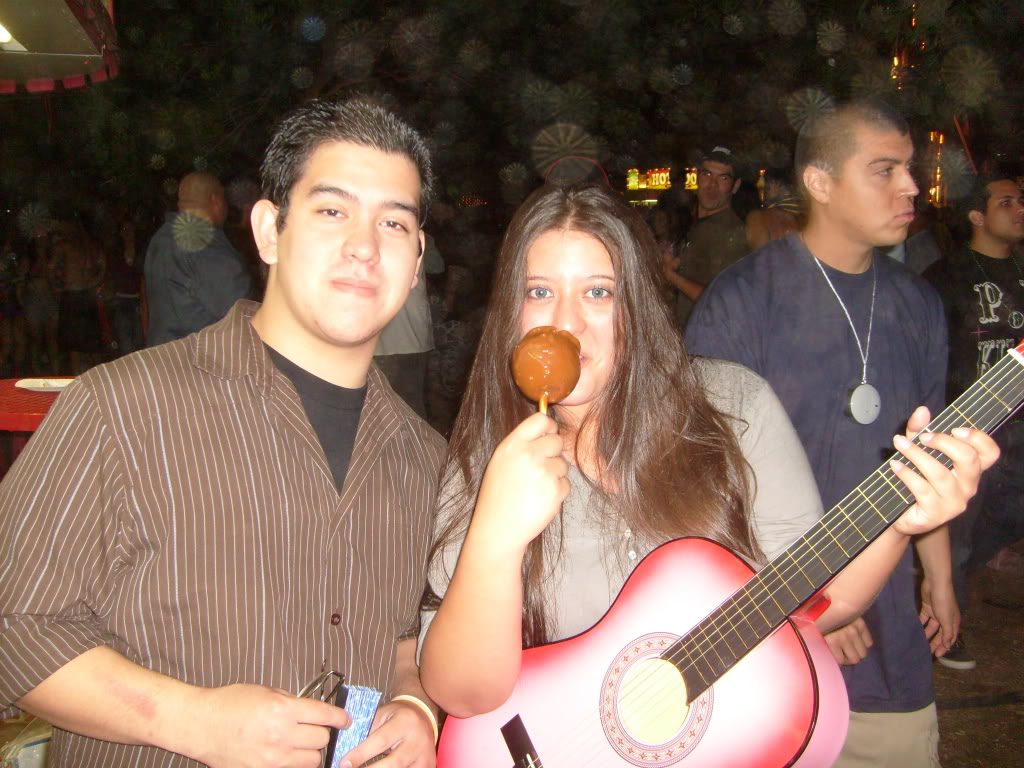 I led them to one of the many tunnels that leads to Kinetic Field. Recalling my ear-to-ear grin from the previous year, I took this opportunity to watch their faces as they neared the end of the tunnel. They were speechless that something magical like this happens every year and is still relatively unknown to the general public. We opted to sit on the bleachers and observe the sights and sounds of Moby. I recall them asking if I knew who was playing. When I told them, they were surprised that someone who was well-known was booked at these things. At that particular moment, he played "Porcelain" and I absolutely got shivers. Something about that track just makes you feel good, even if the lyrics are a tad bit somber. We ended the night with some of Paul van Dyk's set. Although we didn't stay for his whole set, I was able to finally hear "For An Angel" on a massive sound system.
---
EDC Los Angeles 2009
At Nocturnal Festival 2008, I remember walking through the gates and being handed a simple flyer for EDC 2009. In tones of blue and white it had a digital daisy and the signature bubbly font that read "Electric Daisy Carnival." At first glance, it was a simple teaser with no notable information other than to serve as a save the date. However, as I looked closer and closer, my eyes widen. A single sentence caused our excitement to grow two-fold. This would be the year that EDC expanded to "2 days of fun & festiviteez!"
We planned our annual BBQ to be the biggest it had ever been. People from the east coast, northern California, and the Midwestern states would make the journey down. That year we held our BBQ at Griffith Park. But before that, I had a ridiculous trek to get there.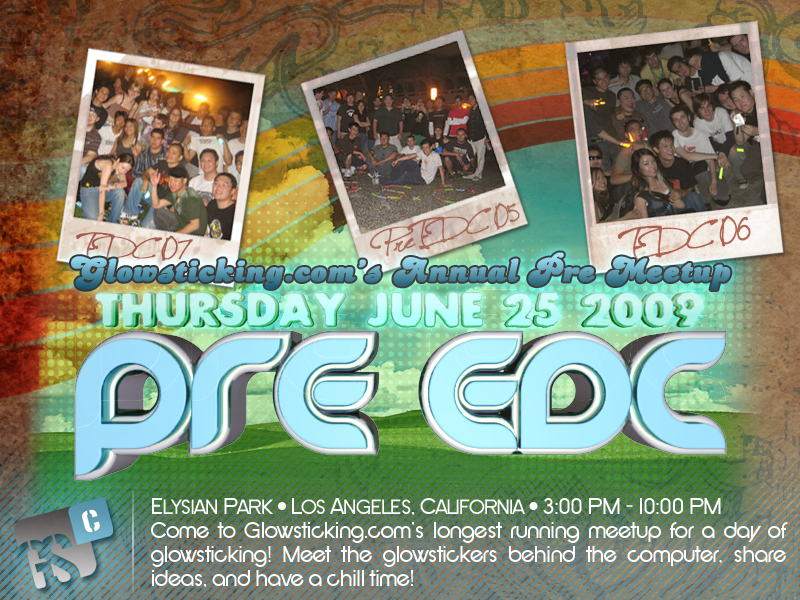 One of my friends at the time didn't drive and lived in Oakland, CA. The only way he was going to get to EDC was if someone came and picked him up. I offered, as anyone who knows me can attest that I would do anything for those I hold dear to me. I drove from Las Vegas, NV to Oakland, CA to pick him up, then we drove down to Los Angeles, CA within the same day! I truly didn't mind as I love the drive and it was my first time in Northern California. It was somewhat the calm before the storm that weekend.
We arrived at the park just before everyone else did and helped set up. It was our biggest gathering, and unfortunately it was also our last. The expansion of EDC to multiple days made it a bit more difficult for everyone to get extra days off and to organize around their schedules. We still had an amazing time grilling burgers and dancing the day away. In fact, the good vibes stuck around me long enough to edit a video of the experience. I guess you could call it my love letter to all the amazing moments that GSC has provided me EDC after EDC.
That year, the venue was expanded to use more of the exposition park. Circuit Grounds was moved to a grassy lawn that had acts like Yoji (Biomehanika), Cosmic Gate, Markus Schulz, Kyau & Albert, and Infected Mushroom on day two. Kinetic Field played host to Aly & Fila, Kaskade, ATB, and Groove Armada. I actually fell in love with this set up as I was able to chill during the day at Circuit Grounds on lush green grass to some trance that was playing on day two. This was also the first year I got to actually experience Kaskade's magic. Hearing Tamra Keenan's vocals on "Angel On My Shoulder" as the sun was setting brought back memories of EDC 2005 when another of her tracks (Travelling On) was played by Gabriel & Dresden.
The day before, my favorite set would've been Aly & Fila. Hearing trance like that on the main stage was something I didn't expect that early in the day, but I fell in love. Ever since then, I try not to miss out on an Aly & Fila set. I was also able to check out Shinichi Osawa at the Neon Garden. Back then, Neon Garden was home to the growing electro and dubstep scene rather than techno, tech house, and deep house that it's known for today. Shinichi hails from Japan, so catching a set from him in the states was a rarity. I discovered him thanks to a Brookes Brothers remix of "Star Guitar." He was everything I expected him to be, and I cannot wait for the day he comes back stateside.
The GSC Ultra Circle was also moved to the second day during the trance that was scheduled at Circuit Grounds. I had no complaints as I was able to see Cosmic Gate and Markus Schulz prior to ending the night with Infected Mushroom. What also made this particular night special was I reconnected with my boss that attended with me the year prior. We had some slight drama that occurred between the two EDC's that caused us to not speak to each other and eventually lose connection. However, by some rave unicorn magic, she was there at the Ultra Circle and we haven't lost connection since.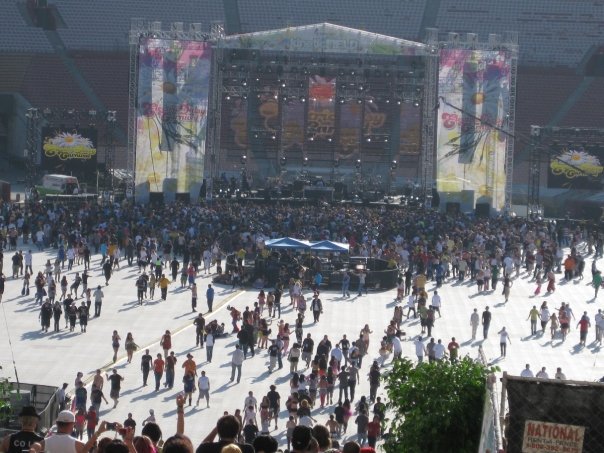 ---
EDC Los Angeles 2010
Ah, the infamous year. Fortunately, I was able to avoid the negativity and backlash that occurred from this year due to the few bad seeds that are within our beloved scene. How? I never actually set foot inside Kinetic Field once that year. Call it blasphemous, but with the enhanced production value that was added elsewhere, I didn't see a need to! Sure, I missed experiencing Kaskade and Above & Beyond, but I also was able to discover new music and see budding artists.
One such artist was a man named Tim Bergling, more famously known as Avicii. In the year leading up to EDC, I was hooked on "My Feelings For You" and "Bromance." I was so excited to hear these live! He played a mashup called, "True Bromance," and even his remix of Toni Braxton's "Make My Heart." He even played "We Are Your Friends!" I was enjoying his set to the fullest, but I recall asking myself why the stage was so empty and why no one was dancing! Thankfully, he would later find success the following years after "Seek Bromance" was released.
Other than Mr. Bergling, I actually stuck to the usual, including Aly & Fila, Infected Mushroom, and Moby. The second day, trance was actually congregated to Neon Garden instead of Circuit Grounds. I also recall seeing BT (Live) for the first time, and it was just beautiful. He definitely stole the weekend for me. Playing hits from his then newly-released "These Hopeful Machine" album including, "The Emergency," and the Jes Brieden vocal-laden beauty, "Every Other Way."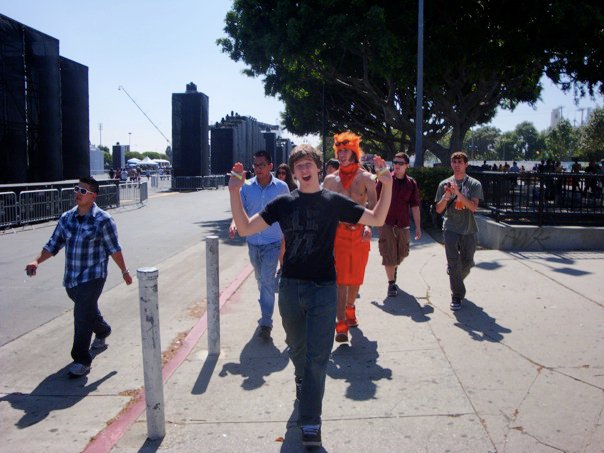 That year I pretty much was glued to Circuit Grounds and Neon Garden. The stage production at Circuit Grounds was just massive! Looking at the maps, you can see it was just as large as Kinetic Field, if not larger. On top of that, there were six massive screens that lined the sides of the stage that immersed you completely into that environment. These side structures also shot huge plumes of fire throughout the night. Then there was the stage. It was filled with large circle shaped trussing of varying sizes that emanated in pulsing lights. It was like a swirling vortex at times. At the rear of the stage were these massive art pieces taken from Burning Man with performers on silks hanging from them.
Little did I know that Circuit Grounds and Neon Garden would become my second homes away from homes as we go through the Las Vegas years.
These memories will always exist with me. At times, it seems futile to try to describe them in their entirety; however, what I can express is that EDC changed my life for the better. As cliché as it sounds, I found where I belonged. A home where I can be myself and find like-minded souls. I can't explain how it happens, but the magic at EDC has picked up my pieces and put me back together time and time again.
---
Stay tuned for Part 3 of Robert's story 'Eleven Years Of My Life', The Vegas Years!