The Warp Brothers are no strangers to EDM. Oliver Goedicke and Peter Sildegren have been making music together since the late 90's, but even before that the two German DJs/producers were honing their skills separately. Their musical experience and knowledge combined is more than most people will ever learn in a lifetime. Having seen production go from analog to the digital form, today's production has allowed them to be efficient in their creations and really explore a variety of genres. After taking a decent break from touring after 2008, they are refreshed and ready to bring it big in 2016. They will be releasing revamped versions of some of their older hits and you can expect to see some reggae and rock influences in their upcoming works. Even amidst their busy schedule they made some time to answer a few of questions below.
Stream Warp Brothers & Wolfpack – Phatt Bass 2016 on SoundCloud:
---
Tell us a little bit about your hometowns?
Well there´s not much to say besides that London is one of the coolest and best cities in the world. The vibe, club scene, creativity, the culture of pretty much every nation and much more just makes it a great city to live at and enjoy life.
You've been producing music since the late 90's, how has the production process changes for you both since then?
The period from the first production made in 1993 until today has been a full-on and drastic change. We started all analog and became fully digitalized by today. We still remember the first samplers from AKAI where a 5 sec. vocals sample was a sensation and we passionately waited for minutes sometimes hours until is was processed. Today it takes 5 seconds and the process is done for a 10 minutes vocals sample :). We had real recording studios with singing cabins, huge mixing consoles and even Tape Recorders we used for special effects and to record our productions to send the master to the record label. Having a studio meant a huge financial risk and a lot of expense; every production took so much longer and most things we used were original and authentic. Over the time the studios became smaller and the outboard gear has been replaced by plug-ins. Processors became stronger and stronger and mixing became much easier than before.
Now, especially in electronic music, you can basically do your productions on your laptop on a train or plane ride to your next gig and send the result to a good mastering lab. On one side it´s of course much more convenient, easier and cheaper to produce but at the same time the creative process of producing music has been densed to a very template driven and standardized process where people just wanna get tracks out as soon as possible owed to the fact that everything just must be handled faster and faster to compete and survive in today's electronic music scene. Creativity, especially music, needs time and space and we feel that a potential overkill in some genres is partially owed to this development.
Who are your inspirations?
James Brown and the JBs, Prince, Kraftwerk, Nitzer Ebb, Front 242, Liasions Dangereuse, Todd Terry, New Order, Beastie Boys, Daft Punk, Prodigy, Chemical Brothers, The Orb and The Police maybe some more but those are the main ones.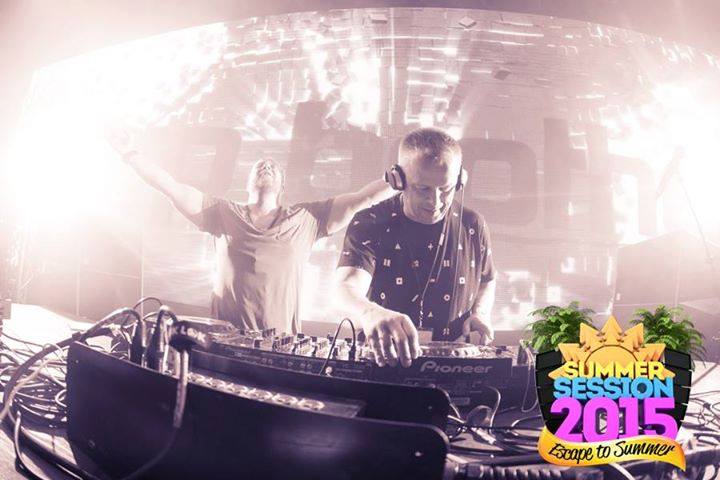 Over the last decade the electronic music scene has changed quite a bit. What were you both during your break from the studio?
We did what we´ve always done. Producing and running our labels plus some side actions.
Ollie: I was very busy with my other main project D.O.N.S., especially after "Pump Up The Jam", "Big Fun" and "The Nighttrain" hit the clubs. I toured the world with a full booking schedule until 2012 and then decided to take a little break during which I only released a few productions and where I took more care about the KKC label brands and Dos Or Die Records. After over 13 years of being fully booked around the world I definitely needed a break to re-consider life and take a bit care of myself.
Peter: I was busy with the clubs I was promoting, my own radio station a booking agency, my label Highlimit Records and building up my alter ego Seal De Green until I teamed up with Ollie for the labels and Warp Brothers.
Your songs cover a variety of genres from house, trance, breakbeat, and electro, what's your favorite style to produce?
You cannot narrow us down to just one sound as you wrote in your question. There´s no favourite style, it all depends on the vibe we create when being in the studio working on a new track. One thing we def. always need is a pounding, hammering bassline and a killer kick drum :))
Are you excited to be playing Tomorrowland Brasil?
Excited as hell. When we started DJing as Warp Brothers there was no Tomorrowland. We played so many of the huge and most important festivals around the world but TL created something new and unique. They pretty much started when we stopped playing as Warp Brothers. To see what they created and now being a part of it is just too good to be true. Best way to start a come back.
Your 2016 edition of Phatt Bass is a collaboration with Wolfpack, what did you like most about this collaboration?
Obviously we´re more of the Rock´n´Roll generation that is still going on strong and we thought that teaming up and embracing what the youth has to deliver is always a great thing to do. Keep your horizon and your mind open and stay creative. Of course, always staying on top of the musical progress, we felt that Wolfpack who already achieved a great career and standing where the best choice to team up with and cause the Phatt Bass 2K16 riot. They brought their special kind of freshness to the table and we brought the Phatt Bass. The whole process was just a great experience.
Are there other artists who you'd like to do a collaboration with in the future?
James Brown, Frank Sinatra and Dean Martin, ha ha ha. We can definitely imagine doing more collaborations like with Dimitri Vegas & Like Mike but not necessarily only with other DJ's, but even with contemporary singers from any genre. As we both love hard Rock sounds another direction could be a track together with a great singer like Axl Rose from Guns´n´Roses, Damon Albarn from Blur or even Billy Gibbons from ZZ Top.
Who, in your opinion, are some up and coming artists to watch?
Garmiani, Kill The Buzz and Boostedkids
What kind of direction do you see your music taking in the future? Is there anything you'd like our readers and fans to be on the look out for?
We were always up to include different styles in our productions as you can tell by our albums we did back in the days and we wanna keep it this way combined with a new and fresh sound. Some Reggae here and a little bit of Rock there. We´re currently working on a few new tracks and revamps of some of our older ones.
---
Follow the Warp Brothers on Social Media:
Twitter | Facebook | Instagram | SoundCloud