It takes talent to combine pure classical music with electronic beats. The two are on completely opposite ends of the musical spectrum and yet master musician, Lindsey Stirling, has made the impossible possible. She seamlessly creates magical tunes with the vigor and intensity of festival worthy electronica while incorporating the traditional structure of Mozart-level pieces. This classically trained violinist has won the hearts of big names and big stages all over the nation with incredible smash singles like "Shatter Me" and "Crystallize." I can say myself that her live performances and art are amazing. Her 2015 performance at the House of Blues in San Diego was one that I'll never forget!
Now, Lindsey Stirling is making the moves again! She has officially announced plans to release her highly anticipated third studio album this summer through her own label, Lindseystomp Records.
Check out the special video Lindsey created for her fans discussing the release here:
As she's done before, she will be partnering with the Direct-To-Fan music platform PledgeMusic for an album pre-order campaign in which fans will be abel to pre-order her new album up until the summer release date. Both the date and the name of the album have yet to be announced!
If you'd like to pre-order her album via PledgeMusic, you can do so HERE. You'll want to hop on Stirling's new album fast! Her second release "Shatter Me" sold over a million copies in the US and spent an impressive 21 weeks at the #1 spot on the Billboard Classical Album Chart! This girl is on fire!
If that wasn't enough, Lindsey Stirling has more exciting news! Her North American summer tour dates, which have been set in preparation for a major world tour, have been released! The lucky locations include New York's Panorama Festival on Friday, July 22 and Chicago's Lollapalooza Festival on Sunday July 31. To learn more, you can tap into special VIP package bundles, meet & greets with Lindsey and special soundcheck viewings at http://www.lindseystirling.com/.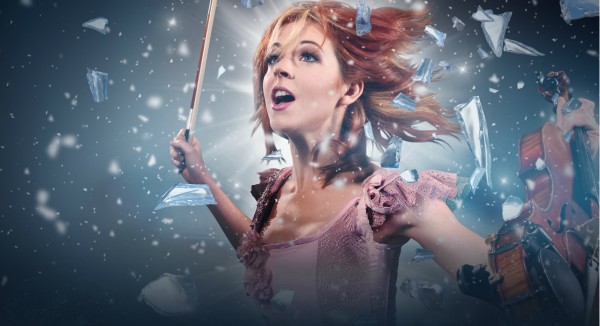 Lindsey Stirling Tour Dates:
Dates:                   City:                                       Venue:
7/11/16                Wallingford, CT                Toyota Presents Oakdale Theater
7/12/16                Providence, RI                   Veterans Memorial Auditorium
7/13/16                Burlington, VT                   Flynn Center For the Performing Arts
7/14/16                Ottawa, ON                       Ottawa Bluesfest – Lebreton Flats *
7/15/16                Reading, PA                        Santander Arena – Reading Eagle Theatre
7/16/16                Columbus, OH                   McFerson Commons Park – Promowest Festival *
7/18/16                Durham, NC                       Durham PAC
7/19/16                Charlotte, NC                     Ovens Auditorium
7/22/16                New York, NY                    Panorama Music and Arts Festival *
7/23/16                Oro-Medonte, ON          WayHome Music & Arts Festival *
7/25/16                Albany, NY                          The Palace Theatre
7/26/16                Erie, PA                                 Warner Theatre
7/28/16                Pittsburgh, PA                   Stage AE – Outdoor
7/29/16                Ann Arbor, MI                   Michigan Theater
7/30/16                Interlochen, MI                 Interlochen Center for the Arts – Kresge Auditorium *
7/31/16                Chicago, IL                           Grant Park – Lollapalooza *
8/1/16                   Cedar Rapids, IA               McGrath Amphitheatre
8/4/16                   Calgary, AB                         Southern Alberta Jubilee Auditorium
8/5/16                   Edmonton, AB                   Northern Alberta Jubilee Auditorium
8/8/16                   Eugene, OR                        Hult Center for the Performing Arts – Silva Concert Hall
8/9/16                   Davis, CA                             Robert Mondavi Center
8/10/16                Costa Mesa, CA                 Orange County C Fair – Pacific Amphitheatre *
8/12/16                Saratoga, CA                      The Mountain Winery
8/13/16                Fresno, CA                          William Saroyan Theatre